TECHNOLOGY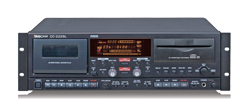 Tascam's CD Recorders, CD-RW900 and CD-RW901, and CD/Cassette Combination unit, CC-222mkIII, are being upgraded to include a more robust TEAC slot-loading drive mechanism. These new models are the Tascam CD-RW900SL, CD-RW901SL & CC-222SL. "Not only are these transports more robust they also add a new flexibility to the way they can be rack-mounted" adds Tascam's Systems Contracting Channel Manager, Patti Gunnell. "They're quite capable of operating at angles up to 90 degrees from the traditional "horizontal" rack-mount location. Tascam has also added an MP3 Action Setting (prevents accidental termination of continuous MP3 playback) and Selectable Disc Reading Speed to the existing features of the CD-RW900SL and CD-RW901SL. In addition to the new transport, the new CC-222SL will provide "selectable" independent outputs for the CD and Cassette. www.tascam.com.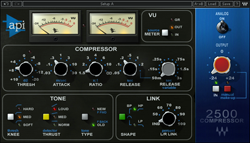 API announces the release of their line of modeled plug-ins. Aptly named the API Collection, the new plug-ins are co-engineered with and for Waves. The new Wave's API Collection is a set of precision-engineered plug-ins that digitally render the classic sound of API analog consoles and components. The API Collection features four processors, modeled on the most popular API modules: the 550A three-band equalizer, 550B four-band EQ, the 560 graphic equalizer and the 2500 stereo compressor. Noted Larry Droppa, president of API, "We are extremely pleased with the results achieved by Waves in producing software plug-ins for our products. Waves has been able to replicate the recognizable look of API and have put forth a superb effort in maintaining the sound quality of the software. While we still believe nothing totally replaces the hardware, we are confident that the new software represents the heritage and lineage of API very well indeed." The API Collection is now available from Waves. www.apiaudio.com.
Voxengo has applied a batch of updates to several commercial and free Voxengo plug-ins. These updates mainly address a crash problem which could happen if a user system was working with the /3GB switch enabled. Other tweaks include: Boogex now searches for missing impulse files in the folder where its DLL file resides (subfolders will be also scanned). This can be useful if you have decided to keep your impulse files together with the Boogex DLL file, without folder dependence: now you do not need to re-select the impulses in the plug-in if you have decided to relocate the DLL and the impulses: Boogex will find them automatically. In Voxformer, an extreme level pop problem was fixed that could appear with the enhancer module enabled. Voxengo is also in the process of finishing their internal plug-in production tools re-development that will allow them to release Mac OS X AudioUnit and VST plug-ins in the near future. This re-development cycle (which already took us more than a year) is essential in the light of the latest PC and Mac scene rearrangements (Mac gains more and more users, Vista 64-bit is being widely distributed): it will allow updating existing 'original' Voxengo plug-ins so that they work seamlessly in these new environments. www.voxengo.com.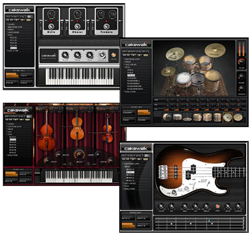 Cakewalk released Cakewalk Studio Instruments, the first easy-to-use and affordable consumer software instrument collection for Mac and PC. Cakewalk Studio Instruments has an estimated street price of $49.99. Cakewalk Studio Instruments is the first dual platform Virtual Instrument collection to be released to the consumer electronics market. Cakewalk Studio instruments provides a high quality Drum Kit, Bass Guitar, Electric Piano, and String Section that can be played stand alone or can compliment popular consumer music software titles such as Cakewalk Music Creator, Apple Garage Band, Magix Music Maker, and SONY ACID Music Studio. With Studio Instruments, Cakewalk introduces a virtual instrument collection that is accessible to anyone, not just musicians, through its photo-realistic, animated, and interactive user interface. With point and click ease and professionally recorded patterns, Studio Instruments delivers a simple and fun way for all to make music. Cakewalk Studio Instruments is driven by Expression Engine, the same technology found in Cakewalk's professional line of instruments, including Dimension Pro. In addition, Studio Instruments includes a comprehensive collection of pre-recorded patterns and presets providing a creative jump-start to making music. These patterns can be placed on multiple pads that the user simply clicks to trigger sections of their songs. Cakewalk Studio Instruments also allow the user to play the individual sounds of each instrument from their computer keyboard; that means if you can type, you can now play drums, piano, bass, or electric piano. More advanced users can easily control Cakewalk Studio Instruments with a MIDI keyboard or other MIDI controller. Each Studio Instrument also features customized companion effects to enhance their sounds. www.cakewalk.com.
PRODUCTION LIBRARIES
New releases from Firstcom include: EVO084Q Inspired To Rock, "higher consciousness-inspiring modern rock themes and underscores and broad sweeping rock themes." EVO086Q Serious Fun - Relaxed to energetic, entertainment, dance and more. Pop styles that make you smile. GM-102 My Life Stories - Understated musical storytelling of the ups and downs of people's lives. Tear jerker & positive underscores. HM-079Q World Of Conflict - A world view of hot spots and conflicts featuring soundtracks for Asia, the Middle East, Eastern Europe, South America and more. MH038 Future Electronica - Minimal to maximal experimental digital sound design. MH039 Broken Beats 2 - A leftfield mix of breaks and beats. MH040 Futurism - Audio for innovation, evolution and progress. NPM-A14 Chilled Choralogy - Mysterious ambience. Audition tracks at www.firstcom.com.
New releases from Killer Tracks include: KT 195 - Trailer Tool Kit 2: Timekeepers, Hits & Swooshes, the second installment in this series. The CD contains sound design elements designed for promo & trailer needs. This CD includes 70+ tracks of timekeeping tension beds that range from "never before heard cracked out sounds to low ambient suspense beds." Also included are trailer HITS and WHOOSHES for impact cuts. KT 196 - Youth-Fest features a festival blend of youth rock, electro-pop and funky remixes. KT 197 - Heart of the Middle East features Golden Globe winning composer Richard Horowitz, known for creating a unique sonic language that fuses together his roots in classical, jazz and electronic music with the intensity of the ancient trance music of Morocco. CM 67 - Funkalicious offers a collection of old skool throw back 70s funk, 90s funk-rock and new skool urban funk songs. Contains vocals and instrumentals. SLAM! 50 - The Wolfmen Sell Out features the UK composing duo of Marco Pirroni and Chris Constantinou who got their start in the late '70s and early '80s punk and new wave scenes through stints playing and writing with Adam and the Ants and Souxsie and the Banshees where Marco played alongside Sid Vicious. They continued separately with the likes of Iggy Pop and Sinead O'Connor and recently came back together writing as The Wolfmen. "After recording their debut album we roped them into writing their second one for us." Audition tracks at www.killertracks.com.
THE MIX
Attention Waves Users: Waves is seeking your expertise for an upcoming all-new Tips & Tricks section on their website. If you have a unique or effective way of using a Waves tool that you would like to share, email This email address is being protected from spambots. You need JavaScript enabled to view it.. Feel free to include a description, as well as specific settings, presets, and GUI screenshots. Include your name, title, and the names of 2 or 3 artists you have been working with. "We'll be selecting the very best Tips & Tricks to share with our user base, to be included along with advice from our artists, beta testers, and engineers." www.waves.com.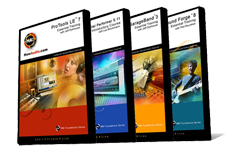 HowAudio.com (HA!), a subscription-based, on-demand music and audio software training website launched June 1, '07, announces the release of its first four (4) how-to "Foundations Series" DVD titles on music production software: Pro Tools LE 7.0, SoundForge 8, GarageBand and MOTU Digital Performer. SoundForge 9 and Finale 2007 are currently in production and more titles will follow monthly. Pro Tools is widely used by professionals in music production, postproduction, TV and film scoring. Jeff Dykhouse, veteran audio engineer, takes a comprehensive look at each aspect of this program. With the HA! QuickSTART Overview, you get the needed edge to be up and running quickly. Sound Forge® software contains everything you need to analyze, record and edit audio, produce music loops, digitize and clean-up old recordings, model acoustic environments, create streaming media and master replication-ready CDs. This training will help you master the basics and beyond. Focus is on the SoundForge Audio Editor, professional audio recording techniques, obtaining pristine audio quality, achieving professional audio effects and learning the audio restoration tools. GarageBand is a software application developed by Apple® that allows users to easily compose, perform and record their own music. In this tutorial learn just how easy it is to turn your Mac into a fully featured recording studio. Jeff Dykhouse walks you through mastering the interface, learning basic recording techniques, arranging a song, recording live instruments/vocals, editing and mixing tracks, adding special effects, podcasting and distributing your GarageBand compositions via the Internet or CD. Veteran audio engineer Les Brockmann demonstrates that even though MOTU Digital Performer was originally designed for professional studio production, film scoring, live performance and remixing, that with DP's advanced features and an intuitive streamlined design, it can be easily utilized for professional results for all levels of users from home recording enthusiasts to world-class recording studios. Les demonstrates how to record live instruments, record and import MIDI files, sequence and edit your finished project for export in a variety of different file formats. The HowAudio interactive video tutorials allow you to learn at your own pace utilizing either DVD-rom or the HA! Online Video Library. www.How Audio.com.