TECHNOLOGY

Tascam's DV-RA1000 recorder has been joined by the DV-RA1000HD. The new model supports recording to CD, DVD or hard disk media at up to 192kHz/24-bit resolution, or using Sony's revolutionary Direct Stream Digital format. Like its sibling, it includes DSP for EQ and dynamics processing, USB 2.0 connection to a computer and a rear panel packed with the connections professionals demand. Minnetonka's discWelder Bronze1000 for DSD conversion and DVD-Audio disc authoring is offered free from Tascam for DV-RA1000HD owners. The DV-RA1000HD provides more than 60 hours of recording to its built-in 60GB hard drive. It also records direct to DVD+RW media, for over five hours of recording at better-than-CD quality. Other features include: Archives to DVD-R, DVD-RW, DVD+R and DVD+RW discs; Multiband compression and 3-band EQ mixdown effects; Balanced XLR and unbalanced RCA inputs and outputs; Balanced AES/EBU inputs and outputs, running at normal, double-speed and double-wire formats: SDIF-3 DSD input and output for external conversion and processing of DSD audio; PS/2 keyboard connector for title editing; User-definable function keys; ±6% pitch control; Various play and record modes such as auto track increment, auto cue, auto ready, single/continuous play and program A/B play, and more. Also new from Tascam is the IF-FW/DMmkII FireWire Interface Card. This new version of the popular expansion card turns the DM-3200 or DM-4800 into a 32-in/32-out computer interface. Users can record at up to 96kHz/24-bit resolution without changing the channel count. The IF-FW/DMmkII interfaces with Mac OSX or Windows systems using Core Audio, WDM and ASIO. www.tascam.com.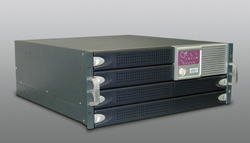 Staco Energy Products Co. introduced the UniStar IIILA Series single-phase, online, rack mount Uninterruptible Power Supply. This unique UPS features powerful protection over a wide input voltage range at an affordable price. Its constant clean, steady sinewave (provided by the double-conversion technology employed) protects downstream equipment even without going to battery mode. With unity input power factor that meets industry standards for energy savings and low reflected harmonics, the UniStar IIILA is ideal for servers and networks, telecommunications equipment, industrial equipment, medical imaging equipment or any sensitive electronic devices. Available with capacities of 1kVA, 2kVA and 3kVA, the Unistar IIILA is easy to install, and monitor. Each size offers remote monitoring and diagnostic capabilities through the web, networks, or an SNMP adaptor. Standard software is compatible with most operating systems including Novell Netware, Windows, Linux and Free BSD. The unique Smart Battery Management System continuously monitors battery status and recharges whenever necessary. Hot swappable batter packs allow users to change batteries without shutting down the UPS. www.stacoenergyproducts.com.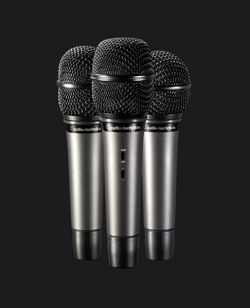 Audio-Technica unveiledthree new vocal mics as part of its next generation of the Artist Series live sound microphones. The ATM410 Cardioid Dynamic Vocal Microphone is designed for smooth, natural vocal reproduction and low noise. Equipped with a Hi-ENERGY® neodymium magnet for high output, and a multi-stage grille design for excellent protection against plosives. Its cardioid polar pattern reduces pickup of sounds from the sides and rear, maximizing isolation from other sound sources and minimizing feedback. The microphone has a frequency response of 90-16,000 Hz. The ATM610 Hypercardioid Dynamic Vocal Microphone employs an innovative dual-wall floating construction — the back-cavity assembly "floats" inside the handle shell, providing outstanding isolation from handling noise. With a frequency response of 40-16,000 Hz and output via a low-impedance, 3-pin XLRM-type connector, the ATM610 also features all-metal construction for added durability. The ATM710 Cardioid Condenser Vocal Microphone is tailored for studio-quality performance. The microphone is equipped with an integral 80 Hz hi-pass filter that provides easy switching from a flat frequency response (40-20,000 Hz) to a low-end roll-off position that reduces the microphone's sensitivity to popping in close vocal use. The ATM710 has a switchable 10 dB pad. MSRPs as follows: ATM410 Cardioid Dynamic Vocal Mic — $169.00, ATM610 Hypercardioid Dynamic Vocal Mic — $249.00, ATM710 Cardioid Condenser Vocal Mic — $299.00. www.audio-technica.com.
NOTION Music, Inc., the creators of music composition and performance software, introduce PROTÉGÉ, a new program that is easy enough for beginners and yet robust enough for seasoned musicians. PROTÉGÉ allows musicians of all skill levels to write, rehearse and perform their compositions as if they were working with a full ensemble of musicians. By including more than 100,000 sounds recorded by the London Symphony Orchestra at Abbey Road Studios, and offering add-ons that include rock and rhythm section sounds, PROTÉGÉ gives users the freedom to explore their imaginations while composing music. Available for $99, PROTÉGÉ has been designed to: improve sense of pitch and tonality; allow musicians to edit, save and practice songs based on their own interpretations; accompany primary instruments or small ensembles; create playback directly from notation; compose, explore and manipulate in-depth scores; and upgrade to more complex programs to match skill-level as needed. www.notionmusic.com.
Digidesign announced the new Digidesign® Mbox® 2 Mini, a compact, USB-powered Pro Tools LE™ system. The Mbox 2 Mini ships with DigiRack™ plug-ins, Bomb Factory® plug-ins, the Xpand!™ sample-playback/synthesis workstation, and the Pro Tools Ignition Pack. Mbox 2 Mini features include: professional sound quality (up to 24-bit/48 kHz); two simultaneous analog inputs and outputs; one XLR analog input for connecting a microphone; two ¼" line-/instrument-level (DI) analog inputs for connecting guitars, basses, keyboards, synthesizers, drum machines, and more; zero-latency monitoring; powered by USB (USB 1.1 connection, cable included); two ¼" analog monitor outputs, a stereo headphone output, 48V phantom power and more. Mbox 2 Mini will be available soon for $329 U.S. MSRP. www.digidesign.com.
Promo Only and partner Destiny Media Technologies launched the upgraded Promo Only MPE 3.0 for both Mac and PC users. The new version is faster and more user friendly and also enables customers to download and export complete video files through the system, giving them the ability to watch artist videos in the highest quality formats. For added convenience, users can also export compatible video files onto video iPods or other portable media devices to watch at their leisure. Other notable enhancements to the Promo Only MPE system include a revamp of the interface to provide users with quicker and more efficient navigation through the more than 30,000 tracks currently available. Plus, with accessibility in mind, customers will now be able to sign into their Promo Only MPE account securely through any web browser, previewing digitally watermarked streams of new releases and obtaining information on available tracks by logging on through the website, www.promoonlympe.com.
PRODUCTION LIBRARIES
Amusicom released the INVESTIGATION series of 4 CDs, featuring a variety of intense, powerful and mood-enhancing cuts that range from orchestral to industrial to inner city to deep-sea sonics and deep space resonance. CD titles include: 1 Driving/Momentum (AM132), 2 Drama/Intrigue (AM133), 3 Edgy/Street (AM134), and 4 Mystery/Atmosphere (AM135). Tracks from Amusicom are available for licensing through Megatrax. Preview tracks at www.megatrax.com.
New releases from Killer Tracks include: NM 280 – Hip Hop Fashion, NM 281 – Melancholy Piano, SLAM! 46 – iPop, UBM 48 – World Sport, and UBM 49 – Berlin. Audition tracks online at www.killertracks.com.
THE MIX
Andrew Frame has joined up with Clear Channel Fort Myers as Creative Services Assistant under Production Director Ray Scott. Andrew will be at the station for about 90 days to get the program up and running (a new department), then moving it all back to the home office and telecommuting. Meanwhile, normal operation of Brandi & Andrew Frame SoundWorks will continue as they enter our sixth year of business. This email address is being protected from spambots. You need JavaScript enabled to view it., www.bafsoundworks.com.
RAPster Michael Taylor, President of 2Daze Creative & Production is pleased to announce that his company was honored twice in the 13th Annual 2006 Communicator Awards Competition. The Award of Distinction was given in the category of "Education/College and Universities" to 2Daze's commercial for Texas Wesleyan School of Law. The other Award of Distinction was given in the category of "Radio Copy Writing" to 2Daze's script Finger Lakes Beverage – "700 too small?", written for Citadel Broadcast stations WIII/WKRT in Cortland, New York. This email address is being protected from spambots. You need JavaScript enabled to view it., www.2daze creative.com.
Pure Tonic Media are pleased to announce the appointment of George Taylor as Imaging Producer. George joins PTM from GCAP's 96 Trent FM. This appointment follows a successful first year for Pure Tonic Media, securing strong client relationships and the launch of "Production Vault," airing on over 60 stations worldwide. www.puretonic .com.
25-Seven Systems recently released a groundbreaking book, "Spaces Speak, Are You Listening?", by its Vice President and Director of Engineering Dr. Barry Blesser. Dr. Blesser, an AES Fellow and former AES President, co-authored the book with his wife of 35 years, Dr. Linda-Ruth Salter, an independent scholar specializing in interdisciplinary studies. The book, available at www.amazon.com and other major booksellers, examines the broad question of how listeners experience space in a wide variety of applications across a diverse range of cultures. Spaces Speak integrates insights from dozens of professions into a readable exploration of how auditory spatial awareness has been applied to real and virtual spaces. This book will appeal to audio, mixing and sound engineers, who all function in today's audio world as aural architects. Dr. Blesser is well-known in the audio field, having invented the first commercial digital audio reverberation system, the EMT-250. He also helped start Lexicon in the 1970s, the first digital audio product company; published numerous papers on many aspects of digital audio; and holds many audio and DSP-related patents. Additional information about the book can be found at http://mitpress.mit.edu.