TECHNOLOGY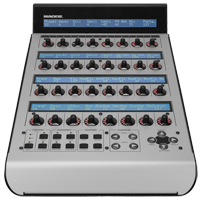 Mackie announced the Mackie Control Pro control surface series, the next generation of the Mackie Control Universal line of controllers. Comprising Mackie Control Universal Pro, Mackie Control Extender Pro and Mackie Control C4 Pro, the series provides the most complete feature set and software compatibility of any control surfaces available today. Mackie Control Pro series controllers are designed to seamlessly work together to deliver ultimate hands-on control of mix and plug-in parameters, thereby making the user's music production software complete. "Mackie Control Pro controllers allow users to get the most out of Logic, Pro Tools and other major audio production software by giving them control they simply can't get from a mouse or generic controller," said James Woodburn, Mackie Recording Brand Manager. Sporting a new streamlined appearance, the Mackie Control Universal Pro control surface boasts the ability to connect directly to a Mac or PC via USB, and support for connections of up to three additional pieces of external MIDI gear. Like the Mackie Control Universal, the MCU Pro features nine motorized, touch-sensitive Penny + Giles faders, eight V-Pots and more than 50 master buttons, as well as a sophisticated communication protocol that enables ultra-precise control, makes setup easy and gives real-time visual feedback via the huge backlit LCD and eight LED rings. The Mackie Control Extender Pro control surface extension shares the new appearance of the MCU Pro, and allows for easy expansion of the master module. Users can add eight precision Penny + Giles faders and V-Pot channels at a time — up to 24 faders and V-Pot channels total — by way of MIDI ports supplied by the MCU Pro. The Mackie Control C4 Pro plug-in and virtual instrument controller offers hands-on control of up to 32 simultaneous parameters as well as extensive visual feedback via four backlit LCD "scribble strips." Like the Extender Pro, the C4 Pro has been designed to seamlessly connect to the MCU Pro, but can also operate in standalone mode. The unique communication protocol employed by the C4 Pro allows for plug and play setup, and enables users to view parameter names and values in real time. When the C4 Pro is combined with Mackie's free C4 Commander Pro software, users can also take control of MIDI hardware such as synthesizers, effects and amp modeling processors, all without leaving the mixing sweet spot. The new Mackie Control Pro series has a U.S. manufacturer's suggested retail price of $1549.99, $899.99 and $1299.99 for the Mackie Control Universal Pro, the Extender Pro and C4 Pro, respectively. www.mackie.com.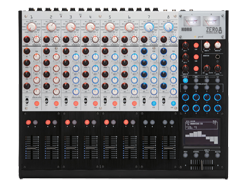 Korg recently unveils the new ZERO4 Live Control Mixer and ZERO8 Live Control Console, designed for the growing number of musicians incorporating real-time mixing, MIDI control and dynamic effects manipulation into their computer-based production and performance. The ZERO Live Control products act as an all-in-one "core station," integrating a digital mixer, FireWire audio interface with support for up to 24-bit/192 kHz audio, MIDI control surface and effect processor in a single unit. A variety of input types allow the user to integrate their favorite tools with their laptop/computer, or digital/analog instruments via FireWire connection, delivering powerful and flexible performance options. The ZERO mixers are the perfect complement to DJ control software, real-time performance software and compositional DAWs. The Matrix Input Selector enables each channel to be instantly switched between a variety of sources (turntable, CD, mic, audio from a computer, guitar), to act as a MIDI control surface, or as a combination MIDI controller + audio channel. Each channel on the ZERO4 has a dedicated Insert effect (8 types). In addition, there's a Master effect and a BPM-based loop sampler (one-shot mode also provided). The ZERO8 offers three effects processors, Insert (8 types), Send and Master (11 types each), all controlled via a Touch-display screen with KAOSS-style real-time manipulation. As a control surface, the ZERO4 offers 32 knobs, four switches, 12 buttons and four sliders. The ZERO8 offers 64 knobs, 8 encoders, four switches, six buttons and eight sliders. Dedicated "ZERO Edit" software lets users freely assign MIDI messages to the faders, knobs, incremental/push encoders, buttons, toggle switches and X-Y pads. www.korg.com.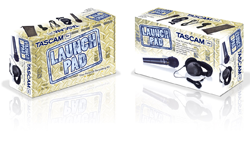 Tascam is shipping the LaunchPad, a starter kit including headphones, cables and a microphone to help musicians start recording at an affordable price. The LaunchPad is the ideal accessory for musicians to start recording with their Tascam DP-01 Digital Portastudio, cassette Portastudio or USB computer interface. Included in the LaunchPad are a pair of Tascam HP-VT1 studio-quality headphones and a Tascam Fox microphone designed by MXL. It also includes a mic clip, mic pouch and cable. Suggested retail price is under $100. www.Tascam.com.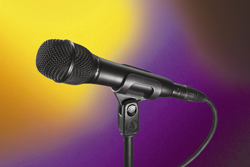 Audio-Technica introduced the AT2010 cardioid condenser vocal microphone, designed to bring the studio-quality sound of Audio-Technica's renowned 20 Series to the stage. Featuring the same 16 mm low-mass diaphragm found in the AT2020 side-address studio condenser, this handheld offers the performance advantages of a high-quality studio microphone at an estimated street price of $99. Ideal for use in live performance where phantom power is available, the AT2010 is perfect for solo performances, jazz vocalists, singer/songwriters and house of worship applications. The AT2010 provides an extended flat frequency response of 40-20,000 Hz. The AT2010's fixed cardioid polar pattern allows isolation of the desired sound source thereby reducing pickup of unwanted sounds from the sides and rear. The mic is able to handle extremely high SPLs (136 dB) and has a wide dynamic range (113 dB); its multi-stage grille offers excellent protection against plosives and sibilance without compromising high-frequency clarity. www.audio-technica.com.
Blue Sky announces the launch of EXO—more than a set of external speakers for your computer. EXO is a complete, full-range studio monitoring solution integrating a number of unique features and benefits not currently found on other products. The system consists of an 8" powered subwoofer (which also contains the amplifiers and bass management circuitry for the system), Left & Right 2-way satellite speakers, and a desktop remote 'hub'. One of the more unique features of this hub is that it allows you to simultaneously plug in and monitor an assortment of peripherals via the XLR / TRS, RCA and 3.5 mm mini jack inputs. For example, the user can quickly connect a computer, a MP3 player or a mixer, and monitor all three sources at the same time. In addition, the user can control the gain of the system and dial in the subwoofer level, all without needing to crawl around under a desk. The hub also incorporates a 3.5 mm headphone jack, which when used mutes the monitoring system. For the user this provides a new level of convenience and flexibility, allowing for a better integration of the EXO stereo monitoring system into the work environment of today's audio / video professional. MSRP (US): $399. www.abluesky.com.
PRODUCTION LIBRARIES
FirstCom Music announced the release of their first record label, Roadside Couch RecordsTM, which was created exclusively to provide Music Supervisors, Ad Agencies and the Film and Television industry with a readily accessible source for songs and bands. The label will provide a launching platform for up and coming bands and Indie labels in a wide variety of genres. Roadside Couch Records will deliver alternative rock, punk pop, singer-songwriter and other mainstream and hard to find talent that producers and music supervisors demand. "We are very excited to be able to offer this unique service to both music supervisors and our artists. Our goal is to deliver fresh new talent directly to producers and directors with 'no hassle' master and synch rights provided to the client", says Ken Nelson, Senior Vice President and Executive Producer of FirstCom Music. www.firstcom.com.
THE MIX
Joe Kelly has been selected to voice the national Radio commercial campaign for "Rockin The Rally At Glencoe". Jerry Bryant will produce. The 5 day Harley Festival in the Black Hills traditionally draws 500,000+ and runs from August 5-9th. This year's headliners include Metallica, Godsmack and others yet to be announced. Kelly and partner Jerry Bryant once ruled the concert spot production business through Chicago's SuperSpots. "Although we have remained close friends, this is the first time Jerry and I have worked together since 1991!", said Kelly. More info at www.jkcsonline.com.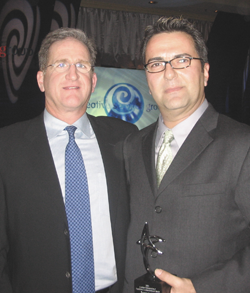 Yaman Coskun, one of the original executives who helped launch the Creative Services Group for Clear Channel Radio and most recently the Creative Director for Clear Channel's D.C. and Baltimore clusters, has resigned after seven years with the company. Coskun calls it a bittersweet but an inevitable departure as he now will pursue his own creative dream; www.yamanair.com, what he calls the "anti-advertising agency!" "I am grateful for seven years of pure pleasure, a golden opportunity and a monumental learning event. I was blessed enough to be in the epicenter of a massive paradigm shift where Clear Channel led a revolution by improving our medium dramatically with shorter length units and better creative," said Coskun. "Yaman's passion and humor will be sorely missed. His leadership on creative fronts for us has made a difference in our region and across the company." added CC Market Manager Dave Pugh. Jim Cook, VP of Creative Services Group for Clear Channel said: "It will be exciting to watch Yaman soar with Yamanair. He is a passionate, talented man and a dear friend. We wish him the best of luck!" Offering full creative services and consulting, Coskun can be contacted at This email address is being protected from spambots. You need JavaScript enabled to view it.. l Q101 (WKQX-FM) and program sponsor Verizon Wireless are bringing listeners the musical journey of an up-and-coming Chicago alternative rock band through fully integrated media channels. The on-line "Breaking the Band" reality show at Q101.com combines live and studio performances along with videos and MP3's; on-line band diaries and "home movies;" fan interaction through video and text message alerts for new Web entries; and a CD launch meet and greet at a Verizon Wireless retail location. "The competition for listeners is greater than ever," said Lance Richard, Director of Sales for Emmis Communication's WKQX-FM and WLUP-FM. "Emmis' 360-degree marketing model is rooted in the idea that we need to be everywhere the consumer is on his or her time. By integrating multiple marketing solutions such as radio, on-line, texting and retail options, we custom-fit a program to people's lifestyles and create powerful multi-channel exposure for advertisers' dollars." As Emmis Chicago takes the lead in executing 360-degree marketing programs, both WKQX-FM and WLUP-FM, in collaboration with Emmis' new media arm, Emmis Interactive, are tapping into the full range of multi-media channels to reach consumers. Marketing and advertising programs developed by Emmis Chicago's marketing sales staff include the traditional broadcast radio format as well as podcasting; audio streaming; music e-commerce; extensive and customized Web content; event marketing; "affinity" programs such as listener databases; and mobile marketing such as text messaging interaction. www.Q101.com.