TECHNOLOGY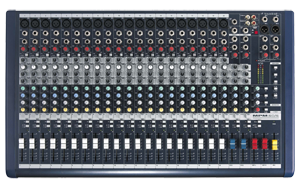 Soundcraft announces the launch of its compact yet high-performance new MPM Series of multipurpose mixers. Ideal for live sound, recording, houses of worship, multi-speaker installations and other applications, the versatile MPM is available in two standard frame sizes offering either 12 (MPM12/2) or 20 (MPM20/2) mono inputs, with each model featuring two additional stereo input strips. The MPM's highly transparent GB30 mic preamp, also used on Soundcraft's larger LX7ii and GB Series desks, features high-resolution adjustment over a wide gain range of 55dB, and provides +22dB headroom through the console. 48-volt phantom power accommodates for condenser microphones of all types. Both the MPM12/2 and MPM20/2 are equipped with three auxiliary busses, configurable for use as effects or monitor sends, and all main connectors are professional XLR-type and 1/4-inch metal jack sockets. RCA phono connectors are additionally provided for disc and stereo playback inputs and record outputs. Equalization on the mono inputs is three-band with a swept mid (fixed mid on stereo inputs). All mono input channels have TRS insert sockets and inserts are also provided on the mix output. High-quality 60mm faders for accurate channel control, an intuitive and comprehensive solo system, and ten-segment LED output metering are also part of the MPM feature set. The MPM's monitor output and headphone output work in parallel so that performers can still listen on phones while an engineer is listening on studio monitors. The MPM12/2 and MPM20/2 can also each be quickly and easily converted for rack mounting by simply adding optional rack rails (although only the MPM12/2 will fit in a standard 19-inch rack). Suggested US list pricing on the new line is as follows: MPM12/2 - $689.00 (or $722.00 with optional rackmount kit); MPM20/2 - $969.00. www.soundcraft.com.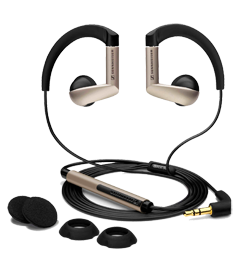 For today's active music lovers, style and mobility rank almost as high as sound quality in the choice of headphones. Enter Sennheiser's new Style Line of ultra-lightweight earphones combining innovative design and with high-fidelity performance. Three models, each distinctly different in design but sharing their high-performance underpinnings, comprise the new Style Line, offering ideal sound delivery for music listeners using iPods, other personal MP3 players, portable CD players, and the full range of mobile music electronics. All employ Sennheiser's latest, miniaturized driver, which incorporates a specially tuned damping system optimized for ear-canal operation to yield smooth, detailed response. Leading the trio is the MX 90 Style, a design making use of a new "Twist-to-Fit" system that ensures a secure, comfortable fit under even most active conditions. While the earbud containing the transducer nestles into the ear canal, a secondary stabilizing pad rests against the outer ear; the wearer simply gently twists each earpiece to find the most comfortable and secure position. The MX 90 Style is equipped with an in-line volume control, and supplied with two sizes of soft-rubber ear adapters and three sizes of Twist-to-Fit pads to ensure personalized comfort and fit, as well as a carry-case. The OMX 90 Style uses the same high-performance driver set in a "clip-on" design. Soft, individually adjustable behind-the-ear clips hold the drivers securely in position over the ear canal, while an in-line volume control provides always-available adjustment. The LX 90 Style combines a unique, self-coiling ultra-lightweight neckband with the Style line's transducer and materials. The LX 90 Style also includes ear adapters in two sizes to permit individualized fit, as well as a carry-case. The Sennheiser Style Line headphones are available at suggested retail prices of $69.95 (MX 90), $89.95 (OMX 90) and $79.95 (LX 90). www.sennheiser usa.com.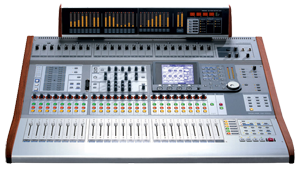 Tascam's DM-4800 is a new digital console for professional users who demand a flexible, 64-channel mix platform that configures to fit their needs. A "fat channel" strip in the center of the board provides instant access to 4-band parametric EQ, dynamics and aux controls available for the first 48 channels. Twenty-four studio-grade mic preamps provide enough inputs for a live event, and more can be added using expansion cards with external preamps. The standard compliment of analog and digital I/O is more than you'll find on consoles costing three times as much, and a completely configurable 24-buss routing system allows you to re-patch the board at the flick of a switch. The DM-4800 fits seamlessly into the modern recording environment based around a computer DAW. With a single button press, the Remote layer provides a 24-fader control surface for control of premiere workstations such as Pro Tools, Logic, SONAR, DP, Cubase and Nuendo. The optional IF-FW/DMmkII interface card provides 32 channels to and from a computer at up to 96kHz over a single FireWire cable. www.tascam.com.
Based in Helsinki, Finland, Airshift Media Ltd introduced Airshift Studio, a new radio automation software package for music and talk radio stations. It is backed by a SQL database, a built-in music scheduling subsystem supporting most typical audio formats and running on Windows, Mac OS X and Linux platforms. "Small and medium-sized radio operations can have all the functionality, power and streamlined workflows which up to now have only been found in the enterprise-level systems used by major world broadcasters." Adopting new services such as podcasting and mobile platforms is nowadays essential in the broadcasting business and Airshift Studio brings you these and more. A fully-functional free trial demo can be downloaded from www.airshift.tv.
THE MIX
RAP columnist Jeffrey Hedquist, President of Hedquist Productions, Inc. in Fairfield, IA, will be speaking at the Radio Advertising Bureau's 2007 national conference in Dallas. Hedquist's seminar, titled, "Extreme radio Commercial Makeovers" will run from 3:45 pm to 5:00 pm. on Friday, February 9th. Hedquist says, "You'll hear the worst commercials in North America get ripped apart and rebuilt from the ground up, with lessons from each." Attendees at Hedquist's workshop will leave with "proven methods to turn ordinary concepts into result-getting spots, plus seven ways to make advertisers stand out from the competition, even when there seems to be nothing to differentiate them." RAP readers are also invited to join Jeffrey for a Free 60-Minute teleseminar "Radio Commercial Story Starters" on Thursday, February 22, 2007 at 5:30 pm PST / 8:30 pm EST. In this FREE one hour teleseminar, you'll hear examples and learn techniques to find and develop story-type commercials that get results for your clients. To register for this limited participant teleseminar, go to http://Teleseminar.Hedquist.com.
RAPster Michael Taylor, President of 2Daze Creative & Production is pleased to announce that his company was honored twice in the Fall 2006 Millennium Awards Competition. A Gold award was given for the Rusnak Auto Group radio commercial, produced for CBS station KFWB in Los Angeles. A Silver award was given for the internet radio broadcast show elements in the sports audio category, produced for the N.A.H.L. Texas Tornado Hockey team. www.2dazecreative.com.
VOICE (VoiceOver International Creative Experience) will hold its first annual event in Las Vegas, Nevada March 27-31, 2007 at Palace Station Hotel. "VOICE is an international organization founded and dedicated to the Education, Technology and Community of Voice Actors. VOICE is intended to help voiceover talent become more effective performers, more skilled communicators, and more savvy business people by providing the training, tools, and resources needed for them (and their clients) to be more successful." James R. Alburger, author of The Art of Voice Acting and co-founder and producer of the event says, "It's four days devoted exclusively to the craft and business of voiceover – a live seminar jam packed with valuable information and hands-on training taught by some of the top voiceover coaches in the country." Professional voice artists currently slated for the conference are its founders, James R. Alburger & Penny Abshire of VoiceActing.com and Frank Frederick of Legend Corporation, author of "LoveNotes". Also speaking will be: Rodney Saulsberry, Bob Bergen, Bettye Zoller, Connie Terwilliger, Gregory Best, Chris Wagner, DB Cooper, MJ Lallo, and Patrick Fraley. www.voice-inter national.com.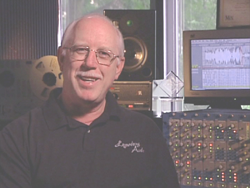 Mastering engineer Billy Stull, owner of Masterpiece Mastering and pro audio equipment manufacturer Legendary Audio, announces the establishment of the Masterpiece School of Mastering at South Padre Island. The school, an intensive three-day course on all aspects of the mastering phase of commercial recordings, will be held monthly at the resort setting of South Padre Island, Texas. Step-by-step procedures, techniques, and equipment involved in mastering the wide range of projects presented to a mastering facility will be covered. "In our marketing activities with our Masterpiece analog mastering system designed by Mr. Rupert Neve, we've come across many engineers and recording studios that are wanting to establish a mastering facility or service but are unsure of exactly what to do or how to be successful," notes Stull. "This new course is designed to not only acquaint these individuals and companies with the fundamental principles of mastering but to really bring them up to speed with numerous tips and tricks that I and others have accumulated over years of professional experience." A portion of the course will take place at Stull's new Masterpiece Mastering facility, a 2500-square-foot building that features a 1000-square-foot mastering room with specially treated walls that effectively eliminate any reflections. According to Stull, "Having a mastering suite this large really takes the room out of the equation and feels very much like being outdoors, but with no ambient noise. It's terrific in terms of accuracy, which is what we're after in a mastering environment, of course." www.legendary audio.com.
Promo Only MPE announced that it has achieved several major milestones breaking 10,000 registered users, servicing 25,000 tracks to radio stations for over 600 record labels and recording over 500,000 individual downloads through the Promo Only MPE System. The Promo Only MPE service is the largest digital distributor of promotional music content to radio in the United States. www.promoonly .com.