TECHNOLOGY
To meet the needs of a changing DJ and music production landscape, Mackie unveiled its new d.pro Series of DJ Production Consoles with FireWire I/O. These new 2- and 4-channel DJ consoles are highlighted by their FireWire capabilities, studio-quality sound, routing flexibility, and recently announced certification for Native Instruments Traktor "Scratch" software—letting DJs mix and scratch digital music files using standard turntables with specially coded vinyl discs. Mackie's d.2 pro (2-channel) and d.4 pro (4-channel) consoles start with premium analog circuitry throughout, including VCA-based design, audiophile-grade phono preamps, an Infinium "contact-free" crossfader, and a variety of rear-panel connections including balanced XLR main outputs. The d.4 pro is further distinguished by onboard analog filtering effects and Onyx microphone preamps with 48v phantom power. The d.pro's most notable feature, however, is their built-in 13x6 FireWire interface at 24 bit/96kHz—enabling these mixers to function as a multitrack recording source and a multi-input performance mixer when connected to any FireWire-equipped Mac or PC. DJs can simply plug either the d.2 pro or d.4 pro into a laptop and start playing digital music files from iTunes, Traktor, MixVibes, Ableton Live, and more. For music producers and remixers, the d.4 pro delivers all the simultaneous I/O needed to connect turntables, CD decks, a beat machine, two studio microphones, a keyboard and a computer—with studio sound quality and without repatching. It also includes Mackie's easy-to-use Tracktion 3 software with hundreds of beats, samples and loops to get started. MSRP: $899.99 for the d.2 pro and $1,149.99 for the d.4 pro. www.native-instruments.com, www.mackie.com.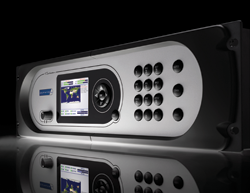 Telos introduced the newest member of its Zephyr family of broadcast codecs: Zephyr/IP. An advanced codec designed just for IP links, Zephyr/IP incorporates audio codecs and IP transport technologies developed by the Fraunhofer Institute for Integrated Circuits IIS. Zephyr/IP uses an enhanced version of MPEG-4 low-delay AAC (AAC-LD) and High Efficiency AAC v2 coding for excellent audio quality, combined with sophisticated new technology that ensures successful operation over IP links such as the public Internet and mobile IP services. "Broad\casters have been waiting for a bulletproof, reliable codec that will deliver truly superior audio over the Internet," says Telos CEO Steve Church. "Zephyr/IP makes remotes over today's IP networks a reality." To ensure that those remotes are smooth and error-free, Zephyr/IP incorporates ACT – Agile Connection Technology – jointly developed by Telos and Fraunhofer IIS. ACT offers sophisticated error detection and concealment routines, dynamic buffering and other techniques that work together to provide stable, reliable IP audio connections. Full fidelity is maintained with up to 5% packet loss, and usable audio is achieved at up to 30% packet loss. Obtaining reliable, low-delay audio from the Internet is a greater challenge than transmitting over a closed LAN or a network with Quality of Service guarantees, since Internet connections give users no control over packet latency or bandwidth fluctuations. Zephyr/IP's ACT adapts to these changing conditions to deliver excellent IP remotes. IP remotes present other challenges too, such as connecting to codecs that are behind firewalls, have dynamically assigned IP addresses, or are subject to LAN Network Address Translation (NAT). To solve these problems, Telos Z/IP Server technology keeps track of users' online status and IP address information, making connections to other Zephyr/IP codecs as simple as selecting from an onscreen "buddy list." Other features include: Versatile I/O including AES/EBU, analog, and a Livewire(tm) Ethernet interface for direct integration with Axia IP-Audio networks as well as LAN, WAN and WiFi networks; Studio-grade 24-bit A-to-D and D-to-A converters; Supports transmission bit rates from 16 kbps to 256 kbps; Context-sensitive on-screen help available at a touch; Backward compatible with Telos Zephyr Xstream and other third-party codecs; Built-in webserver for configuration and remote control. www.Telos-Systems.com.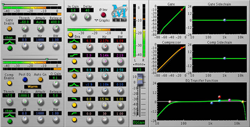 Metric Halo announced the availability of ChannelStrip 2.2 for AU, MAS, VST and GarageBand. This release joins ChannelStrip 2.2 for RTAS and TDM. ChannelStrip 2.2 is a Universal Binary and provides a large number of significant enhancements and bug fixes. The most exciting aspect of this update is that it allows users of VST-only hosts (such as Cubase and Nuendo) to fully utilize the power of their Intel-based Macs when mixing with ChannelStrip. The 2.2 update is freely available to all registered OS X users of ChannelStrip. Originally developed in 1998, ChannelStrip was the first plug-in to bring classic large format console-style channel processing to Pro Tools. Based New York's Hudson Valley, Metric Halo provides the world with high-resolution metering, analysis, recording and processing solutions. www.mhlabs.com.
HHB expanded their professional recording media range with some new high-speed CD-R and compact flash products, the HHB CDR80HS 2x-52x high-speed CD-R disc and the HHB CFPRO range of 1, 2 and 8GB 80x high-speed Professional Compact Flash cards. Available as a branded disc in a jewel case, or inkjet printable in fifty disc cake packs, the new HHB CDR80HS CD-R disc delivers HHB's typically low error rate performance and one-hundred years plus archival security in a high-speed disc rated at 2X-52X. Meanwhile the launch of the HHB CFPRO 1, CFPRO2 and CFPRO8 sees the availability for the first time of professional-grade, high-speed Compact Flash media, optimized for critical audio and video applications. Extensively tested with a range of popular audio and video devices, and cameras, and supplied with a five year warranty, the new 80x rated 1, 2 and 8GB Compact Flash cards feature fast ATA host-to-buffer transfer rates supporting PIO 4 in true IDE mode, and a highly sophisticated error correction code and wear-leveling algorithm to provide discerning professional users with superior levels of performance and dependability. www.hhb.co.uk.
TASCAM has posted updated drivers for the US-122L and US-144 audio interfaces that support Windows Vista 32, Microsoft's latest operating system. The interfaces are among the first to use the high-speed USB 2.0 format for low latency and up to 96kHz/24-bit performance across four channels. The new driver, software version 1.20, is available for free download at www.tascam.com. Windows Vista drivers for the rest of TASCAM's current interfaces are in development and will be available soon.

Blue Sky's new I/ON Passive Studio Monitor is more than the typical in-wall or on-wall speaker, offering distinct features and benefits, exceeding what has come to be expected from passive studio monitors and in-wall or on-wall speakers. I/ON's fully sealed box design—solidly constructed out of acoustic-grade MDF (not plastic)—is 5 times heavier than the typical 6.5" 2-way in-wall speakers. I/ON offers easy in-wall or on-wall installation with consistent performance no matter how it is mounted and the sealed enclosure provides the correct acoustic volume every time. I/ON is an evolution of Blue Sky's SAT 6.5 MK II active studio monitor, and is designed to integrate perfectly with Blue Sky's SUB 12 and SUB 15 Universal. The end result is an in-wall/on-wall passive studio monitor that integrates seamlessly into to your studio, home cinema, boardroom, or other critical listening environment. The I/ON Passive Studio Monitor is designed to perform at its best when matched with a Blue Sky subwoofer such as the SUB 12 or SUB 15 Universal. MSRP (US): $599.00. www.abluesky.com.
Discgear, a CD3 company, announces it has expanded its complete family of high end media storage solutions designed to catalog, organize, protect and retrieve. The latest products include the Selector 100, the Studio 100 Retro Organization and Retrieval System, and the Discus Sport 20 double-sided on-the-go protection case. The Discgear line makes a wise choice in protecting and archiving expensive media for today's industry professional. The Selector 100 Disc Organization and Retrieval System ($59.95) stores up to 100 discs and features a patented one-touch, five-second disc retrieval system; an automatic one-touch pop-up lid that presents discs to you; disc indexing software with interchangeable title sheet designs which allows a printable reference guide; recording surface protection, locks for safe transport, a lifetime warranty and more. The Studio 100 Retro Organization and Retrieval System ($29.95) stores up to 100 discs and stacks up to 3 units high and features five-second disc retrieval. Open the front cover to reveal hidden disc index and find your desired disc's slot. Discus Sport 20 ($29.95) transports 20 CD, DVD, game or photo discs; features a double-sided design to store discs on both sides of sleeves for compactness; is water-resistant and floats. www.discgear.com.
PRODUCTION LIBRARIES
New releases from Firstcom include: HM-080Q Girl Pop - current pop styles and chart toppers; GM-103 Cool Young Stuff 6 - pop rock plus solo guitar riffs; GM-104 Hit List - Top 40 radio pop instrumentals, with some vocal bites; EVO087 Piano Works - Solo piano works covering a variety of moods and styles, intimate to pastoral, personal to documentary; EVO091 Plainsong and Polyphony/Sacred Choral Music - sacred choral music from the 14th and 15th centuries and earlier traditional chants; EVO092 Creative String Ensembles - chamber and string ensembles in contemporary soundtrack arrangements; EVO094 Murder One - eerie, inquisitive, investigative, frightening; GAL074 New Western - modern instrumentation and arrangements of western sounding songs; GAL075 Kitschorama 70's vol. 1 - French soundtrack archives from kitsch to kitsch; OM 108Q Jazz/ReMixed - A merger between the sounds of yesterday, and the sounds of today. Classic jazz riffs turned upside down and inside out with dirty grooves holding down the bottom. Audition these and more at www.firstcom.com.
New releases from Killer Tracks include: KT 200 HEROES - sweeping-emotional, grand-military, sports-hero and swashbuckling-adventure scores; KT 199 EPIC SPORTS MIX - orchestral hybrids to hip-hop and hard rock; KT 198 KILLER CHRISTMAS SONGS - includes vocal and instrumental versions; CM 68 RAVE PARTY - euphoric trance anthems, feel-good Eurodance, urban Synth-Pop, House and wicked Hardstyle. Audition at www.killertracks.com.
THE MIX
Astral Media Radio Toronto Production Director John Masecar is on the move. Effective November 19, John assumed the role of Imaging Director for Astral's Vancouver stations Crave 95.3 and Superhits 650 CISL. John can be contacted at This email address is being protected from spambots. You need JavaScript enabled to view it..
Introducing The Wireless Theatre Company, www.wirelesstheatrecompany .co.uk, a website which produces audio plays, books, comedy sketches, short stories and more to be downloaded to peoples' iPods, MP3 players, desktops and mobile phones direct from the site, for FREE. No registering, no payment, just click on the download button and enjoy the drama. "This brings radio drama to the kids with the iPods, and gets older generations to enjoy the world wide web and keep this wonderful medium alive." Future plans include a Season of Shakespeare so audio drama can be used in schools as a learning tool.