TECHNOLOGY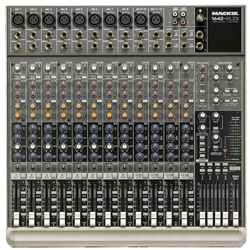 Mackie recently introduced the VLZ®3 line of compact mixers, the next generation in their VLZ series. VLZ3 mixers feature the new studio-grade XDR™2 Extended Dynamic Range mic preamps, the next generation of the XDR mic preamps found in VLZ Pro mixers. The XDR2 mic preamps boast a wider frequency range than their predecessors, including more detailed low end extension, with less noise, even at very high gain settings. VLZ3 mixers incorporate numerous other enhancements as well. They have a wider dynamic range than previous VLZ mixers, including better low frequency response, with less than 0.0007 percent total harmonic distortion (THD) per channel. VLZ3 EQ controls now operate more independently of each other, offering additional creative control over the full frequency range. The ultra-clean summing bus offers improved headroom and the ability to mix hotter signals together without clipping, even in extreme real-world applications. The VLZ 3 line of mixers includes the 16-channel 1604-VLZ3 mixer with 16 XDR2 mic preamps, the 16-channel 1642-VLZ3 with 10 XDR2 preamps, the 1402-VLZ3 14-channel mixer with 6 XDR2 mic preamps, and the 12-channel 1202-VLZ3, which has 4 XDR2 mic pres. All VLZ 3 mixers boast a built-in universal power supply, and are encased in a rugged steel chassis. The new VLZ3 series are available now and have a U.S. manufacturer's suggested retail price of $1099.99, $779.99, $519.99 and $389.99 for the 1604-VLZ3, the 1642-VLZ3, the 1402-VLZ3 and the 1202-VLZ3, respectively. www.mackie. com.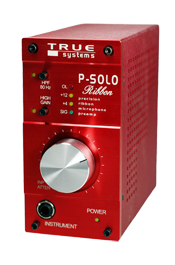 TRUE Systems announces that the P-SOLO Ribbon, a single-channel microphone preamplifier that uses the circuitry of TRUE Systems' multi-channel preamplifiers, but with additional gain and tweaks to maximize the performance of ribbon microphones, is now shipping. The P-SOLO Ribbon produces superior sonic results with either vintage or contemporary ribbon microphones, as well as dynamic mics. Like its sibling, the P-SOLO, the P-SOLO Ribbon uses the same balanced, transformerless circuitry as their Precision 8 and the P2 Analog. It is built with military-grade, hand-matched components and delivers an undistorted response that dips down to 1.5Hz and reaches up to 500kHz, and offers a wide dynamic range with excellent transient response and low noise. Features include high-pass filtering, dual analog outputs, high-impedance instrument input, and four-level metering. The P-SOLO Ribbon differs from previous TRUE Systems products in ways that make it ideal for ribbon and dynamic microphones. It has no phantom power, which is unnecessary for and potentially damaging to ribbon microphones, and it has even higher input impedance and gain capability than other TRUE Systems designs. Higher input impedance makes the P-SOLO Ribbon immune to sonic variations caused by ribbon resonance frequencies that alter the output impedance of the ribbon microphone at those frequencies. www.true-systems.com.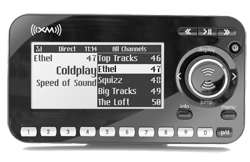 XM Satellite Radio unveiled two new devices for discovering music, sports, talk and other entertainment on XM's more than 170 channels. The XpressR is the industry's first satellite radio with split screen display, and packs many other advanced features such as 30-minute pause and replay. The XpressEZ offers sleek, affordable, entry-level access for enjoying XM programming. These two new radios join the mid-tier Xpress receiver to create a full suite of Xpress plug-and-play products, manufactured by Audiovox. The split screen XpressR receiver allows listeners the ability maximize their XM Radio experience by viewing six different XM channels, simultaneously. When using this function, the device's screen splits into two sections to display the current listening channel on the left side, and five additional XM channels on the right side. All six channels can be viewed by channel name, artist or song title. The radio also boasts a 30-minute buffer, which continuously and automatically saves the last 30 minutes of programming so users can replay what they just heard, even after they changed channels. XpressR users can also pause the XM programming they are listening to with the option to playback that program within 30 minutes. In addition, XpressR offers quick channel navigation with the option to program up to 30 favorite channels, or press number buttons to enter and move directly to the channel you want. The radio also features a remote control with pause, replay and direct channel entry buttons. The radio display automatically adjusts brightness from day to night while in the car and includes a customizable stock and sports ticker. It also includes a feature that will alert you whenever your favorite songs, artists, or sports teams are being played on another channel. The XpressEZ features a bright, large three-line display for viewing XM channel, artist and song title. XpressEZ also offers the option to save up to 10 channels, for quick and easy access to your favorites. There is also a convenient tuner dial for simple navigation through XM's variety of programming. Both radios are compact and lightweight so they can easily be moved from home to car, and audio systems with compatible accessories. Optional accessories for the home include the Universal Xpress Home Kit, new Delphi Premium Sound System, and Belkin Boombox. Manufactured by Audiovox, the new XpressEZ and XpressR receivers will be available for a suggested retail price of $69.99 and $129.99, respectively. www.xmradio.com, www.audiovox.com.
Symetrix introduces an all-new product for its Integrator Series. The Integrator Series is a new group of products providing integrators extremely high value within application-specific packages. The Integrator Series uses the proven technology embodied in the SymNet|Network Audio Solution DSP toolbox. The second product in the new Integrator Series is the Deuce 722, designed to solve numerous everyday audio processing problems for integrators. Built upon the success of the Symetrix 322 DSP Engine and the 9022 before it, the Deuce 722 packs everything ever desired into a 2x2 DSP unit. The Deuce 722 is an all-in-wonder 'Swiss Army' DSP. Its toolset can be applied to a variety of applications such as live sound speaker management, voice processing for public address, headphone processing and line sweetening for broadcast, nightclub system protection, and retail paging over background music or ambient noise compensation. The 722 also tames wildly varying digital media assets and assistive listening processing, all at a ground-breaking price. Featuring two inputs and two outputs (on XLR and Euroblock connectors), it contains microphone pre-amplification (featuring a THAT front-end with true +48V phantom power), compression, split-band compression, downward expansion, gating, de-essing, AGC, ambient noise compensation, feedback elimination, equalization, mixing, stereo width and balance, delay, and more within a single rack space. An exclusive new process known as the volume Clamp(tm) helps protect your sound system from overzealous DJs and sound mixers. Setup is easy and efficient with a straightforward Windows(r) interface connected over Ethernet. The 722 is also compatible with Symetrix Adaptive Remote Control (ARC) wall panels for user control. MSRP: $849. www.symetrix.com.
PRODUCTION LIBRARIES
New releases from Firstcom include EVO085Q Incredibly Cool, EVO088Q EVO Unplugged: Southern Style, EVO089Q Post Modern, CHAP 324 Dynamic Underscores, CHAP 325 Indierock.Uncut, CHAP 326 Shanty Party - World Beats, CHAP 328 Seriously Quirky, GM-100 DramaLand, GM-101 Celebrity News, OM102Q R&B Pop Joints, OM103Q Quirky Comedy Capers, OM104Q Intrigue & Mystery, VL-074Q Shadows [dark drama], VL-075Q FM [pop hits], and more. Audition online at www.firstcom.com.
THE MIX
Envision Radio Networks taps Greg Williams & The Lighthouse Group to produce their nationally syndicated daily rock calendar feature, Paul Shaffer's Day in Rock. The one minute program illustrates the daily history of rock according to longtime David Letterman musical director and sidekick Paul Shaffer. The daily vignette draws on Shaffer's vast musical knowledge and ability to comment on the history of rock from his unique perspective. Paul Shaffer's Day in Rock is a perfect benchmark feature that can be programmed throughout the day, and offers unique sponsorship opportunities for radio stations that are looking to add informative programming to their lineup. www.envisionradio.com, www.lighthouseprod.net.
Paul Sakalas was honored by the Virginia Association of Broadcasters on behalf of Clear Channel Radio for Virginia's Best Large Market Commercial Of 2006. Sakalas is the Production/Creative Services Director for WOWI-FM 102.9, WJCD-FM 92.1, WKUS-FM 105.3, and WJCD-FM 107.7 and brings 7 years of industry experience. Sakalas previously held production positions at Clear Channel's WTUE-FM in Dayton, Ohio as well as WOFX-FM in Cincinnati, Ohio. He holds a bachelor's degree in Electronic Media from the University of Cincinnati and has been honored by the Dayton Advertising Club, and was an E.A.R. award finalist in 2006.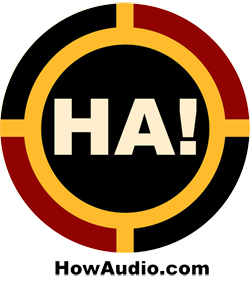 HowAudio.com announces the launch of a subscription-based, on-demand music and audio software training website. Howaudio.com is an on-line community for learning the latest multi-track, 2-track audio software and plug-ins on the market today. In addition, HowAudio.com offers "how-to" video titles covering a range of topics, including musical instruments, hardware, percussion and music business topics. Because the training titles are delivered on-demand directly to the subscribers' computer, they are available 24/7/365. HowAudio.com will initially offer titles on music production software including Pro Tools, SoundForge, Finale, Garageband, and MOTU Digital Performer, in conjunction to titles on Guitar Set-Up and Maintenance, Drum Tuning, and Guitar Effects Pedals. Additional titles in development include Ableton Live 5, Logic Pro, How To Relic Your Guitar Like The Pros, Cakewalk Sonar 5, Sound Track Pro, Propellerhead Reason, Music and Song Copyright and Publishing Law, Steinberg Cubase SX3, Audacity Mixcraft, Bias Peak Pro, Acid Pro 6 and Adobe Audition. Howaudio.com is the brainchild of Thel Rountree and Joe Randeen—with over 50 years of collective producing, video, recording and training experience to their credit. Thel is a musician and video producer/director with 30+ years in the video/music industry, working on independent feature films, a series on ESPN, as well as corporate videos for such diverse clients as Toshiba, Pioneer Music, 20th Century Fox, Universal Studios, Hughes Aircraft and Toyota Motors. Joe is a multi-platinum award-winning producer (RIAA) with over 40 releases to his credit worldwide. His diverse interests within the music industry has taken him from being a staff producer, live and studio drummer, graphic artist, video editor, business owner, and University of Redlands MBA graduate, to co-founding HowAudio.com. There are two ways to subscribe to the HowAudio.com service. An initial monthly subscription of $19.99 gives the user access to all the content on the entire website for 30 days. An initial yearly subscription for $199.00 allows access to all the current content on the website, as well as all future content—which will be 1 to 2 titles per month for the entire year. Additionally, individual DVDs can be purchased online for future reference. www.How audio.com.