TECHNOLOGY

Tascam's new CD-RW900 CD Recorder answers the call of studios, installers, houses of worship and schools that need a dependable, affordable CD recorder. Replacing the CD-RW750, the CD-RW900 offers a list of new features like MP3 playback, pitch and key control and a keyboard input for naming takes. Other features include: CD Text and MP3 ID3 tag display, unbalanced RCA inputs and outputs with dedicated input level controls, ±16% pitch control in 0.1% steps (CD audio discs only), fade in/fade out recording features, coax and optical S/PDIF digital inputs and outputs with input level control, wireless remote control and more. Tascam also announced the availability of Universal Binary drivers for the US-122, US-224, US-428, FW-1884, FW-1082 and FW-1804, making these interfaces compatible with the latest Apple computers with Intel processors. www.tascam.com.
Genelec announces the launch of its new 8200 and 7200 DSP Series Monitors. The new Genelec 8200 Series Bi-amplified Active Monitors and 7200 Series Active Subwoofers are designed for end-users who want a network speaker system that can be set up, measured, analyzed and calibrated quickly. The 8200/7200 DSP Series Monitors employ the company's proprietary DSP (Digital Signal Processing), GLM™ (Genelec Loudspeaker Manager software) and AutoCal™ (Automated Calibration software) technologies yielding a robust and reliable speaker system that maximizes ease of integration into the end-user's studio environment. Genelec has utilized sophisticated digital signal processing in the 8200 Bi-amplified Monitors and 7200 Subwoofers to allow for all standard AES/EBU formats of digital audio. The 8200/7200 Series will accept sampling rates ranging from 32 kHz to 192 kHz. The 8200 Series will also accept traditional analog signals and perform with all the features and benefits of Genelec 8000 Series products. The Genelec Loudspeaker Manager (GLM) software is a computer program (Windows XP® or Mac OS X® platforms) providing the necessary connectivity/control for all loudspeakers on the GLM Control Network. As many as 25 of the 8200 loudspeakers and 5 of the 7200 subwoofers are definable and controllable via standard CAT5 cabling. Genelec's automated system calibration software, AutoCal, combines decades of acoustic research along with the company's proprietary DSP and GLM network control. AutoCal supplies the industry's first integrated process for complete automated measurement, analysis and adjustment of every speaker on the network to correctly integrate and maximize each speaker within the mixing environment. www.genelec.com.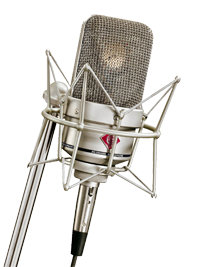 Neumann USA introduced the TLM 49 large diaphragm, cardioid, studio microphone. With its roots planted among the classic Neumann M49 and M50 microphones of the 50s. The TLM 49 combines Neumann's engineering and manufacturing to produce an innovative transformerless microphone that is optimized for that warm, Neumann vocal sound. The TLM 49 features the K47 capsule used in the M49 and U47 microphones. The capsule has a linear frequency response up to the upper mid-range. Above 2kHz there is a gentle presence boost up to 3dB. The capsule is enclosed by a large, acoustically open, neutral sounding head grille. The large 34mm diaphragm cardioid capsule has a tendency towards supercardioid performance due to the special capsule construction. TLM transformerless technology ensures good common mode rejection, prevents RF interference and suppresses noise signals affecting balanced modulation. And the TLM 49 operates at SPLs of up to 114dB without distortion and a dynamic range of 102dB (A-weighted). MSRP: $1,699.99. www.neumannusa.com.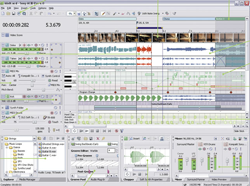 Sony announces the release of ACID Pro 6. New in version 6: Multitrack audio production and MIDI sequencing, unlimited media clips per track, inline MIDI editing, drum map editing, VSTi parameter automation, external control surface support, dual/multi-core processor support and more. Simultaneously record multiple tracks of audio and MIDI and use step recording, punch-in/out, continuous looping, and more. Arm multiple audio tracks, record alternate takes as clips. ACID Pro 6 software also includes an exclusive version of Native Instruments™ KOMPAKT, a $200 value. This VSTi sample playback engine comes bundled with over 120 instruments. www.sonymediasoftware.com.

Digidesign announced version 2.0 of the Massenburg DesignWorks Hi-Res Parametric EQ, developed by the creator of the parametric EQ, George Massenburg. This new version delivers the same reference standard sound as the original while offering a new user interface, five- and three-band versions, improved DSP efficiency, and workflow enhancements. Unique to MDW version 2.0 is a function called IsoPeak, which lets users isolate and sweep through the frequency spectrum to find the targeted frequency with just a click of the band button. "I'm always asked how to use a parametric EQ," explains Massenburg. "With IsoPeak, we can make that process much more intuitive and provide users with a built-in, one push-button lesson in how to get the most out of the Parametric EQ." Other additions include a Phase Invert function, plus A/B snapshots for toggling between two separate EQ settings and copying one snapshot setting to the other. Also new from Digidesign, Pro Tools HD 7.2 Software. New features include enhanced integrated video capabilities that allow editing of video as easily as audio; work with multiple video clips, tracks, and playlists; play QuickTime video through AVoption|V10™ or Avid Mojo®; and bounce edited audio and video to QuickTime format. Integrated multi-channel field audio features include: Replace guide tracks with multi-channel audio from field recorders; select alternate channel audio with automatic fade rebuilding; and browse, search, and edit iXML metadata in regions and Broadcast WAV files. A new destructive punch record mode allows punching into mix tracks without creating additional files. Use third-party paddle controllers for input/output/record switching. There are flexible new automation modes with real-time graphical display of automation data being updated. www.digidesign.com.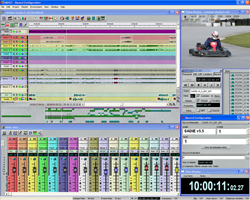 SADiE announced the immediate availability of software version V5.5 for the SADiE Series 5 range of digital audio workstations. Timed to coincide with the general availability of the new SADiE LRX Location Audio Workstation, V5.5 introduces many new editing & recording features that will not only further enhance usage of the LRX, but will also offer benefits across the entire SADiE Series 5 range of workstations. The first thing that users will notice in v5.5 is an improvement to the user interface which introduces a new color scheme to ease identification of individual streams and groups in the playlist and relate them to their mixer strips. This interface 'make over' also introduces a new look to the toolbars and buttons in the playlist and mixer. The overall effect is designed to simplify and aid multitrack operation. Enhanced support for the SADiE LRX Location Audio Workstation and PCM-H64 multitrack platforms now includes a new dedicated 'MTR' multi-track recorder interface to enable simpler setups and operation of systems in the style of traditional multitrack recorders. Projects thus created may still be opened in the full version of SADiE V5.5 software later for editing and post production operations. There are also a number of new Chargeable Options introduced in V5.5 including an improved and updated OMF Import and Export option, and direct creation of DDPi and CDs from high sample-rate material. SADiE also announced availability of the PCM- H16 high-power studio workstation. The PCM-H16 is a new high power DSP-based workstation for all complex, high resolution audio applications and is the latest addition to the family of SADiE Series 5 digital audio workstations. Specification includes 16 channels of AES and high quality A/D and D/A inputs and outputs, 64 streams of 24bit 48kHz audio with real-time cross-fades and punch-ins, and offers similar DSP processing power to the flagship PCM-H64 multi-track system. The PCM16 enables direct record and replay not only of PC-friendly files such as Broadcast WAV, but also Macintosh format files such as AIFF and even SDII directly to Macintosh HFS+ format hard drives. www.sadie.com.
PRODUCTION LIBRARIES
Joe Kelly's Crememachine.com was recently offline for an extended period. It appears the website company handling the site closed shop rather abruptly, and forced an entire rebuild of the crememachine site. Good news is, they're back! www.crememachine.com.
TM Century announced the launch of iJingles.com, a website for non-broadcast clients to purchase world-class musical jingles for personal use. iJingles are fully sung and produced in TM Century's Dallas studios for $225 each. They can be customized and sung for use by internet-only broadcasters, club/mobile DJs, and for personal events such as birthday parties, holiday greetings, and wedding videos. Jingle enthusiasts will find jingles and themes on iJingles.com that TM Century originally created for use on the airwaves and satellite networks around the world. Shouts, chants, and whispers are also available for $50 each online. After an iJingle is produced, it is delivered via email to the client. David Graupner, President and CEO of TM Century, says, "With the explosion of iPods and other similar devices, the marketplace for personal jingles has exploded. We look forward to tapping into the fast growing market." www.iJingles.com.
THE MIX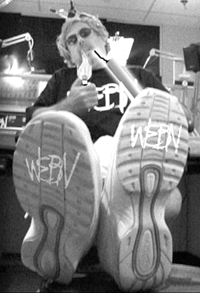 Hats off to long-time RAPster and Clear Channel Imaging Guru Joel Moss who recently received the Clear Channel Creative Service Group's first Lifetime Achievement Imaging Award. Joel describes the actual trophy as "Very sweet. It's a real Heil microphone, with a very nice plaque on the base." Joel received the award at a regular CSG meeting, unaware of what was waiting for him. Joel adds, "I was totally blown away because they tucked the presentation into a portion of one of the evening presentations, complete with an audio collage of some material dating back... well, way back." Congratulations, Joel! This email address is being protected from spambots. You need JavaScript enabled to view it..
Steve Pigott of Pure Tonic Media has just signed a new deal with Emap radio to produce imaging for flagship station Kiss 100. He will work alongside the Kiss production team on a daily basis to evolve the production and create "an innovative Station Sound." Steve left full time employment at Kiss in late 2005 to set up Pure Tonic Media Ltd. After just 9 months in business the company now boasts a large portfolio of clients, and is about to launch a new production service with jingle giants Reelworld. www.puretonic.com.