TECHNOLOGY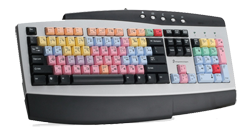 Digidesign's new Pro Tools® Custom Keyboards are now available. Designed for Windows and Mac-based Pro Tools systems, these keyboards let users work faster by providing direct access to primary Pro Tools transport and editing functions. Pro Tools Custom Keyboards use the same symbols and color coding system as the keyboards on the ICON D-Control work-surface surfaces while retaining all the conventional alphanumeric labels that appear on standard computer keyboards. Both the Windows and Mac keyboards provide plug-and-play USB connectivity. The Windows keyboard also supports a PS-2 connection. All three versions of Pro Tools software share most of the same key commands. However, Pro Tools LE and Pro Tools M-Powered users should be aware that some key commands are available in Pro Tools HD software only. The DV Toolkit 2 option for Pro Tools LE systems includes some of the key commands that are not normally available with Pro Tools LE software. The MSRP of the Pro Tools Custom Keyboard is $119.00 US for the Mac version, and $105.00 US for the Windows version. www.digi design.com.

API Audio is announces it's new product called the A2D. The A2D integrates two 312 discrete mic preamps with API's new proprietary analog to digital converters into a 1U rack space unit. It represents the first digital offering in API's line of microphone amplifiers and signal processing modules. MSRP: $1,995.00. www.apiaudio.com.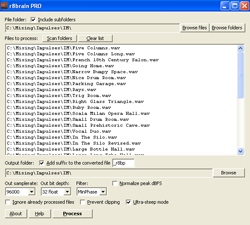 Voxengo announces version update 1.4 for r8brain PRO is now available for download. r8brain PRO is a professional sample rate converter that offers high-quality sample rate conversion (resampling). This version update features command line conversion support. Now r8brain PRO can read broadcast wave extension data from the CVS-formatted text file. Dithering has been re-implemented — r8brain PRO now uses a common 2LSB TPDF dithering method. Other features include Multi-channel file support, extensible wave format support, EBU BWF extensions support, supports of all standard sample rates and more. www.voxengo.com.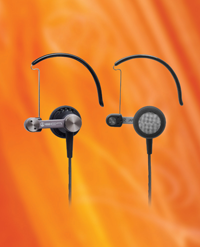 Audio-Technica has announced the availability of its ATH-EC7 GM ear-bud/clip-on hybrid headphones. The ATH-EC7 GM is part of Audio-Technica's Import Series. For portable and active applications, the ATH-EC7 GM headphones feature an avant-garde ear-bud/clip-on design that combines the comfort of an ear-bud with the secure, adjustable fit of a clip-on. These extremely lightweight headphones have a three-position design for a custom fit, and employ 15.5 mm drivers with neodymium magnets to deliver deep bass with extended treble response (10-24,000 Hz). Ideal for use with portable players, the ATH-EC7 GM headphones are equipped with an innovative 0.6m asymmetrical cord (with included 1.0m extension cord) designed for cable management/user comfort; the longer side of the cable wraps around the back of the neck so the cable drapes over one shoulder, minimizing cable interference. In addition, the ATH-EC7 GM headphones come with a gold-plated 3.5 mm stereo mini-plug and a protective wallet pouch for safe transport. MSRP: $249.00. www.audio-technica.com.
Denon DJ announces the successor to the popular DN-X1500 DJ mixer. The new DN-X1500S is a 4-channel, 12" mixer featuring a brushed aluminum top panel, and is a perfect complement to the DN-S3500 tabletop CD/MP3 player. This club/mobile style mixer incorporates Denon's adjustable Flex Fader, a built-in sampler, matrix switching, parametric EQ, onboard effects and a host of other features all powered by the SHARC® DSP engine. The new Denon DN-X1500S offers an intuitive control surface that is suited to the needs of turntablists and mobile DJs performing in clubs, bars, and other venues. The DN-X1500S offers 4 full-featured channels integrated with the "world's first" 8-channel input matrix control. Each channel features smooth-action 45 mm channel faders, Gain control with PFL levels, and 3-band EQ (on/off switchable) with parametric frequency adjustment, as well as a "battle approved" 45 mm multi-channel assignable crossfader with tension adjustment and contour control (named "Flex Fader" by Denon). Main Mic and Aux Mic inputs (one Neutrik combo and one 1/4" TRS) are included with Main and Aux/Sub level control and EQ. On/Off Talk Over and Post switches are also provided. The DN-X1500S comes with a host of onboard digital effects and features such as an 8 second sampler, 9 effect types, and an Auto/Tap/Manual BPM counter. The sampler utilizes audio from any of 6 mixer sources (Ch1/2/3/4, Mic, Master), and offers edit options including Loop, Reverse, Reverse Loop and Single playback, with overall Pitch Control adjustment of up to +/-100%. Effects include SHARC® DSP processing, along with Delay, Echo1, Echo2, Filter 1, Filter 2, Flanger, Auto Pan, Trans and Key %. Aux Out options include REC Out (stereo, RCA) and Booth Out (unbalanced, RCA) with Level control, which offers a unique and practical assign switch to monitor any channel and effects beforehand. The DN-X1500S's Master Out section has separately attenuatable Balanced (stereo, XLR) and Unbalanced (stereo, RCA) outputs with Master Balance VR control and Stereo/Mono select switches on all XLR and RCA jacks. A stereo headphone output with preset selectable EQ features Headphone Cue, Effects Cue, Mono/Split/Stereo, and Cue/PGM/Pan controls, which provides added monitoring options for the DJ. Available now with a MAP price of $899.00. www.denondj .com.
PRODUCTION LIBRARIES
Marshall Such, formerly of Radio Potato, has launched a new jingle production company. Using talent from around the world, the latest in sampling technology and lots of live instrumentation, Marshall promises to offer "a fresh, new sound" for radio jingles, commercials and production libraries. Such says, "Using first-call session singers and writers from Dallas, Los Angeles, New York and Nashville, we are capable of working in any musical genre. We will not be defined by format," An added bonus for clients will be 5.1 surround sound mixing for new HD Radio if requested. www.radioscapemusic.com.
Megatrax Music announces The Scene, a new 15 CD library. In addition to being iTunes-ready, The Scene goes beyond the traditional method of delivering music in 5, 15, 30, 60 or 90 second arrangements and is encoded with patented SmartSound® technology, which allows each track to be edited into a piece with a complete musical beginning and ending at custom lengths from :03 (three seconds) to :60 to more than 30 minutes. www.megatrax.com.
THE MIX
Audio Builders Creativeworks announces the release of "Radio Ad Writing 4 Smarties" an affordable, downloadable eBook written to help the copywriter, salesperson, marketing specialist and business owner. Radio Ad Writing 4 Smarties is "a radio copywriting method that takes you step by step through each process of commercial development without analyzing the workings of the brain. You'll learn how to get the ball rolling, find ideas, put the words together, tell a story, be funny, Do's and Don'ts, how to find and coach talent and simply do the very best for the client." For more information about "Radio Ad Writing 4 Smarties" or about the services of Audio Builders Creativeworks, go to www.audiobuilders creativeworks.com.
Dave Cruickshank announces RadioCRAP.com, "where Radio's Creative wRiter's And Producers come together." RadioCRAP.com will allow visitors to post audio and is designed for the sharing of scripts, techniques, ideas and more. "Brainstorm, ask for critiques…or just shoot the crap with people who not only DO what you do…they GET what you do." www.RadioCRAP.com.
SicSound owner/producer Taz has inked a 2 year Imaging and Production deal with Bonneville Phoenix. "Radio imaging needs a facelift...badly, and I'm excited to help 98-7 The Peak turn heads in Phoenix," said Taz. www.sicsound.com.
Korg USA introduces Korg ProView Extra, a free bi-monthly consumer e-newsletter. Each issue of ProView Extra contains an in-depth artist profile, plus tips and tutorial articles that cover the key topics of keyboards, recording and guitar. Because the focus of ProView Extra is to inform and educate, the newsletter presents useful information that can benefit any reader, whether or not he or she owns a Korg product. Articles are written by leading music industry professionals, guest artists and Korg USA experts and are often accompanied by audio and visual examples. To sign up for Korg ProView Extra, visit www. korg.com/subscribe. l "Prodcasting" has been launched by the creators of Splat! Imaging Packages. Prodcasting works like podcasting, but it's designed especially for the radio production community. Radio imagers can log on to www.splatonline.com and download current production demos from across the country. The first batch of prodcasts features Jake Kaplan from Jack FM Los Angeles, Dome Nero from Hot 97 New York City, and Tony Maddox from WMGK Philadelphia, among many others. Voice demos from national talents like Ann Dewig and Brian Kelsey are also currently posted. Said Dave Marsh, creator of Splat! "How many times do you get stuck in a groove or just want to hear what others are doing in their production? It's time there was an easy way for imagers to spark their imaginations, share ideas and inspire creativity within the radio production industry." Demos are submitted by individual production professionals and are posted as a free resource for the radio production community. www.splatonline.com.