TECHNOLOGY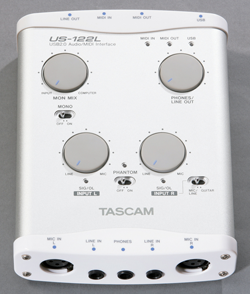 Tascam launches two new USB 2.0 interfaces, the US-122L and US-144 Audio/MIDI Interfaces. The follow-ups to the US-122 deliver audiophile-quality Audio/MIDI Interfaces in a portable, affordable package. New USB 2.0 technology allows up to 96kHz/24-bit recording with zero latency hardware monitoring performance equal to FireWire interfaces. They retain the rugged metal enclosure, pro XLR mic inputs and MIDI I/O of the US-122, and 48-track Cubase LE recording software makes them ready to rock right out of the box. "Musicians have been traveling with their Tascam PortaStudios for years, and these interfaces bring the PortaStudio philosophy into the laptop age," says Johnny DeLeon, Computer Products Channel Manager forTascam. Typical street prices are at $1949 and $2699. Features include: 2 XLR mic inputs with phantom power, S/PDIF Digital Input & Output (US-144 only), 2 analog line inputs (1 switchable to high impedance for use with guitars, basses, etc.), 1 MIDI input, 1 MIDI output, USB 2.0 equipped (also supports USB 1.1), bus powered for use with any PC or Mac, including laptops. www.tascam.com.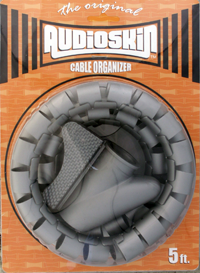 JTM Merchandising introduced AudioSkin, a new innovative cable organizer. The AudioSkin collects loose cables and 'zippers' them into one snake with a simple twist of the wrist. Organize all the untidy cables behind a home stereo, or streamline computer and miscellaneous office equipment cords. The AudioSkin will be distributed by FMI Wholesale, a division of Fender® Musical Instrument Corporation and is also available for purchase online at www.audioskin.net. MSRP $16.99.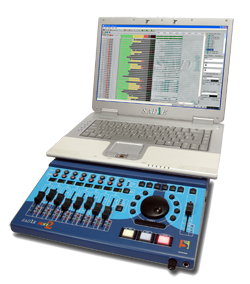 SADiE announced the launch of the LRX2 Location Audio Workstation, an enhanced version of the LRX laptop-based location recorder for remote recording applications. The LRX2 combines SADiE's professional audio input and output modules with a hardware control surface and the ability to use a standard laptop as the host computer. Based on the SADiE LRX, the LRX2 takes the concept forward by the provision of additional DSP power, plus control surface enhancements, to offer the ability to record up to 48 discrete inputs at 48kHz/24bit (or up to 32 tracks at 96kHz/24bit) from a variety of dedicated input 'slither' cards. For maximum compatibility, these cards are the same as those employed in SADiE's PCM-H64/H128 multitrack editing workstations. In addition to the standard 16ch ADC/DAC and AES/EBU digital i/o cards, a new switchable 16ch mic/line card is available with 48v phantom power and selectable gain steps. The LRX2 hardware comprises a small assignable mixer with 8 motorized faders; including pre-fade listen and dedicated record enable buttons; a complete editorial interface with fully weighted jog wheel and ergonomic editing buttons; locator memories; transport controls and a headphone monitor output. With the introduction of the LRX2, the original LRX hardware control surface has also had a makeover with improved and extended front panel graphics to indicate the various fader modes, plus provision of a separate headphone level control and a separate side-mounted microphone input for slate/talkback functions. The LRX2 utilizes a standard PC Laptop with a USB2 interface. A second external drive may be attached, via USB2 or Firewire, to mirror recordings and provide a simultaneous safety copy. www.sadie.com.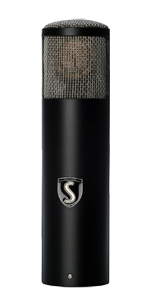 Soundelux introduced the U99S, a switchable version of their U99 microphone. Designed by David Bock, the U99S combines the performance of two high-grade tube condenser microphones in a single unit, giving users the choice of selecting "Normal" or "Brite" sonic signatures at a flick of the switch. Unlike recent modifications made to many vintage microphones that remove the low pass filter circuit in order to achieve a more open high-end sound, the U99S delivers that performance characteristic by simply switching to the "Brite" mode. In "Normal" mode, a high-frequency rolloff is introduced that replicates the performance of the original vintage microphone. The U99S employs the P99 power supply, which is derived almost entirely from the original vintage technology. In addition, the unit features a German handmade, one-inch diameter dual-symmetrical backplate and a dual-membrane kk67 type capsule tensioned for warmth and clarity while avoiding the 5kHz rise, common to some vintage microphones, to produce a less peaky mid-range response. MSRP: $3,250.00. www. soundeluxmics.com.

TransAudio Group, the U.S. distributor for Drawmer, is now shipping the Drawmer's S3 stereo three-band optical ten-tube compressor. This unit incorporates the latest in Ivor Drawmer's designs and it is intended to create a no-compromise circuit using high-grade components to bring the warmth of vintage quality mastering to your mix. The S3 forms the basis of a new "Signature Series" and offers "previously unattainable control and tonality over each of the three bands, and gain control at each stage offers precise spectral balancing for intricate adjustments." The signal path consists of high performance input/out transformers, passive components and ten tubes (eight ECC83 and two 12BH7) configured as a fully balanced Class A design. Because the LDRs (Light Dependent Resistors) in the opto-compressors are temperature sensitive, the S3 houses an 'electronic oven' which provides and sustains the optimum LDR operating temperature, thereby maintaining calibration accuracy and improving performance. A front panel LED indicates temperature status. Large-scale VU meters can be switched to "Peak" mode for both gain and stereo balance to compensate for source material with a left/right imbalance or disproportionate processing. Noted Brad Lunde, president TransAudio Group, "…The S3 is not for everyone. It's for the purists who consistently want to create music with the depth and scope only analog can provide. It's expensive and it should be." MSRP: $6,995. www.drawmer.com.
Digidesign's new Pro Tools HD 7.2 software features extended video capabilities, new workflows with multi-channel field recorders, built-in dubber/stem recorder functionality and the new SignalTools™ DigiRack™ metering plug-ins. Pro Tools HD 7.2 software boasts enhancements to both mixing and automation, including new VCA-style groups, pan grouping, plug-in parameter linking, flexible new automation modes and additional new functionality for ICON users, such as VCA fader spill, two-knob surround panning and more. The Pro Tools HD 7.2 software upgrade is available through Digidesign dealers for $199 MSRP. A download-only version is available for $175. www.digidesign.com.
Voxengo announces updates for the following products: Soniformer 2.5.1, Analogflux Suite 1.5.1, and r8brain PRO 1.5. www. voxengo.com.
PRODUCTION LIBRARIES
Drake Donovan Productions introduces Bedz. Bedz offers production music specific for station imaging. The $99 buyout features over 100 beds for "promos, sweepers, remote bumpers, and holiday imaging" for Hot AC, Country and Rock formats. 724-448-0994 or visit www.drakedonovan.com.
New releases from FirstCom Music include: CHAP 319 Dirty Jazz, CHAP 320 Tragedy & Hope, CHAP 321 War & Documentary, EVO066Q Rock Positive, EVO067Q Beat System 1.0, EVO071Q Fashion Breaks, GM-092 Tis The Season, MH022 Pictures Of Arabia, MH024 Pursuit Of Calm, MH025 World Tribes, and many more. Audition at www.firstcom.com.
London audio production company Noise Fusion has announced the release of a new production FX package. The package, titled id-1, is a set of imaging elements designed for CHR, rock and alternative radio, and television production. id-1 has been produced by noise fusion's Creative Director Ben Neidle, who's created imaging for some of the world's top radio and TV brands including XFV, Virgin Radio and The Brit Awards. id-1 has already been licensed to the XFM network in the UK, Oui FM in Paris, France and WVRV in St. Louis, USA and is now available worldwide on a market exclusive basis. Full details and an audio demo are available at www.noisefusion.com.
New releases from Killer Tracks include: NM 279 – Jazz Sessions, SLAM! 45 – Urban Drop Squad, UBM 46 – Games & Suspense, and UBM 47 – Drama & Suspense. Audition at www.killertracks.com.
Megatrax Production Music spiced up its Latin library, Sensación, with 2 new CDs. Banda/Duranguense and Norteño/Grupero feature an assortment of Regional Mexican music styles which developed in rural areas, typical of most of the Mexican countryside. www.megatrax.com.
THE MIX
Yaman Coskun, one of the original executives who helped launch the Creative Services Group for Clear Channel Radio, has started his own company Yamanair Creative Worldwide at www.yamanair.com. Coskun still remains as the Creative Director for Clear Channel's Washington D.C./Baltimore region and imager of Bib 100.3. Joining the YAMANAIR talent network are Eric Chase, Nick Michaels, Dave Foxx, Ann DeWig, Mike Kaminski, Dave Kampel and more. "I am thrilled to maintain my role with Clear Channel Radio while I join the ranks of many who have their own gigs on the side" says Coskun who will be offering the premium services of Yamanair to agencies, media buyers and planners, wireless and internet content providers as well as local and national advertisers seeking top notch products. " My desire is to make Yamanair the epicenter of powerful resources where top guns collaborate giving birth to groundbreaking ideas." adds Coskun. www.yamanair.com.