TECHNOLOGY

SM Pro Audio announced the new PR8E multi-channel microphone preamplifier. Using all the latest components, a completely new circuit layout has been designed from the ground up. By exercising careful placement of components onto a single board, the result boasts eight high-quality, low noise pre-amps with impressively high gain structures. Tailored to suit a wide variety of applications, the PR8E is perfectly suited for use as a front-end device for many hard disk recording systems, as well as adding additional mic pre's to digital mixers and sound cards. Each pre-amp features its own XLR/TRS jack 'Combo' input connector, 48v phantom power, Phase Reversal switch and peak LED. A -20db pad is built in to the 1/4" (6.5mm) TRS line-in jack sockets and the outputs are eight balanced 1/4" (6.5mm) TRS output sockets. All this is housed inside a hardened steel chassis, complete with 19" EIA rack mounting ears. Each mic-pre produces some 60dB of gain with 23db of maximum output. $199 MSRP. www.smproaudio.com.

CME, based in China and distributed in the US by Yamaha Corporation of America, announces two new audio peripheral products. The Matrix X five channel mixer and Matrix Y headphone amp add functionality to music production and performance systems with flexible combinations of connections and features. The Matrix Y is a simple solution to a common problem – the inability to communicate while wearing headphones. This four channel expandable headphone amp includes the unique addition of a built-in talkback microphone. The talkback mic is fed into all headphone outputs, making it easy to communicate when recording, during playback, in a presentation or a demonstration – anywhere where multiple people are wearing headphones. In addition to balanced stereo inputs and separate volume controls on each headphone output, the Matrix Y includes balanced stereo outputs, allowing multiple units to be stacked for larger applications. The Matrix X is a mic and guitar preamp with a built-in flexible 5 channel mixer designed to add a variety of inputs, outputs and level controls to a music production system. A combo jack with a +48V phantom powered microphone preamp or Hi-Z input effectively adds a microphone or guitar to a synthesizer, digital piano, or recording set up. An auxiliary set of balanced Stereo inputs and outputs can be used to integrate the Matrix X into any system with its own stereo ins and outs including sound cards, USB Stereo I/O, sampling synthesizers, digital pianos and other mixers. An extra set of balanced stereo inputs make this a versatile 5 channel mixer for personal recording set ups. Dual headphone outputs with separate volume controls and a dedicated volume control on the balanced stereo outputs make the Matrix X a perfect control center for different monitoring needs. The fact that the outputs are balanced even allows the Matrix X to be used as a Direct Box for both live and recording situations where longer cable runs are necessary. The Matrix X and Matrix Y are available $109.99 MSRP (each). More info at www.cme-pro.com or www.yamaha.com.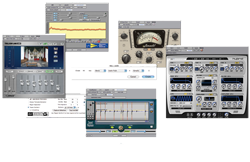 Digidesign introduced the Digidesign® Music Production Toolkit, a selection of tools that can help expand the creative power of a Pro Tools LE™ or Pro Tools M-Powered™ system. With the Music Production Toolkit, users can take advantage of a collection of plug-ins and editing tools, increased track count, and the ability to easily export mixes as MP3 files. Included plug-ins feature: Hybrid, a versatile high-definition synthesizer; TL Space™ Native Edition, a pristine convolution reverb; Smack!™ LE, a professional compressor/limiter; SoundReplacer™, a time-saving sound replacement tool; and DINR™ LE, an easy-to-use noise reduction plug-in. With the Music Production Toolkit, users can also expand their Pro Tools sessions up to 48 mono or 48 stereo tracks at up to 96 kHz for more complex mixes. In addition, the Music Production Toolkit features a multi-track version of Beat Detective™, which allows users to perform automatic groove analysis and correction across multiple audio and MIDI tracks at the same time. This multi-track capability was previously available only with Pro Tools HD software. Finally, the Toolkit includes an upgrade to Pro Tools 7.1 software from any previous version of Pro Tools LE or Pro Tools M-Powered software. The Music Production Toolkit is $495 US. www.digi design.com.
PRODUCTION LIBRARIES
FirstCom Music announces the collaboration of Juniper Music & Sound Design in the production of the OneMusic library. Juniper Music is a premier custom music group located in Dallas, Texas. Says Carol Riffert, Vice President/General Manager for FirstCom Music, "Together we are embarking on a strategic upgrade for the OneMusic library and will take it to the next level, enhancing the already unparalleled quality, content and talent." To learn more about Juniper Music visit them online at www.junipermusic.com. Also new from FirstCom is the release of The Chronicles of Hip Hop, a joint production between FirstCom Music and Chappell. With the increasing popularity of hip hop FirstCom Music is seeking to cater to their client's need for fresh current music, "It's time our producers and clients have access to the definitive true pop culture style that is continually at the top of the charts, on TV, and in films, sports programming and video games," says Ken Nelson, VP/Executive Producer for FirstCom Music. The Chronicles of Hip Hop discs are scheduled to release Spring/Summer of 2006. FirstCom also recently announced the availability of their entire 15 libraries in Broadcast Wave (Bwav.) file format. Over 2,000 CDs worth of music, about 40,000 compositions, plus edits and versions. What does this mean for the user? The advantages to having Bwav files are that first, they are high-quality 48k wav audio. Secondly, the metadata about the song, including title, composer, publisher and description are embedded in the file in data containers. FirstCom clients can take any of their licensed FirstCom assets and drag-and-drop them onto compatible software systems and virtually every piece of information they'll ever need about that piece of music will automatically appear - including title, composer, publisher and description. No CD ripping necessary. And finally from the FirstCom camp, a new face. After celebrating 25 years in the industry, FirstCom moves into its second quarter century with a new message and look, including a new logo and new creative direction for the company's print advertising. www.first com.com.
The library of the Non Stop Music library (www.nonstop music.com) and the other libraries it administers can now be searched and downloaded at www.CUEgle.com. An advanced music search and download engine, CUEgle combines the look and feel of a physical CD collection with the quick search capabilities and instant gratification of an online library, giving TV/film music supervisors, advertising agency, corporate, multimedia producers and more intuitive access to 1,100 CDs with over 35,000 tracks. Visitors to CUEgle will find an attractive, visually-oriented experience waiting for them once they log on. Large images of the colorful CD covers for each collection, marked by easily identifiable names such as "Action Premier 1" to "Suspense 4", "Tenor Sax Quartet – Bossa Nova" and beyond, can be clicked on to reveal track title, quick description and length. Each MP3 track can be fully previewed and downloaded straight to the user's desktop, where it can then be inserted into their project. Users in need of highest-quality .wav or .aif files can conduct their CUEgle search online, then pull the files from a CUEgle-supplied hard drive. If they choose to use the track, the usual blanket or needle drop licenses apply. The CUEgle search engine features 28 top-level categories. Users can also easily narrow or broaden their music searches with keywords. A "Projects" section allows users to keep multiple music cues in project folders specifically designated for that project. To streamline the review and approval process, clients can be sent emails with metadata ".xml" files that they can then open in CUEgle for access to the full MP3 files, saving users the bandwidth strain of moving multiple audio files back and forth via email. For the past 24 years, Non-Stop Music have been providing original music and fully administered library selections to the professional world of movies, TV shows, commercials, trailers, and radio. www.cuegle.com.
Abaco Music Library from 5 Alarm Music announces 4 new releases from the collection. AB 148 The Gospel, AB 147 Movie Clips/Discs 1 & 2, AB 146 The Ambient Album, and AB 145 Jazz Lounge. www.abacomusic.com.
THE MIX
Dan O'Day announces the 11th Annual International Radio Creative & Production Summit, to be held in Los Angeles August 18 - 19. The all-star guest line-up features the return of Z-100's Dave Foxx who will present the world premiere of "The Anatomy of a Promo." Info: www.danoday.com/summit.
Kagi Media, producer of the mixing course Mix It Like A Record, has posted a free streaming web movie on their website hardisklife.com. Aptly titled "Saturation and the Digital Mix Buss", the movie is based on a chapter from the Mix It Like A Record DVD. In this sample movie, Charles Dye, Grammy-winning engineer, mixer and producer, describes how recording technology has evolved and offers suggestions on how to achieve the sounds we desire when mixing inside the box. Part 1 of "Saturation and the Digital Mix Buss" begins with a historical discussion of how distortion and saturation has changed the sound of recorded music during the transition from analog to digital gear. This leads to a theoretical discussion on the differences between tube, solid-state, analog tape, analog consoles and digital consoles, why and when to use them in the mixing process, and how differently they sound depending on how they are applied in the gain structure of a mix. Part 2 demonstrates the application of the theory discussed in Part 1 on an actual mix. www.harddisklife.com.