Page 1 of 6
Doug Harris, President, Creative Animal International, Houston, Texas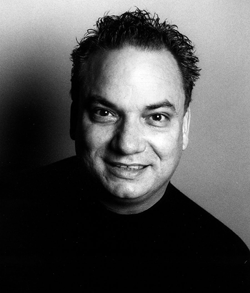 Since 1983, Harris has been working his special magic at radio stations across the country, creating powerful, promotions-driven ratings and revenue plans for satisfied station owners and thriving on the challenge of keeping radio listeners entertained and advertisers happy.
During his eleven year tenure at heritage AOR station KLOL-FM in Houston, Harris demonstrated his bigger-than-life approach to station activities and his special flair for producing uncomplicated events with seemingly global impact. From a box of autographed photos and albums, Harris created the KLOL Rock-n-Roll Auction, which enjoyed a ten year run and raised over $500,000 for Houston area charities. A simple shopping mall blood drive became the Rock-n-Roll Up Your Sleeve Blood Drive, garnering a national award for the station and a series of record collection years for the blood bank. The Rock-n-Roll Softball Championship of the World, the KLOL Street Machine Nationals, and Houston Music Awards — all produced by Harris — became revenue producing benchmarks on the KLOL promotional calendar.
During his career, he has given away, among other things, an oil well, a breast enlargement operation, a ton of kitty litter, over thirty cars and trucks, and roughly $1,000,000 in cash. He once claimed Halley's Comet as Texas sovereign territory, named a Texas Ambassador to Australia, and sent him to Sydney to "bring it back." He has awarded trips to destinations around the world, including a chance to spend Halloween night in Dracula's castle in Transylvania, Romania and over the years has employed a "street" fleet of novelty vehicles including a three-wheeled spaceship, an ambulance, a 1957 Rolls Royce, a Bigfoot truck, and even a forty-foot brassiere on roller skates.
During his last years at KLOL, Harris branched out to provide consulting services for stations outside of Houston. Most notably, Harris and the programming team of Ted Edwards and Virgil Thompson engineered the rebirth of KISS-FM in San Antonio, taking the station from an Arbitron 12+ rating of .4 to a 5.6 in a single book — all on a marketing budget of $1800. A dramatic success at River City Broadcasting's "The Point" in St. Louis followed, and gave Harris his first experience in the modern rock format. Additional projects in New Orleans and Dallas broadened his level of expertise with various formats, which now included Newstalk, Oldies, Contemporary Hits, New Age Jazz, AOR, and Classic Rock.
His professional accolades include Billboard Magazine's Promotion Director of the Year, numerous regional ADDY's, and three Promax Gold Medallion Awards for Marketing Excellence. Add WHO's WHO IN ENTERTAINMENT and OUTSTANDING YOUNG MEN OF AMERICA listings and you have a more complete picture of the man one radio station owner described as "more energy, creativity and infectious enthusiasm in one human being than should be allowed by law".
We scratch the surface of Doug's outstanding talent and philosophy in this month's RAP Interview. For more info, visit www.creativeanimal.com.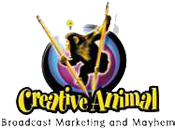 JV: Tell us a little bit about your company, Creative Animal, and what it offers to radio stations.
Doug: Creative Animal provides marketing and promotion services to radio stations in the United States, Canada, Germany, Austria, and Switzerland. I do a little work in Australia and New Zealand on occasion. My principal activity is helping sales and programming get along in the pursuit of ratings and revenue. A lot of times, the pursuit of ratings gets in the way of the pursuit of revenue, and vice versa, so my specialty is coming up with promotions and contests and sweepstakes and things of that nature, that are appealing to the client – the advertiser – but are also appealing to programming and vice versa so that they become partnerships as opposed to one-sided efforts for either beneficiary.
JV: What are some of the more common mistakes promotions people and programmers make at radio stations with regards to their non-sales promotions?
Doug: Not doing things with enough drama to get the attention of the consumer. The problem these days is that the consumer's seen just about everything. I mean, anybody with Internet access last year could've seen a beheading. We're out there trying to get the public's attention, to get them to come to station events and things like that, and we're trying to do it in an atmosphere where the media is delivering shocking things almost on a daily basis. It's tough to get the listeners' attention and participation, so a lot of times, they come up with prize packages that don't have any drama or opportunities that don't get the passions or the emotions of the listener inflamed, and that's what you need these days – inflamed emotions, inflamed passions – to get the listener to not only make the decision to listen to the radio station, or participate in a contest or a promotion, but write it down and tell people about it at the same time.