TECHNOLOGY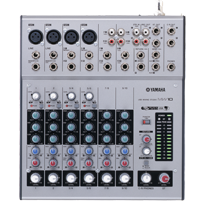 Yamaha Corporation of America, Music Production, announces the release of the MW10 and MW12 USB Mixing Studios. Targeted to the musician, AV and home studio hobbyist, as well as educational and worship markets, these, affordable and versatile music production systems are portable solutions for recording on a computer with the convenience of USB audio and the familiar interface of an analog mixer. The MW10 and MW12 feature USB connectivity for direct computer audio interfacing, with plug-and-play operation under Windows and Mac OS. A downloadable low latency Audio Stream I/O (ASIO)-compatible driver is also available. Both units include bundled Steinberg Cubase LE, which provides for audio/MIDI/video playback and notation applications. Cubase LE contains up to 48 audio tracks, up to 64 MIDI tracks and 40 VST instruments and effects, and is also fully expandable. Model MW10 features 10 inputs, including four ultra low noise mix preamps with Phantom power. Input channels contain three-band EQ, pan and high pass filters. Top-mounted input connections include XLR, 1/4-in. and RCA phono jacks, with insert I/O for connecting to external devices on Channels 1 and 2. The mix master section includes Aux Send/Stereo Aux return, Stereo Master, Control Room and Headphone outputs. The MW12 includes 12 inputs, with six ultra low-noise Phantom powered mic preamps. Input channels include 3-band EQ, pan and high pass filters, while Channels 1 through 4 also contain insert I/O. Two Aux sends (one switchable pre/post fader) provide flexible monitoring, while switchable Stereo and Groups are available for flexible channel grouping. Connections include XLR 1/4-in. and RCA. The mix master section includes Stereo/Aux returns, plus a Stereo 2-Track/USB return with a volume control. The MW10 (MSRP $249) and MW12 (MSRP $379) are available now. www.yamaha.com.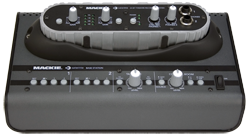 Mackie introduced their next generation in recording interfaces, the new Satellite FireWire Recording System. The Satellite FireWire Recording System features a two-part audio interface designed to get the best out of computer recording in both live and studio environments. The heart of the Satellite System is the Satellite Pod, a portable two-channel FireWire interface that incorporates two of Mackie's Onyx preamps, as well as 24-bit/96kHz A/D and D/A converters. Additional Satellite Pod features include dual headphone/control room outputs with individual level controls, two inputs, two outputs, and a rugged portable design. Another feature of the Satellite System is the Satellite Base Station, which the Satellite Pod snaps into to provide AC power, additional I/O, talkback and monitor switching functions. By plugging the Satellite Pod into the base station, the Satellite System becomes a two-input, six-output FireWire audio interface with professional features such as an advanced routing matrix, built-in talkback microphone, advanced monitoring functions and surround speaker control. The Satellite System's two inputs can be switched between mic, instrument or balanced line input sources, and its six-channel volume control provides for surround sound mixing. Its control room section provides for switching between two separate monitor outputs for multiple monitor speaker setups. Both Mac and PC compatible, the Satellite System works with all ASIO and Core Audio compatible software. It comes bundled with a full version of Mackie's Tracktion 2 software, providing a complete out-of-the-box recording setup. Also included is a set of Mackie's Mixing and Mastering plug-ins. www.mackie.com.

D&M Professional, manufacturer of the Marantz Professional PMD series of recording products, debuted its latest compact flash recorder — the rack-mount PMD560 Compact Digital Recorder. The PMD560 is a result of feedback from users in the field who are working in an array of recording environments in various vertical markets such as: government/municipal, law enforcement, corporate, house of worship and education. The single rack space (1U) PMD560 is a solid-state recorder with easy one-touch digital recording to cost-effective Compact Flash media cards or Microdrives. Uncompressed WAV files can be recorded at 44.1 or 48 kHz, and high quality MP3 files can be recorded in mono (at 64 kbps) or in stereo (at 128 kbps). Using a standard 1 GB Compact Flash card, the PMD560 can record over 1.5 hours of stereo and over 3 hours of mono uncompressed audio, over 17 hours of stereo MP3 and over 35 hours of mono MP3 audio. Due to its solid-state design, the PMD560 has no moving parts, and therefore it is more reliable than cassette, DAT or other tape/disc formats. This carries the added advantage of eliminating periodic maintenance and all its related costs. The PMD560 has RCA input and output jacks, two remote jacks as well as an RS232C connection port. The front panel also offers a headphone jack with volume level and a built-in USB interface. Included onboard are two editing modes. "Copy Segment" editing uses non-destructive cut-and-paste-style editing to create a new sound file, which can be up/downloaded via the front panel USB port. With the Virtual Track Mode, the user can create an internal edit list enabling immediate playback of file segments, without using card memory to create a new file. Up to 99 virtual tracks can be created to compare edits, set up multiple sound bytes or provide interview segments of differing durations. An optional RC600PMD wired remote control that attaches to any microphone is available to supply Record/Pause control, track marking and peak meter monitoring from the microphone position. www.d-mpro.com.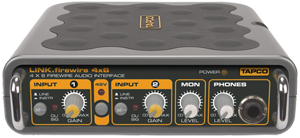 Adding to its growing range of recording and live sound products for the audio novice and music hobbyist, TAPCO is pleased to introduce the Link.FireWire 4x6 Audio Interface, a four-input, six-output FireWire interface for both Mac and PC. TAPCO engineers designed the Link.FireWire to be both portable and versatile. As a result, the Link.FireWire is fully bus-powered and features a unique industrial design that includes a collapsible swivel-foot for easy transportation in a laptop bag or backpack. In addition, Link.FireWire comes with driver support for Apple Core Audio, ASIO 2, and WDM, as well as a full version of Mackie's Tracktion 2 Music Production Software. The TAPCO Link.FireWire 4x6 includes a S/PDIF I/O option, two Mic/Line/Inst inputs, 48v Phantom Power, balanced monitor outputs, headphone output with source select, and 24-bit / 96kHz operation at full channel count with low latency. MSRP is $249.99. www.tapcoworld.com.
PRODUCTION LIBRARIES
New releases from FirstCom include FC-04 PowerPlay 4–Latin, EVO060 Creative Underscores, EVO061Q Time Lines, EVO064 At The Ballpark, EVO065 Dramatica, AXS011 NewsDramaInfo, CHAP 317 Indie Disco, CHAP WR015 Bhangra, GAL071 Voxotronic, GM-088 X Games & Cinematic Promos, GM-089 Vote Now!, HM-074Q Hooked On TV, and more. Demos online at www.firstcom.com.
THE MIX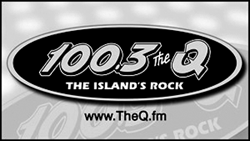 RAPster Ross McIntyre recently accepted two Awards of Excellence from the British Columbia Association of Broadcasters for creative and voice work done for 100.3 The Q Victoria. These were for Specialty Programming and Community Service. The Q was completely re-imaged for Halloween themed programming last October, broadcasting in costume as 100.3 The Boo! Also awarded was a 14 spot Crystal Meth awareness campaign titled "Don't Meth… with your life" using raw stories told by addicts, parents and police officers. The entire campaign was been re-mixed and posted for free download and re-broadcast to stations throughout the province. And Q Morning Show host Ed Bain was named Broadcaster of the Year! This email address is being protected from spambots. You need JavaScript enabled to view it..

The Missouri Broadcasters Association recently handed out awards to KSHE's Ed Brown and Rob Naughton. The association's highest honor of "The Distinguished Broadcaster Award" was given to Emmis/St. Louis' Creative Services Director Ed Brown. "The Distinguished Broadcaster Award is very special in that it is the highest honor given by the Association each year. The candidates are nominated and voted on only by the past presidents of the Missouri Broadcasters Association. Ed Brown is the first recipient to have received this award who is not a General Manager or owner of a broadcast property. This highlights just how much Ed's talent is appreciated by broadcasters state-wide." said Emmis Senior Vice President, John Beck. Brown's extensive radio career spans 30 years with 22 years as an Emmis employee. As Creative Services Director, Brown is responsible for all commercial production for the 4 stations and 5 websites that Emmis owns and operates in St. Louis. Ed Brown said; " I didn't think it was remotely possible for me to even be considered for this honor, let alone to actually receive it. So many broadcasters in Missouri deserve this recognition. I am truly blessed and humbled to be placed among that special group." KSHE 95's Image Production Director Rob Naughton won the top award for Best Promotional Announcement for the "KSHE No Repeat Week" promo. A complete list of 2006 Award winners can be found at www.mbaweb.org. Way to go guys!

Laser Broadcasting have further added to their ongoing acquisitions within the radio industry by buying into the Hull based independent commercial production facility, NYPD (the New Yorkshire Production Department), run by writer, producer and voice-over, Sean Bell. The deal sees Laser taking a 35% stake in the business that currently services around 20 stations across the UK and Europe with their creative commercial production and imaging services, as well as delivering sound design to theme parks and visitor attractions. NYPD will progressively take on the commercial production requirements of Laser owned stations. Sean added "This is the perfect opportunity to expand NYPD. The business has been growing quite steadily, and with the 'back office' support and investment from Laser, it will allow the business to grow further." www.nypd.uk.com.