TECHNOLOGY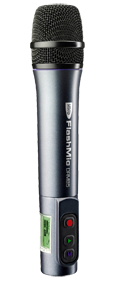 Portable recording specialists HHB have developed the FlashMic DRM85, the world's first professional digital recording microphone. Perfect for all voice recording applications, in particular broadcast and press interviewing, the FlashMic combines a high-quality Sennheiser omni-directional condenser capsule with 1GB of flash recording memory to create a convenient and portable recording device that's easy to operate. With no cables and connectors to worry about, users can be recording instantly with a single button-push. Either .wav linear or MPEG 1 layer 2 encoded files can then be transferred at up to 90x real-time via USB to Macintosh or PC computers and laptops for editing and onward transmission. A Date/Time stamp is stored along with the file, with the internal real-time clock set automatically by the host computer. The FlashMic is powered for more than six hours by a pair of AA batteries (either primary or rechargeable cells can be fitted), with the remaining battery power displayed along with time, level and status information in a backlit LCD on the microphone body. Users can operate the FlashMic straight out of the box using default settings, or create and store nine custom configurations using the FlashMic Manager software supplied. Parameters including Audio Mode (six settings with a maximum record time of more than 18 hours), AGC (Automatic Gain Control) On/Off, Record Level, Pre-Record Buffer (0 - 10 seconds) and HPF (High-Pass Filter) On/Off can be individually adjusted to create the optimum configurations for a particular operator's typical applications. In addition, an 'Expert Mode' allows all variable parameters to be accessed directly from the FlashMic body. Operating at the industry-standard 48kHz/16-bit, FlashMic makes recordings of the very highest quality. Recordings can be played back under independent level control on headphones connected via a socket on the base of the unit. www.hhb.co.uk.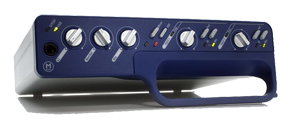 Digidesign recently introduced the Mbox® 2, a next-generation USB-powered audio/MIDI production system that builds on the original Mbox. Combining pristine sound and a wide range of connection options (including analog, digital, and MIDI), Mbox 2 delivers professional performance in a compact package. Along with its flexible hardware interface, Mbox 2 includes Pro Tools LE software. In addition, Mbox 2 comes with the Pro Tools Ignition Pack™ — a collection of plug-ins, creative applications, and additional tools for music production and promotion. Features include: four simultaneous inputs with analog and digital I/O; two analog inputs (XLR and 1/4" jacks) and two analog outputs (1/4" jacks), two channels of S/PDIF digital I/O (RCA), 48V phantom power for condenser mics, 24-bit/48 kHz audio, MIDI in/out, 100% USB powered, 32 simultaneous audio tracks (128 virtual audio tracks), 37 DigiRack™ and 7 Bomb Factory® plug-ins, and more. www.digidesign.com.

TransAudio Group, U.S. distributor for Soundelux Microphones, introduced the manufacturer's new E47C tube condenser microphone. The new Soundelux E47C faithfully recreates the cherished "cardioid only" characteristics of the original 1950s era German tube 47, which was typically used almost exclusively in that mode. Like the original, the E47C displays a signature proximity effect that is sure to make it popular for close-worked male and female vocals. Offering 12dB of boost at 100Hz when used at a one-inch working distance, the original 47 is synonymous with big vocals and is linked with a diverse roster of artists, including Frank Sinatra, Led Zeppelin and Sheryl Crow. When working at a greater distance, the signature head grille sound of the tube 47 produced a sound that made it the go-to mic for engineers recording everything from brass-heavy jazz big bands to more intimate ensembles of any instrumentation. The E47C features a NOS Telefunken Large Plate EF814k tube for delivering unique vintage amplification and dynamics response, a N470 power supply, custom 20-foot Soundelux cable between the power supply and mic, and a suspension clamp-type shockmount with wood box. MSRP: $5,500.00. Also unveiled was the new Soundelux E251C, a cardioid only, lower cost version of the ELUX 251. The ELUX 251, a recreation of the AKG-built Telefunken ELA M251(tm), is one of the most popular microphones manufactured by Soundelux. The mid-range focus, powerful low frequencies and airy, unabrasive high frequencies of the ELUX 251 have not been available in a less expensive microphone until the new E251C, which utilizes the same capsule as the ELUX 251, but costs significantly less due to savings made in the design and manufacturing processes. The E251C utilizes a lower cost body assembly, does not include a pattern selector switch, and is supplied with an imported shockmount. Aimed at project production rooms and studios with less isolated environments, the E251C benefits from the inclusion of an output transformer that duplicates the intense low end of the ELUX, yet features a roll off at 30Hz. This special design feature allows the recording of a great, deep vocal sound, but with reduced HVAC or other environmental rumble than would be found in the ELUX. MSPR: $3,250.00. www.soundeluxmics.com.

TASCAM has released US-2400 version 1.31, a free upgrade adding new features and improved DAW support. The upgrade includes Soft LCD, an application that displays track names, parameter values and plug-in information on the user's monitor. It also adds EQ control for Steinberg Cubase® and Nuendo® and seamless operation in Apple's Logic Pro 7.1®. The update is available for download from the TASCAM website and will be included with all new units. www.tascam.com.
Voxengo announces the release of CurveEQ version 2.3, a professional WYSIWYG ("what you see is what you get") linear-phase spline equalizer PC VST plug-in. The new version features a visually redesigned user interface. Previously, CurveEQ's visual appearance was considerably different to other recently released Voxengo plug-ins. Beside this 'visual' redesign, this version featuresw several minor 'invisible' issue fixes along with CPU usage optimization related to the graphics display - now CurveEQ's UI should use a lot less amount of CPU resources. Voxengo CurveEQ features include: actual filter's frequency response plot, free-hand EQ curve drawing mode, input and output spectrum plots, "A-to-B" comparisons, Mono-to-Stereo, Stereo-to-Stereo processing and more. www.voxengo.com.
THE MIX
Jeffrey Hedquist, President and Creative Director of Hedquist Productions, Inc. in Fairfield, IA, challenges the radio writers of the world to turn the worst radio commercials in North America, the winners of the Sow's Ear Award, into effective radio commercials. Hedquist said, "Now that you've chosen the worst radio commercials, let's show how these Sow's Ears can be turned into Silk Purses. Rewrite one or more of them by January 15, 2006. If your rewrite is chosen as the best, we'll cast, direct, record and produce your creation for free. You'll win a free 1/4-hour consulting tele-seminar on whatever you choose. We'll give you a Free Jeffrey Hedquist radio commercial voice-over for the client of your choice. We'll publicize your work, give you credit in live seminars, in our newsletter and on our web site." Go to www.SowsEarAward.com for details.
At the recent 10th Annual Pittsburgh Achievement in Radio Awards (benefiting the March of Dimes), WZPT-FM Creative Services Director, Drake Donovan, was honored as the Best Production/Creative Services Director for 2005. This was Drake's second time at the podium, taking home last year's trophy as well. Drake images WZPT-FM (Hot AC) and WDSY-FM (Country) for Infinity Broadcasting in Pittsburgh. He's also the voice of KPRB-FM in Fort Morgan, CO. www.drakedonovan.com.
RAPster Glenn "Casey" Cook of Newberry has been named as a dual winner of the 2005 Communicator's "Award of Excellence." Cook, from the "Casey & the Coffee Crew and Teri, too!" Morning Show on 93.7 WNBY, along with his commercial production company, SpotsThatCook.com, wrote, voiced and produced two pieces for WNBY. "Kick-Off Kash" won in the Station Promotion/Sports category, while "Where's The Pepsi?" won in the Station Promotion/Contest category. Way to go, Glenn! This email address is being protected from spambots. You need JavaScript enabled to view it..
Andrew Leung, formerly of Q-107 Toronto, is the new Producer at CHEZ 106 in Ottawa.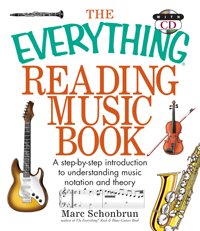 Adams Media Corporation, a division of F+W Publications, publishers of the popular "Everything" book series, announces The Everything Reading Music Book by music and technology author Marc Schonbrun. Many of the music theory books on the market are geared toward the advanced student and fill a need for colleges and universities as standard textbooks. For the beginning or intermediate student, these books presuppose much knowledge. Perfect for the beginner or the seasoned musician who wants to brush up on the skills and techniques to understanding music, The Everything Reading Music Book takes the mystery out of how written music works, how music is created and why you should love it. In this 285 page paperback, musician-teacher Marc Schonbrun guides you through the basics of reading music, rhythm, and music theory in a casual writing style that helps demystify complex musical concepts. After reading this book, you will understand how to read notes, meter, time and key signatures as well as understand chords, harmony, musical symbols and transposition. The addition of an audio CD with examples will strengthen the reader's skills. www.adamsmedia.com, www.marcschonbrun.com.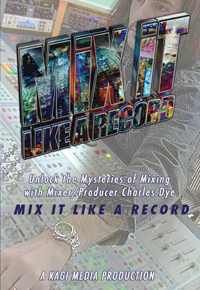 Kagi Media, producer of professional audio training products, announces Mix It Like A Record, a DVD/Pro Tools session based mixing course taught by multi-platinum, Grammy-winning engineer, mixer and producer Charles Dye. The user will "learn how to get sounds using the latest plug-ins, breathe emotion into the music with automation, and make the artist sound like a star." Features include three hours of instruction and 40 Pro Tools TDM & LE sessions on the ROM layer. Shot at Supersonic Studios in Miami, the lessons dive into the heart of mixing by dissecting a mix; channel by channel, plug-in by plug-in, and automation move by move. Mix It Like A Record provides hundreds of tips and techniques on plug-ins by Digidesign, DUY, Focusrite, iZotope, Line6, McDSP, Princeton Digital, Sony Oxford, SoundToys, TL Labs, Unique Recording Software (URS), Universal Audio, and Waves. www.harddisklife.com.