TECHNOLOGY
Steinberg Media Technologies GmbH recently debuted the latest update to its Nuendo Media Production System software. Nuendo 3.2 features a full Control Room section that provides up to four separate Studio outputs, extra Mix, Headphone and Control Room busses as well as configurable Input Returns and user definable Monitor Setups. Each Nuendo audio, group, FX return and VSTi channel now includes new Studio Sends allowing each signal to be routed to any of the four Studios. The integrated talkback functionality enables engineers and producers to speak directly to musicians, narrators or other performers in any of the studios, automatic dimming and separate Talkback levels are also provided. Should playback from external sources such as DAT, Tape or CD be required for a performer, up to six playback inputs can be instantly selected and routed to any Studio, Track, Headphone or Control Room bus. User definable Monitor Configurations can be setup for quick changing of monitoring setups and extensive fold-down and solo operations such as "Rear to Front" or "Solo to Center" grant easy audition of compatibility on the output side. Nuendo 3.2 is available as an update from www.steinberg.net for registered Nuendo 3 customers. Steinberg also unveiled the latest version of its Cubase SE entry-level music production software. Cubase SE3 offers professional music technologies tailored to musicians, producers, students and educators. Available for Mac and PC, Cubase SE3 offers powerful yet easy-to-use features designed to support those taking their first steps in recording, editing and mixing music on a PC or Mac. The clear, intuitive user interface supports easy orientation while the VST Connections window allows simple, quick connection to music hardware such as mixers, audio interfaces and monitors. Features include 48 audio and unlimited MIDI tracks, a 32-bit audio engine offering 24-bit/96kHz recording and playback, and more. Cubase SE3 is fully upgradeable to Cubase SX3 and Cubase SL3 applications, and all projects created in Cubase SE3 can be opened in either of the other two applications. Cubase SE3 is available for $159.99 www.steinberg.net.
An update for Voxengo Soniformer — a multiband mastering dynamics processor PC VST plug-in from Voxengo — is now available for download. The update features several issue fixes and also introduces useful functionality: Ratio readout resolution has been increased by 1 decimal point; copy envelope function issue fixed; visual interface size increased. Version 2.4 offers you an alternative envelope editing mode where you can adjust parameter envelopes by means of easy knobs. www.voxengo.com.
EtherSound, the open standard for networking digital audio using off-the-shelf Ethernet components, will dramatically increase its performance in 2006 by releasing a major technology update, which will take advantage of the entire bandwidth of Gigabit networks. Digigram, owner and supplier of the EtherSound technology, reveals the specifications of Gigabit-EtherSound that will include 512 audio channels over a single cable (256 channels in each direction) as well as a bandwidth of 100 Mbit/s for control and IP data transport, while maintaining all current EtherSound features including the ultra-low latency of only 125 microseconds. Digigram will be showcasing the technology for the first time at the next Systems Integration Expo (former NSCA) and Prolight+Sound trade shows in March 2006. A technology upgrade will then be made available to all EtherSound licensees in the second quarter of 2006. EtherSound in its current stage is configured for 100 Mbit/s networks and offers a maximum channel count of 128 channels of 24-bit/48 kHz linear audio (64 channels in each direction) as well as a control data throughput of 768 Kbit/s maximum. www.digigram.com.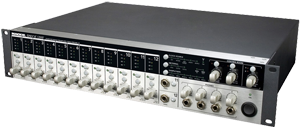 Mackie recently introduced their Onyx 1200F, 30-by-34 channel, 24-bit/192kHz-capable FireWire audio/MIDI interface that features 12 of Mackie's flagship Onyx preamps, on-board DSP matrix mixing, an advanced monitoring/headphone control section with four user-assignable headphone outputs, two stereo control room outputs, built-in talkback mic input, and remote switching capability. Designed to provide functionality that has previously required several different pieces of equipment to facilitate, the Onyx 1200F is perfect for musicians and engineers looking to expand their input count without sacrificing audio quality. Among the Onyx 1200F's features is an assignable patch bay with advanced DSP capabilities. The 1200F provides an extensive on-board mixing interface that allows the user to route to any desired monitoring path and phones outputs directly from the hardware inputs at near zero latency. This functionality also allows 1200F users to patch any hardware input, or mix any combination of hardware inputs, to any hardware output. Likewise, any software output can be patched to any hardware destination. Front panel controls on the Onyx 1200F include control-room output level with A/B monitor select, four discrete headphone outputs with dedicated level controls, two instrument inputs, and 4-segment metering for the mic/line input channels. The rear panel includes 12 combo mic/line inputs, balanced TRS sends and returns for the first two mic inputs, eight balanced line outputs, dual stereo control room outputs, Word Clock I/O, 2 x 2 MIDI I/O, dual ADAT I/O, SPDIF I/O, AES/EBU I/O, and two FireWire ports. Footswitch inputs are provided for monitor switching and talkback activation. The Onyx 1200F is bundled with software which includes Tracktion 2, Mackie's audio recording and MIDI production software, as well as the Mackie Final Mix CD mastering toolkit. Suggested retail price is $1,999.00. www.mackie.com.
PRODUCTION LIBRARIES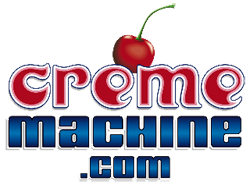 Joe Kelly has launched a new online web store called CremeMachine.com. Radio, TV, film and digital-game producers now have 24-7 instant access to hundreds of hours of "unique and highly focused creative content." Initial offerings include more than a dozen all new imaging production libraries, sound FX collections and cartons of original promo and commercial scores -- all priced at under $500 per library. Sample a quick 4-5 minute demo or check out an extended 25-30 minute demo. Place your secure order online using any major credit card, get your password, and download your library. Every CremeMachine.com library downloads and unzips into PC or Mac friendly files -- tracks are clearly labeled, organized and delivered in high-quality Mp3 320s. CremeMachine .com's creative crew includes Shakey Waters and Juan Carlos (formerly of AVDeli) plus a host of new talent. "We've taken a quantum leap into the future", said Kelly. "Our new products are on the cutting-edge. And because we have eliminated the high cost of packaging and delivery, our prices are affordable for everyone." Other news from CremeMachine.com, Steve McKenzie, Creative Services Director at The Mix (WTMX) in Chicago, has joined the CremeMachine.com indie producers team and will soon release Sore Thumb, a new Pop/Alternative imaging production library. www.crememachine.com.
Omega Productions introduces two new additions: First is a new SFX web site at www.sfx4u.com. The site is a "virtual one-stop shop for all your imaging & production needs" where you'll find Omega's latest projects, demos, and SFX. Also new is a new imaging library called Virus. Details at www.sfx4u .com or call Toli Matulas at (302) 456-9898.
New releases from Firstcom include: EVO043Q Sports Scored 3, EVO051 Biz 3: Positive, EVO053Q Crisp, Clean Acoustics, AM054 Ad Music Updates, CHAP 311 A Curious Case Of Drama, GAL070 Tropic A GoGo, GM-083 Pop This, GM-084 Cool Young Stuff 5, HM-068 Songs From The Last Century, HM-071 Pop Dancehall, HM-072 R&B Divas IV, MH014 Asian Beats, and many others. Audition tracks at www.first com.com.
THE MIX
Congrats to RAPster Sean Bell of NYPD in the UK who just picked up two "highly commended" awards in the UK radio industries annual Vox Awards for retail commercials produced for clients at Juice 107.2 in Brighton. This email address is being protected from spambots. You need JavaScript enabled to view it..
Kudos also to Kurt S. Kaniewski at WDEF-AM/FM in Chattanooga, Tennessee on three recent awards: 1) National Winner; Retail Stores-Campaign/Silver Microphone Awards '05; 2) Crystal Award Of Excellence; Sound Design/The International Communicator Awards '05; and 3) Crystal Award Of Excellence; Farm Supply/The International Communicator Awards! This email address is being protected from spambots. You need JavaScript enabled to view it..