Page 1 of 4
Chad Michael Snavely, Morning Show/Imaging Producer, Family Life Network, Bath, New York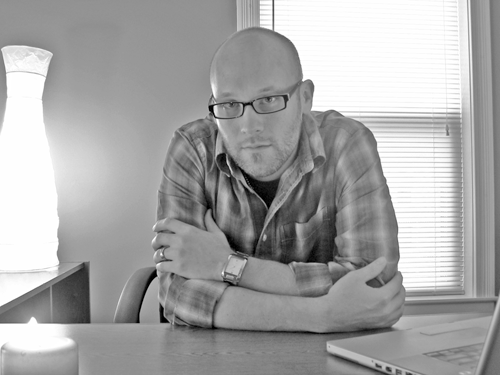 By Jerry Vigil
After several fascinating stops around the globe, this month's RAP Interview brings it home for the holidays, and what better place to stop at Christmastime than at Family Life Ministries, where Chad Michael Snavely is the Morning Show/Imaging Producer for the FLM network of Christian formatted stations. Chad is also the VP/Senior Producer for Christian Concert Spots, and is the Imaging Producer for Spoken Word Images, a Christian voiceover and production company headed up by VO artist Pete Bunch. Chad shares some insights into imaging Christian radio and lots more in this month's interview. Be sure and check out his sampler on this month's RAP CD for an earful of great production!
JV: Checking your bio online, I see at 2 years old you were holding up McDonald's French fries using them as microphones. You had kind of a special introduction to the business. Tell us a little bit about it.
Chad: I started when I was young. I loved music while growing up, everything associated with music, and my father was heavily involved in radio. He managed, at that point, some radio stations that eventually turned into a network of radio stations across New York and Pennsylvania. So growing up, I knew what a microphone was. I knew what speakers were. I knew at that point what tape was and such, and I loved everything related to audio. I loved everything related to music, to bands. I'd always joke and say I feel bad for my friends that would come over and play with me when I was young because I always made them grab an instrument. We'd always have to put on a concert. I always enjoyed doing that kind of thing. I was around it when I was growing up, and I think that's really where my love of music and audio really began, right there at home.
JV: You also did some training at the Conservatory of Recording Arts and Sciences out in Tempe, Arizona where you graduated at the top of your class. Tell us a bit about that.
Chad: That was a bit of schooling that I had before I came back to work fulltime at FLM. It was a major bit of education for me musically, but especially on the technical side, the production side. We were out there working with Neve and SSL, Pro Tools HD and all kinds of high-end equipment. We were saturated in it every day for seven or eight months, learning from some of the best in the biz that are doing it day in and day out. It was pretty intense. I went in there with a pretty good understanding of audio and signal flow and even how to splice a tape. I was able to do that before tape went away and computers took over. It was quite the learning experience, and I came away with quite a lot from that whole experience. And it was a blast. When I went out there, I didn't have a clue what was going to happen. I went out there and didn't know anybody. My plan was to graduate and move to LA or New York City and produce records. God obviously had something different in mind and brought me back here to New York to work. But I love doing what I'm doing. I wouldn't change it, but that time in Arizona was definitely cool.
JV: Your dad was a manager at one of the stations that is now part of the Family Life Ministries. How many stations are there in the network now?
Chad: There are over 12, maybe 15 stations now, I believe, and there are quite a few translators to go along with that. It's hard to keep up. It continues to expand. There's Family Life Ministries, which was the parent organization, and we're getting ready to celebrate our 50th anniversary of that; and then there's the radio ministry, which started in the early '80s, and that has grown over the years.
JV: What are your responsibilities there?
Chad: Morning show producer is what I was initially hired to do, and along with that I was doing spots for concerts and whatnot that would be coming along in the area. Over the last couple years I've really done more just the station imaging. That's really been my primary focus.
I still do a lot of work with the morning show. They did a lot of parody songs here over the last five years, and I would do all the instrumentation and all the production on those songs. I produced their show intros and outros as well as their liners and their imaging in the morning. But really, a lot of what I do here is just the overall station imaging — the promos, the sweepers and such — and I still do a lot of concert promos and things like that as well.
JV: Are all the stations in the network broadcasting the same programming?
Chad: Yes. All of the stations on the network all broadcast from this one location here in Bath, New York. Everything is the same on all the stations.
JV: It's a busy time of year for radio in general with the holidays here, but I'd bet it is especially crazy this time of year in the Christian format.
Chad: It is. We do a lot of special Christmas programming here. We think that that's a really good time to try and draw in some listeners that might not listen throughout the regular year. Most people like Christmas music, and most radio stations don't do very much in the form of Christmas music at this time of the year. So we do a lot of Christmas programming. For me and a production standpoint, yeah, we are very busy come Thanksgiving and Christmastime.
Last year we unveiled a brand-new Christmas imaging package which took many weeks to come up with, getting some actors in the studio and producing the whole thing. It turned out great and we're going to use some of that again this year along with some new stuff that we're starting to get in the works now. But yeah, things are starting to crank up around here. There's never really a dull time, but there are certain seasons that are busier than others, and Christmas would definitely be one of them.