TECHNOLOGY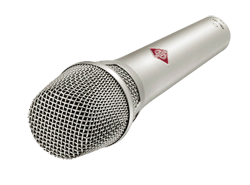 Neumann USA recently introduced the Neumann KMS 104 to the U.S. market. The KMS 104 is an affordable high-quality handheld microphone for live performance applications. The KMS 104 features all the same capabilities of the KMS 105 and offers the choice of a cardioid polar pattern. The design includes an elastic shock-mounted cardioid capsule. The KMS 104 offers superior resolution of the voice, with extended frequency response and accurate transient detail. Sibilance problems common to other handheld condenser mics are virtually eliminated. The mic delivers an "open" and detailed presence, with controlled, accurate bass response. The frequency response and in-built high-pass filters have been optimized for very close miking. They compensate the proximity effect, resulting in an even sound reproduction. The KMS 104 is provided with a capsule with cardioid characteristics, yielding the best rear sound rejection. The KMS 105 uses a capsule with hypercardioid characteristics, yielding the best front-to-back rejection ratio. Due to low self-noise and cross talk behavior devoid of coloration, both microphones are ideal for use with personal monitoring systems. MSRP: $849.99. www.neumannusa.com.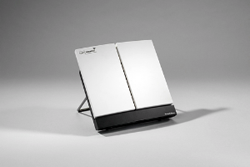 With traveling an integral part of many people's work in the broadcast arena, being able to communicate is vital for relaying information back to the office. Landline and GSM facilities are not always reliable. Therefore it is essential to have a means to communicate. Just launched by the SatCom Group is the BGAN - broadband global area network. The BGAN provides reliability to stay connected via the Inmarsat I-4 satellites when traveling in remote regions. With BGAN, users can access corporate networks remotely using a secure VPN (Virtual Private Network) connection, send emails, transfer files and access the internet, all while making a telephone call at the same time. Various BGAN units are available including the compact and versatile Thrane & Thrane Explorer 500. Media teams can send and file reports using the unit which comes with a RJ11 socket as well as Bluetooth capability. The fastest of the series of Thrane & Thrane BGANs, the Explorer 700, will be available shortly and gives access to the highest bandwidth of up to 492 kbps. The design allows simultaneous admittance to multiple users with a specially designed antenna and environmental protection. Due out shortly as well and completing the series will be the Explorer 300, a smaller, lighter terminal offering data speeds up to 384 kbps. With the successful launch of the first and second Inmarsat-4 satellites, global satellite coverage is growing ever closer, with coverage now extended to Europe, Africa, the Middle East, the Indian sub-continent, most of Asia Pacific and Western Australia and now the Americas. The two I-4 satellites will then cover 85% of the world's land mass. The Regional BGAN (RBGAN), the original satellite modem that transmits data only, is also still obtainable through SatCom. www.satcom group.com.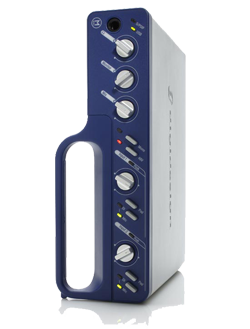 Building on the strengths of the Mbox® 2, Digidesign announced the Mbox® 2 Pro — a new portable, high-definition audio/MIDI production system that provides high-speed FireWire-powered connectivity, up to 24-bit/96 kHz audio resolution, and a wide range of analog and digital I/O. It also offers several professional features, including MIDI Time Stamping support, Word Clock I/O, and dedicated studio monitor outputs. Mbox 2 Pro supports up to six simultaneous inputs and eight outputs. It also includes Pro Tools LE™ software and over 50 effects and instrument plug-ins. $799 US MSRP. www.digidesign.com.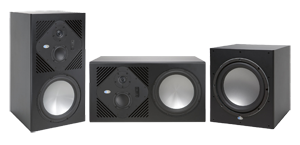 Blue Sky International has announced that their Big Blue system has begun shipping to dealers. The Big Blue system is comprised of the SAT 12 three way, tri-amplified mid-field monitor and the SUB 15 Universal 1000-Watt subwoofer. Designed for critical listening applications in music mixing, mastering, and audio post-production, The SAT 12 is a 500-Watt mid-field monitor that features a 12" high excursion hemispherical woofer, an ultra low distortion 4" hemispherical midrange driver, and a 1" dual concentric diaphragm tweeter with integral wave-guide, for superior off-axis response. To reduce destructive cabinet diffraction effects, the SAT 12's baffle incorporates Blue Sky's proprietary "Multi-Aperture Acoustic Diffraction Absorber", which helps to maintain smooth on- and off-axis frequency response throughout the critical MF and HF frequency range, without the need for a large wave guide or horn. Each of the SAT 12's three drivers is powered by its own dedicated low-distortion amplifier, implementing a 200-Watt amplifier for the 12" woofer, another 200-Watt amplifier for the midrange driver, and a low distortion 100-Watt amplifier for the tweeter. This tri-amped design allows it to effortlessly deliver clean and accurate sound with a frequency response of 45Hz to 30kHz +/-3.0dB (200Hz to 15kHz +/- 1.5dB). For compatibility with the SUB 15 Universal and Blue Sky's BMC (Bass Management Controller), an 80Hz high-pass network, with phase correction filter, is also included. For the ultimate in monitoring flexibility, the rear panel of the SAT 12 provides two completely independent balanced input stages with XLR connectors. The main input is for standard 80Hz bass-managed operation, while the second input is for traditional monitoring, without the use of a sub. The rear panel also has controls for "full space" (placement in a room) or "half space" (mounted in a baffle wall) operation, along with individual HF, MF and LF level trims, as well as two switchable input attenuators and a variable gain control. Big Blue is designed to operate both vertically or horizontally, thanks to the innovative rotatable MF/HF plate. The SAT 12 has been designed to integrate perfectly with Blue Sky's new 1000-Watt subwoofer, the SUB 15 Universal. It uses a sealed box design, built around a 15" forward-firing driver with a large cast aluminum frame, dual 2.5" voice coils - which has 2.36" of excursion (peak to peak) and features a 20+ pound motor structure (total driver weight 36 lbs). One of the SUB 15 Universal's unique features is a switchable low frequency response characteristic, of either 30Hz to 200Hz +/-3dB or, in "extended LF mode", 20Hz to 200Hz +/-3dB (anechoic). The extended mode is ideal for large rooms that don't exhibit the room gain phenomenon of smaller sealed spaces. www.ablue sky.com.
PRODUCTION LIBRARIES
Crememachine.com announces the release of 7 new imaging production libraries. New CHR/Hot AC releases include Access Denied, Pop in the Box and the Butcher Shop. The new Rhythmic AC release is Get Yer Groove On! For Lite Rock, AAA, Classic Hits and Adult Alternative, crememachine.com introduces Key West. For Classic Rock, the new release is Rock Stars. And for Alternative & Active Rock, the new release is INK. Check out the demos www.crememachine.com.
Westwood One and High Definition Music (HD/FX) announced a multi-year agreement to provide Westwood One affiliates with access to Download HD, which includes the HD/FX imaging library, as well as the Company's drop, prep and information services. Effective January 1, 2007, the agreement also allows Westwood One and its affiliates to utilize HD/FX imaging online. HD/FX is owned and operated by the founders of Brown Bag Productions, Mike and Bob Lee. "This project takes radio content to a place that, until now, was beyond imagination," said High Definition Music President, Mike Lee. "After two years of relentless development, it changes the possibilities forever in terms of scope and access. We're elated to offer this with Peter Kosann and the exceptional Westwood One team." Mike also adds: "For image producers, programmers and air talent, Download HD will deliver virtually every area of content that exists. It is a massive undertaking with more than 15,000 pieces of audio and data upon launch, and features access and tracking never offered before. It also offers a method to consolidate content in pre-produced modules that is truly unique to radio. Download HD has major implications for the entire air sound, websites, HD Radio and streaming."
THE MIX
100.7 Heart fm's Head of Production, Ian Fish, has won a Finalist Certificate in the 2006 New York Festivals Radio Programming and Promotions Awards competition. The award was given to Ian for the audio he produced for the infamous Birmingham Christmas Lights Switch On 2006. The event, which was organized by the City's Council, needed a promo that would attract attention and appeal to all ages in attaining a turn out that surpassed previous year's audience figures. On being awarded the Finalist Certificate, Ian Fish commented: "I'm really proud that the Christmas Lights Correction promo is amongst the World's Top 8 of 2005/6. I'm even more pleased, however, that there was only one other UK winner in the category of Station Promotion, thus making this award the only one to come from a commercial radio station in this country, and I think that's a great achievement." Congrats Ian! Check out the winning promo on this month's RAP CD!
Johnny George, veteran voiceover & former broadcast Creative Services Director of Susquehanna Indianapolis, announced the partnership with several newly acquired clients that have selected George and his company as their voice to represent their businesses for commercial, educational and corporate presentations. Due to the Cumulus buyout of Susquehanna radio last spring, Johnny has taken his company to center stage working it as a full time voiceover actor & consultant. The National Christian Foundation, (Atlanta, GA) has added Johnny to produce corporate projects for their 2006-2007 marketing & communication presentations. CBS TV3, (Philadelphia) has brought Johnny George on board as part of their voice talent team for commercial television production. Emantras USA has hired Johnny George Voiceovers as their Talent Team to produce all their client eLearning projects for their 2006–2007 season. George's Talent Team consists of three English female voice talents and one male Spanish talent from around the USA. The Team will be featured and introduced on the JGVO company website at www.johnnygeorge.com. Johnny George Voiceovers is a privately operated voice talent company founded in 1993 and operated previously as HotSpots! Creative Communications since 1981.