Page 1 of 2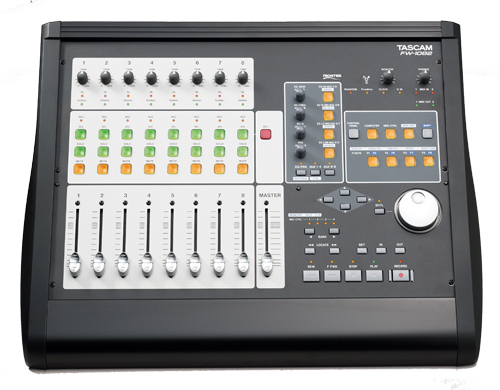 by Steve Cunningham
A few weeks ago I visited my buddy Patrick as he settled into his recently-refurbished digs at the studio where he works. Patrick is a composer who writes music mostly for television, where the timelines are short and deadlines loom large. It was with some surprise that I noticed a new mixer in his room among the keyboards and guitar amps. "That's the TASCAM FW-1082," he explained, "It's small and cheap and convenient, and I like it." Patrick tends to know his stuff, so that was certainly enough to pique my interest and motivate me to get my hands on one for this month's RAP review.
TASCAM's FW-1082 is the little brother of the company's FW-1884 digital audio workstation control surface. Like the FW-1884, the FW-1082 was co-developed by TASCAM and Frontier Design Group. It's a combined Firewire audio interface and control surface for software digital audio editors, with banks of lighted buttons, numerous knobs, and nine motorized faders. It supports 24-bit recording and playback at sampling rates up to 96kHz, and allows for 10 simultaneous input channels (eight analog and two digital). In addition it has a 2 x 2 MIDI interface, and can operate as a standalone analog audio mixer.
SETUP
Commissioning the FW-1082 is simple. Drivers are supplied on an included CD-ROM, and after running the installer program you just reboot your machine and attach the box. Under Windows 2000 or XP, the FW-1082 supports the ASIO and WDM (MME) standards. Under Mac OS X Jaguar or later, Core Audio and Core MIDI are supported.
The user manual and setup guide are both included, on (gasp!) paper, which makes finding your way around a lot easier. Some other useful documents (as well as duplicates of the printed booklets) are supplied as PDF files on the installation CD, but all the important stuff is covered in print.
The FW-1082 communicates with the host computer via the IEEE 1394, also known as Firewire. All recent Macs have Firewire built-in, and Firewire support on PeeCee's is becoming commonplace. If your computer doesn't have it, you can acquire a Firewire PCI card for very little money. Note that the FW-1082's manual warns against connecting it to the smaller, four-pin variety of Firewire found on some laptops and digital cameras, and recommends that you use the larger six-pin type instead. For purposes of this review, I installed an inexpensive PCMCIA Firewire card in my PeeCee laptop, and it worked just fine.
Once the drivers are installed a software control panel called the FW-1082 Manager is available. From here you can adjust various settings, including the ASIO buffer size and sample rate. The control panel can be launched either from within your editor software, or simply by pressing the Control Panel button on the FW-1082's front panel.

CONNECTIONS
Although the FW-1082 is a couple inches smaller and eight pounds lighter than the FW-1884, it comes with a full complement of gozintas and gozoutas. The unit's rear panel has eight balanced TRS 1/4" inputs, which can be switched between line and instrument level. The first two channels of these also have TRS insert jacks. In addition, the first four input channels have XLR mic inputs with switchable phantom power that applies to all four. The XLR and TRS inputs on channels 1 through 4 are wired in parallel, and so they cannot be used simultaneously — you have to choose one or the other. In the output department, the FW-1082 has two balanced 1/4" TRS monitor outputs, a stereo headphone jack, and a footswitch input.
Digital in and out comes in the form of coaxial S/PDIF on RCA jacks. The analog and digital ins and outs can operate independently, which effectively gives you a total of ten simultaneous input channels and four simultaneous output channels, or the digital outputs can be set to mirror the analog outputs. The FW-1082 also has two sets of MIDI I/O ports, and a power button with an associated DC power input jack for the included power supply (which thankfully has its wart in the middle of the cable rather than at one end). The unit has two FireWire 400 ports on the rear panel, but the manual strongly suggests that you don't connect anything to the second port in a daisy-chain fashion, and here's why:
Although TASCAM's warning about connecting anything to the second Firewire port may seem over-cautious, it's probably good advice. Whenever there are two Firewire ports on a device, be it a computer card or a hardware controller, then there is a Firewire interface card or cards behind them that connects the two ports and (perhaps) manages signals between them. The interface's ability to manage signals is down to its firmware. If it's well-written, as is the firmware found in Firewire interfaces that use the Oxford 911 chip set, then you should be able to connect say a hard drive to the second port and have it be recognized. But as a rule I don't push the envelope in these areas, and I don't daisy-chain Firewire interfaces with hard disks. In fact, my computers all have Firewire hubs directly connected to them, which is both a convenience and a safety device to protect the computer's Firewire ports.