Page 1 of 4
Steve Stone, Director of Creative, Zimmer Radio Group, Joplin, Missouri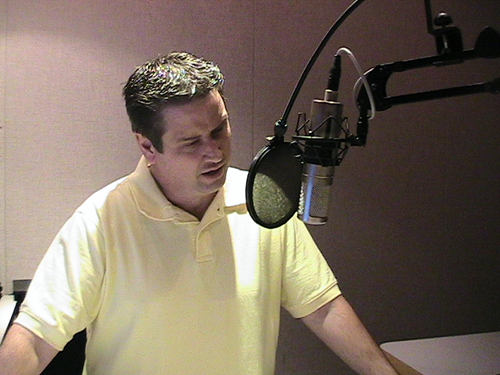 No, this is not Steve Stone the national voice-over artist, or Steve Stone the baseball player. This is the "other" Steve Stone, the one you'll be hearing about more and more as the years go by. Unlike many of our interviewees who got their start in radio at an early age, Steve made his debut at around age 40. In his second year, he was winning awards for his work. Most recently, Steve picked up the 2005 RAP Award for Best Promo AND Best Commercial, Small Markets. This month's RAP Interview introduces this Creative to the world and finds out what makes his commercials and promos appeal to his peers, his clients, AND his listeners. Be sure to check out his sampler on this month's RAP CD!
JV: How did you get your start in radio?
Steve: I've been a guitar player my whole life. One thing all musicians like to do is go to other musicians' gigs and try to get up on the stage and hurt their feelings. Well, I had heard about a guitar player named Randall Gower who later turned out to be one of my radio mentors. He's a pretty good guitar player and did a morning show on a classic rock station in West Plains, Missouri. The station was KSPQ. I went to his gig there in West Plains and got up on stage and played, and he absolutely fell in love with my guitar playing. That's how we met. Then it was two or three years later when I heard through the grapevine that they were looking for a fill in guy, just a part-timer, at the radio station. So I applied and got the job. It was at that time that Randall heard my work and told me that within five years I'd be major market. I didn't know if I believed him or not. But I'm well on my way, even though I'm not there yet. He thought I was a natural at it, and my production and imaging just floored him.
Anyway, he was the one that gave me my start in radio. He was also Program Director at KSPQ. I started as a nighttime fill-in, working only when someone was sick or needed vacation. My first paycheck in radio was for $35, I believe. It was minimum wage, like seven hours, and I jumped for joy. I couldn't get over it. I absolutely loved it.
Well that turned into a regular nighttime shift when they had some trouble with the guy that was doing the night show there. They cut him loose and put me in there regularly five nights a week. That's when I really started taking off and was absolutely loving it. I thought this might be a career for me. That was with the Ozark Radio Network. They own eight stations in that area down there. From there they took me off that night show and put me on afternoons on a hot AC station, KUPH. From there I worked afternoons about six or seven months and then took over the morning show on that station. I did a solo morning show and just kept getting better all the time.
During this time, it became evident that production was where my shining point was. It was in my second year in radio when I won my first Missouri Broadcasters Award for Small Market Commercial of the Year for a bank spot that I had to sing on. The seller gave me script, a rough script and said, "See what you can do with this." So I looked at the script and put in some music and just sang it. It wound up being very funny and it won the Missouri Broadcaster's award that year. From there I thought, "Wow, I might be able to do something with this career." Since then everything I've entered has won something.
JV: How did the job at the Zimmer Radio Group in Joplin come around?
Steve: That was actually through Radio and Production Magazine ironically enough. I had entered this commercial for a dentist. It was also a song piece and it was a finalist in the RAP Awards for 2004. Jason Skaggs won the trophy that year. I emailed him to congratulate him and he emailed back and praised my work. We started talking back and forth, and then I met him at that year's Missouri Broadcasters Awards ceremony. That's when he told me, "Hey, you need to come to work for us." That's what brought me to Zimmer. It was kind of funny because as soon as I came to Joplin, Jason left for Cumulus, Atlanta, in the same week. I was hired to be his assistant in the production department here. He wound up going to Atlanta for Cumulus and I wound up stepping in as Director of Creative here, which was a pretty good jump. That happened about a year ago.