TECHNOLOGY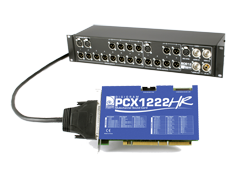 Digigram announced a new range of breakout boxes. The BOB range is an elegant, safe and ergonomic solution to connect audio sources and destinations to Digigram's multi-channel sound cards via a sturdy 2U 19" rack. All analog and digital signals are available simultaneously on the front panel via Neutrik XLR connectors. The products also offer AES synchronization, Word In/Out, Video In and LTC In connectors. There are currently two BOB units in the range: BOB8 and BOB12. BOB8 features four analog and digital stereo input connectors plus four analog and digital stereo output connectors. It is the perfect match for the PCX882HR, PCX881HR, VX882HR, VX881HR sound cards but may also be used with other Digigram sound cards, such as the miXart 8 AES/EBU, via specific link cables. For maximum installation flexibility, BOB8 offers four mounting configurations: rack front end; rack back end; under a table; or table top. The BOB12 features connectors for one analog and digital stereo input as well as six analog digital stereo outputs and is designed specifically to work with the PCX1222HR and PCX1221HR sound cards. Like BOB8, BOB12 offers four mounting configurations. www.digigram .com.

Axia Audio's SmartSurface is a 16-fader studio control surface. Features include automated phone and remote backfeeds (mix-minus), its ability to set, save and recall operating configurations tailored to talent's personal tastes, and a sleek, low-profile design. New SmartSurface version 2.5 software adds dynamic voice processing - compression, de-essing and noise gating designed by Omnia Audio - to supplement the SmartSurface 3-band parametric equalization features. SmartSurface gives talent the power to customize the control surface, choosing where to place often-used sources, or assigning favorite monitor sources to headphones and speakers. Other new features in SmartSurface v2.5 software include enhanced control of automated playout systems, even more powerful set/save/recall functions, and the ability to stop and start multiple pre-defined audio sources with a single button-press - perfect for morning-show or talkshow producers. SmartSurface has 16 fader channels which can be instantly assigned control of any audio source in the networked studio complex, providing near-complete control for mixing, routing, playback, recording, editing, phone control, remote codec operation and more. SmartSurface works with the Axia IP-Audio system, which allows broadcasters to build audio networks of any size using standard Switched Ethernet to connect a few rooms - or an entire facility. Because an Axia audio network can carry hundreds of digital stereo audio channels over standard CAT-6 cables, much of the cost normally associated with wiring labor and infrastructure is eliminated. www.AxiaAudio.com.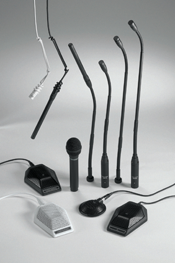 Audio-Technica has reengineered their UniPoint Series of microphones. New features include UniGuard(tm) RFI-shielding innovations, interchangeable condenser elements (cardioid, hypercardioid, omnidirectional and UniLine(tm) line cardioid), improved off-axis rejection for improved gain before feedback, 80 Hz UniSteep(r) filter for removal of unwanted low frequencies without affecting vocal quality, two-stage foam windscreen for dramatically improved resistance to P-pops and other breath blasts, and more. The line includes more than 30 new hanging, gooseneck, boundary and handheld microphones. www.audio-technica.com.
PRODUCTION LIBRARIES
Z100 New York has the premiere of Orange Panther for the US. VHU Europe may be the first Dutch company to release an imaging library. Orange Panther is primarily focused on the top section of the radio market. All effects on the CD with its European sound have been produced exclusively for radio design. VHU Europe promises that the CD is the first of a series of ten. Every disc contains from a hundred to three hundred effects. In Holland, most major radio stations have already acquired the CD, and Orange Panther is now finding its way into Belgium, France and many other studios in Europe. Orange Panther Part One is a $700 buy out. For more information, call VHU Europe at (+31) 35-621-7599 or visit www.orangepanther.com.
THE MIX
Presenting: The Sow's Ear Award. Jeffrey Hedquist wants your worst. "Send me the worst radio commercial you've ever heard. Maybe you cringed as you heard it on your way to work this morning, maybe your competitor created it, maybe you did it (the one your client "forced" you to create), maybe it was written by the client. Maybe you're the client, and an agency, production house, or broadcast station created a monster for you. I need it for a future project that I hope will benefit everyone in radio. You can send me local, regional or national spots. I don't care, as long as they've actually aired, and are in English. I'd love to have them as recorded audio (MP3, CD), which will convey their true insult to the senses, but you could send written scripts if that's all that's available. Send them to me by email, fax or mail (address below) to arrive before October 1, 2005. Anything you can tell me about the spots you send will help me put your entry in context. I promise to preserve your anonymity if requested, but please include your name and contact information in case I have specific questions. Tell your friends about my quest for the worst radio commercial. This is your opportunity to vent, sort of. Whoever's entry is chosen as the Sow's Ear worst of the litter gets a copy of the 60-Second Copywriter CD & workbook (one minute techniques for better radio) as well as our nationally famous audiobook A Treasure's Trove [see feature article on page 3]. You can read about both of these amazing productions on our website www.hedquist .com. In case of duplication, each sender of the winning commercial will receive a copy. I expect the worst from you." Jeffrey Hedquist, Hedquist Productions, Inc., P.O. Box 1475 Fairfield, IA 52556, This email address is being protected from spambots. You need JavaScript enabled to view it..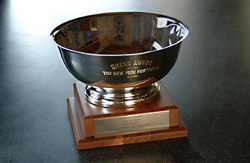 Congrats to the creative team at Standard Radio's MIX 99.9 in Toronto. They were awarded the "best-in-show" Grand World Trophy and 3 World Medals at the recent New York Festivals gala. The hardware included: Grand World Trophy and Gold Medal in "Best Station Promotion" category for "MIX Retrosexual Weekend" (Written by Karen Steele, Blair Bartrem and Pat Cugliari; Produced by John Masecar); Silver Medal in "Best Station Promotion" category for "MIX Billboards #2" (Written by Karen Steele and John Masecar; Produced by John Masecar); Silver Medal in "Best Station ID" category for "MIX Music (I Have a Passion)" (Written by John Masecar, Blair Bartrem and Karen Steele; Produced by John Masecar). MIX 99.9 received the highest number of medals of any commercial radio station in Canada at this year's awards. The Grand World Trophy (affectionately referred to as "the fruitbowl") is selected from Gold Medal winners with the highest scores. Only 4 of these are awarded each year. MIX Program Director Blair Bartrem, Assistant Program Director and Promotions Director Karen Steele, and Production Director John Masecar accepted the awards at the ceremony.