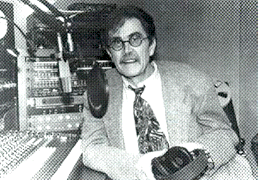 Billy H Moore, son of Ruby Moody Moore and George Moore, passed away on August 4, 2005 in Englewood Florida. He was 62. He is survived by his son Jason Moore of Lawrenceburg, TN.
Billy Moore has been the voice of many radio & television stations and concerts across the country since the 1970s.
Billy, originally from Chattanooga, Tennessee, moved around to find "his sound" and worked in New Orleans (WTIX), Jacksonville (WPDQ), Omaha (KOIL) and on to California to get into acting. It was then that his voice was discovered when he started doing station promos for KMEN. He then hooked up with KKDJ, now KIIS-FM in LA in 1972. Billy's voice became part of the "Boss Radio" format engineered by consultants Drake-Chanault. He did several theater roles and attended the Lee Strasberg Theater Institute in Hollywood and was active in the Glendale Centre Theater. But radio took its bite. On the air at KRTH as Production Director in 1972-73, KGIL 1974-75, fill-in at KIQQ in 1974, Morning Drive at KUTE 1975-1976. then in 1979, Billy left the Southland and on to 63KIDD in Monterey as OM & morning man.
Billy moved back to Chattanooga to be with family in the mid-seventies, but the voice bug had bitten him and he knew he had to be in or near a big city. On to Chicago in 1981 to work for an ad agency as a copywriter and ad campaign manager. Indianapolis then called. Billy became "The Voice" for Sunshine Promotions, later to be known as TourDesign, a concert promotion company in Indianapolis for many years. Add to his resume, Production Director at WIBC-AM and station imaging voice for WZPL-FM (Indy), Kat Country 103 (Modesto-Stockton), KUBL-93 (Salt Lake City) and most currently at The Big 98 WSIX (Nashville) plus many others including TV.
Billy settled in Zionsville in the '80s outside of Indianapolis and continued to image stations, provide narrations for Fortune 1000 companies and his Moore-On-Hold automated telephone voice prompts ranged from coast to coast. He moved to Florida in April 2000. Billy Moore's health had been deteriorating for some time and he had also contracted pneumonia in his last month. He was cared for by his former wife Cornelia Rose Moore (Keka) until his passing. Arrangements are forthcoming and info may be found as it becomes available on his website, billymoore.com
Billy Moore, "The Voice", a unique professional behind the mic and a sweet man on the other side to all his friends he met along the way. He will be sorely missed.
♦