TECHNOLOGY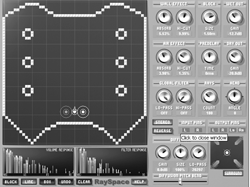 UK based QuikQuak is a new company in the world of DAW software. They've recently released RaySpace Version 1.8, "the world's first reverb with a real-time impulse response designer." It simulates room acoustics while you draw them, and allows you hear the results immediately. Use a set of tools to draw your own complex spaces, from small boxes to huge halls. Combine with the filters and other controls to make millions of different atmospheres. A diffusion engine creates smooth reverb tails. Automatically adjusting to the room, it can be tweaked in size and brightness. It also contains pitch bending controls for creating strange distorted textures. About $56 US. www.quikquak.com.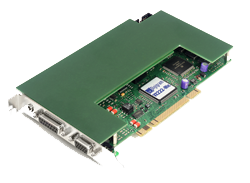 Digigram has resized its VX222-Mic stereo sound card with built-in mic-preamplifier to the compact short-length PCI format, which is required by a growing number of PCs. With a length of only 175 mm (6.875 inches), the board now fits even in the most compact computers with 5V, 5V+3.3V, or 3.3V PCI busses, as well as computers with PCI-X bus. The VX222-Mic extends the feature set of Digigram's VX222 stereo sound card (balanced analog inputs and outputs with 24-bit converters, AES/EBU stereo input/output, 2 GPIOs). A high quality phantom-powered microphone pre-amplifier, linked with an analog compressor-limiter-expander, enables direct recording of voice without the added burden and expense of external devices. The VX222-Mic features a 3-band parametric equalizer and a "maximizer" which increases the average signal level. www.digigram.com.

Denon DJ announces the DN-D4500 professional dual CD/MP3, the successor to the company's DN-D4000. The rack-mountable DN-D4500 is intended for mobile and club DJ applications, and is designed to be a sturdy workhorse with superior reliability. Many of the DN-D4500's expanded features support both CD and MP3, such as Key Adjust, Auto BPM Counter and Cue Stutter. Two Hot Starts and Seamless Loops are also now available for MP3 in addition to CD usage; the B point of the loops can be easily adjusted on the fly. The Hot Starts can be used as stutter points as well. The DN-D4500 boasts wider pitch control for audio CDs — ±24%, ±50% and ±100% supplement the standard range of ±4%, ±10% and ±16%. MP3 pitch control is now offered in the range of ±4%, ±10% and ±16%. Shockproof memory is provided for both CD (20 seconds) and MP3 (100 seconds). Two-way pitch bend is available (traditional buttons or Jog wheel) at up to 99%. Each drive features an ergonomic 50 mm Jog/Shuttle Ring that can control either pitch bend or scan, quick jumps and frame search. Enhanced MP3 support includes Frame Search, MP3 Hot Starts/Seamless Looping, ID3 tag display for artist, title and album, support for constant bit rate and variable bit rate decoding up to 320 kbps, and a powerful MP3 File Search System that can quickly and easily locate hundreds of files and folders. CD features include a Memo function, which can store Cue Point, Playback Pitch and Range, Pitch On/Off, Key Adjust On/Off and Seamless Loop A and B data for later recall. Up to 1,000 points can be saved or recalled from either drive. The Brake effect time is now user-adjustable, and CD Text support is available. Other professional features include 0.02-second instant start ability, CD-R/CD-RW disc compatibility, Fader Start Control terminal (compatible with all Denon DJ mixers) and coaxial S/PDIF digital output. The DN-D4500's operating software can easily accommodate upgrades via CD-ROM. www.denon.com.

Sennheiser Electronic Corporation, the U.S. distributor for HHB Communications announces the introduction of the new HHB CDP-88, an easy-to-use, 1U rack-mounting CD player packed with an unprecedented array of professional features. Features include sonic integrity assured by 24-bit Delta Sigma D/A converters, a full complement of analog and digital connectivity and the unique facility to sync to Word Clock at any frequency from 32 to 96kHz (even in varispeed). Discs are tray-loaded. Compatible with 8 and 12cm discs, the CDP-88 plays CD and MP3-CD from CD, CD-R and CD-RW discs, with the additional facilities to play unfinalised CD-R/RW discs and indicate error rates via the front panel display. Analog outputs encompass balanced XLR and unbalanced phono (RCA) connectors, while digital outputs include AES/EBU and optical/coaxial SPDIF. Remote control facilities are comprehensive with both RS232 and parallel remote connections provided, and the infrared remote control supplied as standard can be converted into a wired remote (for single player control in multiple player systems) using the cable supplied. The CDP-88 includes a RAM buffer for instant start, a playback shock buffer to ensure uninterrupted performance if the player is knocked, and a digital output attenuator, making it ideal for use as a fallback program source. Additional features including a fader start interface, track intro and outro display modes, frame accurate cueing with jog sound, 12.5% varispeed and displays for elapsed time, track time remaining and disc time remaining. www.sennheiserusa.com, www.hhb.co.uk.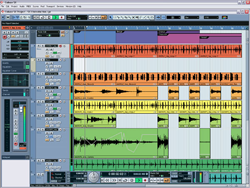 Steinberg Media Technologies GmbH unveiled its update for its Cubase SX3 and Cubase SL3 music production systems. Among the new features coming to Cubase SX with the 3.1 update is the latest stage of the ongoing Studio Connections collaboration between Steinberg and Yamaha. This technology allows the seamless integration of Yamaha hardware in Steinberg host applications. Studio Connections II: Audio Integration allows convenient monitoring and mixing of Studio Manager devices just like VST instruments in the Cubase SX VST audio mixer. Other external instruments not supported by Studio Connections can be integrated just as easily. Also new to Cubase SX 3.1 is the ability to control external hardware effects via MIDI, giving full control over external effects hardware from within Cubase SX. Cubase SX 3.1 now includes support for Steinberg's optional Dolby Digital and DTS Encoder plug-ins. Additional processor optimization means that Cubase SX/SL 3.1 supports not only Mac and PC multiprocessor systems but also the latest AMD and Intel DualCore processors as well as Hyperthreading and DualCore over dual processors. Further additional new mixing features in Cubase SX and Cubase SL include a new "Equal Power" panner, a new set of mixer key commands and extended copy functions for mixer channels. www.steinberg.net.
PRODUCTION LIBRARIES
Promusic introduces their newest library, Digital Vision. Featuring many UK artists, the 40-CD collection features titles such as The Sound of Jah Wobble, Extreme Beats, Re:Loaded, and The Jazz Anthology. Audition tracks from the library online at www.promusic-inc.com.
Killer Tracks introduces Zero To Sixty, "the Ritalin child of production music covering the hyper-edge of the pop and underground music scenes. It's designed specifically for promos & trailers but versatile enough for commercials, video games, youth oriented programs and dog shows." Other new releases include: KT 173 – Top Of The Charts, KT 174 – Metro Jazz, Atmos 200 – Total Movie 3, Atmos 201 – Mysteries & Beliefs, Atmos 202 – Hard Drama, Match 205 – Kitsch N' Lounge 3, Match 206 – Funky Daytime 2, Koka 2249 – Cycles, Koka 2254 – Action & Danger, Koka 2255 – Middle East Inspirations, and more. www.killertracks.com.
THE MIX
Tony Banks, LLC introduced a new service for terrestrial and satellite radio which provides solutions for filling key on-air vacancies by connecting clients with available, quality on-air talent as well as offering talent consulting services for improving the skills of current air talent. "As a programmer I enjoyed watching talent I coached move on to jobs in markets like Orlando, Boston, Philly, San Francisco and New York," said Tony Banks, President of The Tony Banks Agency. "At the same time, I dreaded the process of replacing them! My job opening ads produced numerous respondents, however most were either fresh out of broadcasting school or were board-operators searching for their first on-air job. Many programmers tell me that they share similar frustrations with regard to filling vacancies and that some jobs have taken up to 9 months to fill!" The Tony Banks Agency will streamline the talent search process by utilizing their exclusive talent bank, available soon at www.yourtalentbank.com, to connect radio clients with talent who meet their specific search criteria. In addition, the agency will also offer talent coaching services and seminars for all station air talent, not just morning shows. Tony Banks has spent nearly twenty years in the radio industry and has served as Director of Top 40 Programming, Program Director and award-winning Air Talent exclusively in the Top 100 markets including Providence, New York, and Miami, where he is based. Tony is also a National Voiceover Artist and can be heard on radio stations throughout the US as well as in-store radio programs at retail including Aeropostale and McDonalds. TonyBanksMail @aol.com.
Megatrax Music took home 2 Gold and 1 Silver Award in Radio at the 2005 PROMAX North America Awards. All three awards recognized the work of Megatrax composers in the category Original Music Composition for a Radio Station Promo. Gold Awards were given to Megatrax's reinvention of the classic American Top 40 theme for new host Ryan Seacrest, and the Jingle package for Mega 101, Houston's hot new HUrban/CHR format. Silver was awarded to its ID package for KNEW/KSTE News/Talk stations. The Mega 101 and KNEW/KSTE packages, co-produced by Megatrax's Debra Grobman and producer/composers Byron Brizuela and OSI respectively, are both available for licensing on a market-exclusive basis. www.mega trax.com.