TECHNOLOGY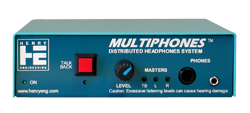 Henry Engineering introduced MultiPhones, a new product that provides multi-user headphone listening facilities for broadcast stations, recording studios, A/V installations, and other audio applications. The MultiPhones system consists of a Master unit and up to 12 Guest Pods — compact "listening stations" that can be conveniently located near the user. Each Guest Pod has its own headphone amplifier, volume control, and headphone jacks. The Guest Pods are connected to the Master unit with common CAT5 cable. The MultiPhones System provides multiple users with reliable, audiophile quality listening facilities, where each listener has his own volume control and can use any type of headphone without affecting other users in the system. The MultiPhones System is now available from all Henry Engineering dealers. List Prices: Master unit: $295; Guest Pod: $75. www.henryeng.com.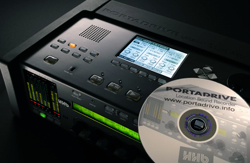 The HHB PORTADRIVE location sound recorder can record over 75 track/hours of uncompressed 24-bit/48kHz audio onto a removable 40GB hard disk. HHB has announced the availability of new V1.40 PORTADRIVE software - which offers a number of significant enhancements including Disk Mirroring, USB Target Mode, full iXML support and improved auto-shutdown modes. The Disk Mirroring feature automatically records the current session to both the internal disk and an external SCSI drive (such as a DVD-RAM or hard drive), adding security and providing an identical copy of the session within a few seconds of completing the recording. When a standard data transfer option such as the PORTADRIVE docking station, DVD-RAM or FTP via Ethernet is unavailable, the new USB Target Mode feature allows the copying of files from PORTADRIVE to any computer fitted with a USB port. And since the PORTADRIVE emulates a standard mass storage device, no additional software is required. By supporting the iXML standard, the V1.40 software will improve the exchange of audio file information between different systems and different stages of the production chain - meaning that an ever increasing number of systems can utilize all the advanced features of PORTADRIVE's metadata. Additional software enhancements implemented in V1.40 include improved Power Source Switching and Auto-shutdown features, increased speed when opening sessions, improvements to the creation of new sessions and refinements to the display of slate and take information. www.sennheiserusa.com, www.hhb .co.uk.

New gear from TASCAM includes the DV-RA1000, a professional solution for recording high-resolution stereo audio to inexpensive DVD media at up to 192kHz/24-bit for under $1500. The unit records over 5 hours of CD-quality audio to DVD+RW for capturing performances, broadcasts or meetings. Also operates as a professional recorder utilizing standard audio CDs for studio or meeting room installations. The new VL-X5 powered/shielded studio monitors feature 5-1/4" woofers, silk-dome tweeters and a 60+30-watt bi-amplified active power amp. The monitors feature low- and high-frequency controls and controls to optimize room placement performance or listener preference. A deep cabinet and ported design produce a surprising amount of bass for their size. The new MD-CD1 combines CD playback and MiniDisc recording in a single rackmount unit. Features include 12% pitch control, MP3 CD playback, RS-232 control and an optional balanced I/O board. www.tascam.com.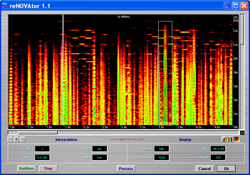 Steinberg Media Technologies GmbH announced an upcoming update to its WaveLab audio editing and mastering application that will offer instant integration of the Algorithmix® reNOVAtor™ mastering and renovation plug-in. The German-based company Algorithmix is a developer of state-of-the-art software for sound mastering, restoration, and forensic audio. Its reNOVAtor™ plug-in has previously only been available for higher-priced applications, and as a stand-alone version. With the planned update, Steinberg will provide direct integration for the reNOVAtor™ plug-in to all registered WaveLab 5 customers. The reNOVAtor™ plug-in eliminates unwanted noises like chair squeaks, coughs, hits, performance noises, car horns, coins and keys falling down, plosives or ringing of a mobile phone without creating gaps in the audio material. www.algorithmix.com.
PRODUCTION LIBRARIES
Manhattan Production Music has recently made an agreement with Apple's metadata provider that allows for the encoding of the entire Live Trax, MPM and Apple Trax music libraries, plus the entire Chesky Records catalog, for use with iTunes. According to Ron Goldberg, V.P. of Sales and Marketing at Manhattan Production Music, "Many of our Post House clients tend to use iTunes when listening to CDs in their office and/or studio. This arrangement enables all of the metadata such as song titles, composer and descriptions to pop up as soon as a CD is being previewed for instant export capabilities."
Furthermore, Manhattan Production Music will now distribute iPods encoded with every song from its libraries and the Chesky Records label to key clients so that they may perform music searches and auditioning from anywhere, without the need of a computer. For more information please contact Ron Goldberg at This email address is being protected from spambots. You need JavaScript enabled to view it..
New Releases from Promusic include AB 134 Brit Rock, AB 135 Ibiza Guitar, AB 136 Action Cues, AB 138 Eclectic Images, ESL 056 Filmscore Vol. 1 – Orchestral & Classical, ESL 057 Serve Chilled Vol. 1, FCD 199 Lifestyle & Reality TV, FCD 200 Chilled Erotica, and MML 127 Leisure TV. www.promusic-inc.com.
THE MIX
Jeffrey Hedquist, President and Creative Director of Hedquist Productions, Inc. in Fairfield, Iowa and RAP columnist will be teaching two classes on Improv for Audio Actors at the National Audio Theatre Festival to be held June 20-26 in West Plains, MO. Hedquist will be teaching with John McCullough, noted actor, director, standup comic and improv maven. Jeffrey and John will also be performing improv on stage with a live audience and on streaming audio during the Saturday evening finale. The 2005 Audio Theatre Workshop will include Foundation Classes in all aspects of audio theater production including writing, performance, recording, mixing, sound design, directing and much more. Guest directors will produce new plays from the NATF Script Competition. Hedquist said, "The NATF is one of the richest experiences for anyone who wants to improve their ability to do radio - any kind of radio. You get to work with some of the top audio creators in the world." www.natf.org.
Dan O'Day has announced the line-up for the 10th Annual International Radio Creative & Production Summit, which is being held in Los Angeles on August 19-20. Hollywood voiceover legend Patrick Fraley returns to conduct a new workshop for everyone who ever steps behind a mic: "Emergency Room Voiceover Improv." Other highlights this year include a 3.5-hour "Station Imaging Blueprint" super-session: "STORYSELLING: The Art & Craft of Selling With Stories"; O'Day's world premiere of three new "Bullet-Proof Copywriting Techniques"; and a star-studded panel session entitled, "HOW TO GET FROM HERE TO THERE: From Full-Time Radio To Full Voiceovers." Complete info: www.danoday.com/summit.
Alan Peterson, Assistant Chief Engineer at Radio America Network in Washington, DC never ceases to find (or create) the fun stuff. Al writes: "...spread the word about this site: http://www.tank-fx.de. In Germany, there is an 11-meter-tall cylindrical concrete tank formerly used for filling steam locomotives. It has gone unused for many years until a couple of audio nuts stuck a talkback monitor and matched stereo mics inside. They report RT60s of as much as seven seconds with amazing acoustical response. They call it a "non-virtual hall effect." I call it kewl. Even better, you may upload an audio sample to them, they'll bounce it around inside the tank and record it, then send the result back to you. The site is in German, and needs to be directed thru the Babelfish page translation service to be understood (http://babel.altavista.com/ then enter the web page you want translated). It is definitely worth a look." Thanks, Al!
Congrats once again to Rob Frazier (one of this month's interview subjects). His Shipwreck '04 commercial (which was 2nd runner-up in the RAP Awards this year) is a finalist in the 2005 Radio Mercury Awards! Way to go, Rob! This email address is being protected from spambots. You need JavaScript enabled to view it..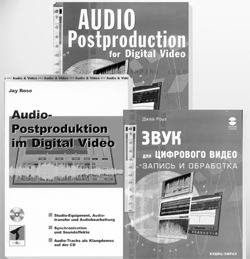 Production rat and occasional RAP contributor Jay Rose's "Audio Postproduction" has just been translated into Russian and German editions. The 400-page handbook, first released in 2002 as part of CMP Books' Digital Video Experts series, details the entire audio post process. Starting with a FAQ of quick cures for common audio problems, the book includes studio acoustics, equipment, voice recording, three chapters on editing, and more than a hundred pages on processing and mixing. A one-hour audio CD, with diagnostics, tutorials, and samples, accompanies the book. The combination is currently being used in college courses across the US and as far away as Austria, New Zealand, and Sweden. According to Rose, "My book covers the techniques used by industry professionals to fix sound problems and make tracks more effective. More importantly, it covers the reasons why they work - in everyday, non-geek language - so readers can to develop their own fixes and unique sounds." For information about the American edition, go to dplay.com. For information on the foreign editions, go to cmpbooks.com.
Scott Fuller who oversees operations for Meeker Broadcasting Worldwide in Denver, announced that Meeker Broadcasting (www.meekerbroadcasting.com) will utilize exclusively the radio commercial production services of 2Daze Creative & Production in Dallas. Fuller is a syndicated columnist and producer for ESPN Radio and the FOX network and anchors a live national ta1k show 10 to 1 EST on the Meeker Broadcasting feed which is fed to 18 domestic affiliates with listenership in 20 states. Michael Taylor, owner and manager of 2Daze Creative & Production announced sentiments shortly after the deal was announced. "This is the perfect advertising solution for business owner who have a tight budget to build recognition locally and nationa1ly." www.2dazecreative.com.