TECHNOLOGY

WorldVibrations has integrated podcasting into its WorldVibrations Radio Station, creating the first all-in-one broadcasting, streaming and podcasting appliance. The new WorldVibrations Radio Station & Podcaster (WVRS-P) is a professional-quality, studio-quiet device about the size of a VCR that allows users to develop, manage and operate a live or automated radio station over the internet, or over the air if properly licensed, while simultaneously producing and uploading individual podcasts. The WVRS-P makes it easy for people with no previous radio experience to program and broadcast performances, sporting events, church services or town council meetings, or even create a 24 hour a day music or information radio station while publishing on-demand podcasts at the same time. Users can capture live programming as it is broadcast on the WVRS-P for later podcasting or produce separate podcasts offline, integrating music, jingles and other material already stored on the unit while the radio station runs other content uninterrupted in automation-mode in the background. Once the podcast program is produced and edited, the WVRS automates the creation and uploading of the MP3s and XML pages needed to publish podcasts. "The WorldVibrations Radio Station & Podcaster is a podcasting device for broadcasters and a broadcasting device for podcasters," says Russell Johnson, president of WorldVibrations. "It enables internet and over the air broadcasters to easily podcast their programs and lets podcasters tie their podcasts together into their own continuous 24 hour radio station, scheduling and inserting promos, announcement, features, music and even commercials." The WVRS-P can be managed remotely from anywhere in the world. It is available directly through the WorldVibrations web site for US $2850. www.worldvibrations.com.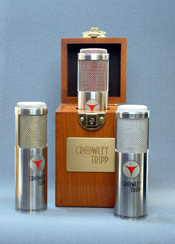 Crowley & Tripp Microphones - a new professional audio manufacturer - has unveiled a line of high-end ribbon microphones. Founded by Bob Crowley and Hugh Tripp of Soundwave Research Laboratories, Crowley & Tripp Microphones manufactures their mics entirely in the US and sells them directly to the consumer, passing on the dealer markup savings to you. Each ribbon microphone features a strong stainless steel body, high-level electrostatic and magnetic shielding, and a rigidly joined custom transformer and ribbon motor for low noise, high output, and smooth bass response. The Studio Vocalist is a full-size, figure-eight patterned ribbon microphone specifically designed for recording vocals. It is the first microphone to implement the presence of popular vocal condenser microphones into the classic ribbon response. According to Crowley & Tripp Microphones, the Studio Vocalist offers the highest output of any natural ribbon microphone, enhanced proximity effect for boosting thin sound sources, and a symmetric frequency response that minimizes off-axis coloration. The Studio Vocalist is priced at $1,395. Designed to offer the sonic characteristics of a 'traditional response ribbon microphone' for classical music recording, the Proscenium microphone offers a vintage-style warmness with modern design qualities and increased efficiency. As a result, using the Proscenium for the recording of instruments such as flute, woodwinds, and strings provides increased body, which suits the microphone well for large halls and stereo pair recording applications. The Proscenium is priced at $1,485. Specially designed for radio broadcast, soundstage, and orchestral applications where uncolored sound is desired, the figure-eight patterned Soundstage Image microphone offers a natural frequency response, high output, and superior stereo imaging when used in distant pair applications. The Soundstage Image is priced at $1,395. The SPLx Custom microphone is tailored to user defined characteristics. Having assessed an individual user's needs in the studio or on stage, Crowley and Tripp design a ribbon microphone that will suit that user's voice, instrument, amplifier or performance space. Custom characteristics are many, and include a tailored frequency response curve, extreme sound pressure level handling, bass boost, or an asymmetric frequency response. Rounding out the Crowley & Tripp Microphones collection, the SPLx Custom starts at $1595 and generally takes two weeks to manufacture from date of order. www.soundwave research.com.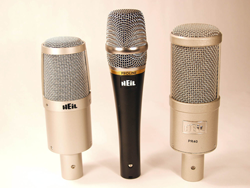 TransAudio Group introduced the Heil Proline range of professional grade microphones. The series consists of the PR-20 handheld mic, the PR-30 internally shock-mounted mic and the PR-40 wide bandwidth mic. The Heil Proline mics all feature large diaphragm dynamics and neodymium magnets. The line is designed to deliver deep bass response, smooth mid-range and an extended, but gentle, top end. These properties make the mics appropriate for a wider variety of applications than typical dynamics, including recording, live sound lead vocal and voiceover for broadcast. The PR-40 incorporates the Heil DM 6 large dynamic element, offering a flat response from 28Hz to 18kHz with an engineered mid-range rise for enhanced vocal articulation. The PR-40 offers the widest bandwidth of all the Heil Proline mics and ships with an all-metal stand adaptor, a wooden storage box and Heil cleaning cloth. MSRP for the PR-40 is $325.00 USD. Similar in appearance to the PR-40 is the Heil Sound PR-30, the internally shock-mounted version of the Heil large diaphragm dynamic mic. This microphone is designed primarily for broadcast voiceover, and has a sorbothane shock mount system to prevent low-frequency thumps or bumps from traveling mechanically up the stand or boom arm. That makes it an ideal live sound stand mounted mic. The PR-30 also produces a wide frequency response of 40Hz - 18kHz. The PR-30 ships with a Teflon-lined, all-metal stand mount. MSRP for the PR-30 is $289.00 USD. The new PR-20 was engineered for natural speech articulation without the need for heavy electronic equalization. With a similar wide frequency response, excellent transient response and low IMD, as the other models in the line, the PR-20 also incorporates a special phasing plug assembly that ensures a very linear cardioid pattern and controlled proximity effect while achieving extreme articulation across its 40Hz - 18kHz range. The low handling noise of the PR-20 is achieved by also using the special sorbothane shock mount system. The MSRP for the PR-20 is $160.00 USD. www.transaudiogroup.com.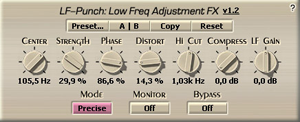 Version 1.2 of LF-Punch low-frequency adjustment FX in PC VST plug-in format is available for download from Voxengo. This version implements a high cut filter, which allows you to filter out higher harmonics in the processed low-frequency signal. So that—instead of sounding distorted—lower frequencies may be "colored" and "reshaped" to have a different overall sound. The LF-Punch plug-in dynamically emphasizes selected center bass frequencies, performs an adjustable amount of phase-shifting and then applies smooth distortion. Optional compression can then be applied to the resulting sound. www.voxengo.com.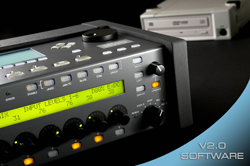 HHB Communications has released new PORTADRIVE V2.0 operating software, delivering a number of enhancements to the multi-channel location sound HD recorder. New features include the facility to copy recordings to external DVD±R/RW and CDR/RW in addition to the existing DVD-RAM. The added support of the UDF format for DVD-RAM now enables PORTADRIVE sessions to be played back on Fostex DV40 and DV824 devices. Updates have also been made to the HFS drivers for SDII files and Pro Tools sessions, ensuring even greater disc and file compatibility. V2.0 also includes a long list of developments designed to enhance the PORTADRIVE's operation in the field. www.hhb.co.uk.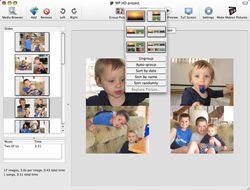 Roxio®, a division of Sonic Solutions®, announced Toast® 7, the most significant upgrade ever to its Mac CD & DVD burning suite. Toast 7 complements and extends the functionality of the Mac OS and iLife applications with new features and capabilities that empower users to copy, save, hear and see their entire digital life on CD and DVD. Headlining the latest version is a number of features that make previously impossible tasks a reality for Mac users. These features include multi-image High Definition slideshows with pan and zoom effects, transitions and background soundtracks, audio DVDs with over 50 hours of rich Dolby® quality music and advanced navigation, and data spanning, which allows users to backup large files, folders and applications across multiple CDs and DVDs. Suggested retail price is US$99.95. www.roxio.com.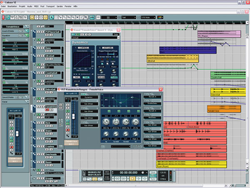 Steinberg Media Technologies GmbH announced the latest update, 3.1, to its Cubase SX and Cubase SL music production software products. The update features over 50 new functions as well as numerous other enhancements, and is available as a download from www.steinberg.net. For existing Cubase SX3 customers, the update brings new developments in the area of hardware integration. The advanced Studio Connections functionality, which links Cubase SX to MIDI hardware supporting this standard, has been further upgraded to include full audio integration. External instruments and effects supported by Studio Connections Recall and Audio now behave like virtual instruments and effect plug-ins, offering not only mixing directly within Cubase SX, but also one-step audio mixdown and "freezing" of the connected audio hardware. The 3.1 versions of Cubase SL and Cubase SX also offer a range of other new features. These include the new "Equal-Power" panner which maintains equal power across the entire panning range, while the new Mixer key commands offer full control of the entire VST mixer using customized key commands. Cubase SX/SL 3.1 include advanced multiprocessor support, including the latest dual-core processors from AMD and Intel, giving professional users full access to the latest high-end workstation computers with dramatic performance gain. www.steinberg.net.
THE MIX
For the 2005 Holiday Season, Megatrax is offering year-end wrap-up versions of its 4 chart shows for free on a market-exclusive basis. Stations can choose one or more of Top Of The World with Shadoe Stevens, European Top 10, Hit Latino and Top de España (Spain's Top 10). More info at www.megatrax.com.
Goods Entertainment has a new website. OnAirVoiceHunter.com offers stations an opportunity to find on-air talent as well as talent an opportunity to find positions. Through the end of the year, air talent can list at no charge. After that, prices will range from $50 to $999 depending on the services talent chooses. www.onairvoice hunter.com.