TECHNOLOGY
Northwest Audio announces the release of SpotFile v.1.5, a Windows based software program that gives you the ability to catalog and search for archived spots stored on removable media like CD or DVD. Created by a RAP charter member who was dissatisfied with the methods he was using to catalog and search his archived spots, SpotFile allows you to create multiple catalogs, each with different content; add notations to files; and print lists of your spots. If you've been overwhelmed trying to locate your archived spots, SpotFile could be your solution. Only $19.95. FAQ's and screenshots at www.nwaudio.com/spotfile.htm.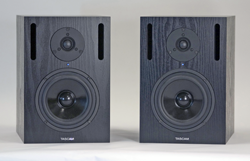 TASCAM has announced the VL-X5 home studio monitor system. These powered speakers feature 5-1/4" woofers, silk-dome tweeters and a 60+30-watt bi-amplified active power amp. The monitors feature low- and high-frequency controls and an Acoustic Space Control to optimize their performance for room placement or listener preference. The monitors are shielded to prevent magnetic damage to CRTs. The deep cabinet and ported design produce a surprising amount of bass for the size of the monitors. The ported VL-X5 monitors cover nearly the entire range of human hearing, with a frequency response from 45Hz to 22kHz ±3dB. These 90W amplifiers (60 watts on the lower-end drive + 30 watts on the high-end drive for a total of 90W) have a Total Harmonic Distortion rating of 0.01% at normal listening levels for crystal-clear audio playback, and they have a combo XLR/TRS input jack for connection to professional equipment.

Lexicon Pro announces the launch of the MX200 Dual Reverb/Effects Processor. This new single rack-space, two-channel unit combines an intuitive front-panel design with a unique USB connection and VST interface for use with software recording platforms. Featuring a wide array of complex reverb algorithms with delays, effects and dbx® dynamics, MX200 is the perfect package for the home studio or the concert hall. Three control knobs for each processor offer instant, precise and meaningful control over the most critical parameters for each effect. Users can choose two effects simultaneously in one of four routing modes: Mono Parallel; Mono Sum-to-Stereo; Stereo Serial; or Stereo Parallel. Other front panel controls include Input Level, Effects Mix, Balance, Audition (preview mode), Tap Tempo and Configuration. Ninety-nine factory presets offer reverbs and effects, with an additional 99 programmable slots that allow the user to make custom effects from dozens of effects types including halls, chambers, plates, slap and tape-type delays, dbx dynamics algorithms, and special effects like chorus, flange, tremolo and rotary. Lexicon Pro also announced that they have packaged their Omega Studio with Steinberg's Cubase LE® MultiTrack PC and Mac® OS X Recording Software.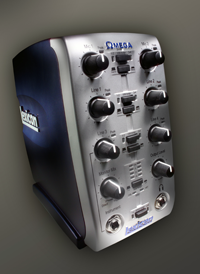 The Lexicon Pro Omega Studio is an integrated computer recording system that includes the Omega 8x4x2 USB I/O mixer now with a VST™ version of the Pantheon™ Lexicon reverb plug-in, coupled with Steinberg's cross-platform Cubase LE featuring 48 track audio/64 MIDI tracks, up to 8 VST instruments, 2 insert/4 aux sends per channel and ASIO drivers. Omega Studio is currently available from authorized Lexicon dealers at an estimated street price of $299. www.lexiconpro.com.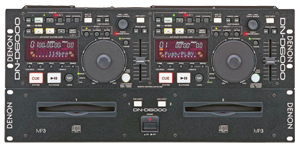 Denon DJ is displaying the new rack-mountable DN-D6000 Professional Dual CD/MP3 Player. The DN-D6000 boasts an extensive MP3 feature set and Next Track Reserve with Crossfade function. This not only makes the DN-D6000 perfectly suited to mobile DJs, club DJs and other working DJs, but the inclusion of the Unattended Playback on Power-Up function also renders the DN-D6000 ideal for bars and restaurants. The DN-D6000's advanced MP3 playback mode fully supports MP3 capabilities including: seamless looping with B Point Trim, scratching, hot starts and MP3 effects; CBR and VBR (constant or variable bit rate) encoding up to 320 kbps; ID3 Tags (files embedded into the MP3 that display Title, Artist, Album); and MP3 File Search System (offering fast and easy file location by name). The DN-D6000 includes another Denon world's first — the Next Track Reserve function. This allows the DJ to store hundreds of MP3s on one disc and play them back-to-back. The DJ is able to search for a song by name and crossfade seamlessly to that file for a smooth, non-stop mix. The crossfade time is user-adjustable, and Next Track Reserve is also available for CD audio discs. In addition to advanced MP3 functionality, the DN-D6000 includes 7 onboard effects such as Scratch, Reverse, Brake, Filter, Flanger, Echo and the world's first Echo Loop, which can loop a 1/4 beat up to a 8/1 beat indefinitely, allowing a DJ to overlay another track or even a new disc for a seamless crossfade mix. Other useful features include: quick loading Slot-In drives; 15-second On-Board Sampler with Pitch, B-Trim, Volume control and 3-way playback (Loop/Single/All) edit options; Platter Effects including Drag-Start, Brake and Reverse effects that can be used for MP3 or CD audio discs; 2 seamless loops; B Point loop Trim; 70 mm Jog Disc with user-definable paper slipmats; and a 3-way BPM counter (Automatic, Tapping, Manual). Additionally, with features such as Fast Search/Manual Search and Quick Jump, the DN-D6000 makes searching fast and easy, enabling DJs to literally "jump" around within a CD or MP3 track using precise adjustable increment time steps. The Denon DN-D6000 is currently available with an MSRP of $1099.00. www.d-mpro.com or Denon DJ at: www.denondj.com.
TransLanTech Sound, LLC of New York City announced the "Ariane Sequel" Digital Audio Leveler, to debut at the NAB Convention in Las Vegas this April. The Ariane Sequel preserves the famous lack of coloration and seamless extreme wide range control of its award-winning stereo-matrix analog predecessor, and adds independent two-channel and stereo-linked modes, protection limiting, input/output level metering, TCP/IP and RS-232 remote control, and software upgrade capability. TransLanTech's David Reaves says: "… this new Ariane is targeted to satisfy a much broader base than just radio broadcast. TV production and transmission loudness control, music production and mastering, program distribution and web streaming are among the nearly unlimited possibilities. It's a real audio leveling 'Swiss Army knife.'" www.translantech.com.
PRODUCTION LIBRARIES
Promusic, Inc. announced its latest addition to their collection of over 2000 CD's of production music. Digital Vision is a brand new 40-disc library from the UK featuring a collection of contemporary and popular styles. The collection covers such genres as House, World Music, Lounge, R&B, Hip Hop, Chill Out, Acid Jazz, Techno and Drum & Bass. Among the new releases are: DVM 034 Re:loaded, DVM 033 Business Edge 1.0, DVM 023 The Acoustic Chill-out Album, and DVM 002 Hip Hop. www.promusic library.com.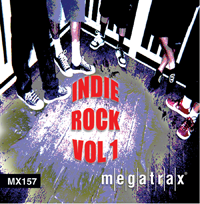 Megatrax Production Music has announced the release of its newest original CD production, Indie Rock. Described as "an adrenaline-fueled frenzy of garage, punk and indie rock styles," Indie Rock was produced by Pinch, drummer of the band The Damned, and recorded at Mouse House recording studio in Altadena, CA. Indie Rock showcases a variety of styles including modern punk rock, classic '70s "Clash" style songs, psycho-billy, surf punk and garage howlers. www.megatrax.com.
THE MIX
RAPster Drake Donovan Productions signs up Hot AC KPRB/B106 in Fort Morgan, Colorado for voice-over & imaging. Check out Drake's updated demos at www.drakedonovan.com.