TECHNOLOGY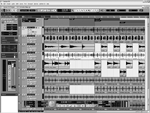 Steinberg Media Technologies GmbH has announced the release of the latest generation of its Cubase music production software. Cubase SX3 (priced at $799.99 MSRP) offers new facilities for composition and songwriting. Audio Warp, a real-time time stretching and pitch-shifting tool, offers new audio and processing capabilities, including ACID file support. Combined with the new Play Order Track, a tool for pattern-style composition, Cubase SX3 offers a fresh approach to loop-based composing and arranging. The new Inplace Editing system allows editing of MIDI data directly within the Project Window in context with audio and video data. Cubase SX3 is the first version of Cubase to support a 64-bit operating system, and supports up to 4GB of RAM when used with a 64-bit operating system such as the upcoming Microsoft Windows XP 64-bit Edition and appropriate 64-bit processors such as the AMD Opteron. This doubling of maximum available RAM resources is accompanied by a significant performance boost when used with the latest generation of 64-bit processors. www.steinberg.net.
Digidesign announces Trillium Lane Labs' TL Space, the first and only TDM convolution reverb for Pro Tools. At its finest with Pro Tools|HD Accel, TL Space includes a full-featured reverb engine that supports mono, stereo, and surround formats. Additionally, TL Space includes a library of reverb and effect impulses for music and post applications. MSRP for TL Space TDM edition is $995 US. MSRP for TL Space Native edition is $495 US. Also from Digidesign is the TL EveryPhase, Trillium Lane Labs' analog phaser modeling plug-in for Pro Tools TDM and LE systems. TL EveryPhase delivers classic analog phaser effects, ranging from subtle modulation and tremolo to extreme filtered feedback. Features include a variety of flexible modulation, sync, and trigger options. The plug-in ships with over 120 presets in eight categories. MSRP for TL EveryPhase is $245 US. Also new is Smack! - a compressor/limiter plug-in designed specifically for music applications but capable of accommodating virtually any kind of audio material with equal success. Digidesign Smack! features three compression modes, unique compression ratios, and harmonic distortion suited for achieving a wide range of sonic variations and colorations. "Smack! LE" includes AudioSuite and RTAS versions, and supports Pro Tools LE and Avid software at a reduced price. MSRP for Smack! is $595 US. MSRP for Smack! LE is $395 US. www.digidesign.com.
George Massenburg Labs is now shipping the new GML 2032 mic preamplifier and parametric equalizer. Heir to thirty years of analog engineering expertise, the Model 2032 boasts discrete class A design in a single rack space unit and provides an elegant front end solution for recordists. The unit delivers GML's renowned transparency, reliability, musicality, and precision. And, for the first time in GML history, the 2032 features an ultra-low-noise internal AC power supply. www.george massenburg.com.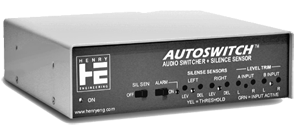 Henry Engineering announces the AutoSwitch Automatic Audio Switcher & Silence Sensor. AutoSwitch is a multi-purpose stereo audio switcher and silence sensor. It can be used to manually or automatically select between two stereo audio sources. The most common applications for AutoSwitch are 1) Monitor Audio Switcher: Monitor (and headphones) audio switches from AIR to LOCAL when the mic is on. This solves the problem of "digital processing echo" in DJ's headphones (like the original MoniSwitch); and 2) Automatic "Backup Audio" Switcher: Unit senses loss of Main audio source, and switches to a Backup source until Main audio source returns to normal levels. AutoSwitch can be used anywhere an "A/B" audio switcher is needed. It has gain-trims for easy level-matching, and uses electronic audio switching for smooth transitions. Price: $285. www.henryeng.com.
Drawmer is introducing the DSL424 TwoPlusTwo Gate/Compressor into the U.S. market at AES 2004 in San Francisco. The Drawmer DSL424 combines two industry standard frequency-conscious noise gates and two soft/hard knee compressors with variable threshold limiting in a 1U, four-channel, comprehensive toolbox. The new DSL424 combines the gate design of Drawmer's DS404 with the compressor/limiters of the DL441 to provide a versatile, 1U problem-solver that is especially invaluable in applications where rack space is limited. From the front panel, users may configure the unit as four individual standalone processors or as a stereo linked pair of compressor/limiters with a stereo linked pair of gates. Alternatively, any combination of processing may be achieved through rear panel patching. www.drawmer.com.
Neumann is introducing the KK104-S microphone capsule for the Sennheiser SKM5000-N wireless system at the 117th AES Convention in San Francisco. In contrast to the supercardioid characteristic of the KK105-S, the first Neumann capsule head to be made available for the Sennheiser handheld RF mic system, the new KK104-S offers a cardioid characteristic. Developed in response to numerous customer requests, the polar response pattern of the new KK104-S capsule is especially beneficial for high-volume stage applications, such as a monitor system positioned at a 180-degree angle, directly behind the microphone. With the introduction of the KK104-S capsule head, Neumann now offers professional users an additional version that is adaptable to practical, real world requirements, enabling the hybrid Neumann/Sennheiser wireless system to be used with every conceivable stage configuration. www. neumannusa.com.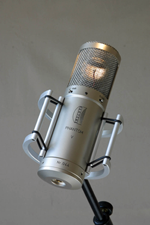 Brauner Microphones will unveil the Phantom V - their first variable-pattern, non-tube (FET), large diaphragm microphone - at the 117th AES Convention in San Francisco. Building on the success of the Phantom C fixed cardioid FET model, Brauner's latest addition offers switchable omni-directional, cardioid, and figure-eight polar patterns, as well as a -15dB pad. Since the introduction of the Phantom C, recordists have enjoyed the Phantom Series' distinct aural character, but lacked the ability to use its qualities in acoustic settings where non-cardioid pick-up patterns were necessary. With the debut of the Phantom V, engineers can utilize all qualities of its 48V-powered predecessor alongside augmented polar pattern choices and a -15dB pad for higher SPL environments. The Phantom V - whose capsule is based on the Brauner VM1 tube microphone - boasts a self-noise of 8dBa, a maximum SPL of 142dB at 0.3% THD, and a frequency range of 20Hz-22kHz. MSRP: $2,500. www.brauner .com.
Digigram announces at the IBC 2004 trade show the PCX1222HR multichannel sound card as an extension of its HR series of PCX sound cards. Featuring one stereo input and six stereo outputs in both balanced analog and AES/EBU formats in a short-length PCI card, the PCX1222HR is targeted at live-assist systems in radio. The card benefits from all the key features of Digigram's recently introduced HR (High Resolution) series of PCX sound cards including 24-bit/192 kHz converters, a comprehensive set of drivers (Digigram np Runtime, WDM DirectSound, Wave, ASIO), hardware sample rate converters, a 66MHz/64-bit PCI interface, a powerful on-board DSP, and greater flexibility for custom developments. Also new are two models of its LCM range of sound cards. The LCM200 features a balanced analog stereo output and an additional headphone jack. It is designed for newsroom applications, permanent playback, and editing. The LCM420 with one balanced analog stereo input and two analog balanced stereo outputs is ideal for entry-level live-assist applications or broadcast automation. The second stereo output may serve as a cue output. By offering a more specific set of functions, the LCM range provides Digigram on-board audio processing and features at a lower price point than comparable cards in Digigram's PCX range. Full duplex, the cards offer simultaneous and independent record and playback capabilities, as well as real-time, simultaneous MPEG Layer I and Layer II compression and decompression during record and playback. When used with applications based on the Digigram np SDK, real-time mixing of multiple sound files, level adjustment, panning, cross fade, punch-in/punch-out, scrubbing, and format and frequency conversions are performed by the card's DSP. Additionally, the LCM420 offers real-time pitch-shifting and time-stretching. www.digigram.com.
A Designs Audio announces the introduction of the REDDI ($850), an all-tube direct box at the 117th AES Convention in San Francisco. Sporting a fire-engine red paint job, the main features for the REDDI include a combo XLR/1/4-inch input, balanced XLR output, ON/OFF power switch, LED power indicator, level control knob, ground lift, EIN power connector, metal vented casing, Toroid power transformer, custom output transformer, and the 6N1P tube. The REDDI is a perfect fit for A Designs Audio's "all tube" line-up of high-end microphone pre-amplifiers and equalizers. www.adesignsaudio.com.
HHB has announced the introduction a new 1X-4X General-type DVD-R disc. The new HHB DVD-R4.7GB-G utilizes a custom recording dye in which the optical density has been re-formulated to ensure widespread compatibility with the writers used in popular computers, DAWs and standalone DVD recorders. The new disc is registered with the major hardware manufacturers, so it is recognized by the drive and the signal characteristics of the laser optimized for error-free recording. This also ensures that the recorded disc is compatible with a wide range of players. The mechanical specification of the new disc is also improved with a new molding process and bonding formulation. The diameter and edge profile of the disc hub are optimized for even handling by automated duplication and printing systems, and a new brilliant white printable surface dries quickly, removing the need for a stacking ring to separate printed discs. www.hhb.co.uk.