TECHNOLOGY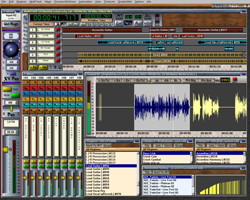 RML Labs announces the official release of the new SAWStudioBasic. Those who have enjoyed the design concepts of the older SAW products will recognize many design elements and feel at home with the region-based, non-destructive non-linear editing format of SAWStudioBasic. You get the high-end editing and mixing capabilities of the professional SAWStudio technology for the low cost of $300. www.sawstudio.com.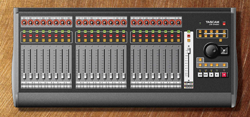 TASCAM is freeing DAW-based studios from mixing with the mouse with the US-2400, a new 25-fader DAW controller for under $2,000. The US-2400 features 25 touch-sensitive 100mm moving faders for full mix control without patching together multiple expanders. Each of the 24 channels has an assignable encoder with an LED ring that shows the current value or doubles as a signal meter. A full transport section is also included for DAW control, as well as a joystick for surround panning. Features include: Twenty-four touch-sensitive 100mm moving faders and a touch-sensitive motorized master fader; twenty-four encoders assignable to pan, aux, or channel strip, which provides EQ, Aux and Pan control; bank switching which provides access to 192 channels, and a high-speed USB connection to your computer. "Driverless" operation makes the unit ready to function without installing driver software. Also new from TASCAM is GigaStudio Version 3.0. This new version, a from-the-ground-up rewrite of the original application, adds dozens of new features for composers, sound designers and music producers. Available in three versions – Orchestra, Ensemble and Solo – it offers up to unlimited polyphony, 96kHz/24-bit sample support, ReWire support, VST FX, GigaPiano 2, real-time convolution and a new look and feel. GigaStudio 3 adds a list of new features designed to make music production easier. An expanded mixer now supports 128 channels and 32 fader groups. Quick Edit permits editing real time parameters on the fly. Runs on inexpensive PC hardware and integrates with Mac sequencers with a soundcard and a MIDI jack. www.tascam.com.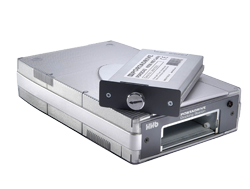 With HHB's PORTADRIVE Location Sound Recorder now in use on location recording projects around the world, news comes of a new USB2.0/FireWire docking station. This device accepts the PORTADRIVE's removable HD caddy via a slot in the front panel to deliver fast file transfer with Mac and PC-based post-production systems. The PDRDSUF docking station features a universal power supply for operation anywhere in the world, and comes complete with both USB and FireWire cables making it quick and easy to connect to any DAW. In addition to its high speed, widespread compatibility and straight-forward installation, the PDRDSUF is also extremely easy to use and costs just $349. The PORTADRIVE unit records eight channels of uncompressed 24-bit/96kHz digital audio in AES-31 ADL Broadcast Wave or Pro Tools V5 formats to a rugged, removable hard disk. The feature set includes three on-board digital mixers, simultaneous recording of rushes to an external drive, high-quality mic preamps with phantom power, comprehensive timecode facilities and advanced power management. The HHB PDRDSUF USB2.0/FireWire docking station is available now. www.hhb.co.uk.

The new Daking Mic-Pre IV offers four channels of high performance, Class A preamplifiers in a single rack space unit with outboard power supply. Configured for four microphone inputs or four line inputs from XLR/TRS Neutrik combo jacks on the back, plus four line inputs (+10 to -50) or 1/4 hi-z instrument inputs on the front, the Mic-Pre IV utilizes all discrete Class A circuitry with transformer-balanced inputs and outputs. The latest addition to the company's range of professional recording studio products, the Daking Mic-Pre IV is a cost-effective solution for high-end preamps to be used in studio or live applications. Used standalone or in conjunction with a console, each input offers continuously variable gain control, a 20-segment LED level meter with +24db peak indicator, switchable mic/line or hi-z instrument, switchable +48V phantom power, switchable input phase and switchable 20Db pad. The Daking Mic-Pre IV has a MSRP of $2,895 and can be ordered directly from the transaudioelite.com site, the direct-sales division of Transamerica Audio Group, or from a select group of high-end audio dealers in the U.S. www.transaudioelite.com, www.daking.com.
Yamaha's new 01X ($1,699) is a 28 channel digital mixer with DAW remote control with motorized faders, 24-bit/96kHz multi-channel mLAN I/O, DSP processing, low latency Mac and Windows drivers and more. Functions which can be controlled directly from the 01X include track arming, transport control, plug in editing, mixing, window selection and many more using existing and popular control protocols. This means you have support straight out of the box for Cubase SX, Nuendo, Sonar, Logic, Digital Performer and other software products. The 01X will also control a wide range of parameters of many software synthesizers, and as the 01X also works as a multi-port MIDI interface, any existing hardware MIDI devices can be connected directly to the 01X. Yamaha's 01X not only works as a professional digital mixing interface for your computer but also works as a total recall, stand-alone digital mixer, ideally suited for live performances. You get high quality microphone pre-amps, and 48V phantom power on balanced XLR and TRS line inputs. Full dynamics processing includes compressors, gates and limiters as well as 4 band parametric equalization on every one of the 28 digital mixing channels. Two 32-bit effects processors means that the 01X puts no strain on your host computer for mixing or audio processing. www.yamaha.com.
PRODUCTION LIBRARIES
Manhattan Production Music announces that in the spring of 2004 it will be able to offer an new spin on music libraries: Live Trax. This music library will contain music performed strictly by live studio musicians – no synthesizers or samples. Genres will span everything from cutting edge rock to spectacular orchestral, and new CDs will be continually created and distributed to clients. As with Manhattan Production Music's previous libraries, Apple Trax and MPM, Live Trax will be produced by the Grammy Award winning team at sister company Chesky Records. Live Trax will be available for both blanket and laserdrop music licensing, depending on the project. In addition, some Live Trax CDs will feature full songs with lyrics, allowing for a more soundtrack like feel for film, television and commercial productions. This will give music users songs to license that will be less expensive than licensing songs from major labels. www.mpm music.com.
THE MIX
Al Teller, the former Chairman & CEO of MCA Music Entertainment Group, including the record label and publishing division, and former President of CBS Records and Columbia Records has joined the Board of Directors of INgrooves. San Francisco-based INgrooves, a digital label and distribution company, is a provider of Dance & Electronic music content to the digital music services such as iTunes, Napster, Rhapsody and MusicMatch and is represented by Manhattan Production Music for licensing of its music for Film and Television. www.mpmmusic.com.
RAPster Sean Bell at NYPD reports a new website address for his company: www.nypd.uk.com, and Sean's email is now: This email address is being protected from spambots. You need JavaScript enabled to view it..
♦