TECHNOLOGY

TASCAM has enhanced its most-popular CD Recorder. The new CD-RW750 retains the features of the CD-RW700 like 24-bit digital converters, CD-R and CD-RW support, S/PDIF digital I/O and a rack-mounted design. It also improves on the CD-RW700 by adding CD TEXT, A-B Repeat and Single Playback features. Other features include unbalanced I/O and S/PDIF digital I/O in optical and coax formats. It has a RAM buffer for skip-free playback, 24-bit A/D and D/A converters and a digital fade in and fade out from 3 to 30 seconds. Its monitor section allows it to be used as a stand-alone A/D converter or sample rate converter without the need to place a blank disc in the tray. www.tascam.com.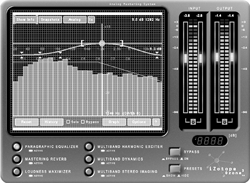 iZotope has released its entire line of professional audio plug-ins in Pro Tools, VST, and DirectX formats. The release includes iZotope Ozone, a 64-bit analog modeled mastering system, iZotope Trash, a 64-bit classic amp, distortion, delay and filter simulator, and iZotope Spectron, a versatile spectral-based effect. Along with support for the new formats, the releases include several key optimizations and enhancements to the DirectX versions of the products. All plug-ins are available for purchase as a download or on CD from the iZotope web site. The company has also announced Mac OS X support for its entire line of professional audio plug-ins. The plug-ins will be available in Pro Tools, MAS, Audio Unit, and VST formats in Q3 2004. www.izotope.com.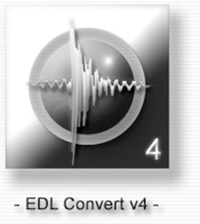 Cui Bono Soft has just released the new EDL Convert v4. EDL Convert v4 now supports Pro Tools session files. What is EDL Convert? It converts one DAW session format to the other. Take your Audition session and translate it to a Pro Tools session and vice versa. The complete format support list includes Adobe Audition, AES31, CMX3600 (import), Cool Edit Pro, Discreet edit, Grassvalley EDL (import), OMFI, OpenTL, Pro Tools 5.0, Sadie, Samplitude/Sequoia, SAWpro, SAWstudio, Sonic Studio, Tascam BU Format, Vegas, and Wavelab. www.cuibono-soft.com.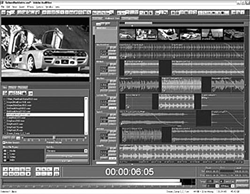 Adobe Systems Incorporated announced the new version 1.5 of Adobe® Audition™. The upgrade combines editing and effects tools with enhanced integration across Adobe's product line to deliver a more efficient workflow. Adobe Audition is a core component of the Adobe Video Collection 2.5, which includes new versions of Adobe Premiere® Pro 1.5, Adobe After Effects® 6.5, and Adobe Encore™ DVD 1.5. Together, these products deliver a complete digital video and audio post-production platform for video and audio editing, motion graphics, visual effects, and DVD authoring. The new Frequency Space editing feature in Adobe Audition 1.5 includes Spectral View, which enables users to visually isolate and select any sound that spans a range of frequencies for a particular duration, and apply effects to or edit that sound. This can be used in cleaning up an interview marred by a cell phone ring, or heightening the impact of a professionally-recorded session. The new Pitch Correction tool enables users to fix off-pitch vocal performances and create pitch-based special effects. Cleaning up audio is easy with the Automatic Click/Pop Eliminator, and the new Center Channel Extractor adjusts the relative volumes of vocals and instruments in a mix. Adobe Audition 1.5 also adds more than 500 new royalty-free production music loops — now totaling more than 5,000 — as well as 20 sample sessions. Video support in Adobe Audition has also been enhanced — video filmstrips appear in the Multitrack View, markers from Adobe Premiere Pro 1.5 are imported with AVI movies, and support has been added for a wide range of video formats. A new CD Project View makes it easy to burn discs and check projects, or produce finished audio CDs. Using the new Clip Time Stretching feature, users can visually drag the edge of any audio clip in the Multitrack View to fit a specific length of time without affecting pitch. Customizable preroll and postroll previews allow users to listen to their edits in context. www.adobe.com.
Digidesign is now shipping ReVibe, a new plug-in designed exclusively for Pro Tools|HD Accel systems. ReVibe is a full-featured mono, stereo and surround reverb plug-in that includes an extensive set of room-modeling controls. Engineered to take full advantage of the increased power and memory of the new 321 DSP chips residing on the HD Accel card, ReVibe gives Pro Tool TDM users a reverb-modeling tool that can handle any reverberation task. The 96 kHz-capable ReVibe provides nine entirely new reverb algorithms combined with a wide range of room reflection models - over 200 Room Types/early reflections. Its innovative Room Modeling algorithms allow combinations of different room reflections and coloration. Interactive displays are used throughout the ReVibe plug-in, making it easier to visualize and edit reverb characteristics. MSRP for ReVibe is $995 US. www.digidesign.com.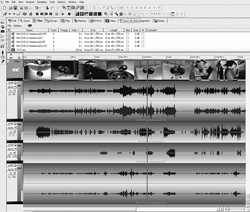 Steinberg Media Technologies announced that the latest version of their WaveLab audio editing and mastering application is now shipping to resellers worldwide. Offering full multi-channel surround support, a video track and DVD Audio mastering and authoring, WaveLab5 is priced at $699.99. WaveLab 5 encompasses a full set of DVD Audio mastering and authoring tools, making WaveLab5 the first and currently only application to support both CD-Audio and DVD Audio formats within a unified interface. WaveLab 5 is also the first and currently only application to combine all aspects of stereo and multi-channel high-resolution audio editing, processing, mastering and DVD-Audio authoring/burning. www.steinberg.net.
PRODUCTION LIBRARIES
FirstCom Music announced the launch of NoisePump Music, LTD. (NPM). "Noise Pump features innovative, creative, on-the-edge music produced entirely in London and delivers a distinct new sound to our clients," says Ken Nelson, Senior Vice President/Executive Producer - FirstCom Music. NPM is produced by veteran UK producer Aaron Harry and features an unconventional approach to production music. NPM will provide a variety of musical styles from orchestral to electronica in a user friendly layout including long form titles, commercial length edits and sub-mix versions. The initial 10 CD release on May 18th will be followed by 10 more CD volumes in the fall of 2004. Additionally, all music will be released on FirstCom's website for downloading at www.firstcom.com.
New additions to the Killer Tracks library include KT ST 1 – Action/Thriller/Heroic (2 disc set), KT ST 2 – Romantic Comedy, KT ST 3 – Broadway, CM 50 – Motivator 3, Atmos 181 – Youth Culture 6, Atmos 182 – Essential Underscores 2, Atmos 183 – Big Sports, Atmos 184 – Drama Simple, and MXS 018 – Hip Hop, www.killertracks.com.
THE MIX
Chadd Pierce [October 2001 RAP Interview] has just landed his second job in radio, jumping from market #103 at WBYR, Fort Wayne, Indiana, to the Creative Services Director position at KRXQ/KSEG in Sacramento, California, market #27. Not a bad jump for job #2! Way to go Chadd! This email address is being protected from spambots. You need JavaScript enabled to view it..
ABC Radio Networks announced today the debut of Scott Shannon's True Oldies Channel. Scott Shannon's True Oldies Channel is the newest 24/7 music format syndicated by ABC Radio Networks. The format is dedicated to honoring the greatest rock-and-roll music ever recorded, with a particular emphasis on the "Heart and Soul" of Rock and Roll music, the years 1958-1964. Legendary broadcaster Shannon is the Program Director and host of the True Oldies Channel. Last year he was inducted into the National Association of Broadcasters' Radio Hall of Fame. Recently, his peers in the radio business named him the "Most Influential Programmer of the Past 20 Years." Shannon is part of the morning team "Scott and Todd in the Morning" heard on WPLJ/New York, and enjoys one of the biggest audiences in the USA.
The AVDeli Creative Group has disbanded. The company will release 7 new products this fall and winter. It ends there. "We'll celebrate our 10th year together in July," said AVDeli's Joe Kelly. "That's 3 years longer than any of us planned to do this. It's been great fun! Now it's time to move on. We hope our clients will agree - we're goin' out with a bang!" AVDeli has been Joe Kelly (aka Shakey Waters & Juan Carlos), Derek Theisen, Dan Holter, Mark Robertson, Jason Samonik, Chris Hansen, Jon Carter, Judson Snell, Eric Sagarin, Lydia deJupp, Arty Kaprelian and Sharon Lee Frank. "We thank you! We bid you farewell!"
♦