Page 1 of 3
by Craig Jackman
In the beginning there was Syntrillium, a small software company… Okay, one guy, David Johnston (a.k.a. The Creator), and the freeware audio application Cool Edit. And, it was good. Cool Edit begat Cool Edit 96, which added a bunch of extra features and sold for real money at a reasonable price. The ability to multitrack was needed, so Cool Edit 96 begat Cool Edit Pro 1.0 (CEP), which in rapid succession begat Cool Edit Pro 1.1, Cool Edit Pro 1.2, Cool Edit Pro 1.2a, Cool Edit 2000, Cool Edit Pro 2.0, and Cool Edit Pro 2.1. In the intervening years the winning equation of low price compared to a seemingly endless list of included features resulted in a legion of devoted and rabid followers (including followers like me!). The business food chain being what it is, it was inevitable that Syntrillium would be swallowed by a bigger fish, and it was when Adobe Systems acquired the technology assets of Syntrillium. Development didn't stop as Adobe began integrating Syntrillium into their company with the goodwill free upgrade to Audition 1.0. Audition 1.5 is the heir to the Syntrillium line, and the first real injection of Adobe's DNA into the bloodline. Like a lot of offspring, if you just look on the surface, you may not see a lot of changes, but take the time to look closely enough and you'll see some significant changes.
Just to get it out of the way, let me note here that Audition 1.5 was designed to integrate smoothly into Adobe's existing video software line such as Premiere Pro. Some of the shortcuts have changed from what they were in CEP, to what the rest of the Adobe line uses. There is a modifier tool in the Multitrack screen that changes the way the mouse behaves. Since this fine publication is all about RADIO, and the pictures exist exclusively in our minds, that will be the last I say of that nasty "V" word until the very end.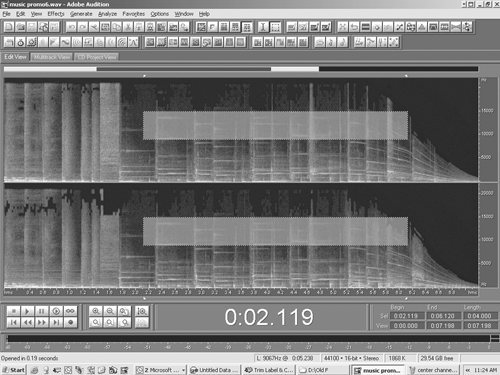 If you've spent any time at all with Cool Edit Pro since its genesis, you'll be comfortable with 1.5. The GUI is not changed all that much since CEP 2.0. There are a number of dockable windows, but the first change is the included Window menu, which makes it easier when accessing the list of windows you may need to open. I've added a video card with dual outputs and a second video monitor which expands the desktop, leaving room for more windows to be open without covering what you are trying to work on, an option that has improved my satisfaction in use of the software. Dropping down, the first thing you'll notice is tabs to switch between the now three areas of the program; Edit view, Multitrack view, and CD Project view (more on this later). The tabs can exist with the Toolbar buttons, or close either the tabs or toolbar buttons or both, leaving you to switch views with menus. The first thing that I appreciate about CEP and now Audition is that you can easily adapt the software to how you want to work, and how relatively little you have to adapt to the software.