TECHNOLOGY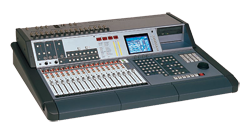 Tascam introduces the SX-1LE digital workstation. Based on the SX-1, it provides 16-track 24-bit recording, 40-input surround mixing, touch-sensitive moving faders, a VGA output and 128-track MIDI sequencing for an estimated street price under $3,000. Features include a flexible 40-input, 32 x 8 digital mixing console, 5.1 surround mixing, 16 phantom-powered XLR mic Inputs, 16-track uncompressed recording at 48kHz/24-bit, an intuitive user interface using mouse, keyboard and two displays to view waveform, MIDI and automation data, built-in CD-RW drive, up to four real-time processors with effects like reverb and chorus, 320 x 240 LCD display, a VGA display output, and lots more.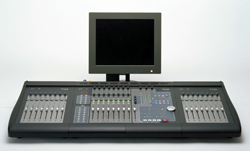 Also new from Tascam is the FW-1884 professional DAW control surface and Audio/MIDI interface. Designed by Tascam and Frontier Design Group, the FW-1884 uses the FireWire high-speed data transfer protocol. With an 18-channel audio interface, 8 mic pres, 4x4 MIDI interface and flexible editing and mixing controls, the FW-1884 is an ideal front end for DAW recording workstations. Features include: 18-channel audio input and output: eight analog, eight ADAT digital and two S/PDIF coaxial or optical; comprehensive mixing, automation, editing and navigation controls for almost any DAW application; nine 100mm motorized touch-sensitive faders; dedicated controls for pan, solo, mute and select per channel, tactile control over four bands of EQ; eight balanced XLR mic/line inputs with high-quality mic preamps and phantom power; 24-bit/96kHz recording resolution with surround monitoring control; and four MIDI inputs and outputs. www.tascam.com.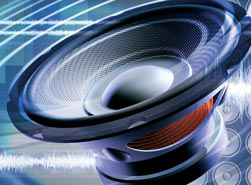 Adobe Systems Incorporated acquired the technology assets of Syntrillium Software in May 2003. On August 18th, 2003 Adobe released a rebranded version of Cool Edit Pro 2.1 as Adobe Audition™ software. Adobe Audition also includes 4,500 royalty-free loops for music creation. Syntrillium's other products — Cool Edit 2000, Red Rover, Snoqualmie, Wind Chimes, Kaleidoscope, and the content available on the Loopology.com site — have been discontinued. If you own Cool Edit Pro 2.x, you can download a complimentary upgrade to Adobe Audition. To download and install Adobe Audition, you will need to provide your Cool Edit Pro 2.x serial number and have Cool Edit Pro 2.x installed on your computer. If you own Cool Edit 2000 or Cool Edit Pro 1.x, you can purchase an upgrade to Adobe Audition for $99. You can purchase Adobe Audition for $299. Adobe provides full support for Adobe Audition. Support for Syntrillium products is provided through the Adobe knowledgebase and user-to-user forums. www.adobe.com.
Digigram has released a new optional mp3 codec for its PCX and LCM card range. PC codec mp3 improves the performance of mp3 playback using Digigram PCX/LCM cards, as a larger number of mp3 files can be decoded simultaneously, and the new codec makes recording of mp3 possible. Available only thru Digigram OEM development partners, PC codec mp3 launches an mp3 codec that runs on the host computer's processor. Encoding and decoding of mp3 files is performed on the host CPU with mixing performed on the sound card. One single codec can manage mp3 coding and decoding for multiple sound cards installed in the same PC. www.digigram.com.

API Audio is now shipping the API 8200 8-channel mixer, the latest addition to the company's line of rack-mount modular components. The 8200 offers discrete signal paths and provides direct control over level, panning, inserts and sends. The one-rack space, 8-channel 8200 adds the final link in the modular audio chain, completing the circle from recording to mixing using discrete API modules. Designed for use with the API 7800 master module and API 7600 input modules, the new API 8200 allows DAW users to bypass their internal digital mix bus and use the 8200 as a discrete summing mixer for warm analog sound. Each channel has level pan, two aux sends, solo, mute, and insert. All external audio connections are balanced +4 dBu and the 8200 is configured with industry-standard dB-25 multi-pin connectors for easy integration into existing audio systems. www.audiotoys.com.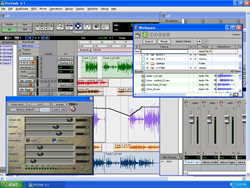 Lots of news from Digidesign. First is HD Accel, a new PCI card for Pro Tools|HD systems which delivers nearly twice the DSP power of first-generation Pro Tools|HD cards. While the HD Core card remains unchanged from original Pro Tools|HD systems, the HD Accel card replaces the previous generation HD Process cards, and may be added to any Pro Tools|HD system to supercharge its processing power and provide access to new, HD Accel-optimized plug-ins and features. Next is the new 96i I/O audio interface for Pro Tools(r)|HD and Pro Tools|HD Accel systems with Pro Tools TDM 6.2 software. The HD version of the popular MIX-era Digidesign 1622 I/O, 96i I/O is a multi-channel 96 kHz-capable Pro Tools|HD audio interface, offering a line-level alternative within the Pro Tools|HD family of audio interfaces. 96i I/O's sixteen analog inputs provide balanced or unbalanced A/D conversion using tip-ring-sleeve (TRS) 1/4" connectors. A 24-bit-capable S/PDIF digital I/O port allows users to connect professional DAT recorders, CD players, and other digital recording devices. A/D and D/A converters of the same quality as those of the Digidesign 96 I/O ensure that the signals' fidelity is maintained going into and coming out of Pro Tools. Up to six 96i I/O units can be used to provide 96 inputs for Pro Tools|HD systems. Next on the list is Impact, the first Digidesign TDM plug-in optimized for the new Pro Tools(r)|HD Accel PCI cards with Pro Tools TDM 6.2 software. Impact brings console-style mix bus compression to Pro Tools via a familiar user interface and control set. With support for multichannel tracks up to 7.1 and sampling rates up to 192 kHz, Impact offers features and sound previously unavailable with other TDM compressors. Impact's user interface emulates the look of a console mix bus compressor. Its control set includes four selectable compression ratios and variable controls for Attack, Release, Threshold, and Make-up Gain. The Impact compressor interface also includes a Gain Reduction meter that replicates an analog meter with an animated bouncing needle as it meters gain reduction. The Impact compressor also includes a side-chain input, allowing any Pro Tools audio track to be used as an external key. www.digidesign.com.
Transamerica Audio Group, the U.S. distributor for Soundelux Microphones is introduced the new E49 large diaphragm condenser microphone, based on the original 1952 German IRT design. The Soundelux E49 is a Remote Variable Pattern Tube Mic that uses Soundelux's KK47 large diaphragm capsule and a unique head grille design that replicates the original's acoustic and mechanical sonic signatures. A specially designed Soundelux SteadyState(r) fixed-bias type tube amplifier (similar to the original) is used but has lower noise and distortion. The output transformer provides a correct impedance match to any mic pre-amp input and, compared to transformerless designs, has lower intermodulation distortion and significantly improved frequency linearity in the low and middle frequencies. The included universal outboard power supply has a continuous variable polar pattern control that adjusts from figure-of-eight to cardioid and then to full omni-directional. www.transaudiogroup.com.
PRODUCTION LIBRARIES
Alien Imaging Sound Design announces the release of a new imaging library. FUSE! Postmodern Imaging FX packs a CD with 300 "Ultra Sleek, Hi-Tech Imaging effects, Beds and Soundscapes for Matrix generation imaging." Demo available at www.alien-imaging.com.
THE MIX
Jeff Schmidt (Alien Imaging Sound Design) recently took over the imaging chair at 107.7 The Bone in San Francisco. Jeff will retain his imaging duties for KFOG as well. Chuck Jeffries takes over commercial production for the 4-station cluster, KFOG, The Bone, and KNBR 680 & 1050.
Hedquist Productions, Inc. was named a National Winner in three categories of 2003's Silver Microphone Awards. Hedquist Productions was also named runner-up in two categories and was given National Finalist awards for six other radio commercials and campaigns. RAP columnist Jeffrey Hedquist co-produced and directed all 11 and was a voice talent and copywriter on all but two of their award winners.
American Voice Corp. in association with SuperSpots presents The Artist Ownership ™©AVC 2003 TV Commercial Package. Based on the radio imaging package developed by Nick Michaels and Terry Gangstad, this package is targeted to Classic Rock, AC or AAA stations. (Nick Michaels talked about these kinds of spots in the RAP Interview-April 2003.) "The spots are different in a fundamental way. There is no sell in the spots. None of the hype usually associated with radio station advertising. In its place, are beautiful pictures and words that take the audience on a journey of discovery for 25 seconds, so that by the time the radio station's logo is revealed, at the end of the spots, the audience's hearts and minds are open and receptive. At that moment of receptivity the logo is shown." Contact Dave Gariano, SuperSpots, (312) 751-8999 ext 16.
VoiceHunter .com announced the release of its annual CD, The Best of VoiceHunter.com Volume 4: 2004. This year's CD features two CDs with the first featuring 58 Radio Imaging demos and the second featuring 52 tracks of Commercial and Narration Demos. Copies of the CD are free and available by calling (800) 867-9532 or e-mail This email address is being protected from spambots. You need JavaScript enabled to view it..
♦