TECHNOLOGY
Danagger Audio Works has announced that widespread distribution is now in place for its Plan B Silence Eliminator. The product is being represented in the U.S. by Broadcast Supply Worldwide of Tacoma, Washington and Broadcasters General Store of Ocala, Florida. Canadian distributorship is through All Electric Pro Audio of Coquitlam, British Columbia. Arrangements are also underway for the distribution of a European version of the Plan B, due for release in April. The Plan B Silence Eliminator is designed to protect a radio station against loss of listenership and revenues during "dead air" and technical outages. Installed at the studio or transmitter, the Plan B can detect the loss of a digital or analog program feed and quickly provides continuous programming from its built-in multiformat disc player. For more information, please contact Rob Robson at Danagger Audio Works, 888 892-8346 or visit www.danagger.com.
Z-Systems has announced the unveiling of its new 'z-Qualizer', a high-end, six-band, stereo digital parametric EQ. Endowed with a wealth of features for sonically-demanding mixing and mastering applications, the new half-rack-space unit boasts an exceptionally wide dynamic range and MSRP of $1,200. Like its siblings, the z-Qualizer combines the precision and repeatability of digital with the 'openness' and 'airiness' of the finest analog EQs. At the heart of the unit lies a 40-bit floating-point DSP chip running Z-Systems' proprietary digital filtering algorithms. Capable of handling up to 24 bits at sample rates of up to 192kHz, the unit can output 24, 20 or 16 bits and features both TPDF and POW-r wordlength reduction. Dynamic range is greater than 135dB while THD+N is better than -130dB. www.z-sys.com.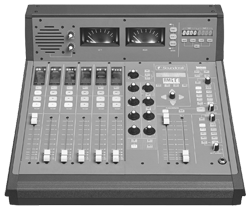 Soundcraft has release several new products and upgrades in the popular RM1d digital radio console family. The RM1d was conceived as a simple-to-use dual-purpose console for production and on-air studios. The latest product in the family, the RM1ds, has been designed primarily for on-air use and incorporates many features and facilities requested by digital broadcast professionals. In particular, the console includes separate START and STOP functions for each channel, as well as front panel and control menu labeling more in line with the terminology used on such dedicated consoles. The RM1d family features an all-digital processing path with totally assignable input selection from analog mic/line, S/PDIF, TDIF and AES/EBU sources. The two models each have integrated dynamics processing and Lexicon effects, cue speaker and dual timers, and the advantage of digital processing brings the ability to store and recall up to 128 console presets of desk settings. Soundcraft has also announced the release of V3.00 operating software for the RM1d, which provides additional functionality for the console. The new software includes password lockout facilities so that unauthorized changes to the console setup are not possible, and also enhances the dynamics section. New to both the RM1d and RM1ds is integration with RCS Master Control, the on-air digital audio system. Using a four-channel stereo TDIF audio interface (analog interfacing is also possible) and an RS-232 control interface, the desks indicate which channel is handling the currently playing track and which channel will cue the next track using the LED display in the channel ON buttons. Depending on the mode of the automation, the ON (and OFF) buttons can be used to stop the current track and/or trigger an automatic start for the next. While one track is playing, the button of the channel on which the next track is cued will flash as the segue approaches, speeding up the closer it gets. Both the RM1d and RM1ds are available in 6- and 12-fader formats. www.soundcraft.com.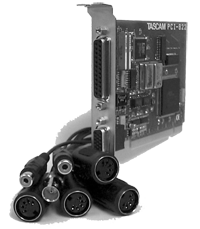 TASCAM has announced the availability of a new package product called Giga-PCI ($369 USD estimated street price). The package combines TASCAM's PCI-822 computer digital audio/MIDI interface card with their GigaStudio 96 software. The result is an all-inclusive package for customers who want to purchase a GigaStudio sampling system for their PC, complete with software and computer interfacing. The PCI-822 is a PCI-format computer card that offers digital audio and MIDI interfacing for PCs running Windows 95, Windows 98 and Windows XP. It provides eight channels of TDIF digital input and output, stereo S/PDIF digital input and output, a 2x2 MIDI interface (32 MIDI channels in/out) and a word clock connector for sample rate synchronization at 44.1 or 48 kHz sampling rates. Manufacturer's suggested retail price for the PCI-822 is $369.00 USD. GigaStudio 96 is TASCAM's Windows-based software sampling workstation software. It offers 96 voices of polyphonic sample playback with 32 MIDI channels. Its DSP Station virtual mixing console provides levels, panning, insert points and effects sends. GigaStudio 96 includes NFX plug-in effects for reverb, chorus/flange, and tap delay. It also includes the S-Converter for compatibility with Akai™ sample libraries as well as TASCAM's GigaPiano sample library and three demos CDs of more samples. Manufacturer's suggested retail price for GigaStudio 96 is $399 USD. Also new from Tascam is version 2.03 operating system update for their DM-24 Digital Mixer.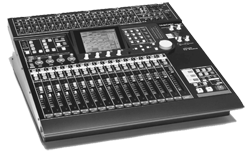 This update is available as a free download at www.tascam.com and adds 20 new features and functions to the DM-24, including HUI emulation, improved internal signal routing and direct surround panning capabilities, new footswitch control capabilities and more. The HUI emulation mode allows the DM-24 to be used as a control surface for music/audio software like Pro Tools, Digital Performer and Nuendo. Faders, pans and mutes as well as aux sends, track arming and transport controls can all be controlled in these DAW applications via the DM-24. Previously, effects returns, assignable returns and S/PDIF and AES/EBU inputs had to be assigned to channels to route signals to the stereo buss. Now in version 2.03, users can assign these signals directly to the stereo buss leaving 8 more channels available for other instruments. Combined with the mic/line inputs assign capabilities from the DM-24's version 1.60 update, these new effects routing capabilities offer access to 60 inputs at mixdown. Version 2.03 also includes new 5.1 surround mixing features. www.tascam. com.
PRODUCTION LIBRARIES
Brian Lee and Sky Audio Productions announce the release of Gray Matter FXII, a new imaging library containing 99 tracks and 700+ elements including beds, tones, starters, etc. Gray Matter FXII is sold on a market exclusive, cash sales lease basis. May be used for any format, although most suitable for CHR, Rock, and Alternative. Rates are determined by market. The demo can be heard online at www.gmatterfx.com.
The Weiss Agency announces the upcoming release of Killer Hertz IV, the latest in the series of sound design CDs from Jeff Thomas Productions. Email andrea@the weissagency.com for details.
THE MIX
Our production family lost another brother with the passing of Tuna Jon Rose in January. Jon was the long time Production Director at WBYR-FM in Fort Wayne, Indiana before exiting in 2001 to start his own production company, Radio Tuna Productions.
Award-winning Focus on the Family Radio Theatre presents its 21st radio drama, Jan Karon's At Home in Mitford. Focus celebrates Karon's best-selling series by airing its radio theatre version from January - April 2003. Senior producer Dave Arnold (January 2003 RAP Interview) is thrilled to feature the Mitford series as Focus on the Family's next radio theatre venture. "Our goal is to produce great stories in a powerful way," said Arnold, "stories with deeper meaning and moral underpinnings, stories that are produced with the highest of standards so listeners will experience the power of dramatic audio entertainment on a whole new level." Focus on the Family Radio Theatre is now airing weekly on hundreds of stations around the United States. Find out where to tune in by logging on to www.radiotheatre.org.
♦