TECHNOLOGY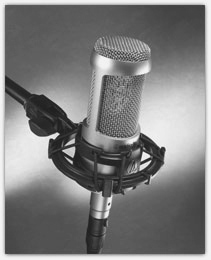 Audio-Technica U.S., Inc. has a new addition to its 30 Series, the AT3060 phantom-powered tube microphone. A distinguishing feature of the AT3060 is that it operates on standard 48V phantom power; as a result, it does not require a separate power supply and cable, making it as easy to set up and use as a standard condenser microphone. The AT3060 features an all-new, large-diameter diaphragm cardioid condenser element, delivering high sensitivity and smooth sound with low overall noise levels, while a precision-machined, nickel-plated brass acoustic element baffle provides enhanced element stability and optimizes sensitivity. The tube used in each AT3060 is hand selected and aged to maintain peak performance, and the tube itself is shock-mounted to dampen mechanically induced vibration. Electronically, the AT3060 includes a large coupling transformer to provide superior linearity at low frequencies, while precision valve design delivers the traditional warmth of the classic tube microphones. With its rich bottom end, mid-range presence and a smooth top-end, the AT3060 is suited for studio production, voice-overs, on-air and other critical broadcast applications. www.audio-technica.com.
MadWaves Corporation announced the release of the third firmware upgrade for its MadPlayer. The firmware upgrade, downloadable free of charge from the MadWaves web site at www.madwaves.com, will provide MadPlayer owners with new recording, composition, sampling, and embedding capabilities, plus two additional music lanes - or tracks - with which to create music. Other features added with the new upgrade package include firmware that allows users to control the structure of the songs they create, using the new e-DJ manual mode to pick what instruments play when, move back and forth between different instrument segments of the songs - add samples and vocals and transfer the whole song digitally to their hard drive. www.madwaves.com.
TC Electronic is has launched software version 1.7 for the PowerCore DSP card for Windows and Mac OS X. In addition to enhanced performance and the new Equalizer - EQSat Custom - OS X users get the additional benefit of Apple Audio-Unit Plug-In support. EQSAT CUSTOM is an EQ-model for critical applications including mastering. The processor provides 3 stereo parametric bands and 2 additional shelving bands, with separate Gain control for left and right channel. The "Frequency Response Display" gives instant feedback on the applied equalization curve and adds a graphical approach to adjusting the EQ-settings. Saturation emulation can be activated to create warm "analog" sound whenever desired. PowerCore version 1.7 for Mac OS X is available as a free download from TC Electronic's website at www.tc electronic.com.

Behringer has several new products including the Ultra-Voice Digital VX2496 ($199 MSRP), a high-quality mic preamplifier/voice processor based on the VX2000. The VX2496 features an AES/EBU output (digital output up to 24 bit/96 kHz), including opto compressor, dynamic enhancer, expander, de-esser and tube simulation. If you are a recording musician, home/project studio owner, or work primarily in the digital domain and need to record vocals into a digital system, this machine has been designed for you. Key features include a 24-bit/96 kHz AES/EBU output with selectable sampling rates or external clocking. There is a discrete ULN mic/line input stage withsoft mute +48 V phantom power. Authentic tube emulation circuitry provides for typical tube and tape saturation sounds, and there is a true RMSexpander for smooth noise reduction. An optocompressor provides inaudible dynamic control and creative signal processing options. A voice-optimized equalizer was specially designed for voice enhancement. Also new is the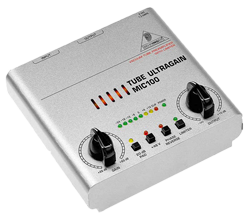 Tube Ultragain Mic100 (MSRP $49.99), a vacuum tube mic/linepreamplifier with integratedlimiter for studio, live and hard disk recording applications. It features a 12AX7 vacuum tube with UTC technology for exceptional warmth and lowest noise. Thus, the MIC100 can be used to eliminate the "dull" sound of standard digital recorders and sound cards. Also, it complements studio-grade condenser microphones. When used as a high-end DI-box, it ensures signal integrity. The Tube Ultragain Mic100 comes with phase reverse switch, +48 Vphantom power and 20 dB pad. Balanced inputs and outputs provide the finishing touch. www.behringer.com.
New from TC Works is version 2.8 of their flagship audio processing application Spark XL. Only in February 2003, Spark XL 2.7 became more powerful with its direct CD-Burning features from inside Spark XL's Play List. In November 2002 a new high-end Dithering and Noise Shaping technology named MegaBitMax, AAC/MP4 support, W64 file format and new comprehensive recording features made their way into Spark XL. The new Version 2.8 delivers the previously announced Audio Units support. Apple Audio Units is a new Plug-In format exclusive to Mac OS X, and Spark XL is amongst the first applications to provide this feature. Spark XL 2.8 and Spark LE Plus 2.8 are available via TC-Now.com. For exisiting users of Spark LE Plus 2.7 a free upgrade to Spark LE Plus 2.8 is available. For exisiting users of Spark XL 2.7 a free upgrade to Spark XL 2.8 is available. Mac OS 9 is no longer supported.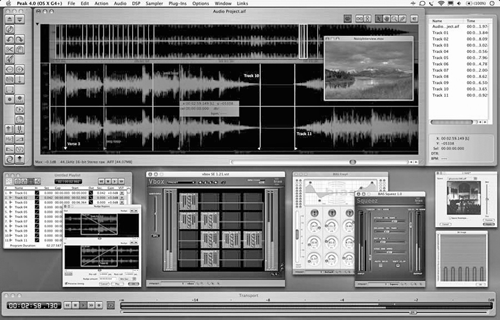 BIAS Inc. unveiled Peak 4, a major new version of their stereo waveform editing application for Macintosh. Peak 4 offers many new features and enhancements, including support for Audio Unit plug-ins - Apple's new audio plug-in standard for Mac OS X, Multi-processor support, Redbook CD burning from directly within the Peak application, a host of new DSP tools. In addition, Peak 4's graphic user interface has been streamlined, and sports a new brushed metal look. Finally, Peak 4 is now a Mac OS X-only application, enabling it to take full advantage of the OS X-only services within OS X. Peak 4 adds significantly to its arsenal of built-in DSP tools, including a new convolution-based sampling reverb algorithm, which utilizes a vast library of impulse responses and supports real-time preview. Additionally, users can create and import their own impulse responses. Harmonic Rotate literally puts a twist on your signal's harmonics by rotating the frequency spectrum. Additionally, Peak 4 includes a new Bit Usage display, and Squeez(tm), a high-end dynamic compressor/limiter VST plug-in. Peak 4 also adds a new level of control to some of the existing DSP functions. Dynamic envelope control has been added to the Time Compression/Expansion, Add, and Mix functions, allowing users to control the effect of these processes over time. Peak 4 is now fully Multi-threaded and Multi-processor capable. This means more processing speed, and no need to wait for processes to finish before continuing to edit the current file or work on new files, as well as the ability to utilize both processors on MP machines. Peak 4 is available through the BIAS Worldwide Network of Dealers and Distributors for a SRP of US $499. Upgrades to Peak 4 are $149. For additional product information and upgrade pricing, or to download screen shots, visit the BIAS Website at www.bias-inc.com.
PRODUCTION LIBRARIES
Firstcom recently added 40 new discs to their collection, including 10 new releases for the new FirstCom library, Noise Pump and 6 new orchestral discs. Audition them online at www.firstcom.com.
THE MIX
The 8th Annual International Radio Creative and Production Summit is slated for August 8-9 in Los Angeles featuring your hosts, Dan O'Day and Dick Orkin, with special guest speakers Christine Coyle, Harry Shearer, and Gary Burbank. Tuition is $595 if you purchase by June 30, $695 if purchased in July, and $795 at the door. Visit Dan O'Day's website for more details at www.danoday.com /summit.
CORRECTION: In the April issue, we listed incorrect producer/writer/talent information in the RAP Awards winners listing for the 2nd Runner-up in the Small Market Commercials category. As noted, the spot "The Farmstore/Pick Up Chicks" was entered from KHUM/KSLG in Ferndale, California. However the credits should have read as follows: Producer – Mike Dronkers; Copywriter - Isaac Mosgofian; Voice Talent - Mike Dronkers, Isaac Mosgofian.
Dallas-based TM Century, Inc. announced the addition of Jackson Cervantes to its network of international distributors. Ms. Cervantes will provide sales and marketing consultation to TM Century for markets in Latin America and Spain. Cervantes joins TM Century from Radio Express, Inc. where she was Vice President and Sales Manager. www.tmcentury.com.
Michael O'Shea, longtime radio veteran and station owner, recently announced the creation of Hollywood-based All Comedy Radio (ACR). He heads a group of well-known entertainment and media executives in the development of the new format and syndicated radio network. All Comedy Radio will offer a mix of exclusive comedy programming in short form, specific day parts or 24/7 presentation to radio stations in all size markets. Launch is set for July, 2003. The programming utilizes standup routines from superstar comedians and up-and-coming touring comics, as well as exclusive interview segments from ACR's Hollywood studios. News parodies, parody songs and morning show-type radio comedy rounds out the topical and relevant programming. Audio demos are available at: www.allcomedyradio.com.
Sony Pictures Digital and Sonic Foundry announced recently that Sony Pictures Digital has struck an agreement to purchase all of Sonic Foundry's desktop software products and related assets for $18 million cash and assumption of certain trade payables, accrued liabilities and capital leases associated with the desktop software business. The acquisition of Sonic Foundry's desktop software follows the recent retail release of Sony Pictures Digital's Screenblast Movie Studio and Screenblast Music Studio video and music-mixing applications created in conjunction with Sonic Foundry's software team. Sale of the desktop software assets includes Sonic Foundry's ACID, Sound Forge and Vegas series of software products, as well as other related assets. Approval of the agreement may be subject to Sonic Foundry shareholder approval and other various conditions. www.sonypictures.com, www.sonic foundry.com.
♦