TECHNOLOGY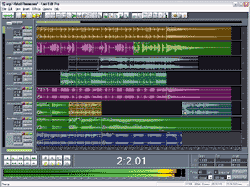 Syntrillium recently announced that it has reached an agreement to sell its technology assets to Adobe Systems Incorporated. According to a letter distributed by Syntrillium, Adobe is acquiring Cool Edit because "they like what it is…and how well it complements their current product line." The letter further states, "Syntrillium and Adobe share a common vision of the future of desktop audio and we are all very much looking forward to further development of Cool Edit." More info at www.syntrillium.com. Click on News. Syntrillium also announces the availability of Cool Edit Pro Version 2.1. New features include: greatly improved Noise Reduction; Cart Chunk header editing in the Wave Properties dialog now includes the fields for creating and editing cart chunk data, commonly used for radio automation systems; additional hardware controller support for the Mackie Control, Tascam US-224, and Event Ezbus; faster and more efficient background mix; and improved accuracy for automatic beat detection. Version 2.1 now lets you reposition entire tracks in multitrack view by right clicking and dragging on track controls. Other new features include additional drive support for CD extraction under Windows 2000 and XP and greater support for 3rd party DirectX plug-ins. Download the upgrade atwww.syntrillium.com.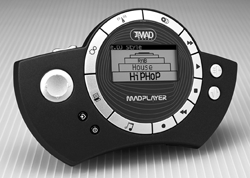 MadWaves Corporation announced that a number of stations within Emmis Communications' radio group have purchased the MadPlayer to create music beds for commercials and background beds for their DJs. Emmis is the second radio company in the US to acquire a number of MadPlayers; earlier this year, Radio One bought MadPlayers for all its affiliate groups. Operated by MadWaves' proprietary Generactive(tm) Music Technology, the MadPlayer generates unique, unlimited copyright-free music users can play with, change, listen to and share with others. "The feedback I've gotten from our directors is that they love it," said R.J. Curtis, KZLA's Operations Manager in Burbank, CA, who bought the MadPlayer for his station's Imaging and Creative Directors. "MadPlayer feels and looks like a video game, but it has such practical application. It's a good tool for creating music beds for the jocks to use and for work for some of the station's clients. It's so easy to use and there are multiple possibilities for our team to do creative stuff with it on the air." www.mad waves.com.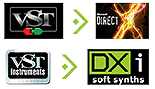 Cakewalk has announced that the new Cakewalk VST Adapter is now available on the Cakewalk web site. The Cakewalk VST Adapter converts VST format plug-ins to DirectX and DXi format, providing sample-accurate automation with identical audio fidelity. Earlier this year Cakewalk acquired FXpansion's VST adapter technology, highly regarded in the industry for its sample accurate timing, full support for the latest DXi and VST plug-in specifications, MIDI and DX8 envelope automation, and full preset management implementation. In use, the Cakewalk VST Adapter expands the sonic palette of the home/project or pro studio and opens studios up to hundreds of available freeware and shareware VST effects plug-ins and VSTi software synths readily available on the Internet. Additionally, Sonic Foundry customers can now use the Cakewalk VST Adapter to extend their studios to include VST effects. The Cakewalk VST Adapter download and CD versions are available for $59.00 U.S. Registered SONAR customers can purchase the Cakewalk VST Adapter for $39; free upgrade for all registered FXpansion VST-DX adapter users. www.cakewalk.com.
CEDAR Audio announces the release of DeNoise 96 for integration with the latest SADiE workstations. First shipped in 1996, DeNoise was written to run on the SADiE hardware of the time, the 25MFLOP "XS" card. The process provided noise fingerprinting and flexible noise reduction controls, but the limited power available (by modern standards) made it impossible to implement an improved 96kHz algorithm on this and succeeding SADiE platforms. All this has changed with the advent of SADiE 5, which provides the power and flexibility to host a much-improved dehisser. Not only does this run at all sample rates up to 96kHz, it contains some of the enhancements developed during the research that led to CEDAR's new flagship CEDAR Cambridge, and the NR-4™ module that runs on it. www.cedaraudio.com.
Digidesign announces that TC Works' TC TOOLS 3.6 - comprised of MEGA REVERB, CHORUS/DELAY, and EQsat plug-ins - now complements Pro Tools|HD with support for Mac OS X and Windows XP as well as sampling rates up to 96 kHz. MEGA REVERB's algorithms are based on the TC Electronic M5000 high-end studio processor. The CHORUS/DELAY plug-in recreates the 1210 Spatial Expander. The Eqsat plug-in is a high-performance EQ model for any application requiring mastering. The processor provides five bands: three parametric and two additional shelving bands. Additionally, the unique saturation emulation can be activated to create that warm, analog sound whenever desired. The TC TOOLS 3.6 plug-ins for Pro Tools are available for Pro Tools|HD and Pro Tools|24 MIX systems on both Mac OS X and Windows XP. Digidesign is also pleased to announce the launch DiSK (Digidesign Sound Knowledge), a new free destination on the Digidesign website for people who want to learn more about using Pro Tools. DiSK offers Digidesign's customers more educational and training resources and complements the existing resources provided on the Training and DigiZine areas of the site. www.digidesign.com.
Drawmer's new SP2120 Speaker Protector eliminates the possibility of 'unauthorized' excessive sound pressure levels on speaker systems which could result in damage to both chassis drivers and electronics. The SP2120 front panel features an integral security lock to ensure that adjustments to maximum volume levels are implemented by key holders only. In 'unlocked' mode two front panel pre-sets are available for adjustment by the installer. The first calibrates the 16 segment Left/Right bargraphs and the second sets the absolute volume level to which the system is allowed to perform. If the SP2120 receives increased signal levels, a transparent 'protection' circuitry is activated which maintains the specified volume level without degradation in sound quality. www.drawmer.com.
Eventide announced the availability of fully functional, time-limited demos of their Eventide Clockworks Legacy plug-ins. The demo includes the H910, Omnipressor®, Instant Phaser, Instant Flanger®, and H949 plug-ins for Digidesign Pro Tools TDM systems. During the seven-day trial demonstration period, users will enjoy unrestricted use of all five plug-ins, until the demo period is completed. Further use will require purchase of the software, which is available through authorized Eventide dealers worldwide. Systems requirements to run the Eventide Clockworks Legacy product or demo are Pro Tools MIX or HD running Pro Tools 5.1 or later software on Mac OS 9.2.2 to Mac OS 10.2.4. The Omnipressor, modeled after the legendary analog hardware processor, which was introduced by Eventide in 1971 and was available through 1984, is an analog compressor. The Instant Phaser, modeled after the world's first analog phaser, was also introduced by Eventide in 1971 and sold through 1977. The original was a single-function analog processor with a sweeping filter bank with two outputs that are 180 degrees out of phase from each other. The plug-in retains the exact characteristics of its analog brethren and supports 48, 96 and 192 kHz sample rates. The H910, Eventide's first Harmonizer(r) brand effects processor, and the world's first pitch changer, was introduced in 1975 and sold through 1984. The plug-in is true in every respect to its vintage counterpart, except MIDI is implemented in place of CV, is great for thickening source material and adding delay, and operates at 48 and 96 kHz sampling rates. The Instant Flanger, an analog flanger, was first released in 1976 and sold though 1984. The original was one of the first hardware products to recreate the effect of tape "flanging" electronically and was widely used on hit records throughout the last three decades. The plug-in, true in every respect to the original, features mono in and two channels out with one 180 degrees out of phase from the other. It supports 48, 96 and 192 kHz sample rates. The H949 was the first "deglitched" pitch changer. It was introduced in 1977 and sold through 1984. The plug-in recreates the pitch change and delay functions of the original and operates at 48 and 96 kHz sample rates. The Eventide Clockworks Legacy series of plug-ins offer full parameter automation, MIDI control, and control surface integration to take advantage of the complete Pro Tools feature set. www.eventide.com.
Audion Laboratories is reducing the estimated retail price of their VoxPro PC Software and VoxPro PC Control Panel by approximately 25 percent. Retail prices become $999 for VoxPro PC Software and $999 for the VoxPro PC Control Panel. www.audionlabs.com.
THE MIX
TM Century, Inc. announced the appointment of Mrs. Eve Mayer Orsburn to the newly created position of Director of Special Projects. Orsburn rejoins TM Century after a 2 ½-year hiatus. Her new duties will focus on new projects in development, group sales, network/syndicator relations and will interface with domestic and international sales. www.tmcentury.com.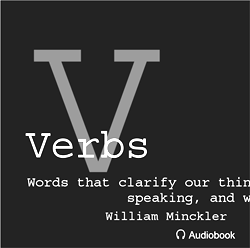 Surmount Publishing has a book and CD of interest to anyone who relies upon their communication skills. "Verbs—Words That Clarify Our Thinking, Speaking, and Writing" incorporates verb usage into your daily routines with an easy-to-listen-to audio CD packed with various verbs, their origins, and their definitions. More info at www.clearverbs.com.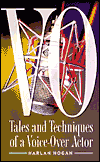 Harlan Hogan has been in the voice-over business for over 20 years and now has a book. "VO: Tales and Techniques of a Voice-Over Actor" began as a response to Hogan's most frequently asked question: "How did you become a voice-over actor?" It evolved into an often humorous page-turner that shares trade secrets, gives advice, and tells Hogan's life story. Look for it in bookstores or online at www.amazon.com.