TECHNOLOGY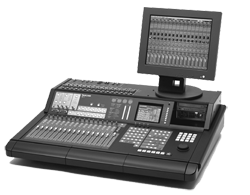 Tascam has released a major software upgrade to their SX-1 and SX-1LE Digital Production Workstations. Software version 1.50 adds over 100 features and improvements to the SX-1. A new FTP feature allows the SX-1 to act as an FTP server, so that audio files can be shared with other computers through an Ethernet connection. The mixer section now offers momentary mute keys, fader select and stereo aux send grouping. A new Auto-Pan effect has been added. The jog wheel can be used for sample-accurate scrubbing and the audio crossfade window has been enhanced. The sequencing section now sports a tap tempo feature, and improvements to piano roll editing and program change ability. www.tascam.com.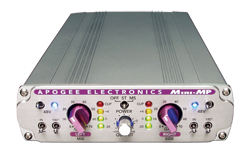 New from Apogee Electronics Corporation is the Mini-MP, Apogee's latest addition to their Mini-Series which includes the award winning Mini-Me and Mini-DAC. Mini-MP, a 2 channel, analog mic/instrument pre-amp, takes the reference quality of Apogee's Trak2 and the pre-amps of the Mini-Me to a new level. Featured in the Mini-MP are two, low distortion, ultra-fast, high-gain pre-amps that offer a full 70 dB of gain. The step-less adjustment of Mini-MP's gain knobs provides a smooth alternative to switch mode gain adjustment and is ideal for those who like to "ride the gain" without pops or other gain-change artifacts becoming part of their recording. The phantom powered microphone inputs are capable of handling level of up to +18dB and the auto select High-Z inputs are a great feature for instruments and consumer level equipment. On the output side Mini-MP uses Apogee's newly developed electronically balanced line drivers, which simulate true transformer behavior and allow for perfect symmetry when used in balanced mode and no increased distortion when used unbalanced. Other useful Mini-MP features include Middle-Side Mode, great for recording audio using an M-S configured mike setup, an 80 hZ High-pass filter, helpful for eliminating unwanted lows frequencies, and a phase switch. MSRP: $995. www.apogeedigital.com.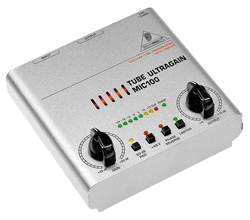 Behringer introduces the Tube UltraGain MIC100 (USD 49.99 MSRP). The tube-based professional mic/line preamp features a hand-selected 12AX7 vacuum tube with UTC technology for warmth and low noise. The MIC100 is designed to perfectly complement studio-grade condenser mics. It can also be used as a DI-box or to eliminate the dull sound of standard digital recorders and sound cards. Features include phase reverse function, phantom power supply, accurate LED meter and a switchable pad function. In combination with proprietary BEHRINGER UTC tube technology, the preamp yields excellent low-noise and low-distortion properties while lending an incredible punch to percussion instruments and signals that are rich in the upper harmonics. www.behringer.com.
Mackie Designs' new Mackie Control C4 is a plug-in and virtual instrument controller that provides four banks of eight V-Pots each, and four full-size displays for instant access to as many as 32 separate software parameters without the need for scrolling or bank switching. "The C4 is the perfect addition to the Mackie Control family," commented Mike Newman, Director of Product Development at Mackie Designs Inc. "It's the perfect time-saving tool that plays on the same ideals as the Mackie Control by providing musicians, producers and audio engineers a tangible, analog-style interface for sophisticated plug-ins and virtual instruments." $1099 MSRP. www.mackie .com.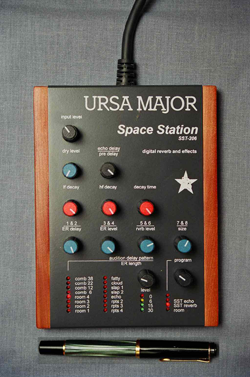 The new Space Station SST-206 ($795) from Seven Woods Audio combines the reissue of the Ursa Major Space Station, a classic reverb and effects unit, with a modern reverberation system in a case smaller than a paperback book. Christopher Moore, President of Seven Woods Audio, noted, "There continues to be a high level of interest in the Space Station, as evidenced in Internet studio equipment lists and activity on Ebay." The SST-206, easily held in one hand during operation, is based on a 150MHz 24 bit Motorola DSP chip. The new Space Station measures 6.4 x 4.8 x 0.6 inches, provides AES/EBU digital I/O, and accepts 24-bit audio at 48 or 44.1kHz. It is powered by a small external supply built into the breakout cable and operates from all overseas and domestic AC mains. With the power available from the Motorola chip, Moore says that he was unable to resist the temptation to pull out all the stops and render a stunning new reverb program he simply calls "room." The reverberator is controlled by twelve potentiometers that provide instant, intuitive access to all the important parameters. "The SST-206 harkens to an earlier time, before the multi-level menu structure and one-parameter-at-a-time user interface took over. There is no need for an LCD, no user presets, no MIDI–just an uncluttered panel with twelve clearly labeled knobs with pointers to show the current settings." Ursa Major entered the market with its Space Station digital reverb and effects unit in May 1978, making it probably the third entrant in the then-young digital reverb market. The Space Station occupied the lowest cost segment of the market ($1995) for the next three or four years and continued to sell for the next eight years. Christopher Moore was the principal founder of Ursa Major and has personally designed both the original and the new Space Stations. Ursa Major expanded and developed other digital reverb products and in 1986 was purchased by AKG Acoustics, Vienna. www.seven woodsaudio.com.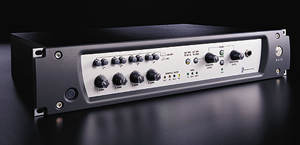 Digidesign announces Digi 002 Rack, a new FireWire-based Pro Tools® LE system. Digi 002 Rack, an extension of the popular Digi 002, was designed with both recording and performing musicians in mind, and offers recording at sampling rates up to 96 kHz. Digi 002 Rack serves as a recording, editing, mixing, mastering and delivery solution. And as with all other Pro Tools LE products, its sessions are fully compatible with other professional and home/project Pro Tools environments. A single FireWire/IEEE-1394 cable connects Digi 002 Rack to a compatible PC or Mac. FireWire connectivity makes for an adaptable, portable solution while offering the high data-transfer speeds and plug-and-play capability. Digi 002 Rack includes an audio interface featuring up to 18 simultaneous channels of I/O, 1-in/2-out MIDI I/O, 24-bit/96 kHz A/D/A, and four built-in high-quality mic pres. Its Pro Tools LE software interface supports 32 tracks of 24- or 16-bit audio, complete integrated MIDI sequencing, and real-time mixing and processing. Other features include: 8 discrete analog inputs (4 mic/line/instrument (DI) preamps; phantom power selectable in two channel increments); Alternate Source Input for monitoring –10 dBV audio equipment (tape players, CD-players, etc.) directly to the monitor outputs; 8 discrete analog outputs, all balanced/unbalanced +4 levels, plus a separate balanced/unbalanced monitor output; 8 channels of ADAT optical I/O and 2 channels of S/PDIF I/O. Digi 002 Rack MSRP is $1,295 US. www.digidesign.com.
PRODUCTION LIBRARIES
Groove Addicts and MannGroup Radio Services announce the release of Extreme Noise 2 imaging/production package. The imaging sweepers are designed for the pool of affiliates currently running the EN1 (Extreme Noise 1) package and any alternative/modern AC/hot talk type format interested in music logo based imaging. The package includes 25 new cuts along with the entire Gravity Music Library, and other material, including the 120 cut Extreme Noise 1 package. MannGroup president, Ed Mann says, "We're so proud to continue our relationship with Groove Addicts and their president Dain Blair in this new exciting package. I can only bow in reverence to the production pros that put this magic together. What a huge, forward thinking package." MannGroup Radio Services is a full-service independent radio syndicator with several programs and services including imaging libraries and custom jingle packages provided by Groove Addicts. See the ad on page 5 for more info or email ed@mann groupradio.com.
Promusic announces new releases to the Promusic Library including AB-CD 117 Techno Drama, CAV 168 A Tinsel Christmas, ESL 049 The Salvation Army, FCD 188 Mad Mix 1, PRCD 144 Funk R-evolution, and many others. Listen online at www.promusic-inc.com.
Avdeli announces CremeMachine.com coming in 2004. It's the new 100% barter division from Kelly/Silver WorldWide (avdeli.com's parent company). The on-going production service will be delivered via FedEx on CD-ROM, which will begin with the Motherload, 10 hours of imaging tools. Plus you get to select any five of 25 bonus CD-ROM collections. Then come the regular updates, a new collection with another thousand tracks every 6 month. Each collection is 25 to 30 hours long with no cross-over from library to library. And each library is format exclusive. Other libraries include Crank! (rock), Blaze! (hip-hop & R&B), Mad Science! (CHR, Hot AC, Adult Alternative, Classic Hits), and Hot Country! For more info contact avdeli.com at (262) 752-9346. www.avdeli.com.
THE MIX
The all-comedy programming added to Infinity's KLSX-FM posted huge ratings growth in the recently released Summer Arbitron. LA's Hot Talk KLSX-FM went all-comedy, weekend overnights, on August 29. The September segment of the Summer Arbitron exploded from a 1.5 share to a 6.4 share in adults 25-54 for that time period, as extrapolated by Maximiser. The programming is a blend of tightly edited professional stand-up comedy, in-studio interviews with touring comedians and radio-comedy such as parody news, phony phoners, topical bits and parody songs. The programming is produced and provided exclusively by Hollywood-based All Comedy Radio. www.allcomedyradio.com.
♦