TECHNOLOGY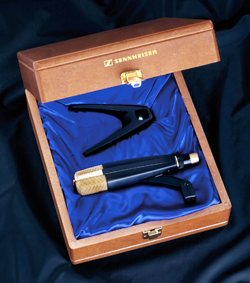 Sennheiser USA has introduced the MD 421 Special Edition microphone, to commemorate the 90th birthday of Sennheiser founder, Prof. Dr. Fritz Sennheiser. The new MD 421 Special Edition utilizes the legendary large diaphragm, dynamic element of the original microphone, which was known for its handling of high sound pressure levels and exemplary performance in voice broadcasting as well as other vocal and drum applications. The new commemorative edition recaptures the performance of the original 1960s design, which was one of Sennheiser's most popular dynamic mics for over 35 years, and will be limited to just 990 production units. Each limited edition microphone features gold-plated hardware, comes with a velour-lined wood jeweler's box and a desk stand, and includes a numbered certificate of authentication personally signed by Prof. Dr. Jörg Sennheiser. Like the highly regarded original, the new MD 421 Special Edition offers a highly directional cardioid pickup pattern for very effective feedback rejection. The Sennheiser MD 421 Special Edition retails for $649.95. www.sennheiserusa.com.
As reported last month, Syntrillium Software recently sold its technology assets, including Cool Edit Pro, to Adobe Systems Incorporated. The latest news from the two companies is the new name for the product, Adobe® Audition, nothing more than a re-branded release of Cool Edit Pro, which is expected to begin shipping later this month. Adobe Audition is included in the Adobe Video Collection, which also includes Adobe Premiere® Pro, Adobe After Effects®, and Adobe Encore DVD software. www.adobe.com.

Focusrite's new ISA 428 Pre Pack is designed to be an ideal multi-channel front end for any professional DAW. Features include four classic Focusrite transformer-based pre amps with switchable impedance and direct instrument inputs, and an optional eight channel 192kHz ADC, preceded by an all new proprietary Soft Limiter circuit. The preamp touts superb common-mode rejection, an excellent overload margin, an extremely low noise floor and super-wide bandwidth (10Hz to 200kHz). In addition, the input stage provides enhanced control allowing you to switch between four input impedance settings. The original ISA 110 setting is supplemented by three further impedance settings to either perfectly match the pre amp with any microphone and maximise level, or use different settings creatively to shape the sound of the microphone being used. Should the need arise to place extra processing in between pre amp and conversion, insert points are also featured on every channel. Protecting the ADC, the Soft Limiter opto circuit is a new design from Focusrite, entirely preventing any 'digital overs', while minimizing distortion. The ADC provides eight conversion channels at frequency rates of up to 192kHz. Running at 96kHz allows for up to 16 (2 x 8, parallel) simultaneous digital outputs in addition to the four main analog outputs. Digital output options include dual AES/EBU, SPDIF and dual ADAT lightpipe. Full digital metering is provided for every channel, alongside new 'moving coil' peak meters, designed to catch even the fastest of transients. www.focusrite.com.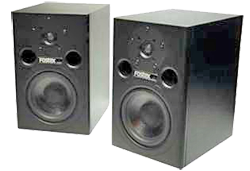 Fostex America introduced a compact, self-powered monitor system which follows the design of the company's model PM-1, a larger version. The new PM0.5 features a 5" LF driver designed to deliver pure music reproduction by employing the latest technology in cone material. The cone uses a mixture of cut and milled fibers that are made from aromatic polyamide. It is then impregnated with resins to simultaneously achieve high rigidity and optimum damping. The voice coil is made of super high purity copper wire to achieve very low distortion. The .75" soft dome tweeter employs the Fostex UFLC technology (Poly Urethane Film Laminated Cloth). It is both lightweight and highly stable. Both drivers are powered by specifically matched amplifiers — 40 watts RMS for the woofer and 30 watts RMS for the tweeter. The compact PM0.5 measures 7-1/8" x 11" x 10-1/4" and weighs 14.3 lbs. each. Priced at $349 per pair MSRP. www.fostex.com.
MOTU, Inc. announced the 828mkII ($795), a single rack-space, FireWire audio interface for Macintosh and Windows computers. The 828mkII replaces the 828 at the same price and adds many new features, including more simultaneous inputs (20) and outputs (22), 24-bit 96kHz operation, 8-bus monitor mixing with front panel LCD programming, stand-alone operation, front-panel mic/guitar/instrument inputs with preamps and sends, SMPTE time code sync and MIDI input/output. "The 828mkII is equally well-suited for both studio and stage," said Jim Cooper, Director of Marketing at MOTU. "It gives you all the analog and digital I/O you need for desktop recording, including convenient front-panel mic inputs with sends for your favorite compressor, EQ or guitar amp. You can program multiple monitor mixes on-screen with the included CueMix Console software, hit the road, and then tweak mix settings at your gig using the front-panel LCD display, without the computer." www.motu.com.

Denon's new DN-T645 is a combo CD/MP3 player and cassette recorder. Features on the CD side includeID3 Tag & CD Text Support, CD-R/RW playback, Instant start/Cue to music, Pitch control +/-12% in 0.1 steps, digital coaxial SPDIF output, and unbalanced, balanced, mono and mixed outputs. The cassette deck features AGC recording, pitch control, and stereo mic inputs (TRS). The cassette deck duplicates CD to cassette internally. Options include a "Wristwatch" remote controller! www.denon.com.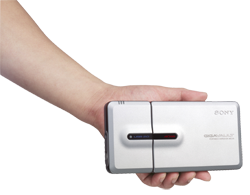 Sony announces the availability of their new Giga Vault™ Portable Hard-Disk Media. Weighing in at just over half a pound, the lightweight device offers 40 GB of digital data storage in a sleek form factor that glides easily into a shirt pocket or handbag. Giga Vault portable hard disk media works like an external hard drive. It connects via the USB 2.0 interface to a Windows operating system-equipped computer. An i.LINK® (IEEE 1394) digital interface version will be available in the fall. The unit also features an innovative form factor in which the media is separate from the USB 2.0 and i.LINK adaptor "caps." This design enables users who purchase an additional cap to carry just the media portion between their two computers. Users can also purchase additional hard disk media as their storage requirements grow. Giga Vault has a shock absorbing body that protects files in the event it is dropped. It also comes with a rechargeable battery that offers between one-and-a-half and five hours of steady power supply. Giga Vault is the latest in Sony's growing portfolio of portable data storage products. The latest generation of Micro Vault™ USB storage media devices come in capacities up to 256 MB. Suggested retail price for Giga Vault is $299.99 at major retail outlets and online sites, including www.sonystyle.com. An additional 40GB of media and USB adaptors are also available for list prices of $249.99 and $59.99, respectively. www.mediabysony.com.
THE MIX
Last month's RAP Test Drive was on the SFX Machine RT. If you have it or bought it, you'll be interested in downloading a couple of preset files from Jay Rose's website at www.dplay.com/dv. The presets are 1) Mono-compatible stereo synthesizer (similar in operation to the classic Orban mono-to-stereo synth, but with crossover to prevent one side from sounding deeper than the other), and 2) 16mm classroom projector simulator (complete with 24 fps flutter and gate noise!). Thanks, Jay!
Perfect Mix Music Logs, LLC, a company that specializes in music scheduling for radio, announces the launch of Perfect Mix. Perfect Mix custom schedules a radio station's music log and specializes in five music formats: AC, HOT AC, CHR, COUNTRY and OLDIES. Each format is programmed by a veteran in that format, with expertise in music targeting and in interpreting music research. All logs come ready to be merged into a station's hard drive system or printed out for the control room. "There are many advantages to hiring a specialist to schedule your music," says Perfect Mix Music Logs, LLC founder Steve Clem. "If a station has limited personnel or if a PD is wearing multiple hats, often the music suffers. By hiring us, you're gaining the expertise and time to make sure the songs and how they are rotated make the right impression with your target audience." Perfect Mix music scheduling will be marketed exclusively through TM Century, Inc., based in Dallas, Texas. David Graupner, President and CEO of TM Century, Inc. commented, "Perfect Mix is a perfect match for TM Century's music services, to which thousands of radio stations around the world currently subscribe. We're excited to be able to offer another level of programming services to our clients with the introduction of Perfect Mix music logs." TM Century also announces that they have shipped their first PraiseDisc to the over 1,800 radio stations in the United States that program any type of Christian music. The PraiseDisc service, which is free to radio stations, will cover all new music releases in all Christian music format genres, including Rock, CHR, AC, Inspirational, and Gospel. The PraiseDisc service will also include a section on the TM Century website with a fully searchable database, liner notes for each song and links to artist and label websites. PraiseDisc will initially publish every other week, but TM Century expects to convert it to a weekly service within the first six months. www.tmcentury.com.
♦