TECHNOLOGY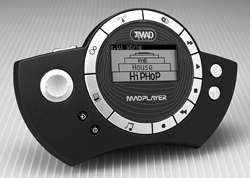 MadWaves Corporation announced the release of the first firmware upgrade for its award-winning product, the MadPlayer (RAP Test Drive – March 2003). The firmware upgrade, downloadable free of charge from the MadWaves web site at www.madwaves.com, will provide a brand new music style that's hot in the UK, called "UK Garage," as well as new programming to expand MadPlayer's music soundbanks and MIDI capability. In addition, the upgrade delivers the ability to save samples that users play live along with the music. "This allows users to create a sample set, insert it into a MadSong(tm) in real time, and save them exactly where the user played them, so they can play the song, with their samples, over and over again," explained Alain Georges, the French inventor of the technology. "Before, samples had to be inserted each time the song was played, so this is a big advance for us." The same upgrade also will let users save all their changes to each song, live and in real time, including: lane volumes and reverbs; portions of each song where the user has muted lanes and/or instruments; changes to pitch and temp; and more. www.madwaves.com.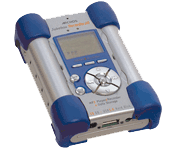 Valentino has just released their Valentino Pocket Studio ($1,200),an MP3 player with a 20 gig hard drive, USB port, head phones and power supply, which contains over 5000 sound effects and more than 600 royalty-free music clipsin 320kbps mp3 stereo. The preloaded sound effects and music library is organized so that you can easily audition from the playlists of sound effects and music anywhere, then plug in to your computer and digitally transfer them into any Mac or Windows audio/video editor that supports USB. Features include 30 to 320 Kbps mp3 format support, selectable 30 to 160 Kbps real-time encoding, and a graphic backlit LCD. Audio I/O includes stereo digital/analog line in, stereo line out, and earphone jack. DAW system requirements: PC: Pentium 233 MHz or higher running Windows 98 SE, ME, 2000 or WinXP with 32 MB RAM (64 MB recommended). For the Mac: OS 8.6 or 9.x. iMac, G3 or higher. USB Manager version 1.2 or higher. More info at www.tvmusic.com.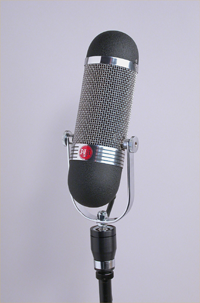 Audio Engineering Associates (AEA) recently introduced the new AEA R84 Large Ribbon Geometry (LRG) microphone ($999.00). Representing a breakthrough in large ribbon microphone technology, the R84 is a versatile mic that utilizes a ribbon element 100 percent larger than other manufacturers' ribbon elements to produce exceptional headroom and an intimate performance with smooth highs and extended lows. The R84 is suitable for a wide range of instruments, including brass, strings, percussion, electric guitar and bass. The AEA R84 is supplied in a complete system that includes a shock mount, 6-foot mic cable and sturdy foam-lined carrying case. "Nothing else sounds like a large ribbon on strings, horns and voices," states AEA president Wes Dooley. Observing the ever-dwindling supply of the classic RCA 44 ribbon mic on the open market, Dooley embarked on a quest lasting several years for the know-how and expertise necessary to recreate this much sought microphone. www.wesdooley.com.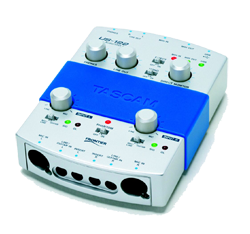 Tascam introduced the US-122 USB Audio/MIDI Interface at the Musikmesse International Trade Fair. Designed as an affordable solution for musicians and recordists who need to send audio and MIDI to and from computers, the US-122 ($269 MSRP USD) is a Mac and Windows compatible USB audio and MIDI interface. It features two XLR-based, phantom-powered mic inputs with analog inserts that allow hardware devices (compressors, etc.) to be placed into the recording signal chain. Two line-level inputs on balanced 1/4" TRS jacks are included, and are switchable to guitar-level for direct instrument recording. Its two line-level outputs provide control for levels, and a dedicated headphone output is also included. The US-122 also offers 16 channels of MIDI I/O for use with synthesizers and other MIDI equipment. Since the US-122 is self-powered via USB, no separate power supply is required for operation, making it perfect for mobile recording systems based around laptop computers. Drivers for the US-122 are provided for compatibility with ASIO, WDM, GSIF and Apple Core Audio (OS X) software systems. The US-122 is packaged with two music production software tools at no added cost: Tascam's GigaStudio 24 sampling workstation software and a special version of Steinberg's Cubasis recording/sequencing software. www.tascam.com.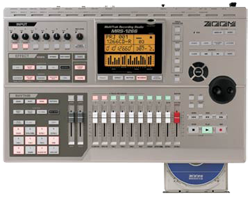 Zoom's new portable digital workstation comes in two flavors, the MRS-1266 and the MRS-1266CD, which includes a CD burner. They are priced at $1,329 and $1,899 respectively. The MRS-1266 series has extensive features including 10 recordable audio tracks, plus two independent drum and bass tracks, and a stereo master channel for mixdown. The 1266 features six simultaneous inputs. It also features an expanded programmable drum & bass rhythm section. Each audio track, including the stereo master, offers 10 virtual takes each. MRS-1266 is a hard disk recorder and a fully integrated digital workstation. Its input and output stages feature 24-bit A/D and D/A converters, while the recording section samples at 44.1kHz (with no compression). Projects can be stored on the 20GB hard drive, or burned to CD-R/RW using the CD-R/RW drive (on the MRS-1266CD version). The 1266 includes an integrated and fully programmable drum and bass machine. Other features include adjustable EQ and pan controls for each channel, as well as a complete array of adjustable 24-bit mastering effects such as Reverb, Chorus, Modulation, Delay and Compression. Connectivity is accomplished via two XLR inputs with switchable phantom power, eight 1/4" unbalanced inputs (two instrument / six line), stereo RCA outputs, S/P DIF Optical Digital output and MIDI IN/OUT as well as a SCSI and USB interface for use with an optional plug-in card. www.samsontech.com.

Denon's new DN-T645 CD/MP3 Player/Cassette Recorder is a full featured CD/Cassette player recorder with MP3 playback ability. It is also compatible with CD-R/CD-RW discs. CD features include instant start/cue to music, pitch control +/-12%, single/cont. play modes, 99-track program play, digital output/coaxial SPDIF, and unbalanced, balanced, mono & mixed outputs. The cassette deck features Quick Auto Reverse, A.G.C. recording, Pitch control +/-12%, Music search, Dolby B/C/HX PRO, and stereo mic inputs/TRS. The unit duplicates CD to cassette internally. External control is available. www.usa.denon.com/pro.
Invention Submission Corporation, an invention service company, has announced that one of their clients has invented a modified stereo system that would record radio transmissions and sounds inside a vehicle. The "Mobile AM/FM Cassette Recorder" would act as a radio recording system, as well as a voice messaging system inside a car, truck, or other vehicle. Occupants could speak aloud and record onto a cassette tape or CD. The device would also record songs or programs playing on the radio. ISC is currently looking for companies interested in financing the product. www.isc-online.com.
THE MIX
Congrats to the creative team at Corus Radio in Toronto (RAP Interview, Nov. 2002) on their recent wins at the 2003 Crystal Awards, rewarding Canada's best radio. Mojo Radio won the Silver award in the Station Campaign category with "Unabashed Homers" created by Jamie Watson and Gary Whidden. In the Station Single category, they pick up both Gold and Silver for Stonehouse Pub/"Wings" created by Rob Vavrek and Sherri Dardis; and Silver for "No Chicks In Jail" created by Jamie Watson and Gary Whidden. Nice work!
Veteran voice guy Mitch Craig launches The Radio Production Kit, and online service offering production music and effects, pre-produced liners, production samples, and an idea bank with ideas for liners, contests, and sales promotions. The site will feature a production profile each month with pictures and audio. Check it out at www.radioproductionkit.com.