Page 1 of 3
by Steve Cunningham
When it comes to production facilities, space really is the final frontier. This is especially true if you're setting up a room for yourself outside the station — maybe you've decided to take on a little freelance work, or perhaps you're striking out completely on your own. Whatever your situation may be, there are several new and recent products that let you assemble a powerful recording and editing system that really will fit on a desktop.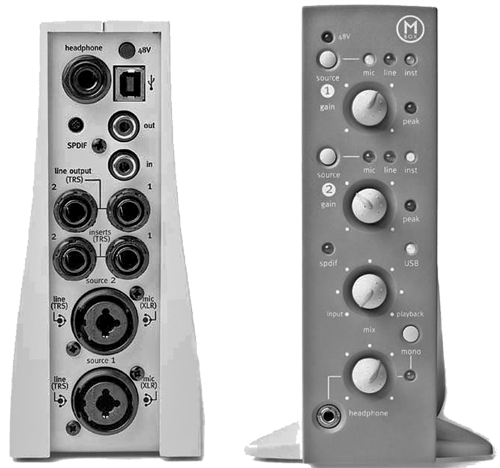 THE DIGIDESIGN MBOX
Introduced in early 2002, Digidesign's Mbox brings the cost of a real ProTools system under $500 (if you shop around, you can find it for around $400). And this is not some Walmart version of ProTools — the Mbox runs the same 32-track ProTools LE software that runs on the company's 001 and 002 products, and it's fully compatible with big five-figure TDM rigs in recording studios.
The Mbox has all its inputs and outputs on the back (with the exception of a front-mounted headphone jack), while the knobs and buttons on the front of the unit are clearly marked and work smoothly. The Mbox connects to your computer via USB, and the LE software supports Intel machines running Windows XP Home or Professional on Pentium IIIs and 4s, and on Athalon XPs and Thunderbirds. Macintosh support is almost a given on systems running OS9, and recently, OSX.
Because it connects via USB, the Mbox is perfect for space-saving laptops of either variety. It works just fine powered by the USB bus on your computer, although it doesn't support passive USB hubs (use a powered hub instead).
On the back of the Mbox you'll find two combo XLR and quarter-inch balanced TRS inputs for microphones, instruments, or line-level gear. Selecting "mic" as the input source kicks two Focusrite mic preamps into gear, complete with 48 volt phantom power, while the line level inputs can handle up to +24 dBu. The Mbox has two quarter-inch balanced TRS analog outputs, as well as two quarter-inch unbalanced TRS inserts for effects devices. 24-bit stereo digital input and output is handled via S/PDIF.
There's also a second headphone jack on the back of the unit — either headphone jack lets you monitor inputs and recorded tracks simultaneously. The headphone outputs are quite sufficient, pumping more than a quarter watt into 600 ohms.
The Mbox's converters provide two channels of 24-bit digital audio at either 44.1kHz or 48kHz with over 100 dB of dynamic range. That the Mbox sits outside your computer is also a plus — by converting analog audio into digital in an external box instead of via a PCI card, you avoid the risk of adding noise from all the silly digital business inside your computer.
Overall the Mbox is a very good-sounding device. Some may find the limited number of ins and outs to be a problem, but that's why Mackie and others make nice little mixers. You certainly can't beat the price, and for most of my production, two ins and two outs are quite sufficient. And despite my reservations about USB for sending digital audio hither and yon, the Mbox performed this task perfectly, with no glitches, clicks, or other gotchas. Nice.