TECHNOLOGY
Elemental Audio Systems announced the availability of Firium, a paragraphic EQ plug-in crossed with a drawing program. The linear phase equalizer plug-in allows users to draw their entire EQ curve freehand. Firium is one of the earliest professional MacOS X compatible plug-ins and may be used with VST compatible hosts in MacOS 9 and X. For a limited time, Firium is available for US $99 alone and US $129 bundled with Elemental Audio Systems' unlimited bands equalizer, Eqium. Firium regularly retails for US $129; the bundle, for US $169. Key features include: built-in spectrum analyzer, edit each channel independently or link them using one of several modes, history slider to easily browse and/or compare prior Eqs, output peak-hold meters with clip indicators, two workspaces to create/compare different Eqs, and more. A demo version may be downloaded from www.elementalaudio.com. Also new from Elemental Audio Systems is Inspector, a full-featured analysis plug-in that uses its alarm feature to alert users of adverse conditions in their audio. Inspector is currently available for VST compatible hosts on Macintosh 9 and X platforms and is FREE for a limited time. Real-time numeric readouts keep users informed about the state of their audio - from clipping incidents to headroom and balance. When user specified thresholds for these parameters are crossed, Inspector's Master Alarm is triggered. Inspector may be downloaded from www.elementalaudio.com.

Modeled after the 1960 and 1969 tube compressors, Drawmer's newly designed Tube Station 2 digital output compressor/limiter offers an affordable solution to musicians and home recordists seeking Drawmer analog tube compression for use in a digital audio system. The Tube Station 2 brings warmth and vitality to audio via a variable tube drive circuit, and delivers it in digital form via a DC1 24/96-output module. Drawmer engineered the new TS2 to offer studio grade analog stereo tube compression and top-notch 24-bit/96k digital conversion at a price that digital home recordists can afford. The TS2 is available both as a digital compressor/limiter (TS2/DC1) or as an analog compressor/limiter (TS2). The Drawmer DC1 24/96 digital output module adds $250 to the $750 MSRP of the analog TS2. The TS2 can be ordered with a DC1 factory installed or as a separate output module to be installed in a TS2 analog at a later date. The TS2's optional 24-bit digital output module offers S/PDIF or AES/EBU outputs at 44.1 to 96k and provides word clock input with high sample rate sensing. Also new from Drawmer is their two-channel, "single ended' DF330 noise filter. Like its predecessor the DF320, the DF330 requires no encode/decode process. Combining three different single ended audio processes, the DF330 reduces high frequency noise, reduces low frequency rumble and reduces broadband background noise during momentary silences in program all with one pass. The first process in the DF330 is a frequency controlled Low Pass Filter circuitry that sets itself to open and close bandwidth to the highest frequency of input audio. This variable filter process tracks properly regardless of fade ins/outs or changes in program dynamics. The automatic nature of this filter design makes the DF330 perfect for reducing non-program high frequency noise without any user interaction. The second process within the DF330 is a new downward expander section used for reducing up to 40dB of broadband noise during momentary silences in the program. When a program ends, the downward expander reduces gain by up to 40dB maintaining silence. When the program begins, the expander release restores full gain. The third main feature of the DF330 is a custom designed "rumble" filter centered at 50Hz with an 18dB per octave slope. This rumble filter can eliminate low frequency noise from outside traffic, HVAC and other low frequency artifacts. MSRP $1099. www.transaudiogroup.com.
U.S. radio is now interactive with the recent launch of YES. Listeners of more than 1,000 top U.S. radio stations, from New York's alternative K-Rock to Los Angeles' Top 40 KIIS, can now identify, interact with and purchase the music playing on the radio, as well as the products and services associated with their favorite songs and performers. The new radio service represents the first product offering of YES Networks, a company created by the merger of YES International AG, a Swiss company, with American-based ConneXus Corporation, a pioneer of interactive radio. To identify any song playing on a favorite radio station, just log onto www.yes.net. Find the city and the radio station. YES identifies the song and performer that is playing, as well as all the other songs the station has played over the past 24 hours. Select the CD, tickets for upcoming appearances, merchandise, and even tune into live auctions for products connected with the band or performer. YES technology then takes you to some of the world's leading online merchants, including Amazon.com, CDNow, and e-Bay, and delivers you to the precise page that correlates to the music playing on air. In addition to www.yes.net, YES is also accessible via WAP service and offered through wap.yes.net where listeners can access the service on a number of wireless devices.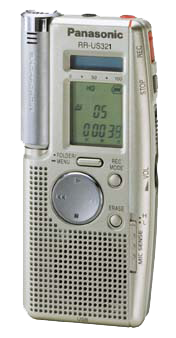 Small, lightweight and ergonomically designed for fast and easy operation, Panasonic's ultra-portable SV-SD50 e-wear SD player offers up to 30 hours of uninterrupted play on just one "AAA" size battery. Triple decoders (for MP3, WMA (1) and AAC (2) formats) offer a broad range of cross-platform digital music options. The new player will be available early September and will have a manufacturer's suggested retail price of $149.95. Users can easily transfer music files from a USB-compatible PC with the included SD card reader/writer, then just pop the included SD Memory Card into the player and hit the streets. The tiny 64MB SD Memory Card, which is about the size of a postage stamp, holds up to 64 minutes of near-CD quality music in the High Quality mode (128 kbps) and approximately 129 minutes in the Extended Play mode (64 kbps). Also new from Panasonic is their model RR-US321 digital recorder with voice recognition technology. Not only is it voice activated, but voice recognition software enables users to transcribe their audio recordings to text. When activated, the unit's Voice Activation System (VAS) will record only when the electret condenser microphone detects a voice. The unit can also be programmed for timer recording, and features standard recording with an On/Off switch as well. The RR-US321 includes a built-in USB port and USB cable. Included software converts recorded messages to standard WAV files. Voice recognition software converts the audio files into text. The RR-US321 has a manufacturer's suggested retail price (MSRP) of $129.95. www.panasonic.com.
BIAS Inc. announces the release of Peak version 3.1. The upgrade adds support for QuickTime 6, encoding audio with Dolby's AAC, and several other feature enhancements. Peak 3.1 is native for Mac OS X and will also run under Mac OS 8.6 - 9.x. The upgrade will be available free of charge for owners of Peak 3. www.bias-inc.com.
PRODUCTION LIBRARIES

TM Century recently unveiled a new approach to station branding and imaging called MpowerMix, taking jingles to a new level. TM Century President and CEO, David Graupner, commented, "Tom Merriman, the 'TM' of TM Century, invented the radio jingle for Gordon McClendon's KLIF in Dallas back in 1952. Since then, radio jingles have pretty much been produced the same way. Jingle companies produce them, put them on a disc, and send them to the stations...and that's that. However, now that most stations have the ability to produce audio in digital multi-track form with systems like Pro Tools, Audicy, Cool Edit, etc., we felt it was time to begin to deliver our imaging products in a format that allows the stations to take advantage of their in-house technology." With the MPowerMix platform, all the components of the imaging/jingle package are produced in a modular format. All modules are delivered in .wav file format, and all the different vocals and instrumentals are separated out into their discrete tracks, allowing stations to re-mix the modules to their satisfaction. MPowerMix clients will have exclusive access to a Web site where TM Century will provide continuous updates to the packages. MPowerMix is a subscription service. Stations pay $1,500 upfront, and then a monthly subscriber fee. The first MPowerMix ID and Imaging library was created for Clear Channel's Hot AC Formatted MIX 107.5 (WUMX-FM) in Charlottesville, Va. and is called "UltiMix." Demos and additional details can be found at www.TMCentury.com.
New releases from ProMusic include AB-CD 101 Rock Invasion, AB-CD 102 Street Vibe, AB-CD 103 Nylon, Steel & Woodm CAV-CD 137 Simply Chilled, CAV-CD 138 Latino Pop, and CAV-CD 142 Reggae - Through The Ages. www.promusic library.com.
New releases from Killer Tracks include NJJ 68 Rock 8, NJJ 69 Broadcast 4, EDGE 64 Rock: Light Contemporary, EDGE 65 World Beat, Atmos 158 Old School Classics, MAT 186 Chart Action 2, MAT 188 Unplugged 2, MAT 189 Living Latino, MAT 190 Chart Action 3, MAT 191 Stings and Logos, MXS 015 Eurphoric Trance, Koka 2215 View from the Sky, Koka 2216 Energizer, and Koka 2217 Power Sports. www.killertracks.com.
THE MIX
Tom Richards Voiceovers inks a deal to provide imaging for AC WZSN (SUNNY 103.5)/GREENWOOD, SC. Reach out to TOM, who can also still be heard on XM's "COOL GUY SHOW" on 42 Liquid Metal, at (267) 847-TRVO.
Hedquist Productions, Inc. was named a National Winner in two categories of the 2002 Silver Microphone Awards. They were also runner-up in one category and named National Finalists for 11 other radio commercials and campaigns they produced. Hedquist Productions was Iowa¹s only National Winner in the area of individual commercials and was one of only two Iowa companies with a National Winner in the area of radio campaigns. Hedquist Productions president and RAP columnist Jeffrey Hedquist directed all 14 of their award winners and was a voice talent on 11 of them. Andrew MacKenzie was Chief Engineer and Co-Producer. Jay Mattsson was Casting Director. Kudos! Jeffrey's also been busy teaching four classes at the National Audio Theatre Festival held this summer in West Plains, MO. Hedquist presented The Art of Narration, Acting for Audio, The Role of the Casting Director in Audio Theatre, and Audio Theatre Production Values in News and Documentary Programming. Three-time Grammy Award nominee, David Ossman of the Firesign Theatre, joined him on the teaching staff.
Sound Lounge, which provides audio post production services for television commercials, is expanding into radio advertising production. The company is constructing a state-of-the art radio production facility and adding creative, technical and support staff dedicated to the new operation. Sound Lounge plans to have staff in place and to launch the facility this month. (212) 388-1212.
♦