Page 3 of 3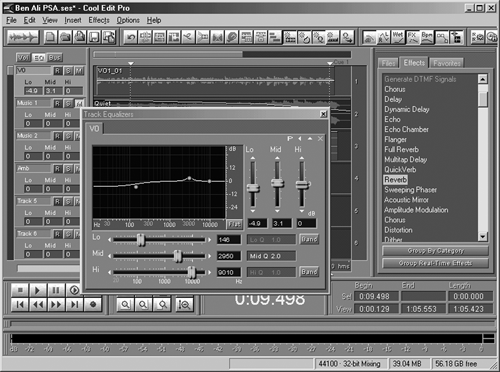 MULTITRACK VIEW
The Multitrack View looks as you would expect, with a track pane that's bordered on the left by record/solo/mute switches, I/O assignments, and FX, volume, pan, and wet and dry sliders. Each track also has a dedicated EQ with low, mid, and high bands, with the mid band parametric and the others either shelving or parametric.
DSP effects in the Multitrack View are non-destructive, and can be inserted in series or assigned to a bus. Clicking on a track's FX button brings up a dialog box where you select effects from a list. After you've populated your virtual "effects rack," then the next time you double-click on the FX button you'll see a window with tabs for the different effects. An additional mixer tab lets you choose whether the effects you've selected act in series or in parallel, and shows bypass status.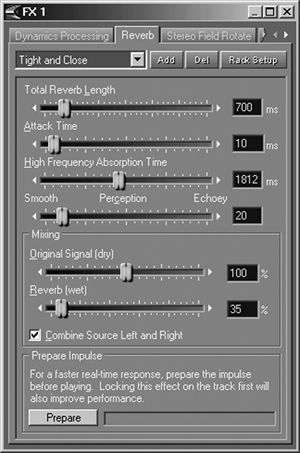 EFFECTS
You can use any DirectX plug with Cool Edit Pro, although with the 45 effects included you won't feel any pressing need to acquire more plugs. Those 45 cover all the necessary categories, and some strange ones that you "zap and whoosh" types should enjoy using.
Only four of the effects seem to be automated: Dynamic Delay, Dynamic EQ, Pan/Expand, and Stereo Field Rotate. The others have parameters that remain static throughout the track, but that wasn't a deal-breaker for me. The quality of all the effects is above average, and several are outstanding.
In particular, Cool Edit Pro's Noise Reduction set gets high marks for ease of use and good results. They worked wonders for me on some transfers from VHS and 1/4" reel, cleaning them up nicely with minimal artifacts. My experience with noise reduction processing is that rather than a single mondo-clean process, you're better off making small corrections in multiple passes which was what I did with Cool Edit Pro to good effect.
LOOPOLOGY
Syntrillium has created a new website that should interest those of you who create custom music beds. Loopology.com offers over 2,000 free loops, grouped together in categories and by instruments. The loops are all stored in Syntrillium's new .CEL (Cool Edit Loop) format, which is part of CEP2.
Of particular interest is the Music Beds category, which contained at this writing 24 complete beds, covering styles from techno and rock to bossa nova. You can download any of these and import them directly into Cool Edit Pro, where you can adjust their tempo, pitch, or both just as you might in Acid.
I found some loops featuring a swing-style acoustic bass and brushes that gave me a low-key, hip-sounding bed for a bank spot. The loops are of good quality, and the tempo-changing feature worked as advertised. CEP2's looping functions are not quite as comprehensive as Acid, but they worked well and the loops are free. Nice touch, and I hope they continue to expand the collection on loopology.com.
RED ROVER COMES OVER
Syntrillium also sent me the optional Red Rover controller for use in this review. Red Rover is a small USB device that serves as rudimentary transport controls for Cool Edit Pro. In addition to the customary Record, Play, Stop, FF, and Rewind buttons along the bottom of the unit, Red Rover has a backlit 2 line by 20 character LCD display. The top line of the display indicates the transport status, the time, and the current track's input device, while the bottom line shows the master volume, and the current track's volume, number, and output device. Three knobs located just below the display let you adjust these last parameters in real time.
In addition, there are smaller buttons for Mute, Solo, and Record, as well as a button to turn the metronome on and off, and one labeled Add Cue that drops a marker in real time, even when the track is playing. Rounding out the Red Rover is an LED level meter that indicates volume for the current track, backlight on/off and contrast controls on the side of the unit, and a footswitch jack for hands-free punching.
At $129, the Red Rover controller is one of the least expensive transport controllers out there. It gives you the functions you need to record up to ten feet away from the computer, but provides little help in the editing process. So while it works for tracking in a one-man-band environment, it will not replace the mouse and keyboard for editing. It is well-integrated into Cool Edit Pro, and having the track select on a continuous knob rather than in a bank-select arrangement is slick. However, it appears that it does not recognize editors other than Cool Edit Pro, so don't expect to use it with Forge.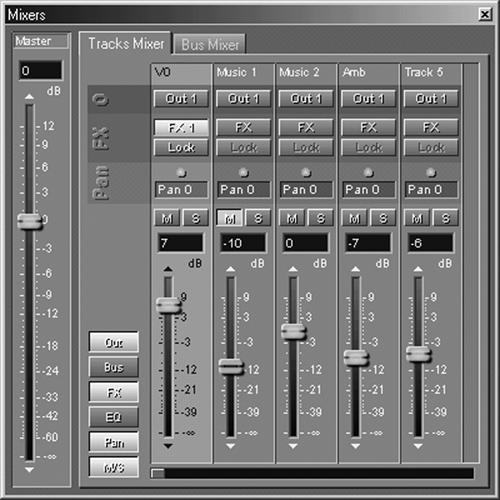 DO YA LIKE IT?
Sure, why not? The program is stable and mature, and although I did see a couple of menu anomalies during my work with it, it never crashed. The editing functions are complete, and with the addition of real time effects I was able to build fully-produced spots quickly.
While I have some quibbles with the amount of information and minutia on the screen, you can chalk some of that up to my 17" monitor and my less-than-youthful eyesight. Nothing that a 21" screen and Lasik wouldn't cure. I'd also like to have more than the stereo metering supplied. It has good resolution, but I missed being able to see meters for all tracks at a glance.
While the program is initially pretty easy to get around on, getting some serious speed and productivity on it requires memorizing a lot of those keyboard and mouse equivalents and special moves. But I've had several discussions with production-types who use the program daily, and they all tell me that they're faster on Cool Edit Pro than on any other editor bar none.
Is it worth the upgrade price? Absolutely, if only for the real-time effects and increased track count. Cool Edit Pro 2.0 represents a serious step forward in capabilities. For as little as $79 for the upgrade from version 1, you get a lot more oomph from a program that more than holds its own against Vegas and SAW. Cheap, fast, complete, easy on the CPU... yeah, it's worth it.
Cool Edit Pro 2.0 is available as a fully-functional 21 day demo from Syntrillium Software's website (www.syntrillium.com). A download-only version of Cool Edit Pro 2.0 is $249, while a boxed version with CD and manual costs $279. Upgrades from Cool Edit Pro 1.x are $79 download, boxed $109, and upgrades from Cool Edit 2000 are $199 download, and $229 boxed. For more information in the US, call Syntrillium at (888) 941-7100. For more information worldwide visit www.syntrillium.com (recommended) or email This email address is being protected from spambots. You need JavaScript enabled to view it..
♦