TECHNOLOGY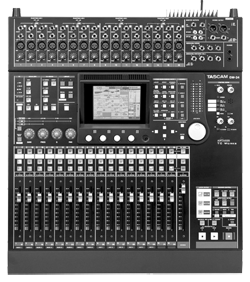 TASCAM announces the availability of version 2.01 operating system update for their DM-24 Digital Mixer. Like previous enhancements to TASCAM's software based products, this update is available as a free download from the TASCAM website at www.tascam.com. Version 2.01 software adds 20 new features and functions to the DM-24, including HUITM emulation, improved internal signal routing and direct surround panning capabilities, new footswitch control capabilities and much more. HUITM emulation mode allows the DM-24 to be used as a control surface for music audio software like Pro Tools, Digital Performer and Nuendo. Faders, pans and mutes as well as aux sends, track arming and transport controls can all be controlled in these DAW applications via the DM-24. Previously, effects returns, assignable returns and S/PDIF and AES/EBU inputs had to be assigned to channels to route signals to the stereo buss. Now in version 2.01, users can assign these signals directly to the stereo buss leaving 8 more channels available for other instruments. www.tascam.com.
Panasonic has begun shipping its new DMR-HS2 DVD recorder to U.S. retailers and has announced a manufacturer's suggested retail price (MSRP) $999.95. The new model is Panasonic's first DVD-RAM and DVD-R(1) recorder coupled with a built-in hard drive. The DMR-HS2 allows the consumer to enjoy such unique features as Time Slip(tm), Chasing Playback and the ease of recording images from a digital video camera via a DV input, as well as a PC card slot for use with memory cards. The DMR-HS2 can record a maximum of 52 hours (in the EP mode) of video on its 40 GB hard disk drive, 12 hours on a 9.4GB double-sided DVD-RAM disc, and 6 hours on a DVD-R disc. This unit offers 5 selectable recording modes: XP/SP/LP/EP/FR. Panasonic's Time Slip and Chasing Playback features allows users to watch a show in progress that's being recorded, right from the beginning, while the show continues to record to the end. The unit can also be programmed to automatically record their favorite television shows every day or every week onto the hard disk. In addition to recording new video content, the DMR-HS2 provides a new medium for transferring VHS tape recordings to space-saving DVD-RAM or DVD-R(1) disks or the internal hard drive. www.panasonic.com.
In honor of its historic C 414 EB microphone, AKG Acoustics is introducing its new C 414 B-ULS/SE Special Edition Stereo Set with a classic nickel finish. The microphone's finish resembles the silver outer housing of the original C 414 EB that was produced between 1976 and 1986. Under the retro exterior, however, the C 414B-ULS/SE sports the latest in AKG engineering. The computer-matched stereo set consists of two C 414B-ULS microphones – one of the world's most renowned large-diaphragm, multi-pattern, stereo condenser microphones. The C 414-ULS/SE microphones utilize a revamped version of the legendary CK 12 capsule. This particular capsule was also used in AKG's famous C 12 and C 24 microphones. This remodeled and modern capsule features a special accentuation of high frequencies in the bands around 5 kHz and 10 kHz. The CK 12 capsule enables the C 414-ULS/SE microphone set to record solo vocals or solo instruments without sounding metallic, harsh, or brittle. The C 414-ULS/SE Special Edition Stereo Set comes with two H 100 elastic spider suspensions, two W 414 windscreens, and a H 50 stereo bar that allows the user to mount both microphones on one microphone stand. These microphones are packaged in a durable hard shell carrying case. The C 414 B-ULS/SE set lists for $ 2,100.00. www.akgusa.com.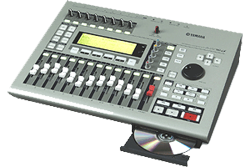 Yamaha Professional Audio introduces the AW16G Professional Audio Workstation, a compact, user-friendly workstation designed and priced for the home user as well. The portable (16.75" L x 12.5" W x 4" D) AW16G records up to eight simultaneous tracks of 16-bit, CD-quality digital audio without data compression. Each track features up to eight virtual tracks and records directly to the internal 20 GB IDE hard drive. In addition, up to 16 tracks may be exported all at once as WAV files to CD ROM for editing on a personal computer. An onboard CD-RW drive is installed in a front-mounted port for easy accessibility. All data recorded on the AW16G is compatible with the Yamaha AW4416 and AW2816 platforms. The AW16G also functions as a 36-channel digital mixer and features: eight 24-bit mic/line inputs (XLR with +48V phantom power and a high impedance input that will accept a guitar or other instrument directly); two effects busses and two aux sends plus stereo, with four channels of effects return. All channels contain digital attenuators, 4-band parametric EQ, dynamics, and channel split knobs. A 240 x 64 backlit LCD display and Quick Navigation button shows graphic representations and provides easy access to all functions. www.yamaha.com /proaudio.
Transamerica Audio Group, the U.S. distributor for Soundelux microphones is announcing a new direction for Soundelux with the unveiling of an Interpretive Series of microphones coined the "I" Series. The "I" Series enables Soundelux to combine multiple vintage recreation elements into one microphone, enabling a broader variety of product answers to vintage mic replacement. The first offering in the "I" Series is the dual-purpose Soundelux ifet7. It is designed to handle the same applications as the vintage 47fet and 87fet microphones while also adding modern day improvements to the performance and features of those classics, and is available for $2,100 (MSRP). The new ifet7 is a phantom powered FET condenser microphone that combines a top quality German-made capsule with two sets of completely different sounding internal electronics. With the click of the "Vocal/Instrument" switch, engineers can go from the 47 (I mode) to the 87 (V mode) and back again. www.transaudiogroup.com.
Digigram introduced at AES 2002 the VX442, a linear multichannel sound card with analog and AES/EBU inputs and outputs. Part of Digigram's popular VX series, the VX442 has 4/4 balanced line inputs/outputs, 96 KHz 24-bit converters, low latency architecture, and an additional stereo AES/EBU input/output. All of these features make the VX442 ideal for high-quality pro audio production as well as archiving and logging applications. The VX442 supports Windows and Mac platforms (98, ME, 2000, XP, MacOS 9 and X) with a set of appropriate drivers (DirectSound, WAVE, ASIO2, GSIF, EASI for Windows, and SoundManager, ASIO2, CoreAudio for Mac OS). www.digigram.com.
PRODUCTION LIBRARIES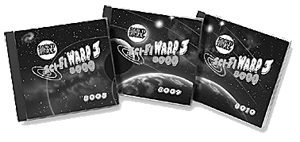 Sound Ideas launches 7 new libraries. Series 8000 Sci Fi Warp 3 explores the sounds of "new life forms, intergalactic transmissions, drones and deep space ambiences" on 3 CDs containing 420 cuts. Just Birds & Animals II is a 2 CD set with 346 cuts featuring animals, birds and natural settings from around the world. Impact Effects 2 is a single CD with 698 impacts of every description, including "a wide variety of objects and surfaces, many different impact styles and tons of debris." Imaging Accents offers "musical flourishes, trills, glisses and fanfares providing thirty different percussion instruments, in addition to drum rolls, shots, rhythms and marches." 2 CDs with 600 elements. Just Noise is 140 noise effects on 2 CDs including "vintage media noise, static, buzz and hum including neon signs, open wires, tube & transistor radios, tape recorders, wax cylinders, gramophone discs, LP records, scanners and walkie-talkies." Just Boom Trax is a collection of low frequency effects for 5.1 productions "presenting real life, utility and fantasy sound effects." 256 Effects on 2 CDs & 2 DVD ROMS (in six file formats). www.sound-ideas.com.
New releases from Killer Tracks include Killer Score 001 Fear Sphere, Killer Score 002 Nerve Endings, Killer Score 003 Reflections & Introspection, Killer Score 004 Mystic Journey, Killer Score 005 Happy Endings, and MXS 16 Deep House. Audition tracks at www.killertracks.com.
Industrial Soundworks Inc., a music production and music licensing company spearheaded by Kurt Oldman, now offers an online music library at www.idsw.net. All the music is pre-cleared, professionally recorded, mastered and ready to synchronize with any media. The library premiers with over 300 pieces of music. The IDSW Online Music Library offers a diverse range of music from orchestral scores over pop, rock and jazz to driving techno and rave tracks for high energy trailers and commercials.
THE MIX
Scribble Ink announces the availability of career services to broadcast professionals. Scribble Ink has been providing résumés, bios and career coaching services to professionals in a number of industries. Now, they are offering services specially designed to meet the needs of radio professionals. "After spending much of my life around family and friends within the industry, I have learned all the buzzwords and can carry on a conversation about AC versus AAA with the best of them," says President of Scribble Ink, Michelle Kennedy. "Radio professionals need someone who can not only understand their specialized industry terminology, but also a good listener and writer who can translate it so that they get noticed by the right people." Scribble Ink provides writing services, including résumés; executive, personal or company bios; cover and thank you letters; and has partnered with Listen Kitchen to offer demo production services to on-air and production professionals. Scribble Ink professionals are available for consultation and can be reached at 877-767-7ink or This email address is being protected from spambots. You need JavaScript enabled to view it.. Visit www.scribbleink.com for more information.
RAPster Don Elliot and Executive Producer Steve Williams announce their fourth new jingle package consisting of 41 custom jingles for M.G. Kelley's syndicated show, "Charlie Tuna's Back to the 70's." Featured on the package is the vocal talent of Suzy Allenson-Williams. "Suzy's sound was somewhat reminiscent of the Dallas singer Terry Lee, who pioneered the Pams sound with my mentor, Bill Meeks", Don added. The team of Williams and Elliot have also recently completed a new music package for Sound Ideas in Toronto, being marketed under the name, "Mix Eight." Email This email address is being protected from spambots. You need JavaScript enabled to view it..
♦