TECHNOLOGY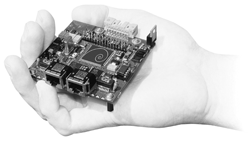 Digigram presented at NAB 2002 its EtherSound technology for networked audio devices. ESnet is Digigram's first hardware offering utilizing EtherSound™ technology. The ESnet module is a component that manufacturers can integrate into their own audio equipment such as loudspeakers, amplifiers, and signal routers and processors. In addition to the ESnet module, audio equipment manufacturers may license EtherSound for direct implementation into their products. EtherSound (formerly called EtherSpeaker™) enhances established technologies to easily and economically create low-latency audio networks using standard Ethernet cabling and components. EtherSound is designed to connect digital audio sources to networked audio devices. Up to 64 channels of 24-bit digital audio at 48KHz, plus bi-directional control information, may be transported to a virtually infinite number of networked audio devices. Digigram also showcasee miXart 8 CN, the first multichannel sound card with the CobraNet™ interface. miXart 8 combines Digigram onboard processing with comprehensive audio mixing functions. Peak Audio's CobraNet is a widely used technology for distributing real-time audio over fast Ethernet. The core of the system, the miXart 8, has eight mono (or four stereo) analog input/output paths, including four microphone preamps on its input bank. The CobraNet interface is managed via a daughterboard, yet only a single PCI slot is needed in the host computer. Eight channels of CobraNet input and eight channels of CobraNet output are provided, operating independently of the analog inputs/outputs. The network connection, using standard 100-BaseT Ethernet protocols, is available on two, redundant RJ45 jacks which provide on-board backup for installations where failure is not an option. www.digigram.com.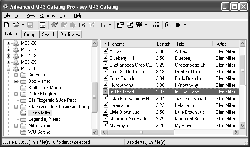 Wizetech Software has released Advanced MP3 Catalog Pro v. 2.0, a Windows application designed to make it easy to remember where you've stored your music files, play them with a single click, and even print CD covers. The program's Explorer-like interface lets you catalog MP3 files on all local and network drives, including CD-ROMs, optical disks, and removable media. You can organize your music collection into categories, and add detailed comments to each music file, folder, and disk. Advanced MP3 Catalog Pro uses industry-standard ID3 tags, or you can add your own information about each MP3 file's title, artist, genre, and year, as well as comments about each file. Features include simple searches for any word in any field as well as Boolean logic to search for several words and phrases. Locate MP3 files based upon bit rate, sample rate, channel mode, and date ranges. Create reports of your music collection, and view them online, print them, export them as HTML files for viewing on the Internet, or export them as RTF files for use in most any text or word processor. Advanced MP3 Catalog's multilingual interface includes 23 languages, with more interfaces being added each month. Advanced MP3 Catalog Pro costs $29.95(US) and may be purchased online at www.wizetech.com.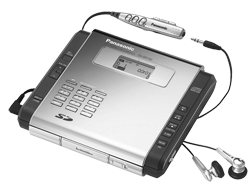 Panasonic's new, ultra-compact SV-SR100 SD audio recorder can record high-quality music directly onto an SD Memory Card without using a PC. The recorder plays back music recorded in the AAC, MP3, and WMA compression formats, recorded onto SD Memory Cards, as well as CD-R/RW and commercially produced CDs. The tiny SD Memory Card, which about the size of a postage stamp, are available in 8MB, 16MB, 32MB, 64MB, 256MB and 512MB capacities. In addition to playing back music in the AAC format, the SV-SR100 also plays back music recorded in MP3, as well as the increasingly popular WMA format. The SV-SR100 is also equipped with an analog input terminal that allows users to transfer music collections from cassette tapes and other analog media to an SD Memory Card. It also has a terminal for connecting a stereo microphone for recording. The SV-SR100's keypad and LCD let users enter song titles and artist names for their digital music files. Manufacturer's suggested retail price is $399.95. www.panasonic.com.
TRUE Systems, located in Tucson, Arizona, has announced the release of the P2 Analog, a two-channel microphone preamplifier. Features include: selectable M-S decoder, active DIs with impedance modification capability, dual gain range selection, and multi-frequency high pass filter. In addition, the P2 Analog features a Stereo Phase Correlation display that assists in optimizing microphone placement for stereo recording. Modeled after the TRUE Systems Precision 8 eight-channel analog preamp, the P2 Analog has been designed to provide high-end sonic performance at a mid-range price. True Systems is distributed in the US by Neumann. www.true-systems.com.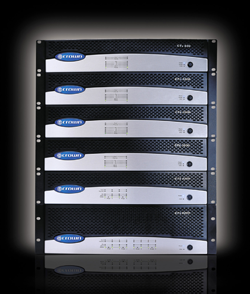 Crown International recently rolled out its new flagship amplifier line for the fixed installation market, the CTs Series. CTs builds upon the heritage of Crown's popular Com-Tech line by delivering higher power and better power density, greater flexibility and a more competitive price structure. The Crown CTs Series is comprised of six amplifiers: the two-channel CTs 600, 1200, 2000 and 3000, four-channel CTs 4200 and eight-channel CTs 8200. Every CTs amplifier provides a choice of direct constant voltage outputs and low impedance outputs (8 Ohms, 4 Ohms and, on four models, 2 Ohms), while increased output power at every impedance improves system headroom at practical power steps. A CobraNet™ digital audio input option is currently available for each of the four two-channel CTs models, and Crown announces future plans to include a similar option for the CTs 4200/8200. www.crownaudio.com.
Sonic Solutions announced at the recent NAB show the formation of Sonic Studio, LLC, to accelerate development, marketing and sales of its SonicStudio® line of professional audio workstations. The new company, formed in partnership with industry veterans Jeff Wilson and Eric Jorde, will assume from Sonic Solutions responsibility for developing and marketing the SonicStudio HD line of professional audio workstations and related activities. SonicStudio HD is a digital audio workstation featuring support for multi-channel sampling rates up to 192kHz, surround sound mixing and a fast editing interface. SonicStudio HD workstations can be expanded to include Sonic's full line of DVD-Audio and Super Audio CD authoring options including OneClick DVD, DVD-Audio Creator Workstation, and DVD Creator 5.1 Workstation. www.sonicstudio.com.
Microboards Technology, a manufacturer and distributor of CD and DVD duplication systems, announced the release of a combination duplicator-recorder. Tailored to the needs of the education and church recording markets, the CopyWriter Live features Disc-to-Disc recording capability combined with RCA and XLR inputs for live video and audio feed. The unit is configurable for use as a desktop or rack mount device with a remote for access to its full range of features. In addition, the CopyWriter Live is able to span from disc to disc, continuously recording from virtually any source. As one disc reaches capacity, the second recorder begins writing, allowing the user to record without pause for as long as the application requires. The CopyWriter Live is available through Microboards VARs and resellers at a list price of $799. The company also recently added two new duplicators to their line. Based on their Orbit II design, both duplicators feature Microboards patented gravity feeding systems, standalone functionality, and easy-to-use menu-driven interface. The Orbit Pro will come with dual 24x recorders for high throughput and a hard drive for recording stability. Its input hopper can hold up to 150 discs. The Disc Factory carries four 24x recorders and a hard drive, doubling the output of the Orbit Pro, and can support up to 300 discs in its input hopper. The Orbit Pro and CD Factory have list prices of $3,995 and $7,495, respectively. www.microboards.com.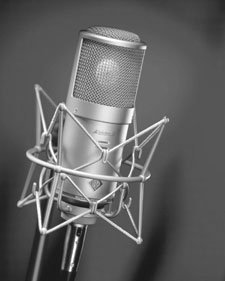 Neumann's new Solution-D is a new generation of digital microphones. With Solution-D, Neumann has succeeded in transferring the dynamic range and fidelity of high quality analog studio microphones into the digital domain, thus closing the final gap in the all-digital signal path. The mic features a new A/D conversion process, a specially developed synchronization method, and remote control of typical microphone parameters and mixing console functions. It consists of three components: the Digital Microphone D-01, the Digital Microphone Interface DMI-2, and the software that permits operation and remote control of the microphone. At first glance, the D-01 microphone looks just like its analog counterparts. However, an A/D converter sits right behind the capsule. Without any of the preamplification that is standard in analog microphones, the signal transduced by the capsule is immediately converted into the digital domain. The result is an internal digital 28-bit signal with a dynamic range of more than 130 dB (A-weighted, microphone capsule included). An FPGA (Field Programmable Gate Array) built right into the microphone will help process the digital signal. This means that the D-01 can digitally implement and remote control such parameters as polar pattern, pre-attenuation, low-cut, pre-amplification and various switching functions. Ultimately, Solution-D eliminates the need for analog microphone preamplifiers and A/D converters. The microphone houses a three-pin XLR jack through which the supply voltage, phantom power, and remote control data stream are transmitted. www.neumann usa.com.
PRODUCTION LIBRARIES
FirstCom Music, Inc. announced the update to their signature search, audition and downloading program MusiQuick(r) Online. "The updates we have made to MusiQuick Online have taken this already highly advanced service product to a new level of speed and convenience," says Cecelia Garr/President and CEO. Some of the latest updates include: a project management system that allows users to save tracks into manageable projects and share them via e-mail (including links to audio files), a disc inventory updating system that allows the users, with the click of a button, to update their "Virtual Library" of discs to match their in-house inventory, a new results screen which allows users to preview more titles onscreen, refine searches, and much more. MusiQuick(r) Online is designed to provide clients with the desired piece of music in the shortest amount of time possible. MusiQuick Online quickly searches FirstCom's entire repertoire, which consists of 1500+ CDs and over 28,000 compositions. www.firstcom.com.
THE MIX
Once again, RAP columnist Jeffrey Hedquist of Hedquist Productions, Inc. is a preliminary judge for the Radio Mercury Awards, which will be held on June 6th in New York.
♦