TECHNOLOGY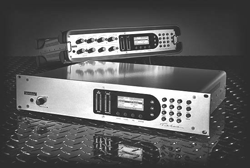 Telos Systems releases new software for the Zephyr Xstream, the newest of Telos Systems' Zephyr family of ISDN codecs. Zephyr Xstream Version 2.1.0p software includes an HTTP server, allowing users of Internet-connected Zephyr Xstream units to monitor or control their Xstream using a standard Web browser – "the first codec in the world to offer such connectivity and convenience to users," says Telos. Other benefits of Zephyr Xstream Version 2.1.0p software include: A new "v.35 Single" mode that allows high-bitrate synchronous connections – up to 384 kbps. This feature is ideal for program feeds and station-transmitter links (STLs) where the highest quality is demanded. Decode as well as originate MP3 and MPEG-AAC streaming audio – perfect for Internet or intranet audio-over-IP applications. Convenient new dialing features have also been added. Zephyr Xstream users may obtain the v2.1.0 software at no charge by visiting the Telos website at www.telos-systems.com/support/, or by calling Telos directly at (216) 241-7225.

Eventide releases Software Version V1.101 for Eclipse. New features include over 50 new programs added, Hotkeys can now be renamed, Hotkeys can be used as a modulation source, SETUPs can be saved and loaded, one Eclipse can control another one over MIDI, and lots more. Eclipse is Eventide's first single rack space effects processor in the Harmonizer family. Eclipse features dual-engine architecture, configurable in series, parallel, stereo or dual mono. It offers an enhanced user interface and a powerful search facility for rapid program/preset selection by category or application. The Eventide Eclipse Harmonizer offers 24-bit digital conversion, 96kHz sampling and a signal to noise ratio exceeding 104dB. Digital S/PDIF and AES/EBU I/O, analog balanced and unbalanced I/O and ADAT lightpipe are all supported. www.eventide.com.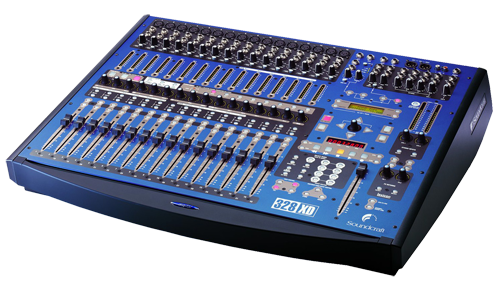 Soundcraft has just introduced the feature-packed 328XD digital mixing console ($4995), the next generation of the popular Digital 328 production mixer, now offering dynamics processing on every channel, group and mix path. Soundcraft has further broadened the desk's functionality from straight sound mixing to production and control of sequencers and desktop synths. This will enable it to be the production control center for computers, DAWs and dedicated hard disk recorders, including dynamic automation and moving faders. Thanks to its compact footprint, the digital mixer is ideal for small-to-mid-sized professional studio setups and home studio recording use alike. Designed for use straight out of the box, the 328XD control surface needs little explanation, and virtually all functions are easily accessible through the mixer's unique 'E-Strip'. This can act as a horizontal channel strip, controlling EQ and aux sends, or a dynamics control panel, or as level controls for the tape returns. The 328XD also boasts a new dynamics feature set, including: a Gate and Compressor/Limiter on every channel; configurable direct outputs that provide more opportunities for recording feeds; two high-resolution Lexicon effects processors; the ability to route effects to groups for recording; total status recall at power-up; and improved connectivity. For instance, the S/PDIF output can be available on Optical port as well as RCA/Phono. Wordclock termination is available for systems using multiple clock connections, and the console may be synchronized to embedded ADAT wordclock as well as numerous clock sources. www.soundcraft.com.
HHB Communications unveils a number of new products at NAB 2002. The CDR830 BurnIT PLUS is an affordable new fully featured professional CD recorder. Features include 24-bit AD/DA converters, precision laser assembly, balanced XLR analogue I/Os, an SCMS-free digital input, balanced digital output and Word Clock output. Also new from HHB at NAB is the Lynx L22, a professional audio interface card for use in audio recording, post-production, broadcast and measurement applications. Capable of capturing or generating signals beyond the audio bandwidth up to 100kHz with extreme accuracy, and achieving a dynamic range of 115dB, the L22 brings the performance of high-end standalone converters into the DAW environment. The L22 joins a range of Lynx interfaces that already includes the highly successful LynxONE 2-channel and LynxTWO multi-channel reference audio cards. www.hhbusa.com.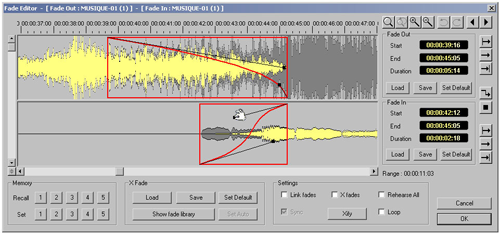 Merging Technologies have released Version 4.0 software for Pyramix, the PC based digital audio workstation powered by the Mykerinos DSP Audio card. There are over 150 new features and enhancements in Version 4.0 including: Scaleable power—the new multiboard support allows up to 8 Mykerinos cards to be integrated in a single system. In addition, as each Mykerinos PCI card can be equipped with its own I/O daughter card; Pyramix users can freely mix and match any I/O format and increase the total I/O count of their system. New flexible and universal I/O solutions—support for an increased range of I/O daughter cards, which now adds 24-channel AES/EBU with and without SRC, 24 channel TDIF, 12 channel SDIF to already existing 16 channel ADAT and 56/64 channel MADI. New mixed Analog/Digital low cost I/O—support for a new cost effective standalone Dual I/O card offering 4 Analog Mic/Line plus 8 AES/EBU simultaneous input and output channels. Other features include the world's first commercially available DSD/SACD multi-track record/editing/mastering option, support for 192 KHz operation, and support for Radikal Technology's SAC-2K remote controller. www.merging.com.

BIAS Inc. announced that BIAS Peak 3, the new version of its award-winning digital audio editing application, is now available for Mac OS X, Apple's next-generation operating system. BIAS Peak LE 3, the entry-level edition, is also now available with full OS X compatibility. Peak 3 for OS X comes on the heels of the November 2001 release of Peak DV 3.0, the digital video edition of Peak - which made BIAS the very first developer to release a professional audio tool for the newest Macintosh operating system. BIAS Vbox 1.1, the acclaimed VST plug-in multi-effects control environment, has also been ported to Mac OS X (as well as Windows), and is now available. With the forthcoming release of Deck 3.5, BIAS' multitrack recording and mixing digital audio workstation, the entire BIAS product line will be OS X native. While Peak 3 and Peak LE 3 are fully "Carbonized" (OS X native), they will run under Mac OS 8.5 to 9.2.x. Peak also offers full support of Carbonized VST plug-ins (non-Carbonized VST plug-ins will run in Peak 3 under OS 9). Both applications take full advantage of OS X's advanced capabilities, including protected memory space for enhanced system stability; the ultra-streamlined, elegant "Aqua" user interface; and CoreAudio, the audio I/O component of OS X that supports multichannel, multiclient hardware, and beyond 24-bit/96kHz resolution. Peak 3 includes a number of other feature enhancements, including improved-quality Sample Rate Conversion; high-quality, on-board MP3 encoding; and high-end dithering algorithms from Pow-r(tm). Furthermore, BIAS Vbox SE, the VST multi-effects control environment formerly bundled with Peak, is now available as a built-in, fully-integrated OS X-compatible feature within the application. Peak 3 and Peak LE 3 are available for SRP US $499 and $99 respectively. www.bias-inc.com.
PRODUCTION LIBRARIES
Omega Productions announces the release of Noise III, the follow-up to the "Noise" and "Noise II" imaging libraries. Noise 3 contains over 110 "Generation NexXt" beds and effects. Market exclusive for $400. Call (302) 456-9898 or visit www.omegaproductions.com.
Killer Tracks has some new releases. KT 135 Vocals, KT 136 Dreaming in Color, KT 137 Human Experience, KT 138 American Spirit, CM 29 Acid Jazz, CM 30 Phunky and Phat vol. 3, CM 31 Slammin' Sports vol. 3, NJJ 64 Sports 7, NJJ 65 Techno-Dance 5, EDGE 58 Electronic 3, EDGE 59 Motivational 1, EDGE 60 Surf, and EDGE 61 Sensual Rhythms. Hear samples at www.killertracks.com.
THE MIX
Lou Kastler, Creative Director for Waitt Radio's six Omaha stations, leaves Waitt Radio to launch Kastler Creative Inc. Kastler Creative offers full service copy writing, production and imaging to radio stations, direct clients and advertising agencies. Kastler Creative Inc. will also be offering consulting services to radio groups suffering chronic problems with traffic and production departments. Lou Kastler's background includes 21 years of radio production for such companies as Capstar, Citadel and Journal Broadcast Group in markets of Des Moines, Colorado Springs, Rochester and most recently Omaha. Kastler has received more than fifty awards for commercial writing, voicing and production, and currently can be heard in more than 15 markets including Omaha, Kansas City and Rochester Minnesota. Lou Kastler is also a partner in Minnesota's newest Ski Area, Steeplechase, just outside Rochester Minnesota (www.skisteeple chase.com). Kastler Creative's studio has been completed featuring the latest digital editing and recording technology and offers a secluded escape, with fireplace, leather recliners and jacuzzi, for maximum creativity. Kastler Creative Inc. will be a privately held Chapter S corporation. For information contact: Lou Kastler, Kastler Creative, Inc., 12708 South 38th Street, Bellevue, NE 68123, (402) 291 1833, This email address is being protected from spambots. You need JavaScript enabled to view it.. Ed Thompson/No Tails Out Productions will take over the position as Production Director for Waitt Radio-Omaho.
Kudos to FirstCom Music for the multiple award nominations containing their music. Ron Howard's "A Beautiful Mind" received multiple Oscar nominations. FirstCom Music provided the following music for "A Beautiful Mind": A Lonely Tear by Eric Swan, Train Ride, Beguineing, Jumpin' Toad and Music by Moonlight, all by Matt Catingub, and Suburban Subway by Bill Le Blanc and Robert J. Walsh. Also up for Oscar honors are "Kate & Leopold" and "The Affair of the Necklace," both of which contain music from FirstCom. Productions featuring FirstCom music were also abundant at the Golden Globes. "A Beautiful Mind" walked away with Best Picture-Drama. "Six Feet Under," "The Sopranos" and "The West Wing" received nominations for Best TV Drama Series. Nominated for Best Comedy Series were "Friends" and "Will & Grace." www.firstcom.com.
Congrats to Gary Looper, Creative Director at MacDonald Broadcasting on winning the Michigan Association of Broadcasters Best Commercial of the Year Award! The spot was for Country Fresh, written and produced by Gary and voiced by Devin, his next-door neighbor's seven year old son. The award is the M.A.B. Broadcast Excellence Awards - Best Commercial - Radio Market 2 (medium markets).
February RAP CD correction: Cut 24 from Scott Snailham lists Scott as employed at CKCW/CFQM. He is no longer with the stations. He can be reached at This email address is being protected from spambots. You need JavaScript enabled to view it..
♦