TECHNOLOGY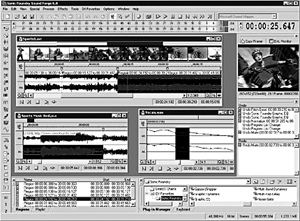 Sonic Foundry announced that it has begun shipping the new Sound Forge® 6.0. New features and enhancements include: nondestructive audio editing; Multitask Background Rendering which allows production on one file while Sound Forge processes another in the background; 32-bit/64-bit float/192 kHz file support; enhanced time zoom (24:1); a new Modeless Audio Plug-In Chainer which allows users to select, preview, and apply their favorite effects and hear the results immediately on any open data window; a new DirectX® Plug-in Manager; full support for 4 GB and larger files, and QuickTime™ and Windows Media™ format import allowing users to open and edit MOV, WMA, and WMV formats. Sound Forge 6.0 includes a FREE streamlined version of Vegas Video 3.0 (Vegas Video LE), Sonic Foundry's multitrack digital video and audio editor. The MSRP for Sound Forge 6.0 is $499.95, but it is offered direct from Sonic Foundry for $399.96 as a download, $449.95 for boxed product or from select retail stores nationwide. Registered users of Sound Forge 5.0 can upgrade direct from Sonic Foundry for $149.95. www.sonicfoundry.com.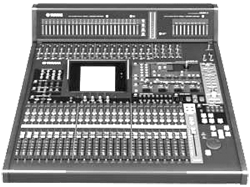 Yamaha introduces the new 02R96 Digital Mixing Console. Set for delivery in June 2002, the 02R96 carries more than five times the processing power of the original 02R. The Yamaha 02R96 inherits the key features of the DM2000—24-bit/96kHz audio, Surround Monitoring, Studio Manager and DAW Control—into the same footprint size as the original 02R. Both the control surface and user interface have been enhanced to allow analog-style hands-on operation, and the work surface houses 16 user-defined keys available for assignable functions. The 02R96 provides 56 channels of transparent, full resolution 24-bit/96 kHz audio, with 32-bit internal processing and 58-bit accumulators. A comprehensive range of 96kHz compatible stereo effects with 32-bit internal processing has been included, with several designed specifically for surround. Up to four individual effect processors may be used simultaneously. All onboard A/D and D/A conversions utilize true 24-bit/96kHz converters. The 02R96 also offers some of the finest analog mic preamps, which provide excellent digital representation of warm, transparent output. Four I/O slots accept a new range of 24-bit/96kHz-capable Mini-YGDAI digital and analog I/O cards. Cards are available in ADAT®, TASCAM, AES/EBU formats, or for extra analog I/O capability. The 02R96 also supports Apogee's high performance A/D and D/A cards, and the Waves Y56K effects plug-in card, designed for the Yamaha AW4416 and AW2816 digital audio workstations. The Yamaha 02R96 provides full automation of virtually all console parameters, with 24 100 mm motorized faders, which can instantly be layer-switched to control the 56 channels. In addition, all available inputs, outputs, effects, and channel inserts can be assigned to any of the console's channels or outputs via the digital patching system. All 56 input channels of the Yamaha 02R96 feature independent compression and gating/ducking processors. The 4-band parametric channel EQ offers extra versatility with switchable "type I" or "type II" EQ algorithms. Channel delay has a maximum time of 453 milliseconds. Designed to integrate with digital audio workstations and computer-based recording systems, the 02R96 provides extensive support for DigiDesign ProTools®, Steinberg's Nuendo®, and additional support for Emagic's Logic Audio is also under development. www.yamaha.com/proaudio.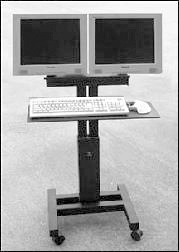 The Sound Anchors Digital Audio Workstation Stand is a specialized stand that has been designed to support a flat screen monitor and digital audio workstation keyboard in the recording studio. Features include independently adjustable monitor and keyboard platform heights, extra heavy duty construction, built in cable management, and various monitor platforms or direct mounting brackets available. Prices start at $450. www.soundanchors.com.
Panasonic's new noise-canceling headphones are designed to negate sound waves to dramatically reduce extraneous background noise, primarily low-frequency sound. Perfect for traveling, studying or working, the headphones are designed to counteract noise, negating the background sounds of airplane engines, air conditioners, disruptive voices and other ambient noise. Noise canceling can be also switched off when the user wants to converse or listen to external sound. Panasonic's noise-canceling headphones come in three configurations: an ear-bud, open air type and monitor style. The RP-HC50 ear-bud headphones feature 2-level noise-canceling, separate controller, long battery life (up to 50 hours) and XBS(r) Extra Bass System. The lightweight RP-HC70 includes the same features in a foldable headband design. Also foldable, the RP-HC100 features large, 36mm-diameter speaker driver units and a Neodymium rare-earth magnet. It has a frequency response of 8Hz - 22Hz. MSRPs are $39.95, $49.95, and $79.95 respectively. www.panasonic.com.
Virtos Audio introduces Noise Wizard, a package of five DirectX-based plug-ins for High Quality Audio Restoration of analog sources such as LPs or cassette recordings. Noise Wizard contains the following five plug-ins: Denoiser with three different tools for reduction of stationary noise; Declicker-Decrackler for removal of clicks, pops and crackle without corrupting your source material; Filter Toolbox containing a set of versatile digital filtering tools; Stereo Processor for phase corrections, stereo field adjustment or enhanced stereo perception; and Band Extrapolation which synthesizes high or low frequency harmonics to give life to dull recordings. Noise Wizard is available as a complete package (US$119) or as separate plug-ins (US$29 - US$69 each) and require a DirectX host. Download a demo at www.virtos-audio.com.
Audion Laboratories announced the shipment of VoxPro PC™ 3.1. All registered VoxPro PC 3.0, VoxPro PC 3.05 and VoxPro PC 3.06 users receive free upgrades to 3.1, which is part of Audion Laboratories continuing commitment to provide all software upgrades for 12 months following any VoxPro PC software purchase. Almost a dozen new features come with the VoxPro PC 3.1 upgrade, including the ability to link multiple VoxPro PC workstations through an NT, Novell or peer-to-peer station network via VoxPro PC Network software. Other features include: Exporting and importing multiple files in .WAV, Windows Media®, and AIFF formats; sorting recordings in folders by name, length, and last modified date; copying and moving multiple recordings from folder to folder or user to user; deleting multiple recordings; and administrative functions that allow monitoring and management of hard drive space consumption by individual and work team. www.audion labs.com.
TASCAM announced that their US-428 DAW Controller/USB Interface is now compatible with Apple's OS X operating system for Macintosh computers. The OS X drivers, compatible with Mac operating systems 10.1 or higher, are available as a free download from the TASCAM web site at www.tascam.com/products/us428/downloads.php.
PreSonus is shipping four new boxes. The ACOUSTI-Q is an affordable tube-based preamp/blender for acoustic instruments. The ACOUSTI-Q gives you the choice to use a single (piezo pick-up) or dual (piezo pick-up & mini- internal microphones) source. With two sources, you can blend the signals to achieve the perfect mix. The CL44 4-Channel Compressor/Limiter ($699.95) features variable threshold, ratio, attack release, High Pass Sidechain filter and compander. The frequency dependent filter allows you to tailor the frequency range of the compressor. Adjacent channels are stereo linkable.

The DigiTUBE Preamp/Equalizer ($299.95) is born from the BlueTUBE and adds a three band sweepable EQ and 24bit Digital Output. The mic preamp features 70dB of gain with 22dB of headroom. A 24Bit digital output via S/PDIF makes the Digitube an ideal front end for soundcards and digital recorders. The DigiTUBE offers an XLR analog output and a TRS Insert point for patching in a compressor or other outboard effect unit. And the GTX44 Gate/Expander ($699.95) is a 4-channel noise gate/expander with features including variable threshold, attack, release, hold, range, and ratio. It can be used as a noise gate or downward expander. A special "Duck" mode allows for ducking via Gate Sidechain input. XLR balanced I/O and single TRS unbalanced I/O. www.pre sonus.com.
DigiTech® introduces the Vocal300, a vocal effects processor that allows vocalists to create uniquely personalized sounds with specialized voice characters and state-of-the-art 24-bit effects. The Vocal300 comes equipped with multiple mic preamp types, 26 fully programmable studio-quality effects including compression, EQ, noise gate, 12 different modulation and pitch shifting effects, delay and reverb. There's also a built-in expression pedal and footswitches that allow users to scroll through 40 programmable and 40 user presets. It also features an exclusive collection of voice characters that will transform a singer's voice into a variety of different sounds, from a demonic fiend to a space-crazed alien. www.digitech.com.
Telex Communications, in commemoration of the 75th anniversary of Electro-Voice, recently released a special edition version of the RE20 microphone. The RE20 75SE features a matte-black housing, and two embossed 75th Anniversary logos mounted between the signature "Variable-D" slots that extend along the side of the microphone housing. Each mic is marked with an engraved serial number tag and ships in special packaging, suitable for display. The RE20 is a professional quality dynamic cardioid microphone created specially for recording, broadcast, and sound reinforcement applications that require an essentially flat response over a very wide frequency range. www.electro voice.com.
PRODUCTION LIBRARIES
New releases at FirstCom include FC-X 2Q energy to the FirstCom library, HM-047 Middle East Journey to the Hollywood Music collection, and ROC030L Rock and Blues to the One Music library. www.firstcom.com.
Killer Tracks doubles the size of their BPM Score library. Culled from the RCA Film Archives, this vintage library consists of film music created by Italian composers of the 50's, 60's and 70's. With the release of BPM 3010 through 3018, there is now twice as much to choose from. Other new releases include KT 139 Acous-Tech Vol. 2, KT 140 Urban Atmosphere, KT 141 Tension and Suspense, KT 142 Motivational, and KT 143 Documentary, EDGE 62 Guitar Swing, EDGE 63 Phat Pharm, CM 32 Motivator, and CM 33 Deep House. www.killertracks.com.
THE MIX
Dick Orkin and Dan O'Day have announced the details of the 7th Annual INTERNATIONAL RADIO CREATIVE & PRODUCTION SUMMIT, which will be held August 9 - 10 in Los Angeles. "Repeat Offenders" — anyone who has attended at least one previous Summit — also are invited to come a day early for a tour of and lunch at Orkin's Radio Ranch. Details at www.danoday .com/summit.
Digidesign® announces DigiZine, a new monthly educational online magazine aimed at both beginner and professional Pro Tools users alike. DigiZine can be found on Digidesign's website at www.digidesign.com/digizine. Each month, DigiZine will feature a cover story on a high-profile Pro Tools user as well as three Pro Techniques interviews in which professionals share some of their favorite Pro Tools tips and techniques. In addition to a monthly feature story and the Pro Techniques interviews, DigiZine will feature monthly columns; Tech Talk, a section dedicated to elaborating on the technical aspects of digital recording; Net Working, stories and information about using the Internet as a resource for audio production; Centerfold: Plug-In of the Month, and more.
♦