TECHNOLOGY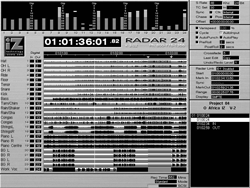 iZ Technology, developers of the RADAR line of multitrack recorders, is now shipping the 3.10 software upgrade for their flagship product the RADAR 24. Now with time-stamped Broadcast Wave file export, PC and Mac digital audio workstation users can import RADAR audio into their workstations. Other features of the new software include: Gain/Fade editing for fade ins, fade outs and gain adjustment; Broadcast Wave and .wav Export via DVD-RAM or Ethernet; searchable, onboard electronic manual (updated with each new software release); new file management features including deletion of archives and backups; Single, Dual and Quad AES/EBU modes for 96 and 192 kHz digital audio interfacing, and more. The new software package is available from dealers or directly from iZ Technology at a cost of $99.00 US per upgrade bundle. The package includes the four 3.10 software diskettes, a print version of the new manual, a key cap removal tool and a package containing the 22 replacement Session Controller key caps. Also new from iZ Technology are two new additions to their line of RADAR hard disk recorders, the RADAR 24: PROJECT and the RADAR 24: PROJECT D, with entry-level price points of $3995.00 USD for the PROJECT D and $5995.00 USD for the PROJECT. RADAR 24: PROJECT features 24 channels of analog A/D, D/A. RADAR 24: PROJECT D features 24 channels of Lightpipe or TDIF digital I/O. Both systems include: 80 GB internal IDE recording drive, 80 GB internal IDE drive for additional backup and export storage, KC-24 remote control, RADAR View waveform display (built-in video card, monitor not included), DAW compatibility - ProTools®, Nuendo®, Logic® etc., Ethernet Backup, Restore and Export, and more. www.recording theworld.com.
Telos Systems announces ProFiler, an automated program archiving system that captures your station's programming using industry-standard MP3 technology. You can annotate it and play it back on demand. Store weeks worth of audio logs on a single CD-R. Visit www.telos-systems.com/profiler/ for details.

Focusrite recently unveiled their latest processor, the Platinum OctoPre. Providing eight pristine discrete channels of Focusrite Class A mic pre and compression, OctoPre routes directly to any digital audio workstation via analogue outputs or a new 24-bit, 96kHz A/D converter. Each channel also features a revolutionary compressor/limiter circuit, providing a warm-sounding compressor, which morphs into a brick wall limiter to avoid those critical overs, ensuring total control over all eight channels. The mic pres featured in OctoPre are a transistor-based Class A design utilizing the same full-bandwidth philosophy as the legendary Red and ISA mic pres, ensuring detail and clarity without coloration. The first two 'super channels' also feature phase reverse, as well as TRS jack inputs on the front fascia for quick and easy, DI-free instrument plug-in. Output can be either analogue or digital; choices include 8 balanced analogue outputs, or an optional A/D, (8 AES, S/PDIF and ADAT lightpipe digital outputs.) An external Wordclock input is also provided (BNC connector.) The AES-EBU and S/PDIF format outputs all operate at up to 24bit/96kHz and can run simultaneously with the lightpipe outputs, giving up to 16 channels of digital output for sample rates of 44.1 and 48kHz, at 16, 20 or 24 bit dithered. www.focusrite.com.
HHB Communications announce the development of a sophisticated new 8-track location sound recorder. Scheduled to ship later in the year, the HHB PORTADRIVE combines pristine 24-bit/96kHz multichannel recording with flexible on-board mixing facilities in a compact, portable package to provide TV and film sound recordists with a rugged, 'all in one' solution for professional location recording applications. The PORTADRIVE records audio onto a compact, robust, shock resistant removable 2.5" hard drive in industry standard BWF and SDII formats, allowing full compatibility with Mac and PC-based digital audio workstations, connecting via a drive docking station. Over 2 hours of 8-track 24-bit/96kHz recording, or more than 9 hours of 4-track 24-bit/48kHz is possible on the supplied hard drive. A comprehensively equipped 6 into 2 digital mixer is built-in, enabling the simultaneous recording of a stereo mix alongside 6 discrete inputs. Microphone inputs are of the highest quality with 6 high-gain, ultra-low noise balanced XLR Mic/Line inputs with individual phantom powering, 'gangable' limiters, attenuation, high pass filter, delay and phase reverse. The 2-channel return input and both the main and auxiliary analog stereo outputs are balanced. Digital connectivity is equally comprehensive with the 6 main inputs selectable to 3 AES pairs the first input pair being switchable to SPDIF, and one stereo pair of AES or SPDIF digital outputs. The PORTADRIVE is equipped to read and generate timecode in all popular international frame rates, and to synchronize to word clock, video sync and digital inputs. A SCSI interface is provided for data transfer to and from external storage devices, and both USB and Ethernet ports are included for control, logging and upgrades. Comprehensive remote control is facilitated via RS422 and a parallel remote socket, and a keyboard port is also available for easy logging and labeling. Production units of the PORTADRIVE are scheduled to be available in the fourth quarter of 2002. www.hhbusa.com.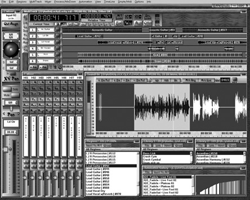 SAWStudio version 2.6 has been released. New features include activation of the Video Track. The new viewer is built-in and can be popped up from the View Menu or by left-clicking the VideoTrack Label area. The viewer is based on the DirectShow interface and therefore offers access to the many varieties of file types and functions that this interface supports. Other new features are too numerous to mention but are detailed at www.sawstudio.com. A maintenance release, version 2.6f has also been made available, and the software is also now available as a demo download for the first time. www.sawstudio.com.

Lexicon, Inc. is introducing the MPX 110, a true stereo dual-channel processor with 24-bit internal processing and S/PDIF digital output. Utilizing Lexicon's proprietary Lexichip™, the MPX 110 offers 240 factory presets, 16 User definable presets, plus Lexicon classic true stereo reverb programs such as Ambience, Plate, Chamber and Inverse as well as Tremolo, Rotary, Chorus, Flange, Pitch, Detune, Delay and Echo. Dual channel processing allows control of completely independent effects on the left and right channels. The MPX 110's front panel Adjust knob allows instant manipulation of the effect's critical parameters, and an Effects/Balance knob lets the user control effect level or the balance of dual effect combinations. An easy Learn Mode allows MIDI patching of the front panel Effects Level, Adjust, Bypass, Tap and Mix controls. In addition, tempo-controlled delays lock to Tap or MIDI Clock, and Tap tempos can be controlled by audio input, the front panel Tap button, dual footswitch, external MIDI controller or MIDI Program Change. Other features include dual, 2-stage headroom indicators, a headphone output, a software-selectable MIDI OUT/THRU port, pushbutton or footswitch selection of dry or muted audio output and a 20Hz – 20kHz ±1dB frequency response. www.lexicon.com.
Mackie Designs Inc. announced the Drawmer SDX100 Plug-In for the new Mackie Broadcast Professional Soundscape 32 digital audio workstation platform. Currently available through Mackie Broadcast Professional Dealers for MSRP of US $399.00, the SDX100 is an advanced dynamics Plug-In based on the Drawmer ADX100, which is currently in operation for the Mackie Digital 8 Bus recording console. Like the ADX100, the SDX100 features many well-known Drawmer innovations including Frequency Conscious Noise Gating, Program Adaptive Expansion, "Bootstrap" compression and Zero Overshoot Limiting. The SDX100 is versatile enough to be used as either a channel dynamics package or a mix down processor, depending on the specific needs of the customer. The SDX100 consists of the following components, which can be used as a group or individually: Compressor, Expander, and Gate. www.mackie.com.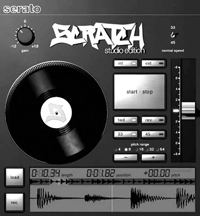 Serato Audio Research, a developer of audio processing software products and plug-ins, debuted Serato Scratch, a new plug-in for MAS (MOTU Audio System) that allows DJs to perform DJ-style scratching on any sound file off their hard disk, using their existing turntables as the controller. Serato Scratch consists of a standard plug-in, along with a special vinyl record containing a proprietary control signal designed for accurate tracking and perfect scratching. When the Serato vinyl is played on a turntable connected to the computer, the software tracks the motion of the record and simulates the same movement within the digital sample. The effect feels and sounds as though the sample is actually pressed onto the vinyl record. MSRP is USD $250, which includes two control records. www.serato.com.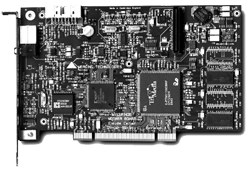 For the ultimate portable solution for on-location live multi-track recording, Swiss based Merging Technologies have released a portable laptop version of their popular Pyramix digital audio workstation that weighs only 4.8kg. The system utilizes a modified Magma single or dual slot PCI expansion unit to house their Mykerinos DSP audio and I/O cards. With 48 track 24 bit recording/playback capabilities, Pyramix Portable retains all real-time editing and processing features of the mainstream Pyramix Virtual Studio system. There are principally two bench tested Laptop models recommended for the Pyramix Portable solution, the DELL Inspiron and IBM Think Pad, with a choice of a single or a dual slot PCI expansion unit. The single PCI slot unit, which can be powered from mains or a 12 volt source, allows a single Mykerinos DSP audio card with a choice of I/O card including AES/EBU, TDIF, SDIF ADAT, MADI, or DUAL, an Analog+AES/EBU card with in-built Mic/Line levels and phantom power. There is also an additional option of an external FireWire drive. The dual slot PCI expansion unit allows for two Mykerinos and I/O cards with room for two IDE or SCSI drives plus an additional FireWire drive if required. www.merging.com.
THE MIX
Shawn Kelly, formerly of Clear Channel Albuquerque [Dec. '99 RAP Interview] has set up shop in Dallas, Texas. Check it all out at the new website, www.madisonavewest.com.
Lou Kastler and Kastler Creative have moved studios to Blair Nebraska. New phone is (402) 426-4004, email KastlerCreative @aol.com.
www.drakechenault.org, a recently unveiled website takes you behind the scenes into one of radio's most successful and respected radio programming companies. Former D-C staffers explain "how we did it" with lots of photos and detail. Drake-Chenault supplied over 1,000 automation format tapes each week to 300+ stations. The website is non-commercial and is sponsored by Henry Engineering.
Los Angeles based Groove Addicts, the artist-based music production and sound design house headed by Dain Blair is opening a Chicago creative office to offer Midwest agencies the convenience of finishing projects in their own backyard. Producer/Composer, Howard Pfeifer has been named Creative Director for the Groove Addicts Chicago operation. Groove Addicts, Chicago is located at 333 Ontario St. 2409 B, Chicago, IL 60611.
♦