TECHNOLOGY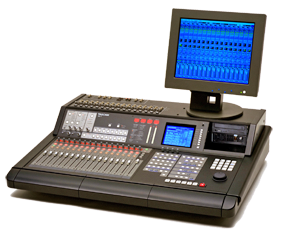 TASCAM featured their new SX-1 Digital Production Environment at the recent 111th AES convention in New York. Combining automated digital mixing, hard disk recording, MIDI sequencing, powerful editing, DSP plug-in technology and multi-format mastering capabilities, the SX-1 is the culmination of over two years of joint development between TASCAM R&D in Iruma, Japan, the TASCAM Palo Alto Research Center in Palo Alto, CA, and TimeLine Vista in San Marcos, CA. Designed to comprehensively accommodate the needs of professional project studios, commercial recording facilities, and broadcast production, the SX-1 is an all-in-one solution for audio recording, MIDI production and editing. The SX-1's feature set includes: A 40 input, 32 x 8 x 8 digital mixing console with 100mm, touch sensitive faders, advanced built-in dynamic automation, and 16 high-quality phantom-powered mic preamps. A full-function, 48kHz, 24-bit, 16-track hard disk recorder that uses an internal IDE disk drive. Additional IDE and SCSI drives may be connected to the SX-1 via a front-panel slot or a rear panel SCSI interface. Waveform, MIDI, and automation data editing via an internal recording/editing engine that uses a multimedia-optimized operating system and a powerful graphics engine. Complete surround mixing capabilities with the ability to record a full 5.1 mix to the internal HD in addition to the original 16 audio tracks. A 128-track MIDI sequencer with advanced editing modes that are available on the fly, with standard and step record modes and accurate timing derived from the internal sample clock. A built-in CD-RW drive for printing surround or stereo mixes, data backup and archiving, and importing sounds from audio or data CDs. DSP plug-in technology that offers built-in effects by TASCAM, TC Works and Antares as standard features as well as the ability to add new effects as required. Extensive analog, digital, MIDI and computer interfacing that includes (16) balanced XLR inputs, (16) 1/4" TRS line inputs, TRS inserts on each analog input, an onboard speaker switcher, eight channels of ADAT Optical digital interface, two stereo S/PDIF inputs (with sample rate conversion) and outputs, wordclock, two MIDI inputs (for MIDI controllers and MIDI Time Code), four MIDI outputs, a SCSI port, two USB ports, a 100Mbits Ethernet jack for FTP capabilities, separate studio and control room monitoring and more. Other standard features of the SX-1 include an onboard LCD screen that offers a variety of editing and automation information, as well as an XVGA output that acts as a complete, stand-alone DAW interface for total control of the machine with no external computer required. The SX-1 also offers the ability to author MP3 files, includes a jog/shuttle wheel that allows users to scrub audio and MIDI data simultaneously, and may be cascaded with TASCAM's DM-24 Digital Mixing Console to add input channels and interfaces. The SX-1 is in final software development and beta testing, and will be available from select authorized TASCAM retailers in early 2002 for a manufacturer's suggested retail price of $8999.00 (USD). Other Tascam news includes the newly-available version 3.0 software update for their MX-2424 featuring the new MX-View sample level waveform editing interface. The v3 software also adds new features and functions including Mix Mode which allows it to record up to 24 tracks via its inputs while simultaneously playing back up to 24 tracks for mixdown and mastering purposes. This software update is available as a download from the MX-2424 web site (www.mx2424.com) as well as from TASCAM's main site (www.tascam .com).
AKG has launched a development program for dynamic transducers whose first result is a new line of headphones, the K240 Studio and K141 Studio. Computer simulations and laser vibrometry were used to tune the transducers and the results verified by a series of listening tests with selected audio experts. The new AKG XXL transducer measures 30-mm (1.2-in.) and is more sensitive than its predecessors, yielding exceptional detail and definition at significantly (10-12 dB) higher volumes. The new transducer technology provides improved dynamic range and resolution. New manufacturing techniques allow for extremely precise transducer tuning. Carefully selected diaphragm materials and special diaphragm shaping further optimize the speakers' sonic performance. The frequency range of the K240 Studio is 15 to 25,000 Hz, and the K141 Studio delivers its sound from 18 to 24,000 Hz. www.akg-acoustics.com.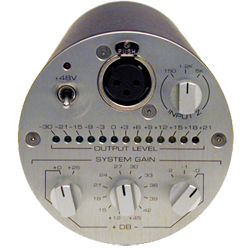 Sequerra Audio Labs, L.L.C. announces the introduction of the Model 1070-A microphone preamplifier. Founders Richard Sequerra and Mark Conese designed the 1070-A to operate as close as two feet from the microphone and to drive long line-level cable runs up to 300 feet. Variable input loading perfects the circuit between the microphone and the 1070-A for improved fidelity and a remote preamp power supply assures the lowest possible noise floor. The Sequerra 1070-A possesses electrical specifications that, might to some, read like misprints: It has a frequency response of 0Hz to 400kHz (-3dB), internal noise of 1 nano-volt per root-Hz, harmonic distortion measuring 0.0001% (0Hz to 40kHz with a 150-ohm input), and phase linearity of -12 deg at 100kHz. It can accept up to a five volts RMS at the input and can output up to +27dBu before clipping. Users select gain from +10dB to +70dB in 1dB steps and input loading of 150 Ohms, 1.2k Ohms, and 5k Ohms. A peak detecting output level meter facilitates the gain adjustment at the microphone, and a 48-volt phantom power supply switch allows the use of condenser microphones. Finally, phase reversal, muting, and two selectable high-pass filters round out the 1070-A's features. A separately available external power supply drives up to four 1070-As. www.sequerra.com.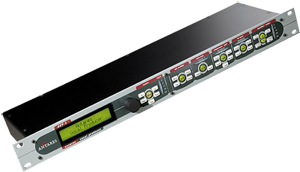 The Antares Vocal Producer is now shipping. The AVP combines Auto-Tune Pitch Correction and Microphone Modeler technologies with state-of-the-art vocal processing modules (including a compressor, gate, de-esser, EQ and automatic double-tracking). Antares's Auto-Tune technology lets you correct the pitch of vocals (or solo instruments), in real time, without distortion or artifacts. The Microphone Modeler technology lets you give your vocal tracks the characteristics of a variety of high-end studio mics as well as adjust the proximity effect associated with mic distance. Analog Tube Modeling gives your vocals the warmth of a classic tube preamp. The Variable Knee Compressor features threshold, ratio, attack and decay controls as well as a continuously variable knee characteristic. You also get a Downward Expanding Gate that works independently of the compressor, a Variable Frequency De-Esser, two bands of Parametric EQ and more. The unit is fully programmable and comes with factory presets as well. www.antares-systems.com.
The 51900 Deluxe Series Ultraflex® Mic Arm™ and Riser from the O.C. White Co. combines the company's popular spring-counter-weighted 14194 Mic Arm™ with a 12" (30.48cm) riser, providing height, reach, and flexibility, and allows placement of other studio equipment up to 10.5" (27cm) high immediately adjacent. Robust in design and construction, these arms are 'Squeak-Free' for ultimate on-air performance. Heavy-duty springs for larger mics are optional. O.C. White Microphone Arms use premium-quality, highly elastic music wire springs. Unlike ordinary brittle steel springs that will 'crackle' and twang and squeak when physically moved or adjusted, even though they may be coated or 'flocked', O.C. White microphone arms are silent in motion. For more information, visit www.ocwhite.com.
Soundelux Microphones unveils the latest in their line of vintage microphone recreations. Modeled after the Tube 47 of the 1950s, the Soundelux E47 preserves its unique sonic character. The benefits of the Soundelux E47 include a price less than half of the average used "vintage" price, a lower noise floor, better top end, improved reliability, lower maintenance and a three-year warranty. www.transaudio group.com.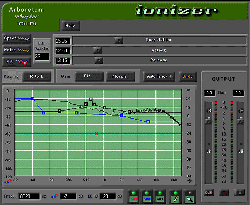 Arboretum Systems announces that Cool Edit Pro and Sound Forge users can now run Ionizer, the noise reduction and multi-band dynamics processing software, directly within these two Windows DirectX compatible audio applications with Ionizer-DX, the Windows edition of Ionizer for Cool Edit Pro and Sound Forge. Ionizer's automatic Noise function identifies and eliminates unwanted hiss, hum, buzz and other interference with just a few mouse clicks. You can also use the manual Spectrum mode to selectively remove the noise "by hand" for extremely precise noise reduction. Ionizer's flexible interface allows it to be configured as a graphic EQ, a compressor, limiter, expander—or all of these at once. Ionizer features Arboretum's new "EQ theft" technology that allows one to steal the equalization curves from any recording. Just shoot the frequency profile of an example recording and use Ionizer's Frequency Morph function to map the mix's sonic fingerprint to any other recording. Ionizer-DX is shipping at a suggested U.S. retail price of $499. www.arboretum.com.
George Massenburg Labs (GML) has combined the elements of its three most popular processors to create the Model 2020 High Resolution Discrete Input Channel, providing users with a microphone pre-amp, filtering, equalization, and dynamics processing in a two-rack space unit. Manley Laboratories (Chino, California) is manufacturing the Model 2020, in conjunction with GML, as part of the high-end manufacturers' recent alliance. The product is in production and now shipping. The Model 2020 is a single-channel input processor and accepts either microphone or line-level signals with phase reversal and phantom power switches. The switching, filtering, equalization, and dynamics sections allow for flexible routing (including side-chain insertion). Like all GML processors, it features discrete-transistor, balanced/symmetrical class-A op-amps which deliver the widest-bandwidth, lowest-noise, and the most extended-dynamic-range audio signal possible. www.transaudio group.com.
PRODUCTION LIBRARIES
FirstCom Music, Inc. announced their web-based Virtual Preview Demo. The Virtual Preview Demo, in most cases, eliminates the need to ship demo discs, which take a minimum of 24 hours to arrive at a client's site. With this enhanced use of technology, clients simply call or e-mail their FirstCom representative with information regarding their specific needs and they are provided with a customized Virtual Preview Demo e-mail the same day. By using the Virtual Preview Demo clients can immediately demo titles that have been selected based on their facility's specific needs, instead of inventorying the entire FirstCom repertoire, which consists of 1400+ CDs of over 28,000 compositions. www.firstcom.com.
Platinum Scratches is a CD of 307 DJ scratches and 48 sound effects. Designed for use on sweepers, the CD is a buyout at $300. Custom scratches also available using station call letters or phrases "cut up and mutilated" just for you. Visit www.platinumscratches.com for more info.
♦