TECHNOLOGY

Behringer introduces the high-end class POWERPLAY PRO HA4600 professional headphone amplifier. Based on the HA4400, the new HA4600 is developed for the broadcast, digital production and professional recording applications. The HA4600 can serve as a reference unit to assess the quality of a final mix, and as a distribution amplifier for the addition of playbacks in studio use. The POWERPLAY PRO HA4600 offers premium sound quality even at maximum volume and houses four independent high-power stereo amplifiers each with a stereo aux input, mono/stereo and left/right mute switches, balance and volume controls and more, plus numerous master features, in a single rack space. The unit features three headphone outputs for each channel with one on the front and two on the rear panel, thus offering connections for up to 12 headphone sets. Ultra musical 2-band equalizers per channel enable users to effectively adapt the sound to their requirements. Independent input/aux sections provide up to four stereo mixes. Stereo aux inputs for each channel permit the inclusion of additional instruments or sound sources. An adjustable direct in on the front panel provides connection of any additional stereo signal source. Furthermore, paralleled main outputs allow cascading of several headphone amplifiers. Accurate 8-digit LED output meters for each channel enable precise level control. Other features include high quality detented ALPS potentiometers and illuminated switches throughout, servo-balanced, gold-plated XLR and ¼" TRS in- and outputs, and a shielded toroidal power transformer. More info at www.beh ringer.com. Also from Behringer is the new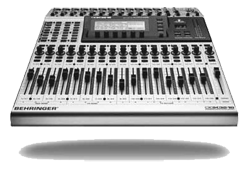 DDX3216 digital mixing console (Euro/USD $1,999 MSRP). The DDX3216 is an affordable, fully automated 32-channel, 16-bus digital console with 8 aux sends and flexible routing options. The BEHRINGER DDX3216 features a simple user-interface that resembles that of an analog console, which allows easy editing of virtually every parameter. High-power floating point DSP technology ensures practically unlimited internal dynamic range, while high resolution 24-bit AKM® A/D and CRYSTAL® D/A converters provide optimum audio quality. Four effects processors, accessible from all 32 channels, provide chorus, delay, flanger, LFO filter, phaser, pitch shifter, reverb, tremolo, and many more. The 4-band fully parametric EQ, compressor, gate, low-cut filter, and phase inverter on all of the DDX3216's 32 channels – with additional delay function on the first 16 channels – provide effective dynamic processing. A set of 12 high-end ultra low-noise "invisible" mic preamps deliver clear audio with incredible reproduction of the slightest sound nuances and ample headroom. Freely configurable built-in level meters on all channels and channel controls with LED rings facilitate editing of any of nine selectable parameters per channel. Routing of complex signal configurations is accomplished by an internal input/output patchbay. The DDX3216 also features full static and dynamic automation and a set of 17 low-noise 100mm motorized faders. Two extension slots permit installation of optionally available digital interfaces for ADAT®, TDIF and AES/EBU formats. MIDI implementation capability enables program and control changes, MIDI sysex and MMC. Four assignable analog outputs on balanced ¼" TRS and MIDI plus RS232 connectors round out the I/O options. The open architecture of the DDX3216 allows the user to update the OS from a personal computer or PC card. www.DDX3216.com.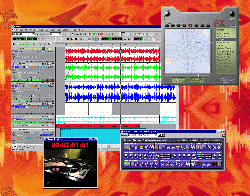 Cakewalk Plasma™ is a loop-based music creation and remix software that integrates audio and MIDI composition, DXi software synth plug-ins, and joystick-controlled DJ FX mixing. The estimated retail price for Plasma is $49. Plasma provides PC users with the tools and content to easily create original music and remixes. Plasma includes drag-and-drop looping tools, support for ACID™-format audio loops, multitrack audio and MIDI recording, the DreamStation™DXi software synth, DirectX audio effects, and a complete ACID-format audio loop library CD-ROM. Plasma also includes the Plasma FXPad™—the world's first joystick-controlled DJ effects mixer plug-in for Windows. Plasma is derived from Cakewalk's SONAR™ audio and MIDI technology. Plasma can quickly load and audition multiple loops, matching the tempo and key of a project while it plays back. Highlights include: Record and play back unlimited tracks of audio & MIDI; Import standard .WAV, ACID-format .WAV, and MP3 files; High-quality, real-time DirectX audio effects—Pitch Shifter, Parametric EQ, Stereo Chorus, Delay, Flanger and Reverb. Also from Cakewalk,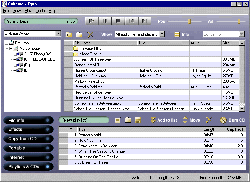 Pyro 1.5, an update to the company's MP3 and CD creation software. Pyro 1.5 is now available as a download from the Cakewalk web site and on CD to new customers and registered users. First released in Fall of 2000, Pyro provides a seamless environment for organizing and playing digital music both on and off the PC. A new feature in Pyro 1.5 is music data CD burning (for MP3 CDs). Because MP3s are ten times smaller than audio files, music fans can fit ten times as much music on one CD, allowing them to create MP3 data CDs that will hold hundreds of songs. This provides for hours of playing time from just one CD when using any of the popular MP3 CD players, like the Rio Volt, Samsung Yepp, and TDK MOJO among others. Pyro 1.5 is now available on CD-ROM for $39 or for download from the Cakewalk web site for $19. www.cakewalk.com.
tripleDAT, CreamWare's hard disk recording software, is now available as a native plug-in for CreamWare DSP systems. The tripleDAT plug-in takes advantage of the high-quality audio inputs and outputs of CreamWare's current line of PCI cards, eliminating the need for the ISA tripleBOARD hardware. The plug-in version exclusively uses the I/Os of a Luna II, Pulsar (I/II) or SCOPE /SP card. The tripleDAT driver guarantees the seamless integration of tripleDAT's professional hard disk recording and editing features into CreamWare's advanced DSP environments. To make the plug-in even more attractive, two effects packages are included—FireWalkers and osiris. The FireWalkers effects suite includes an 8-band equalizer, chorus, flanger, FFT analyzer and more. osiris is CreamWare's realtime audio restoration package with de-clicking, de-noising, exciting and more. And to top it off, the new version also handles MP3 files. Registered tripleDAT users can upgrade to the new software. Both packages are offered through the CreamWare Online Shop and authorized CreamWare dealers. www.cream ware.com.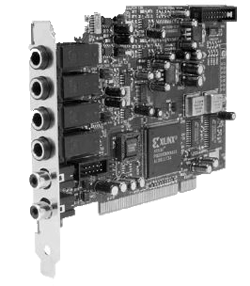 Digital Audio Labs is currently looking for beta testers for their new CardDeluxe drivers for Windows 2000 and XP. If you're interested, visit their website and fill out the form at www.digitalaudio.com.
PMC (Professional Monitor Company, UK) introduces the new MB2 series of loudspeakers. The line includes single and twin cabinet loudspeakers, available in both passive and active forms. Developments in transmission line technology, cabinet design, and construction techniques increase the MB2s system's performance beyond its predecessor, the MB1. The MB2 series targets film sound facilities, broadcast studios, music & mastering houses, and high end home theater. All units in the MB2 line feature a frequency range from 20Hz - 25kHz +3dB. For those who want a taste of what the moviemakers actually hear at the time of recording, PMC created a matching horizontal center channel version of all the MB2 active and passive variants. For surround installations or when 'even more' bass headroom is required, the XB2 subwoofer provides a perfectly matched LFE channel that complements the MB2. The largest system: MB2XBD-A (Twin cabinet version) has over 1100W per channel of the lowest distortion power available. The Driver Complement: 12" Radial bass driver, 3" midrange soft dome, and for the highs: 27mm silk dome on the Passive series and a 32mm silk dome on the active series. www.bryston.ca.
THE MIX
Innovative Quality Software recently closed its doors for business. The following announcement is posted on their website at www.iqsoft.com: "After serving the audio industry now for ten years, Innovative Quality Software is no longer open for business. The IQS staff wishes to thank you for the patronage and support you have given us during this incredible journey. I have made a personal decision to accept offers which will allow me to expand my profession as an independent designer/consultant/audio engineer. This shift will allow the SAWStudio technology to move into exciting new directions with regard to both development and implementation. Due to the vastly changing dynamics of the Windows environment, in combination with many factors relating to other hardware/driver technology, SAWStudio is no longer a viable product for the generic pc, and therefore not available to the general public as a stand-alone piece of software. It's development, however, will continue to advance and expand, and will be sold exclusively as a complete turnkey package through approved, qualified system designers. For more information on the SAWStudio technology and turnkey systems, visit the SAWStudio website at www.sawstudio.com. SAWStudio registered users will be contacted in the near future with complete information regarding a new update policy. As a courtesy to users of older SAW products, temporary access to the registered user download area will remain available for the purpose of obtaining the last update to your registered products. Send requests for logon information to logonrequest@ iqsoft.com. Again we thank those of you who came along for the journey, and wish you all the best. Bob Lentini and the IQS Staff."
Jennifer Vaughn of Jennifer Vaughn Voice Imaging Inc. picks up few new clients at the start of the New Year including KMYI San Diego, WMTX Tampa, WSCF Vero Beach and KVFX Logan. www.jennifervaughn.com.
FirstCom Music, Inc. announced that Michael J. Baer has been named General Sales Manager. "We needed a professional with the drive and vision to lead a dynamic sales team. Michael's experience with our company and commitment to excellence made him the ideal candidate," says Carol Riffert -Vice President and General Manager for FirstCom Music. Baer, a 26-year industry veteran, re-joined the Dallas-based company in March of 1997 to introduce and market the OneMusic(r) Library featuring LiquidTraxSM. After the introduction, Baer stayed with FirstCom as a Regional Manager working with production facilities, audio and video post houses, advertising agencies and television stations. In conjunction with Baer's promotion to General Sales Manager, the entire FirstCom Music sales staff was restructured to meet the growing needs of the company and its clients. www.firstcom.com.
Cramer & Buzz launch jockvox.com. Cramer is Creative Services Director for WZPL/Indianapolis, and former CSD of WRZX, WFYV, and WQIK. Buzz Craven is the former night guy at WZPL and Program Director of WHTF. jockvox.com targets consultants, General Managers, and Program Directors who wish to outsource their creative services. Services include production of sweepers, IDs, promos, and voiceover services. Market exclusive. For more info, visit jockvox.com or call 317.290.1305.
♦