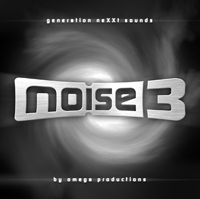 By John Pellegrini
With so many monster sized music production companies these days and over saturation of music beds becoming a much more noticeable problem (i.e. commercials and promos running back to back with the same music beds), it's nice to see a new company finding a good niche for itself, while keeping burnout factor to a minimum. Such is the case with Omega Productions, who in just ten short years has released a well-produced group of music beds and sound beds that are easy to use, and with enough applications that you could use them in numerous places without people noticing as quickly. Omega has a total of 8 CDs out so far (each CD is called a "library"), releasing one or two per year which gives you more firepower in your production music arsenal.
The gang at Omega is up to it again with the introduction of Noise 3. Picking up where they left off on Noise 1 and 2, Noise 3 contains 110 tracks of insane sounds, stingers, zaps, and other wild effects to blow your imaging out of the water. As I mentioned in my previous review of their products, Omega has only been around for about 10 years, so you don't have to worry about it being over-used in too many markets already. Besides, Noise 3 is brand new as of January this year.
Noise 3 contains the kind of effects that most hot music format imaging people salivate over. Shots, hits, sweepers, and lasers, descending and acceding patterns... all the kinds of stuff that you want in a variety of lengths. All hard-edged attitude which Omega says is perfect for Generation NeXt production, though I could see just about any upbeat music station using this stuff with the possible exception of polka formats. For that matter, hard issue oriented talk formats could also benefit from having a copy.
The first 69 cuts on Noise 3 are multiple blend sound effects that kick ass. As with Noise 1 and 2, each cut is named almost exactly how they sound. Back Swoosh Decay, Windy Satellite, Tuner Siren, Shot Phase, Beeps Shot, Rewind Static, Pan Mania, Phone Cell, and 41 Shots are just a few examples of the names, and you can likely guess exactly how they're going to sound from those names. Tracks 70 through 79 have vox shouts mixed in including phrases like: "Zero Gravity," "Gimme A Beat," Radio," "Yeah," "Okay," and a few others. You also get a second cut of each without the vox track in case you want to use them in another fashion. Cuts 80, 81, and 82 are beeps with sound effects that can be applied nearly anywhere. Finally, cuts 83 through 99 are longer form music beds with several having additional mixouts. All the beds are under 30 seconds, and perfect for contest beds, promos, or short mixing between music tracks. Virtually any imaging person worth their salt will instantly realize that the beds lend themselves to looping, and by adding in some of the effects from tracks 1-69, you can make yourself a huge load of new beds.
All of the tracks are well produced and, as Omega says in their promotional material, you'll instantly think of places where you can use each one. Even with the shortest effects, you can tell a lot of thought and work went into creating these tracks. Not a bad one in the bunch.
Omega Productions offers all their libraries on a buyout basis—good news especially for you independent producers out there. However, they are market exclusive on their buyouts, so it's first come first served. They have an excellent website at www.omegaproductions.com where you can download demos of all their music libraries and find out more about their voice-over and production services. Or you can call their Newark, Delaware offices at (302) 456-9898. Omega Productions does a lot of work in Europe, especially Greece, and you can even get voice demos in Spanish and Greek. That could be quite interesting for your non-Greek format. Set the souvlaki on fire and say Opa!
♦