TECHNOLOGY
DRS Systemtechnik of Bremen, Germany announces DRS 2006, a radio automation software system. After selling thousands of copies primarily in Europe, DRS Systemtechnik is set to unleash its software system throughout the United States, Canada and Australia. Using only a single PC and soundcard, a user can transform their mp3 library into a professionally mixed, fully automated radio broadcast. With the addition of the new DRS 2006 Broadcast Processor Plugin, an auto gain control, users experience real-time enhancement of their broadcasts. Features include functions such as auto-filling play lists at the click of a mouse, the ability to pre-record voice tracks and control your entire broadcast from another PC through a network, free telephone and technical support, free updates to future versions, and a 30 deck virtual cart machine. The system is compatible with most audio formats and is available now from authorized retailers for $69 for the Standard Package designed for novice users new to the broadcast world, and $549 for the Professional Package more suited for the professional broadcaster and corporate applications. www.drs2006.com.
Sonoscope ($299 for the download version) from SEK'D is a high precision audio measurement software tool that works with any soundcard and a PII or higher PC. Sonoscope provides you with a spectrum analyzer, VU Meters, Correlation Meter, and Stereo Phase Oscilloscope. All meters have various settings. Visit www.sekd.com/product_main/sonoscope_info to download a free 20 day test version. Also from SEK'D, the Audio Restoration Suite ($999), developed by Dr. Christoph Musialik and his team at Algorithmix in Germany. Dr. Musialik has a long history in the Audio industry with Studer, Swatch and Creamware and is one of the world experts on audio restoration. The Restoration Suite is an advanced software tool for click, pop and scratch removal. It works with any DirectX compatible software including Samplitude, Sequoia, SoundForge, Cakewalk, Cool Edit etc. www.ucik.com, 800-330-7753.
RCS announces the release of RCS Tracker(r) digital audio logging software that records, stores, finds, plays and archives audio files in an off-the-shelf computer powered by brand name audio cards. RCS Tracker's "smart technology" records up to 8 stereo or 16 mono channels simultaneously in a variety of user configured audio formats, and can playback any of the channels from the local machine, from any touch-tone telephone or over the Internet. RCS Tracker operates completely self-contained. A single off-the-shelf brand name computer stores and plays back all audio from standard multiple-channel audio cards which are supported worldwide. The user selects the audio fidelity desired, from CD to Internet-quality, and RCS Tracker shows the user the impact of those choices on the hard drive. The versatility of RCS Tracker allows audio to be recorded from a telephone, radio, TV, or microphone, and played back from the computer or over a network, over the telephone or over the Internet. Audio stored in RCS Tracker can be retrieved and monitored at any time, from a variety of locations, without disrupting the ongoing logging process. Users can easily find the exact day, hour, minute, second and play it. Navigation over the phone uses the telephone keypad for standard commands like stop, play, rewind and fast forward. 914.428.4600, www.rcsworks.com.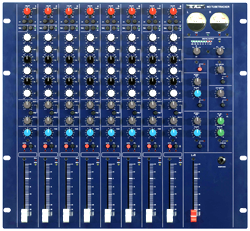 HHB is the exclusive U.S. distributor of the M3 TubeTracker 8 by 2 mixer from British tube specialist TL Audio (TLA). Designed to provide uncompromised sound quality, the M3 TubeTracker is well suited as a front-end tube gain stage for digital recorders and DAWs. Users looking to add warmth and character to their recordings will appreciate the M3's straightforward signal path. The M3 TubeTracker shares many features with the TLA VTC console including discrete tube mic preamps, direct outputs, four-band EQ with sweepable mids, two aux sends, stereo returns and a flexible master section with a tube-stage mix buss, plus an optional stereo digital output that supports up to 24-bit/96kHz digital audio. The M3 TubeTracker also includes balanced internal busses, a high-quality rack-mountable external linear power supply and Sovtek ECC83/12AX7A tubes that run from a 200V DC stabilized supply. www.hhbusa.com.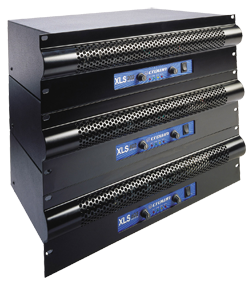 Making its North American debut at this year's AES Convention, the XLS Series of amplifiers from Crown Audio is engineered with hard-working mobile DJs and musicians in mind. The XLS 202, 402 and 602 all feature a selectable high-pass filter (30Hz/15Hz/Off) on each channel which enables the amplifier to work more efficiently when not being used with full-range cabinets or subwoofers, while a pair of linear optocoupler clip limiters helps protect loudspeakers from being overdriven. Housed in all-steel 3U chassis, the three XLS models employ an efficient forced air fan to prevent excessive thermal buildup. Front panels sport dual, precision detented level controls, a power switch and four LEDs, which indicate clip for each channel, power and fault conditions. Rear panel connections include two electronically balanced XLR inputs and touch-proof binding post outputs. 219.294.8200, www.crownaudio.com.
IQS has released a fresh update to both SAWStudio and SAWStudioLite. This update includes many enhancements and fixes. Enhancements include: Vari-Speed/Pitch Setting and Clearing has been enhanced. The MT-Entry Properties Menu has a new option add called Reverse Audio. This option reverses the audio of the MT-Entry when active. The File Menu session section has been re-organized to add a new option called Blend Session. This option allows you to blend an existing session with the current session in two different ways. Enhanced disk handling routines added to eliminate cache slowdowns on repeated play areas. The MultiTrack I, R and O zones have been enhanced. Alt-Left-Clicking in one of these zones jumps you back to the last selected hot track for that section. This allows you to jump to the output section, for example, and then immediately jump back to the last hot track you were working on in the input or return section. www.iqsoft.com.
The new Marantz PMD690 records high-quality stereo or mono digital audio using the media of PC Cards, which are available in flash or hard disk configuration. The PMD680 model is the mono-only version and includes a telephone input/output. Audio files recorded on the PMD690 and PMD680 can be transferred to a computer for editing, archiving, or uploading to the Internet. Simply eject a recorded PC Card from the recorder and insert it into the PC Card slot on a laptop or desktop computer. This direct method of importing sound into a computer requires no cables and avoids any file transfer delays. Both the PMD690 and PMD680 can record audio in the MP2 format, the voice-optimized version of MP3 audio compression. A variety of compression settings are available to extend recording times on smaller-capacity PC Cards. These recorders can also record uncompressed 16-bit PCM digital audio as a Wave (.wav) or Broadcast Wave (.bwf) file. A built-in non-destructive EDL system enables the user to place reference marks and create custom playback sequences. Record via the built-in microphone or use the stereo XLR mic/line inputs. Monitor recordings using headphones, the built in speaker, or the line out. Set record levels manually, use a limiter, or let the recorder automatically adjust record levels. A band or high-pass filter helps eliminate unwanted background noise. A "silent skip" feature pauses recordings during lapses in a conversation (this feature is programmable and defeatable). The PMD690 has a suggested retail price of $1,499. The PMD680 has a suggested retail price of $1,249. Both models are available from Marantz Professional authorized dealers. www.marantz.com.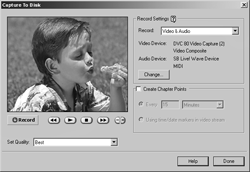 Sonic Solutions introduced MyDVD Version 3, the first application to provide home users with a complete solution for recording, editing and sharing personal video content on DVD recordable and CD-R/RW media allowing consumers to transform home videos into interactive DVDs by burning videos directly from a camcorder or VCR to DVD recorder. Sonic MyDVD makes it easy to share home movies with family and friends on CDs and DVDs that can be viewed on a TV or personal computer. MyDVD captures video and audio directly from computer-attached camcorders or VHS decks, automatically creates menus, buttons and navigation based on user-selected styles, and records everything to DVD or CD discs. MyDVD also includes the unique capability to re-edit recorded discs by changing menus and adding or deleting videos, making it easy and convenient to archive a video library onto DVD and re-edit the discs later. MyDVD Video is built on Sonic's Hollywood-standard DVD formatting engine, the same technology used to produce tens of millions of consumer DVD-Video titles. Building on this standard ensures that DVDs produced with the application are playable on the widest range of consumer DVD players. MyDVD provides three ways for consumers to create their own professional-looking DVD titles: Direct-to-DVD™ allows video from a camcorder or VCR to be written to DVD-recordable discs in a single step. In DVD Authoring™ mode, interactive DVDs can be created by dragging and dropping different types of multimedia elements into a DVD project video from camcorders, video files on hard disk in AVI, MPEG-1 and MPEG-2 formats, audio and graphics data. DVD Editing™ mode is a new technology which allows discs to be changed after they are initially created, enabling an entirely new generation of DVD applications, such as video diaries, up-to-the-minute, customized sales presentations, compilations of family events, and more. Sonic MyDVD is initially available in OEM bundles from Adaptec, Hewlett-Packard and others. Sonic MyDVD will also be available in a retail version through Sonic's web store beginning in October, at a suggested U.S. list price of $149. www.sonic.com.
PRODUCTION LIBRARIES
Manhattan Production Music adds new features to their website with an updated version of MusicSource, a music search and preview program from FreshGround Software. Project Manager and Keeper functions allow clients to create a catalog of sounds they find through a search and keep track of all music that is picked for a specific production. www.mpmmusic.com.
THE MIX
Sirius Satellite Radio announced that it will broadcast premier comedy programming from National Lampoon. Lampoon programming on Sirius will feature new material and classics from National Lampoon's unique library of archived radio shows, including performances from the world's most well-known comedians such as Billy Crystal, John Belushi, Chevy Chase, Bill Murray and Gilda Radner. www.siriusradio.com.
Orban/CRL has appointed Alyssa Izen new Product Manager for the company's Audicy workstation. Izen comes to Orban/CRL from MTVi's SonicNet.com, where she worked as the editorial production supervisor. She earlier worked as a producer with Ben Manilla Productions. Izen has also worked as head sound mixer at San Francisco's Biscuits and Blues and as a freelance audio engineer throughout the Bay Area. www.orban.com.
♦