TECHNOLOGY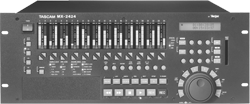 TASCAM has begun shipping their new MX-2424SE hard disk recorder and IF-AN24EH analog interface module. Based on their MX-2424 24-track 24-bit Hard Disk Recorder, the new MX-2424SE (MSRP $4,499 USD) features a removable 18GB hard drive, conveniently located on the unit's front panel. The removable drive is designed to allow for quick and easy transfer and archiving of audio data with a variety of external systems. Also announced was TASCAM's new IF-AN24EH, a special version of TASCAM's standard analog interface module for the MX-2424, which was designed to accommodate the required 20dB digital reference level commonly used in post-production. The MX-2424SE also takes advantage of key recent software updates for the standard MX-2424 model, including the ability to synchronize via Sony P2 9-pin control. This enables the unit to interface with a wider number of high-end consoles, controllers and interfaces. The Data Express removable drive system featured in the MX-2424SE uses an 18 gigabyte SCSI disk drive format. Also, the MX-2424SE model continues to use the Sound Designer II and Broadcast Wave audio file formats, allowing recordings made on the MX-2424SE to be imported and exported from Digidesign Pro Tools systems and other DAWs with sample-accurate time-stamping of music, dialog and effects.

TASCAM also announced the addition of the CD-RW402 dual tray CD player/CD-recorder/duplicator to the TASCAM CD products line. The new CD-RW402 (MSRP $1,249 USD) allows users to record, edit and duplicate CDs in a single device. The CD-RW402 offers advanced CD player functions on both trays with functions like call, auto cue, and auto ready. A stutter scrub function allows for cue points to be set frame-accurately. The player deck also adds pitch control capability and two locate points. The recorder functions include traditional TASCAM CD-recorder functions like record mute, digital gain adjustment, digital fade in/out, digital direct mode, and auto ID. CD-TEXT capability is easy to use with a PS/2 computer keyboard port on the front for track naming and editing. Combining the player and recorder decks together allows the user to edit their original tracks. The A-B locate points from the Player can be used to define specific areas to be written to the record deck. A-B exclusive edit can be used to delete gaps in the middle of tracks. The pitch control can be used on the player, allowing pitch effects on the transfer as well, committing the effect to the new disc. For duplicating CDs, the CD-RW402 can act as a 1:1 duplicator, capable of duplicating audio or popular data CD formats up to 4x. This is enabled by the CD-RW402's use of TEAC CD-ROM and CD-RW industrial grade mechanisms. The CD-RW402's front panel includes independent status displays for each deck including level metering and 12 character text for easy and clear user operation. The front panel also features a 1/4' TRS headphone jack with source selection and level control. The rear panel features a complete host of audio input/output connections for each deck including optical and coaxial digital ports, unbalanced RCA and balanced XLR connectors. If a common output is desired, a dedicated pair of unbalanced RCA connectors offers a common audio feed. A parallel control offers remotes and tallies with custom control applications and the unit comes complete with a wired remote (RC-RW402). For additional information visit TASCAM's web site at www.tascam.com.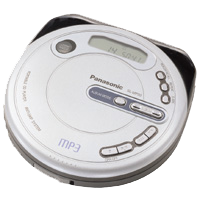 Panasonic takes two popular product offerings and folds them into one. The new SL-MP50 takes the benefits of a portable CD player with long battery life and anti-skip play and combines it with the ability to play back MP3 music files that are recorded on five-inch (12 cm) CD media: CD-R or CD-RW discs. "The new SL-MP50 plays standard CDs, but it's also like having a personal CD changer in your pocket," says James Kiczek, national marketing manager, Portable Audio Division. "Literally hundreds of songs can be held on one MP3 CD for rapid access almost any where, any time." MP3 files can hold huge amounts of compressed audio data by reducing it by up to one-tenth the original size, when a compression rate of 128 kbps is used, without overly hurting audio quality. Listeners can quickly access their increased library of songs by searching for albums with the convenient Album Skip function that's included on the SL-MP50. Other functions provided to make the most of MP3 possibilities include Random Play (file/album), Repeat Play (file/album) and 20-track random access programming. The SL-MP50 is equipped with Panasonic's Power Last(TM) High Efficiency Power System. Using two "AA" batteries, the unit can deliver up to 15 hours of MP3 playback or up to 30 hours of uninterrupted CD play before requiring a battery change. Suggested retail price $139.95. Also from Panasonic is the new SV-SD80 audio player. Reflecting the rising popularity and potential of the SD Memory Card format, this second-generation e-wear(TM) SD audio player joins a growing list of SD-enabled products from Panasonic and other companies, and continues the fashion trend Panasonic sparked with the launch of its e-wear line of tiny, wearable, MP3 music players last year. The new SV-SD80 e-wear unit is the industry's smallest portable digital audio player that uses removable media. Despite its new smaller size, the SV-SD80 player provides up to 50 hours of uninterrupted play (using the rechargeable Ni-MH battery and one AAA alkaline battery.) An included 64MB SD Memory Card holds up to 64 minutes of near CD-quality music in High Quality mode (129 minutes in Extended Play mode). The SD Memory Card is about the size of a postage stamp. The unit includes the Panasonic SD audio PC recording kit, consisting of an enhanced version of Real Network's RealJukebox software and a USB reader/writer that connects to a PC's USB port. With this software, users can record (rip) their favorite songs from their personal audio CDs or download content from the Internet. Once the music has been transferred to the SD Memory card, users simply pop the card into the player to listen. Panasonic markets 8MB, 16MB, 32MB and 64MB SD Memory Cards, and has announced plans to develop higher capacity 256MB and 512MB cards soon to take full advantage of the SD Memory Card's expandable storage capacity and interoperability. Panasonic also markets SD-compatible digital still cameras, digital camcorders, car stereos and video projectors, in addition to its e-wear portable audio players. www.panasonic.com.
XM Satellite Radio (Nasdaq: XMSR) recently launched the first U.S. digital satellite radio service — "Radio to the Power of X" — featuring 100 coast-to-coast, digital channels of music and information. XM's programming lineup features 71 music channels, more than 30 of them commercial-free; and 29 channels of sports, talk, children's and entertainment including 13 premiere news channels covering the latest national, world and financial developments like CNBC, CNN Headline News, CNNfn, FOX News, ABC News & Talk, USA Today, Bloomberg, BBC World Service, C-SPAN and its own XM News. www.xmradio.com.
Visiosonic Ltd., a developer of MP3 performance systems and software for professional DJs, released three new applications designed to give DJs the ultimate control of their music and the dance floor using the power of MP3. PCDJ SILVER is the company's new entry-level pro dual-deck DJ application. SILVER, available as a freeware download, not only lets users play and mix two MP3 or WAV files, it also lets DJs set two cue points per song, and-with a single mouse click, "beat match" the songs playing on both channels. PCDJ BLUE is the first of Visiosonic's two high-end pro packages for DJs. BLUE's Fraunhofer™ encoder lets DJs rip CDs and vinyl to encrypted MP3 files on the hard drive, where thousands of cuts can be neatly stored and cataloged into unlimited subgroups in the player's Recordcase. Like SILVER, PCDJ BLUE helps DJs calculate and record BPM rates for every song, and lets DJs set and rapidly access cue points-up to 10 per song. DJs can search, find, and load any cut in a heartbeat by typing in artist, track name, BPM range, song version, or comment. PCDJ BLUE not only smoothes volume levels with its Normalization function, it can also capture and record live mixes in MP3 or WAV, allowing DJs to replay their sets note for note. Visiosonic's PCDJ RED lets users create, store, play, and release up to eight perfectly synced and trimmed samples and loops, in forward or reverse, all on the fly. Continuous beat synchronization between channels means perfectly matched fade-ins and fade-outs. The program automatically normalizes input levels during ripping, and can even automatically adjust Gain levels and detect BPM rates of every MP3 in the Recordcase. Both PCDJ BLUE and PCDJ RED allow for External Controller Support via Numark's DMC-1 hardware controller. PCDJ BLUE (suggested retail price $99.95) and PCDJ RED (suggested retail price $199.95) are distributed by Numark Industries. PCDJ SILVER is available as a free download from www.pcdj.com. www.numark.com.
PRODUCTION LIBRARIES
avdeli.com has eight new releases and has discounted each of them by 60% "because of the downturn in the economy." All-American Country is an 8 CD release for Hot Country. Xrules v5.0 is a 12 CD set for Alternative and Active Rock. Mars is a 9 CD release for Hot AC and Pop or Adult Alternative. Soul Food is a 10 CD library for Urban and Urban AC. King Pins is a new 5 CD release for indie producers. Pop Tools is back with a new Volume 2 on six CDs. Hip Hop Nation returns with Version 2.0 on six CDs for Rhythmic CHR and Hip Hop stations. All avdeli.com sound designer tools libraries also feature hundreds of loops and beats and original promo scores. For strictly promos and commercials, avdeli.com introduces The Best of Shakey Waters Volume 1, a 10 CD set featuring more than 1000 promo and commercial scores plus more than 500 loops 'n beats. (262) 752-9346, www.avdeli.com.
PrimeSounds is a new online sample library from Steinberg. The PrimeSounds sample library offers a variety of samples for music productions. Search, listen and download from over 18,000 samples available 24 hours a day. www.steinberg.net.
THE MIX
Long time RAPster "Tuna" Jon Rose exits WBYR/WFWI, Fort Wayne to launch Radio Tuna Productions on a full-time basis. Jon says, "Radio Tuna Productions has been growing steadily over the past several years. Like a child, we have nurtured it, fed it, and raised it to be strong and able to stand on its own. We feel that the time has now come to cut the umbilical." Good luck, Jon! This email address is being protected from spambots. You need JavaScript enabled to view it..
Chris Cline and Tony Valdez launch N2 EFFECT, a new jingle company debuting with packages for Clear Channel's top CHR's, KISS-FM (KHKS-FM) Dallas and KDWB-FM Minneapolis. For more info, call 1-800-220-7366 or check them out at www.n2effect.com.
Effective October 1, 2001 Craig Debolt and Sue Myers were officially named the new morning team for "New Rock 93.3 The Planet" - WTPT, Greenville/Spartanburg, SC. Craig was formerly the Creative Services Director for WROQ and WTPT and mid-days for WTPT. Sue was the Copywriter/Continuity Director for WROQ/WTPT. They can be reached at (864) 467-9330 or This email address is being protected from spambots. You need JavaScript enabled to view it. or This email address is being protected from spambots. You need JavaScript enabled to view it..
Chris Cole exits Infinity Broadcasting Rochester, NY to accept a position as Creative Services Director for Q95-5/WKQI, Detroit, MI.
Mike McKenzie moves up from WODL overnights to WZZK/WBHK/WODL/WRLR, Cox-Birmingham Creative Services Director. Former CSD Brent Davis takes a new gig at an ad agency. This email address is being protected from spambots. You need JavaScript enabled to view it..
Berklee Press has released the first comprehensive guide to professional home studio production using Pro Tools software. Producing in the Home Studio with Pro Toolsis published in partnership with Digidesign, creator of Pro Tools. The book is written by producer, engineer, and songwriter David Franz. www.berkleepress.com.
♦