TECHNOLOGY
Digigram showed miXart 8 at the recent NAB show in Vegas. MiXart 8 is a multichannel audio processing and mixing sound card based on Motorola's PowerPC processor offering architectural and speed advantages over conventional DSP-based alternatives. It combines Digigram onboard audio processing with audio mixing functions. miXart 8 comes with eight analog input/output paths with four additional stereo AES/EBU inputs and outputs optional. The next release will be miXart 16ADAT with eight stereo inputs and eight stereo outputs provided on ADAT optical connectors. Also from Digigram, the PCXpocket 440 Sound Card and Xtrack 4.1 Audio Suite, "The Ultimate Portable Production Package." The PCXpocket 440 is a multichannel laptop sound card designed for specialized applications that run on the card's on-board digital signal processor. DSP functions include mixing, MPEG (Layer I and II) encoding and decoding, variable sampling frequency, and audio processing. The PCXpocket 440 has four mono (or two stereo) analog inputs and four mono (or two stereo) analog outputs. In addition, a SPDIF input/output can be used in place of the first analog input/output pair. A portable digital audio workstation can be created when Digigram's Xtrack 4.1 suite of audio production tools is added. This latest version of Xtrack allows users to import, export and edit MP3 files as well as added support for Audio CD track grabbing. 703 875 9100, www.digigram.com.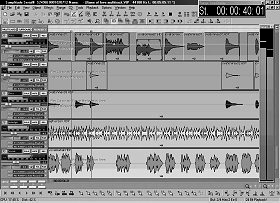 SEK'D releases Sequoia Version 5.91. New features include an update for the Q-Design encoder, which now works faster and has improved sound quality; the VIP buffer size can be set down to 125 samples. This is useful when using new Windows 2000 or Windows ME drivers, which can work with low buffer settings. Improvements include recording of 18 or more tracks, record start with maximized VIP and activated record monitoring, playing MP3s with activated TrackSpeed, drag'n drop of objects between VIP's, and more. For more information on Sequoia call 1-800-330-7753 or visit www.sekd.com.
TC Electronic is shipping the new D22 Digital Broadcast Delay II, an enhanced version of the original D22 digital delay. The new delay offers up to double the delay time of the original delay per channel, (now 2600ms on two channels with max. delay of 60 frames). It also features 24-bit AD/DA converters as well as a compliment of digital I/Os including, AES/EBU, S/PDIF, and Wordclock BNC 75ohm. Internal Sample rates of 44.1 and 48kHz are supported with external rates of 32, 44.1 and 48kHz. Retail price is $1995. Upgrades for the original D22 are available through TC Electronic at a nominal cost. Also upgraded is TC Electronic's Gold Channel Digitally Enhanced Mic-Preamplifier. The new Gold Channel software features a number of improvements and additional features including a new Security Lock function, programmable PIN Code and a Reset Page. The new Security Lock function allows the user to program the processor to be tamper proof in situations requiring uninterrupted operation such as live broadcast or post production where continual and reliable audio processing is critical. The addition of PIN Code access assures only qualified operators have access to adjusting the Gold Channels parameters. The Gold Channel Version 1.10 retail price is $2,495. Software upgrades are available through TC Electronic. (805) 373-1828, www.tcelectronic.com.
Digidesign's version 5.1 of Pro Tools® LE software is available for Digi 001™ and Digi Toolbox™ XP. Pro Tools LE v5.1 introduces integrated stereo tracks, enhanced MIDI functionality as well as improvements to editing, mixing, navigation, and session interchange. Continuing to expand the Pro Tools MIDI sequencer, version 5.1 includes a new MIDI Event List window. The single window can be used for quick and precise input and editing of all MIDI data. A new I/O Setup page is included for flexible mono and stereo routing. Version 5.1 also adds a duplicate track option that copies selected tracks with all associated plug-in instances, settings and automation. This new software version further increases the effects processing functionality of Digi 001 and Digi Toolbox XP systems. Version 5.1 adds multiple plug-in window displays for immediate on-screen access to any parameters. Now users can simultaneously view, edit and automate their favorite RTAS Plug-Ins from Prosoniq, and more. For more information visit www.digidesign.com.
Digital Audio Labs has released new driver version 4.05 for the CardDeluxe sound card. The driver is for Windows 98, NT, and ME. The update includes improved ASIO latency performance, support for up to 16 CardDeluxe cards in a single system, and numerous configuration refinements. www.digital audio.com.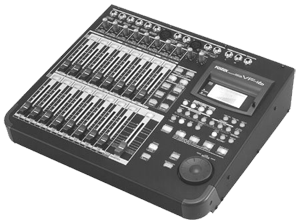 The Fostex VF-16 and VF-08 are all-in-one digital recording solutions. The VF-08 combines an 8-track hard disc recorder with an 8-channel digital mixer/editor, complete with A.S.P. digital effects. The VF-08 features 16-bit, 44.1kHz audio with 8 recording tracks plus 16 additional virtual tracks for multiple takes. A large, upgradeable, 3.5-inch E-IDE hard drive provides over two hours of non-compressed 8-track recording. An optional SCSI interface is available for backup with .WAV file import/export to external media. Fostex's VF-16 provides 16 tracks (24 using FDMS-3 format) of non-compressed 16-bit, 44.1kHz CD quality recording with up to three hours of recording time per Gigabyte. Operating functions include COPY/PASTE, MOVE/PASTE, ERASE and non-destructive editing with UNDO/REDO. SPDIF and ADAT I/Os are included as well as external SCSI for backup. 562.921.1112, www.fostex.com.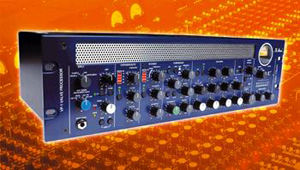 HHB recently introduced TL Audio's new VP-1 Tube Processor. The VP-1 combines the functions of a pentode preamplifier, compressor and parametric equalizer to provide the discerning user with a sweet-sounding, one-box solution to high-end tube processing. Features include an expander/gate, de-esser, peak limiter, and optional word clock input and digital outputs. The VP-1 features no less than seven tube stages, run from a stabilized 250v DC supply. The first stage is a Siemens EF86/6267 pentode in the front-end of the preamp, followed by six Sovtek ECC83/12AX7A stages, one in the secondary stage of the preamp, one in the compressor, and four in the EQ section. The preamp stage accepts mic, instrument and line level signals. The mic input is transformer-balanced, offering a choice of valve or class A signal paths. Also included are switchable phantom power, a 30dB pad, phase reverse and a variable high-pass filter. The expander/gate controls the threshold, attack and release, while threshold, frequency and bandwidth are all variable on the de-esser. The compressor offers a choice of tube or optical compression stages, and provides control over threshold, ratio, attack, release and gain make-up. The four-band tube EQ section can be switched pre- or post-compressor, and includes LF/HF shelving and fully parametric mids. (310) 319-1111, www.hhbusa.com.
Innovative Quality Software announces a new SAWStudio Pre-Release update version 1.9 is now available online with lots of additions and changes. Enhancements include: Alternate F-Keys are now active—you may create alternate F-Keys by pressing Alt-Shift-FunctionKey and recall these alternate F-Keys by pressing Alt-FunctionKey. You can now add an effect to any of the FX windows without causing the effect to automatically open its setup window. The Exploded Mixer View window is now an ON-TOP window which will not get covered up by other windows. Several other enhancements and fixes accompany the new version. Other software updates include a new SAWPro update with version 2.6, and SAWPlus32/SAW32/SAW32Lite update version 4.1. Visit www.iqsoft .com for more info.
PRODUCTION LIBRARIES
F7 Sound and Vision announces the release of Concept:FX3, the 3rd CD-ROM in the company's Concept:FX sound effects series. Concept:FX3 features 1292 new sounds in AIFF and WAV formats. These sounds are designed for "today's fast-paced, cutting edge, in your face media projects." Concept:FX3 is intended for use in radio station IDs, commercials, remixes, computer games, video, web sites, multimedia presentations, television and film. Cuts include "sonic rips, shocks, static, insane noises, radio interference, pings, sci-fi bleeps, swipes, cracks, crushes, pops, lo-fi grunge, tape manipulation fx, mutant voices, extreme clipping, digital hiccups" and more. All sounds are royalty-free for commercial and broadcast use. Retail price $89.95. Owners of the previous 2 Concept:FX CD-ROMs are eligible for a $30 discount on their purchases of Concept:FX3. Demos are available on the F7 Sound and Vision web site at www.f7sound.com or call 813-991-4117.
THE MIX
After 9 years at WKLS Atlanta, 2 RAP Awards, and 3 Atlanta Creative Director of the Year A.I.R. Awards, Rich VanSlyke is leaving the station to freelance out of his home. Rich is a producer and voice guy for MJI's Rock Image Kit and an award winning jingle producer. For more information on Rich's products and services, phone 770-962-5175 or email This email address is being protected from spambots. You need JavaScript enabled to view it..
After year long contract negotiations, veteran Southwest Florida production goo-roo (and wayward RAP contributor) Andrew Frame got the "offer he couldn't refuse" and will tie the knot with creative partner and muse Brandi Wilmington this November. Rumor has it their mutual "no-compete" clauses are iron-clad. (Or at least platinum with a sapphire.)
Vanilla Gorilla Productions has secured agreements with 20 new stations. Some include 96 KIX/Fredonia, 107.9 KFIN/Jonesboro, K103/Cape Girardeau, Real Rock 99.3/Cape Girardeau, KISS 93.9/Cape Girardeau, B104/McAllen/Brownsville, CS102/Colorado Springs, 107.1 KSFT/Sioux City, and 93.3 KZOZ/San Luis Obispo. For more information on voice-talents and production services, call 800-811-4847 or visit www.vanilla gorilla.com.
♦