TECHNOLOGY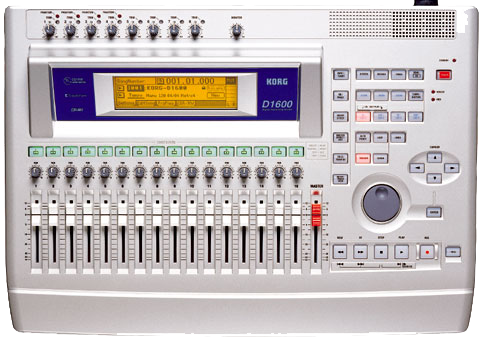 Korg has a new mulititrack recorder. The D1600 Digital Recording Studio, built on Korg's 16-track, 24-bit/44.1 kHz recording system design, adds a number of hardware advances including a convenient cartridge/bay system which allows for easy installation of standard IDE hard drives, enabling the user to swap drives for different projects. A 20 GB internal hard drive is included, providing 31 total hours of 24-bit/44.1 kHz (62 hours with 16-bit/44.1 kHz) recording. With eight virtual tracks available for each physical track (for a total of up to 128 tracks), multiple takes can be recorded and assembled using the D1600's editing and track bouncing capabilities. Up to 100 "songs" may be recorded per drive, each with four assignable Locate Points and 100 nameable Mark Points. Standard copy, paste and erase functions are controlled by using Korg's TouchView waveform display to specify IN, OUT and TO locations, or to select audio scrubbing. Another major feature of the D1600 is the CD-R/RW drive bay. This can be used with the CDRW-2 option (sold separately) or with a general-purpose ATAPI CD-R/RW drive, enabling the creation of audio CDs without the need for external devices. The installed drive can also be used to backup data, restore data created on Korg's D1600, D16 or D8, or to play back audio CDs for recording into the system. The mixer section of the D1600 is a 24 channel, eight bus system utilizing balanced preamps, allowing a variety of audio sources to be connected. 1/4" TRS jacks are provided (including a dedicated guitar input), as well as four XLR inputs featuring phantom power and mic preamps. Each of the analog inputs and mixer channels also contain a separate 3 band EQ with a sweepable mid frequency. EQ settings, along with fader position and panning, can be stored into one of the 100 scene memories allowed per song. The effects section of the D1600 allows up to eight insert effects to be used with either mono or stereo inputs/outputs, two types of master effects for the channel sends, and a final effect to be applied to the master out. 192 effects programs are provided (128 insert, 64 master/final) along with space for 192 user-defined programs. www.korg.com.
Lexicon, Inc. introduces the MPX 200, a true stereo, 24-bit dual-channel processor with 24-bit A/D-D/A and S/PDIF digital inputs and outputs (supports 44.1kHz). Powered by Lexicon's proprietary Lexichip™, the MPX 200 features a newly designed digital compressor in addition to its reverb and effects. The MPX 200 is a 19" rack, 1U high processor that includes 240 presets with classic Lexicon reverb programs such as Ambience, Plate, Chamber and Inverse as well as Tremolo, Rotary, Chorus, Flange, Pitch, Detune, 5.5 second Delay and Echo. Additionally, there are 64 User locations available to store individual variations of these programs. Dual-channel processing provides two independent effects in a variety of configurations. Up to eight adjustable parameters (four program and four compressor) are available in each program. The digital compressor is available in all 240 programs, including the dual programs—simultaneously providing two effects and compression. 781/280 0300, www.lexicon.com.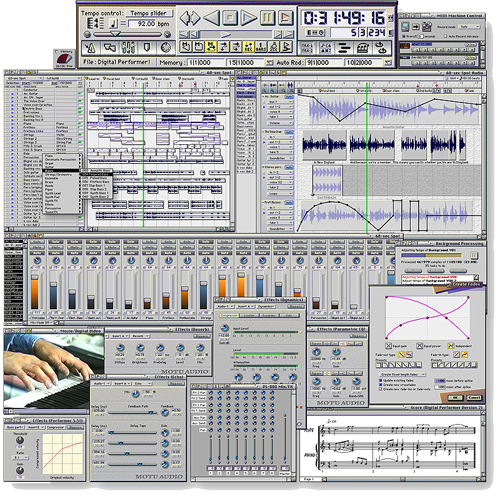 MOTU, Inc. presents Digital Performer 3.0 (DP3), a major upgrade of their audio workstation and MIDI sequencer software for Power Macintosh. DP3 includes a redesigned user interface, complete surround production features for all current surround formats (including 10.2), a new Sequence Editor window for editing MIDI and audio along a single timeline, fifteen new plug-ins, numerous editing enhancements, a new tool bar, enhanced QuickScribe™ notation engine, new musical symbol palettes, and many other new features. List price is $795. Competitive cross-grades are available, as are upgrades from previous versions of Performer and Digital Performer. www.motu.com.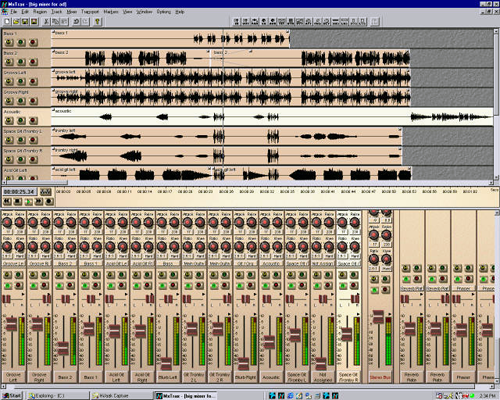 Minnetonka Audio Software has a new version of MxTrax called MxTrax Native ($399) which does not require a specific sound card and will run on any Windows compatible sound card. Also new is Mx51 Native ($699), a beefed up version of MxTrax featuring surround sound mixing. Both programs feature extensive editing capabilities plus an intuitive drag-and-drop "build your own mixer" section. MxTrax and Mx51 also interface with several controllers including the Yamaha 02R and 01V, and the Mackie HUI. (952) 449-6481, www.minnetonkaaudio.com.
The PreSonus Blue Tube Stereo Microphone Preamplifier ($199) is now shipping. The Blue Tube was designed to be a companion to the PreSonus Blue Max Stereo Smart Compressor. The Blue Tube features two high performance microphone preamplifiers with the Sovtek 12AX7 tube and dual servo gain stages (no capacitors). Front panel controls consist of tube drive, gain, 48V phantom power, 20dB pad and polarity reversal. Each channel of the Blue Tube features a Neutrik combo connector on the front panel that accepts microphones or instrument direct inputs. A full offering of output connectors include XLR balanced and TRS unbalanced on both channels. The chassis is designed to fit into the PreSonus Blue Max rack adapter that currently accepts the Blue Max stereo compressor. 800-750-0323, www.presonus.com.
Panasonic Broadcast & Television Systems Company has introduced the LF-D311, the industry's first combination DVD-RAM/R drive solution that provides the security and interchangeability of write-once, and flexibility of rewritable DVD. The multi-function LF-D311 delivers both the hard drive random-access functionality of DVD-RAM technology and the broad compatibility of DVD-R technology for disc playback on existing DVD players, recorders and DVD-ROM drives. A single LF-D311 can be utilized for high-capacity, removable storage for corporate and professional video authoring and editing, as well as provide backup archiving and video playback and low-cost, limited-run distribution. The LF-D311 offers a storage capacity of 4.7/9.4GB DVD-RAM (rewritable) and 4.7GB DVD-R general use (write-once); a write speed of 22.16Mbps maximum on 4.7GB DVD-RAM, 11.08Mbps maximum on 2.6GB DVD-RAM, and 11.8Mbps maximum on 4.7GB DVD-R, and seek times of 75ms DVD-RAM, 65ms DVD-R (general) and 65ms DVD-ROM, CD-ROM. The drive's read compatibility includes CD-DA, CD-ROM/XA, Photo CD, Video CD, CD-Extra, CD-R, CD-RW, at a maximum speed of 24X. The LF-D311 will be available in the third quarter 2001.
SEK'D has new drivers available for download for the Siena and the PRODIF Plus. Similar features include support for NemeSys, GigaSampler, and GigaStudio (a.k.a. GSIF format); support for multiple cards or combinations with other SEK'D cards; and 32 bit audio data transfer format to support programs like IQS SAW. www.sekd.com.
StickyFish Rewards, the first loyalty program to reward listeners for every minute they spend interacting with a station's online broadcast, was launched by PlanetJam Media Group. StickyFish Rewards features PlanetJam Media Group's patent-pending Rewards Plug-In for the RealPlayer, an application that rewards listeners for every minute they spend tuning a particular station. Points earned are redeemable in free online auctions featuring valuable premiums such as electronics, jewelry, sold-out concert tickets and more. (502) 896-4799, www.planetjam.com.
PRODUCTION LIBRARIES
FirstCom Music introduces Velocity and Galerie, the two newest additions to the FirstCom Music library lineup. Daniel Holter's Velocity launched ten new discs at NAB '01, and they incorporate QuickTrax for surround sound mixes. Look for Trip-Hop, Teeny Pop, Surf Quirk, Nu Skool Funk, Metal, Electronica and more. Galerie comes on strong with 40 CDs, including some film and TV scores by Rene Taquet, plus they're adding ten CDs a year. www.firstcom.com.
THE MIX
Jeffrey Hedquist, President and Creative Director of Hedquist Productions, Inc. in Fairfield, Iowa, and RAP columnist was named to the faculty of National Audio Theatre Festival's annual workshop. In June, Hedquist will be teaching classes in audio performance during the weeklong workshop held at William Woods University in Fulton, MO. He will be joined by such luminaries as: Dan Coffey, public radio's Dr. Science; Tom Lopez, binaural audio producer; Rich Fish, audio producer and publisher; and musician Dwight Frizzel.
XM Satellite Radio announced 24 additions to its growing programming staff including nine new Production Directors: Jeremy Beaver, Brent Ebright, Kevin Konyha, Aaron Lee, Jim McBean, Rick McClure, Quinton Roebuck, Curtis Stewart, and Kirk Tanter. Meanwhile, XM's first satellite, "Rock," has been formally handed over to XM by Boeing Satellite Systems and has begun broadcasting XM's channels as part of the preparation for XM's commercial launch later this summer. www.xmradio.com.
Alesis Studio Electronics announced it filed for Chapter 11-bankruptcy protection on Friday April 27, 2001. The filing was made in conjunction with an agreement in principle to be acquired by Jack O'Donnell, President of Numark Corporation. As part of this agreement Mr. O'Donnell has provided financial support for the company. At presstime, an auction for the company was slated to be held on May 23, 2001 in United States Bankruptcy Court, Courtroom 1475, 255 East Temple Street, Los Angeles, CA, 90012. For further information concerning this auction, interested parties should contact Alesis attorney Bennett Spiegel at Wynne, Spiegel, Itkin, 310-551-1015. Alesis plans to continue normal operations at the company during this protection period. Jim Mack, V.P. of sales and marketing, said, "We're very excited about the agreement with Mr. O'Donnell and what it means for the future of Alesis and our newly introduced product line. While we've had to make certain reductions in our operation, we're confident that in a very short time we will be back to doing what we do best - supplying the market with innovative, high-quality audio products that improve the way people make and record music." The company announced that all customer service functions would remain operational during the protection period. This includes tech support, service, sales, shipping and receiving, and parts.
Mackie Designs Inc. announced that it has completed the acquisition of Sydec n.v. of Belgium, a developer of digital audio products. "With this acquisition, Mackie now owns the digital audio workstation technology and other intellectual property created by Sydec and currently marketed by Soundscape Digital Technologies Ltd.," says Jamie Engen, president and CEO of Mackie Designs. The company also recently entered into an agreement with Soundscape Digital Technologies under which Soundscape will continue to distribute products developed by Sydec under the Soundscape brand name. (425) 487-4333, www.mackie.com.
♦